Sweet and sour meat loaf is a very quick and easy dinner idea. If you don't want to use bread crumbs, I have used rolled oats before and it turns our very nice as well.
I made some muffins and we had fresh corn on the cob with the sweet and sour meat loaf the other night, making it a wonderful meal. You could even add a baked potato if you like. You will love that it is quick to put together. Place it in the oven and 1 hour later you have a fabulous meat loaf!
How Long Do I Cook My Sweet and Sour Meatloaf?
Depending on the size and shape of the meatloaf you make, the cook time will vary.
If you make your meatloaf in a loaf pan like I did, your cooking time would be longer than if you bake your meatloaf on a baking sheet. Generally the more flat it is, the larger the cooking surface area and the faster it cooks.
A general cooking time range would be anywhere from an hour to an hour and twenty minutes. The best way to know when your sweet and sour meatloaf is done cooking is to test the internal temperature, making sure that it is 160 degrees F.
I chose corn to have with this meal because that morning my husband and a few of our friends had a canning assignment for our church.
What is that, you ask, well let me tell you. We have a cannery where we have people volunteer their time. We can different foods to help people who are less fortunate than we are. The food goes to a bishop's store house where people that are struggling, are able to get some temporary help.
So we showed up at 6:00 am and worked. We were canning green beans. My job was to lightly press the beans down in the can if they where hanging over the edge. That was a great job until the belt stopped.
Even when it was stopped, it looked like it was still moving! Each time it stopped, it got worse. It even looked like the garbage that was by me was moving! Ha ha. That was crazy.
Now for the kicker, we had a four hour shift, however the people that were suppose to come and take over for us, didn't get the memo and we didn't want to shut down the production line, and so we kept working. No big deal.
The amazing thing was that one of the people in charge, started making phone calls and by 12:00 noon, we had people that were willing to come in and take over and serve. I was so impressed.
One thing that I know for sure is that I am so grateful for all those people out there that do that type of work every day. I know that I am not a very good candidate, because I can't even ride the merry-go-round anymore without getting sick. I always have been a little wimpy when it comes to that sort of thing.
And so when it came to dinner time, I knew that I had seen way too many green beans for one day, and that we were not going to have green beans for dinner. That is why we chose corn.
What is your favorite vegetable? Have you ever worked in a cannery? For awhile I worked at a cheese factory. I was always at the back placing the cheese in a box to be shipped out because I would get sick if I had to put the cheese on the belt to be packaged.
Again I'm so grateful for all who can do that type of work. If it was up to me, I am afraid that we would all starve. Enjoy your sweet and sour meat loaf!
What Can I Serve with my Sweet and Sour Meat Loaf?
Creamy Slow Cooker Mashed Potatoes
Zucchini Carrot Oatmeal Muffins
Yield: 8 people
Sweet and Sour Meat Loaf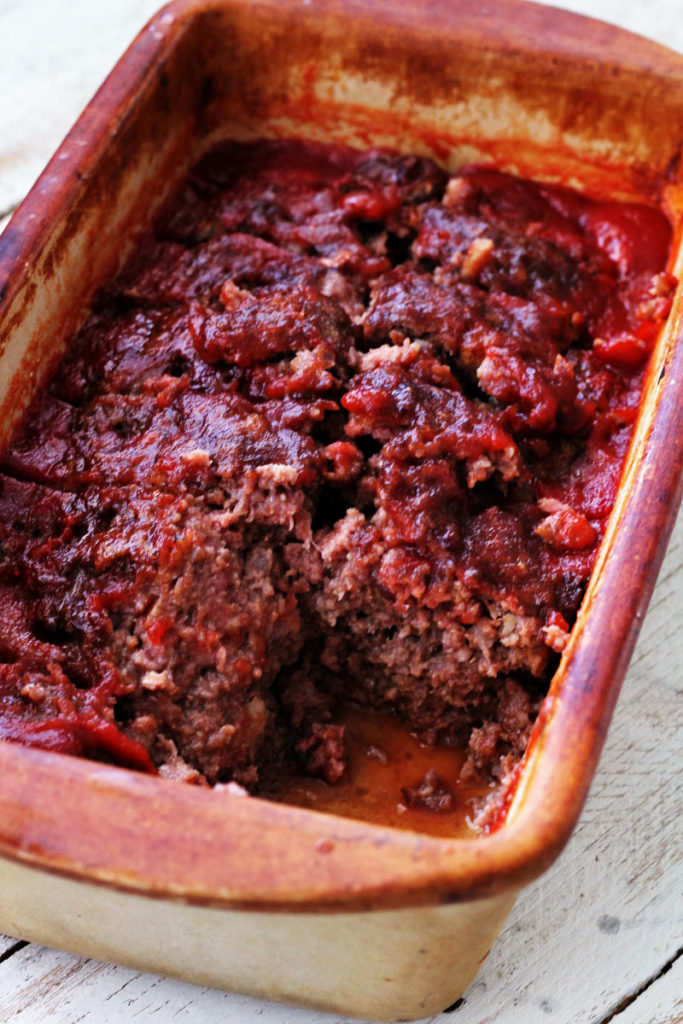 Prep Time 10 minutes

Cook Time 1 hour

Total Time 1 hour 10 minutes
Ingredients
1 1/2 pounds of ground beef
1 cup dry bread crumbs
1 tsp salt
1/4 tsp pepper
2 eggs
1 tsp minced onion
1 (15 ounce) can tomato sauce, divided
Topping:
2 Tbsp brown sugar
1/3 cup sugar
2 Tbsp vinegar
2 tsp prepared mustard
Instructions
In a medium bowl, combine ground beef, bread crumbs, salt, pepper, and eggs.
Add onion and 1/2 of the tomato sauce.
Place into a loaf pan and make into a nice shape.
Bake at 350 degrees for 50 minutes.
Topping:
In a small sauce pan combine brown sugar, sugar, vinegar, mustard and the other half of the tomato sauce, and bring to a boil.
Pour over meat loaf and bake for an additional 10 minutes.
Nutrition Information
Yield
8
Serving Size
1
Amount Per Serving Calories 351Total Fat 17gSaturated Fat 6gTrans Fat 1gUnsaturated Fat 8gCholesterol 122mgSodium 572mgCarbohydrates 22gFiber 1gSugar 12gProtein 27g

This data was provided and calculated by Nutritionix