Sheet Pan Lemon Parmesan Chicken and Vegetables! What a perfect meal for Father's Day. It is in just a few days and we are so excited to spend time with the men who do so much for us and sacrifice so much.
Sheet Pan Lemon Parmesan Chicken and Vegetables comes together pretty quickly so that you will have more time to spend visiting or even playing games together. I love that you can put it in the oven and in 30 minutes you can be eating.
If you have extra time, you might want to make some out of this world rolls. They also come together pretty quick and they would make this the perfect meal. I think most of the hard work of making a dinner is figuring out what in the world to make.
Now you know! Oh, and don't forget the most important part – the dessert! The oatmeal chocolate chip cookie cake. Have a wonderful Father's day and thank you to all of you wonderful Fathers for all you do!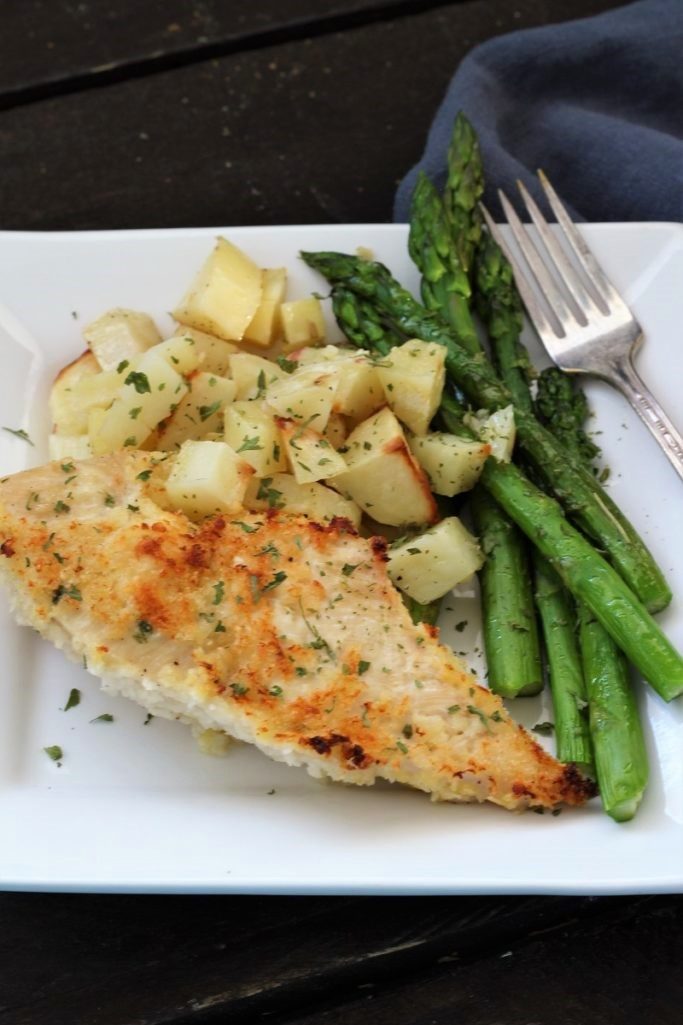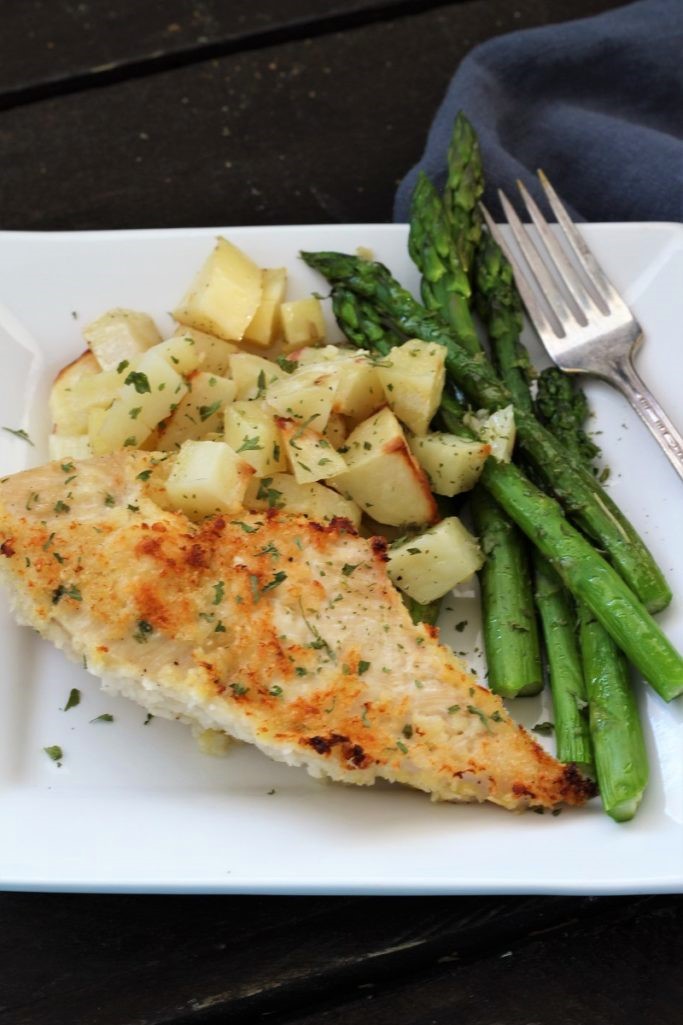 How much Asparagus is in a Pound?
What substitutions would be good in this Sheet Pan Recipe?
Sheet Pan Lemon Parmesan Chicken and Vegetables is a perfect recipe for substitutions – here are some that we came up with:
2 1/2 – 3 cups of fresh Green Beans instead of the Asparagus Spears.
Yukon Golds or Sweet Potatoes instead of Red Potatoes.
Chicken Thighs instead of Chicken Breasts.
Cracker Crumbs instead of Bread Crumbs.
Minced Garlic instead of Garlic Salt.
Or maybe you can think of a different vegetable that you would like to try. Whatever you try, I hope that you enjoy this Sheet Pan Lemon Parmesan Chicken and Vegetables.
Yield: 4 people
Sheet Pan Lemon Parmesan Chicken & Vegetables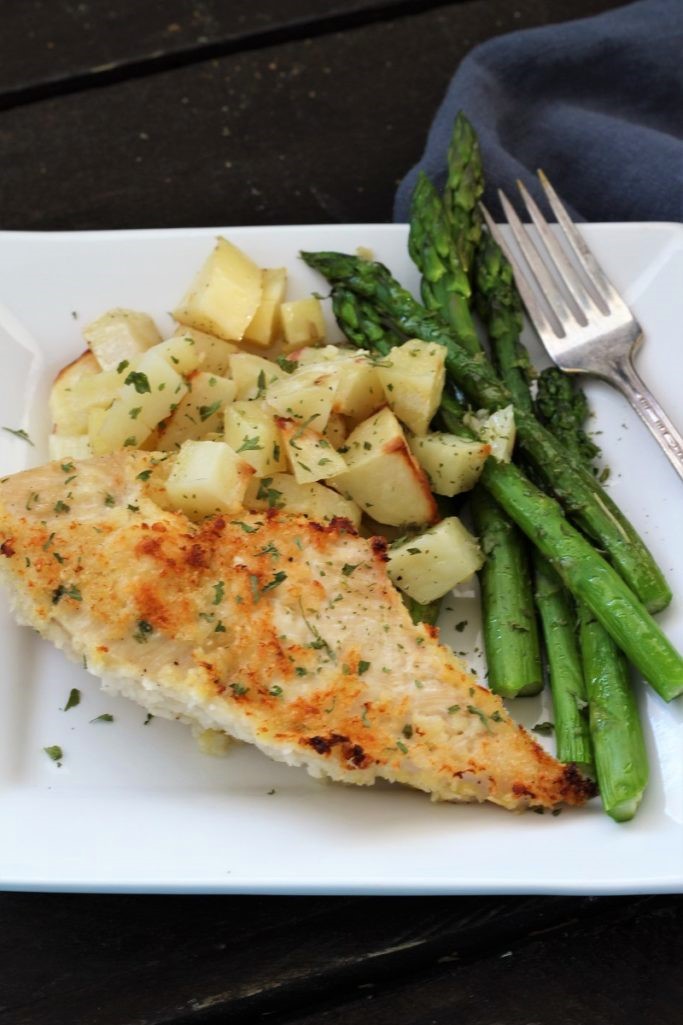 Ingredients
1 egg
1 teaspoon minced garlic
2 teaspoons dried parsley
1/2 teaspoon salt
1/4 teaspoon pepper
1 1/2 teaspoons lemon juice
1/2 cup bread crumbs, like Panko
1/2 cup grated parmesan cheese
3 boneless skinless chicken breasts, cut in half if they are big
1 pound of red potatoes, (you can peel them or leave the skins on), cut into 1" squares
1/4 cup butter
1/2 teaspoon garlic salt
1 pound fresh asparagus spears
Instructions
In a deeper, medium sized bowl, combine the 1 egg, 1 1/2 t. lemon juice, 1 t. garlic, 2 t. parsley, 1/2 t. salt and 1/4 t. pepper
Whip them with a fork.
Dredge the chicken pieces in the mixture and let it sit for 15 - 20 minutes.
While the chicken is soaking in the mixture, combine the 1/2 c. bread crumbs and 1/2 c. parmesan cheese together in a separate bowl.
When you remove the chicken, dip it in the bread crumbs and parmesan cheese mixture.
Spray a baking sheet or a cookie sheet with cooking spray, or olive oil.
Put the chicken on the baking sheet and add the cubed potatoes.
In a micro wave safe bowl, combine the 1/4 c. butter, and the 1/2 t. garlic salt and melt in the micro wave.
Drizzle 1/2 of the butter mixture over the potatoes, saving the other half for the asparagus.
Bake in a 400 degrees oven, for 20 minutes.
Remove the tray and move the potatoes to half of the baking sheet, and turn the chicken over.
Place the asparagus on the baking sheet and place the mixture back into the oven. Turn the oven onto broil and broil it for 8 - 10 minutes or until the asparagus spears are a little tender.
Serve and enjoy.
Nutrition Information
Yield
4
Serving Size
1
Amount Per Serving
Calories

529
Total Fat

21g
Saturated Fat

11g
Trans Fat

1g
Unsaturated Fat

8g
Cholesterol

164mg
Sodium

845mg
Carbohydrates

44g
Fiber

5g
Sugar

4g
Protein

41g