Sheet pan roasted parmesan chicken and veggies is one of the best and easiest meals I have ever enjoyed!  I highly recommend that you try it sooner than later. It would be so easy on those nights when you are in a hurry or even when you just don't know what to fix. Sunday would also be another great day for this meal, because there is meat, veggies, and you have your side dish of potatoes. I will be very surprised if you don't just love it.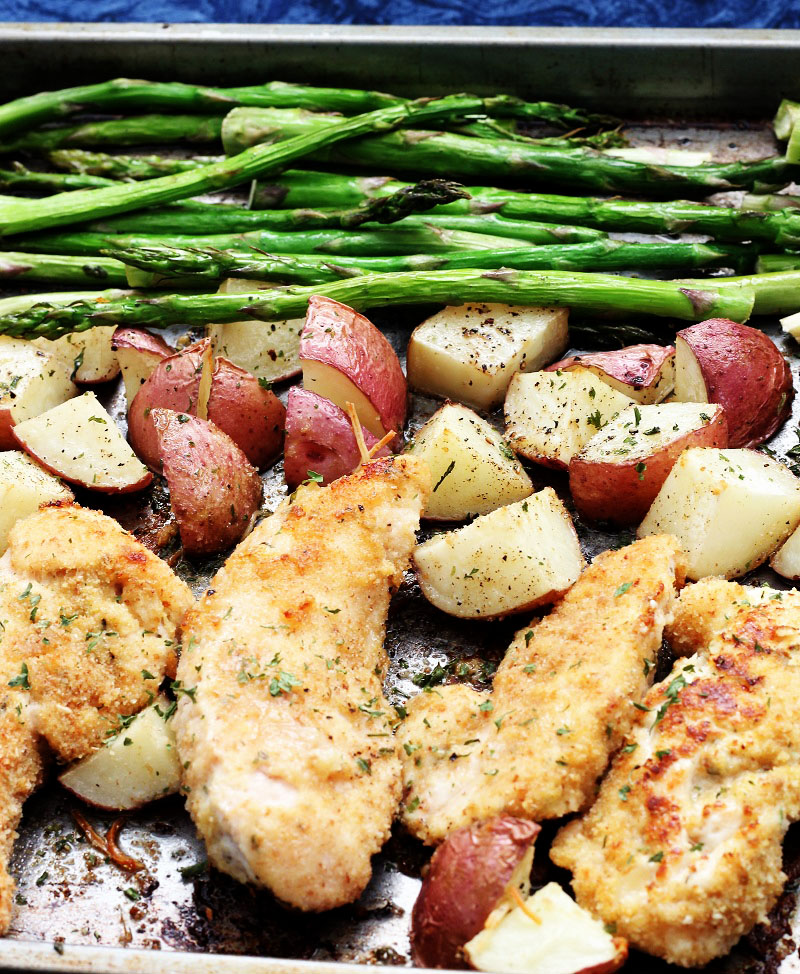 So we have 200 lbs of potatoes in our garage right now and so I have been looking for ways to use some of them up! Yes, if you don't have any potatoes, I recommend that you get some and try this sheet pan roasted parmesan chicken and veggies dish. I promise you that you will really enjoy it. You could use any kind of potatoes, but I chose the red. Yukon would also be great, and I am sure that you could use our favorite (the Russet).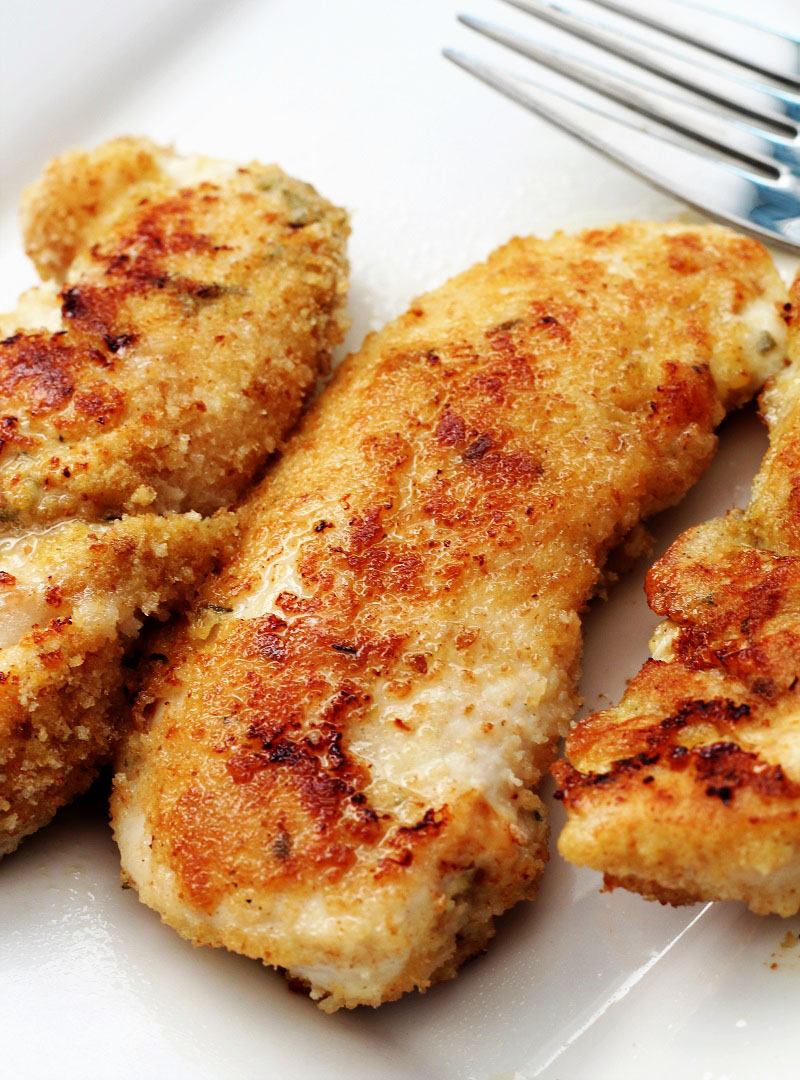 I love that you can put everything on one pan, and place it in the oven. You just need to do a few minutes of prep work and place it in the oven. Set the timer, come back in 20 minutes, cook it for 15 more minutes and you are ready to eat. Soooooo, good! I hope that you can try this sheet pan parmesan chicken and veggies recipe, and enjoy it soon. I promise, you will be glad that you did!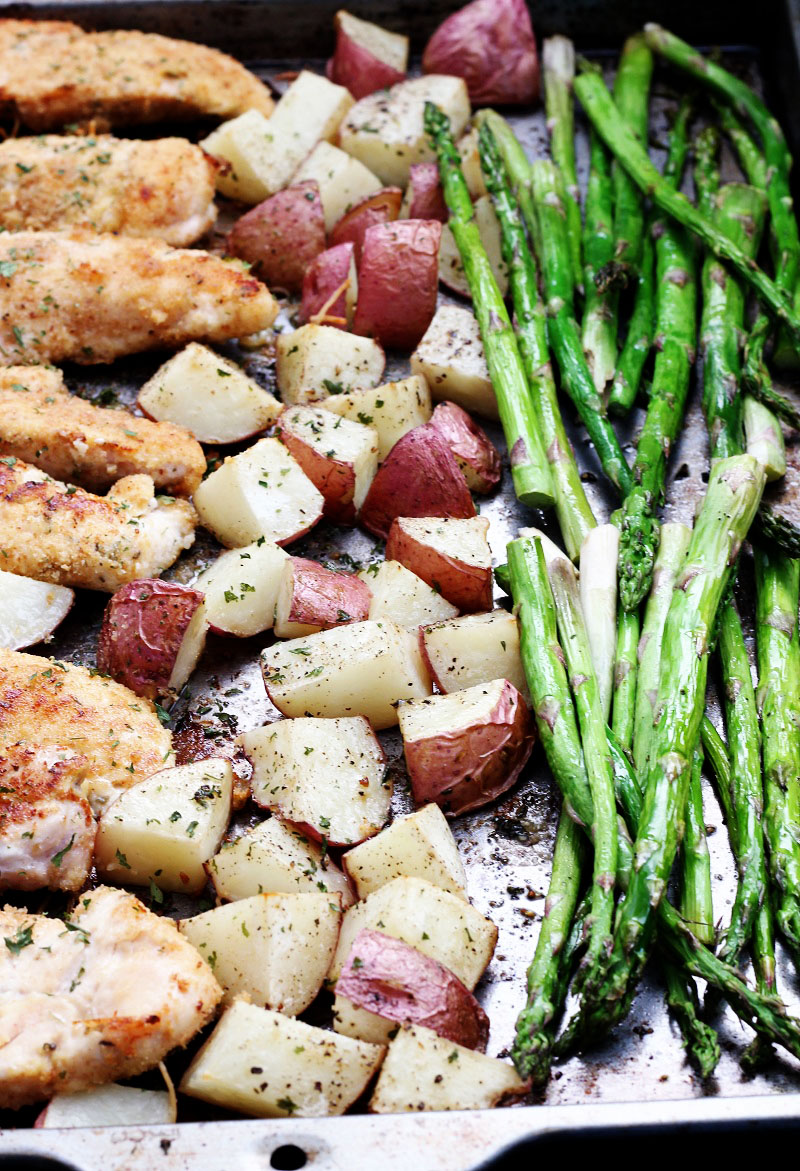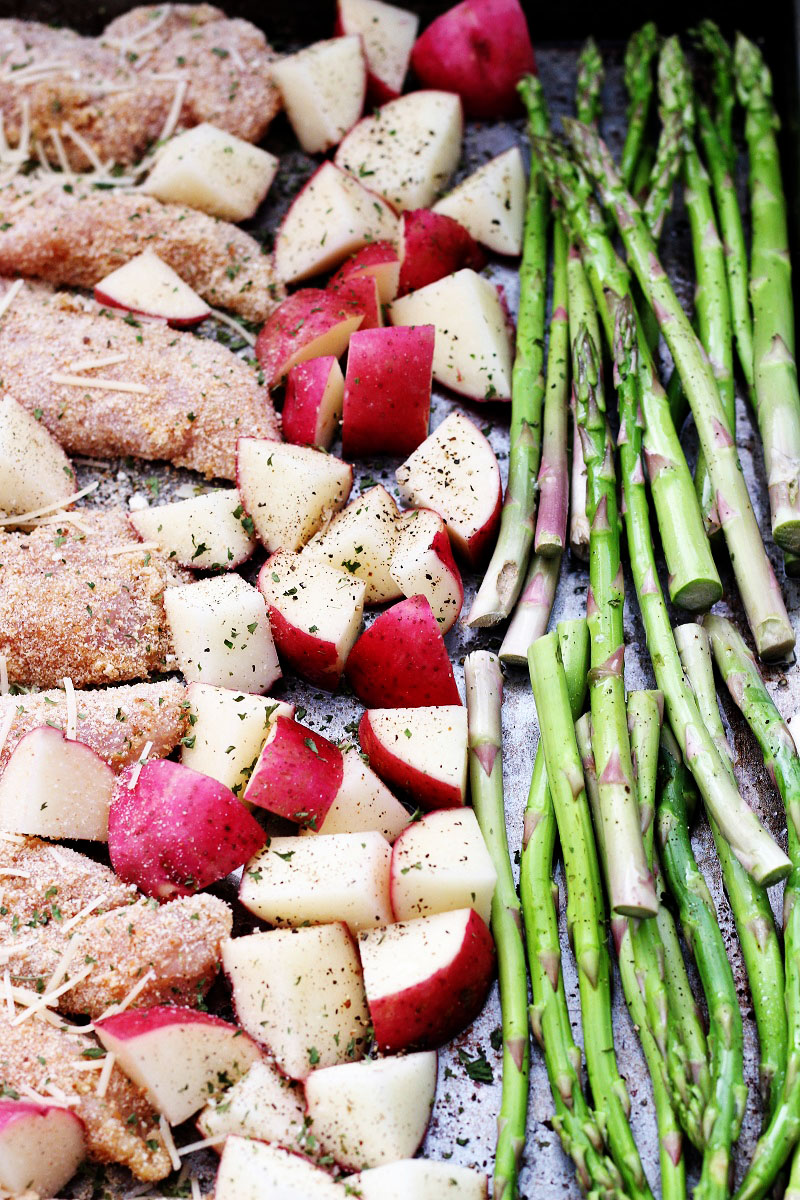 Sheet Pan Roasted Parmesan Chicken and Veggies
Prep time:
Cook time:
Total time:
Ingredients
1 large egg
½ cup bread crumbs
1½ pounds chicken tenders
1 garlic clove, minced
½ tsp basil
¼ tsp oregano
¼ tsp rosemary
½ tsp salt
¼ tsp pepper
⅓ cup fresh grated parmesan cheese
4 medium red potatoes, cut in 6 - 8 pieces
1 pound asparagus or green beans
¼ cup butter
Instructions
Preheat the oven to 400 degrees.
Lightly grease a baking sheet with cooking spray or olive oil.
In a pie pan or shallow dish, whisk together, egg, garlic, basil, oregano, rosemary and salt and pepper.
Dip the chicken tenders in the egg mixture and then in the bread crumbs, making sure that you coat both sides.
Place along one side of the baking sheet.
Place the potatoes close to the chicken, leaving one edge for the asparagus.
Drizzle a small amount of butter over the potatoes and sprinkle with salt and pepper.
Sprinkle with parmesan cheese.
Put in the oven for 20 minutes.
Remove from the oven and turn the chicken over.
Place the asparagus on the baking sheet and return to the oven for 15 more minutes.
Make sure that the chicken is 160 degrees in the middle.
Garnish with fresh or dried parsley.
Serve while warm.