Raspberry avocado spinach salad with poppy seed dressing is loaded, and packed with goodness. I add the dressing just before serving. That way it does not go soggy! If you wanted to, you could also add an apple, or sometimes I set sliced mushrooms to the side so that those that like mushrooms can add them. This makes a nice size salad, so if you are getting together with a few people, I like to make this. I took this to my family Christmas Party and the bowl came home empty. I cannot get enough of the candied  pecans in it. I really have to be careful when I make this because I could just sit and eat all the pecans!!
One of the fun gifts this year at our family party was a fanny pack that looked like a chubby belly. It was definitely for a man! It had a belly button and hair, and I don't know very many women with a hairy belly! OOOOWH!  At first my nephew got the fanny pack and then my brother came and stole it from him. He said he can not wait to take it to his Rotary Club party next year. I laughed, he is the very last person that I ever thought would take it. He is very business and very prime and proper. But you know, we all need a good laugh, and a little fun once in awhile.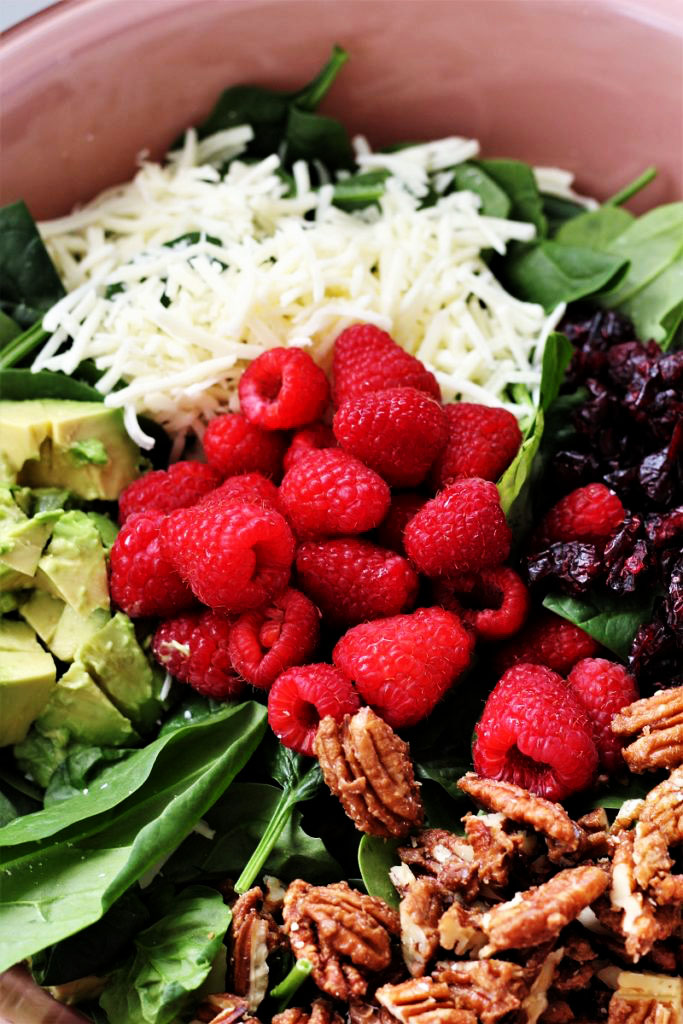 I think that the reason this salad is so amazing is because of the candied pecans and the raspberries together. Also the avocados are such a nice touch. You can either use mozzarella cheese or feta cheese crumbled. Just before serving, you can either add the dressing or even set it to the side and let others put on their own dressing. We had Sloppy Joes, chips and salads. For dessert, we had a nice cake my sister made, I should have taken a picture? I always forget my camera. We also had peanut butter bars, and banana bars. They were all so delicious.!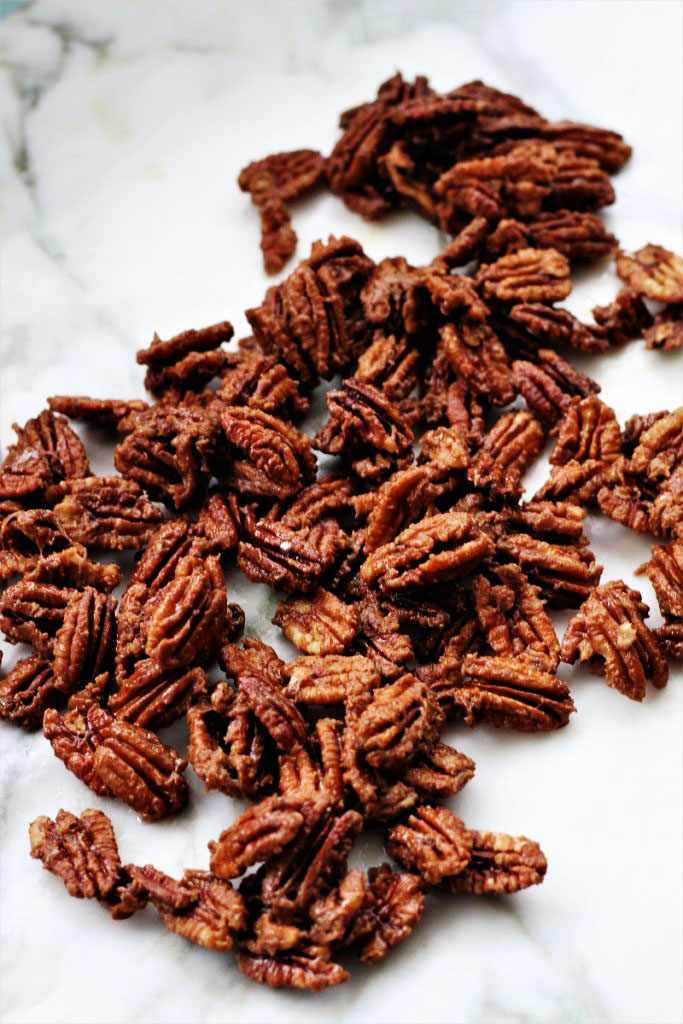 Did you have a good New Years Eve, or did you just go to bed? I heard my poor little granddaughter awake at 12:05 because of all the crazy fireworks. What happened to the days when the kids use to take your pots and pans outside and bang them? It does seem a little weird for everyone to go out and do fireworks, but to each his own. It does make it hard for those of us with pets and little ones. Oh well, I guess that it is a good thing that it only comes once a year. Enjoy the raspberry avocado spinach salad with poppy seed dressing and have a wonderful New Year!

Raspberry Avocado Spinach Salad with Poppy Seed Dressing
Prep time:
Cook time:
Total time:
Ingredients
Salad:
10 ounces of baby spinach
1½ cups pecans sugared (see instructions below)
6 ounces fresh raspberries
½ cup dried cranberries
2 medium avocados, peeled and diced
6 ounces mozzarella cheese, (grated)
Candied Pecans:
3 tablespoons butter, salted
1½ cups pecan halves
3 tablespoons brown sugar
1½ tablespoons whipping cream
1 Tablespoon honey
Instructions
Salad:
In a large bowl combine the spinach, cooled pecans, raspberries, cranberries, avocados and cheese.
When ready to serve add the dressing! I use Brianna's Poppy Seed dressing!
Candied Pecans:
in a medium skillet, add the butter over medium heat.
Add the pecans and stir until coated.
Add the sugar, honey and the whip cream. Stir until they caramelize. (It takes them about 15 - 20 minutes on my gas range).
When they look caramelized, and the sugar is sticking to them nicely, turn them out on a wax piece of paper and let them cool. When they are cool take a sharp knife and cut into smaller pieces.