Peanut Butter Cookies are a bit crunchy even when they are moist. The rich taste of peanut butter gives these cookies such an awesome flavor.
This is my grandmother's recipe, and baking them (and eating them) bring back fond memories of her. She used to make these peanut butter cookies with Lard. I changed it to 1/2 cup of coconut oil, or you can use Crisco. I also like to add little chocolate chips to my peanut butter cookies.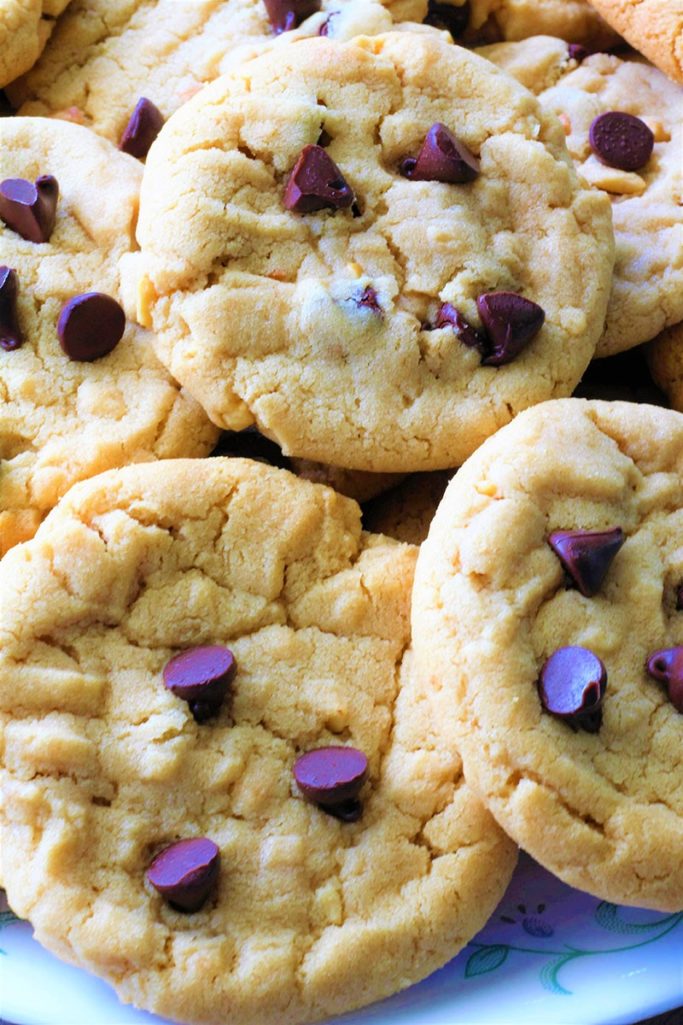 What Ingredients Do I Need For Peanut Butter Cookies?
Coconut oil
Butter
Sugar
Brown sugar
Peanut butter
Eggs
Flour
Baking soda
Salt
Vanilla
Mini chocolate chips (optional)
How Do I Make Peanut Butter Cookies?
Cream coconut oil, butter, and sugar.
Add peanut butter and mix well.
Add eggs, then dry ingredients.
Add vanilla and mix well.
Drop by spoon on to cookie sheet (or for a traditional look use the following instructions).
Roll into balls. Place on cookie sheet 2 inches apart. Flatten each ball with a fork, making a crisscross.
Bake at 350 degrees for 10-12 minutes.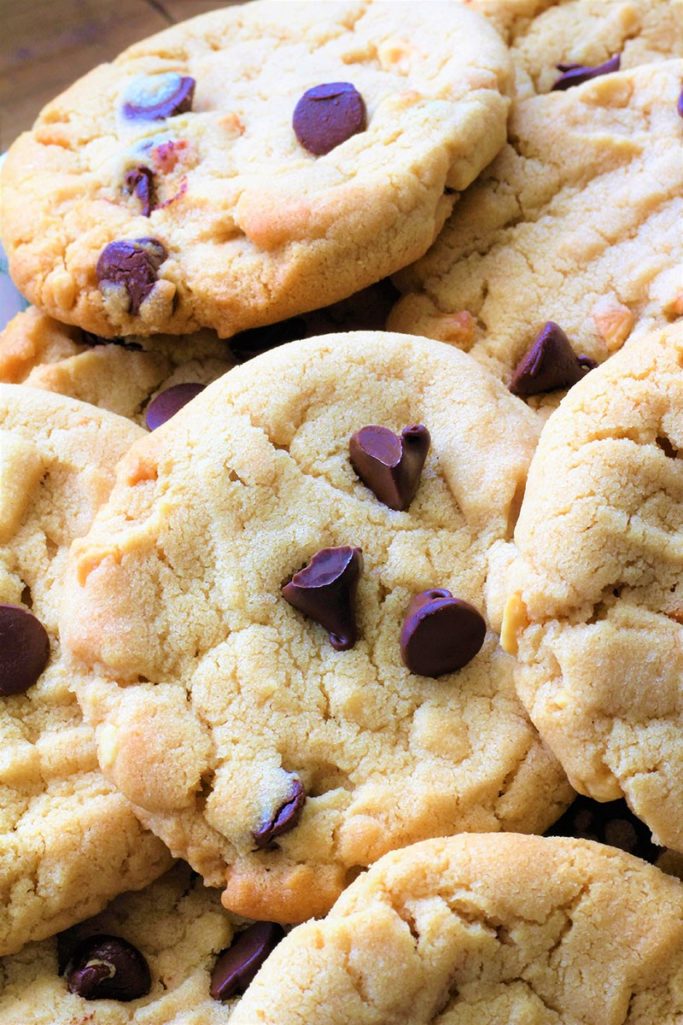 My grandmother was an amazing woman. She had 11 children (all or which were single births). She worked right along side my grandfather in most of what he did. He farmed, did construction, hauled milk, logged, milked cows, and other jobs to support the family.
I cannot tell you how many times I saw her out in the field working with him or smoothing concrete as he poured it. She always seemed to have time for each grandchild (she had 89). It amazes me now that I have 4 grandchildren, how she was able to do all that she did. I have no clue how many cookies she made over her lifetime, but I will tell you that it was a lot!
One of the things that I enjoyed doing with my grandparents was working in their garden with them. They always had a large, wonderful garden.
Why Do You Flatten Peanut Butter Cookies With a Fork?
Peanut butter cookies don't spread as they cook, so you have to flatten them before you cook them.

This helps ensure that the middle will cook through before the outside burns.

The pattern created actually creates slightly more surface area, so you'll get more browning at the extra edges that you create.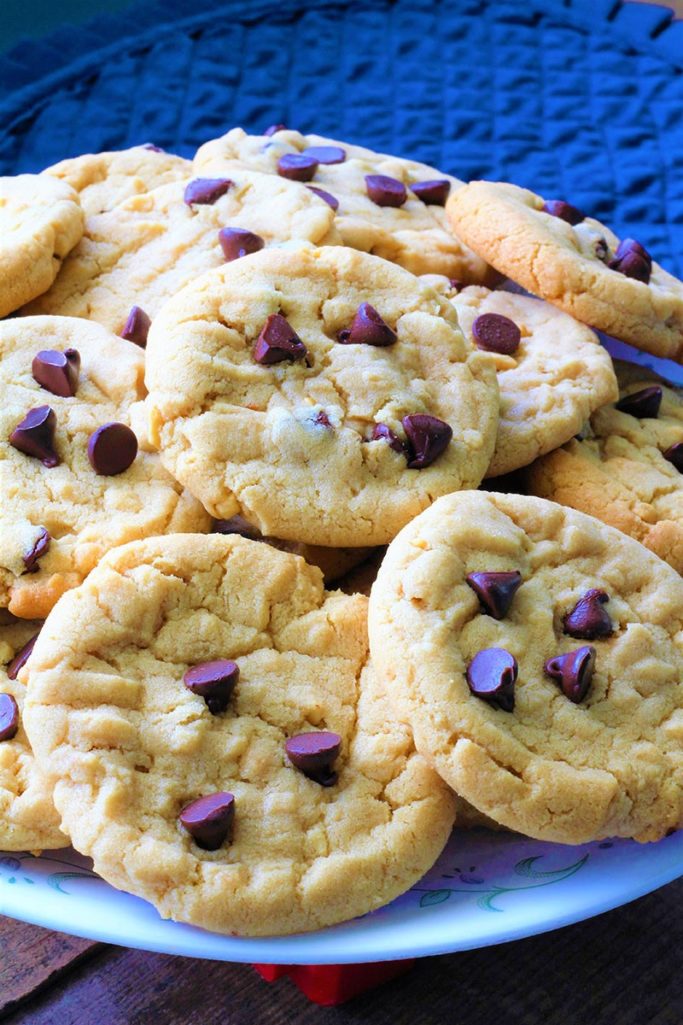 Another thing that I really enjoyed doing with them was going up in the mountains in Idaho to pick huckleberries. Whichever of my cousins that could go, would jump in the back of the truck and off we went. We took picnic lunches and spent the day.
It was an enjoyable day with loved ones that provided some really good memories. Someday maybe I will make a huckleberry recipe and share it with you. Huckleberries are a real treat. They grow on little bushes that are up to 18 inches off of the ground and have to be picked one at a time. It is much easier to obtain peanut butter, so today we are having Grandma's Peanut Butter Cookies!
More Delicious Cookie Recipes For You:
Copycat Crumbl Raspberry Cheesecake Cookies
Chocolate Swig Cookies with Cookie Dough Frosting
Copycat Crumble Muddy Buddy Cookies
Yield: 4 dozen
Peanut Butter Cookies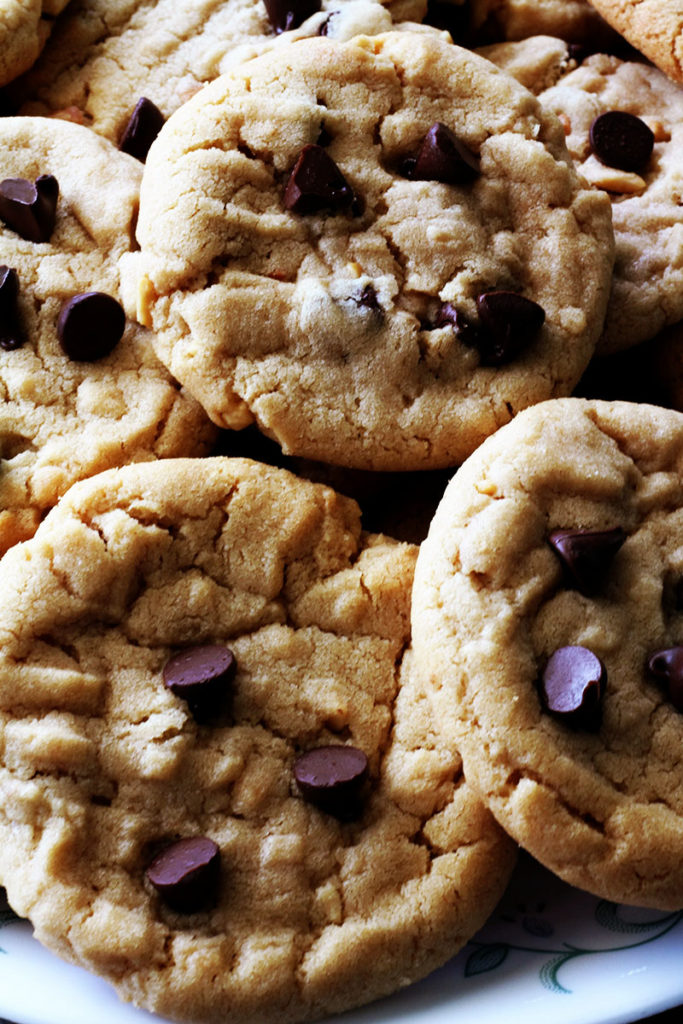 Peanut Butter Cookies are a bit crunchy even when they are moist. The rich taste of peanut butter gives these cookies such an awesome flavor.

Prep Time 25 minutes

Cook Time 10 minutes

Total Time 35 minutes
Ingredients
1/2 cup coconut oil
1/2 cup butter
1 cup white sugar
1 cup brown sugar
1 cup peanut butter
2 eggs
3 cups flour
1 teaspoon baking soda
1/2 teaspoon salt
1 teaspoon vanilla
12 ounces mini chocolate chips (optional)
Instructions
Cream coconut oil, butter, and sugar.
Add peanut butter and mix well.
Add eggs, then dry ingredients.
Add vanilla and mix well.
Drop by spoon on to cookie sheet (or for a traditional look use the following instructions).
Roll into balls. Place on cookie sheet 2 inches apart. Flatten each ball with a fork, making a crisscross.
Bake at 350 degrees for 10-12 minutes
Nutrition Information
Yield
48
Serving Size
1
Amount Per Serving Calories 165Total Fat 9gSaturated Fat 5gTrans Fat 0gUnsaturated Fat 3gCholesterol 13mgSodium 94mgCarbohydrates 20gFiber 1gSugar 12gProtein 3g