Lemon Herb Chicken Ring is a recipe that I got from a friend of mine. Her name is Sib (short for Sylvia); she never cared for her name, but I think that it is a beautiful name. So today when I knew that I was going to have a busy day I went to the grocery store.
It was early and I asked the gentleman that worked there where the Rotisserie chickens were? He told me that they were back in the Deli area. So I quickly headed back there to get one, however when I got there, the man that was cooking them told me that they would be done in 25 minutes.
I didn't care to wait and so I came home and used 2 (12.5 ounce) cans of chicken. The Lemon Herb Chicken Ring turned out awesome.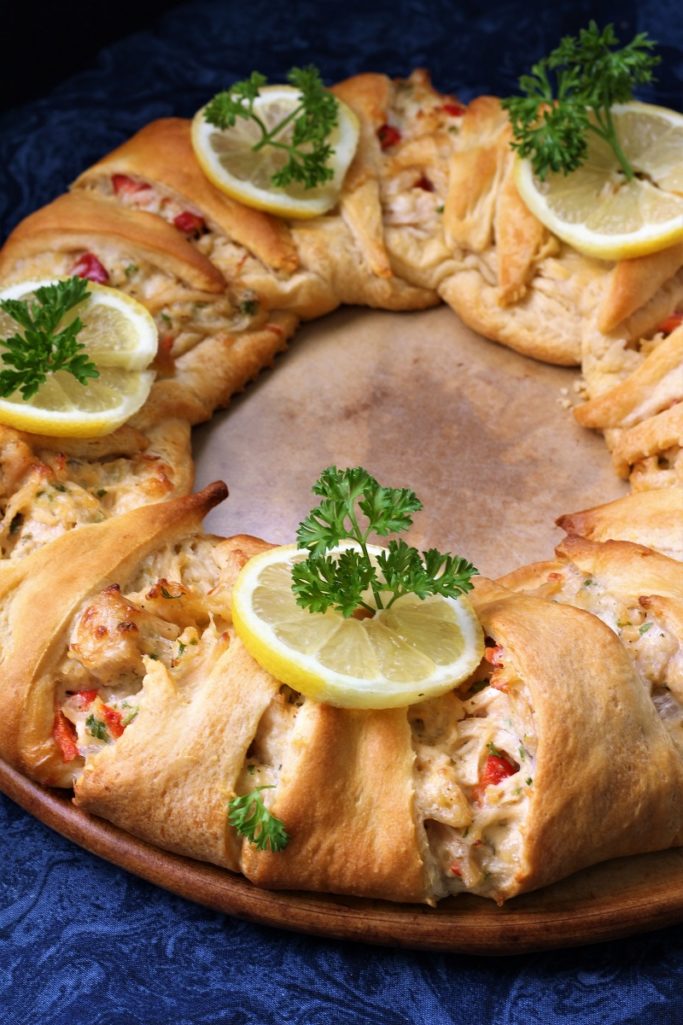 What kinds of chicken can I use in Lemon Herb Chicken Ring?
Instead of cooking some chicken for this recipe, you could use leftover cut-up cooked chicken, canned chicken, or pick up a deli rotisserie chicken at the supermarket. Remove chicken from bones and shred.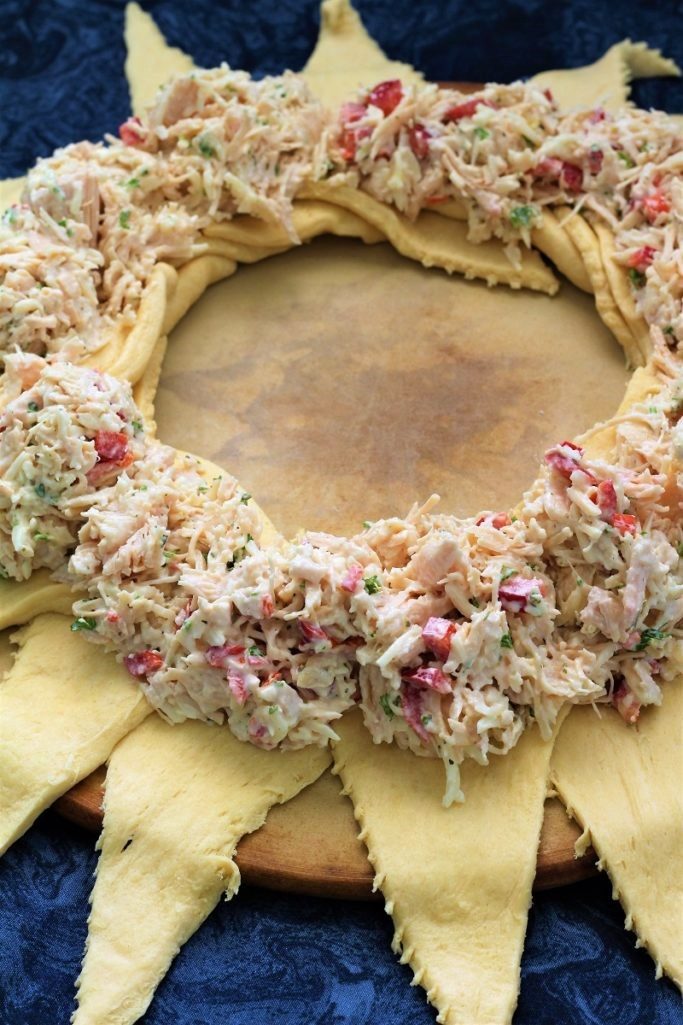 Can I use a different cheese than Parmesan Cheese?
You could use Cheddar, Swiss, Colby Jack, Monterey Jack or whatever cheese you prefer!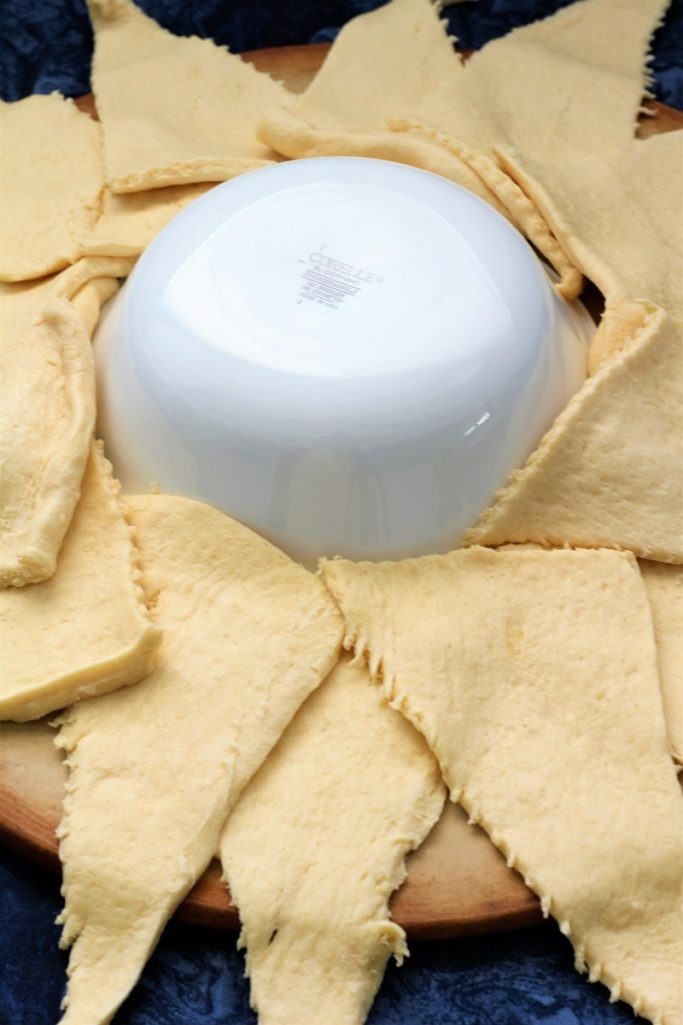 What are some good garnishments for this Lemon Herb Chicken Ring?
I like to garnish it with fresh lemon, parsley, and a little dollop of sour cream.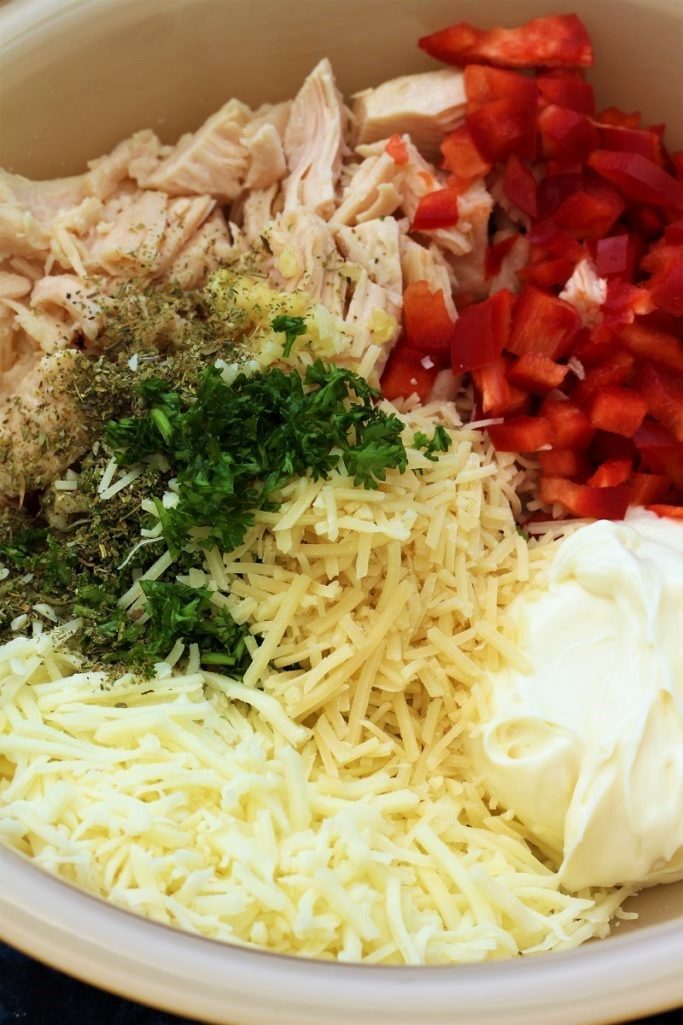 What would be good to serve with Lemon Herb Chicken Ring?
You could serve with a Kale Salad.
Or a Caesar Salad from my blogging friend, Alyssa's blog; the Recipe Critic.
One nice thing about this Lemon Herb Chicken Ring is that you can have it on the table in less than 1 hour. Perfect for those crazy, busy, summer days or any time of year!
Yield: 8 people
Lemon Herb Chicken Ring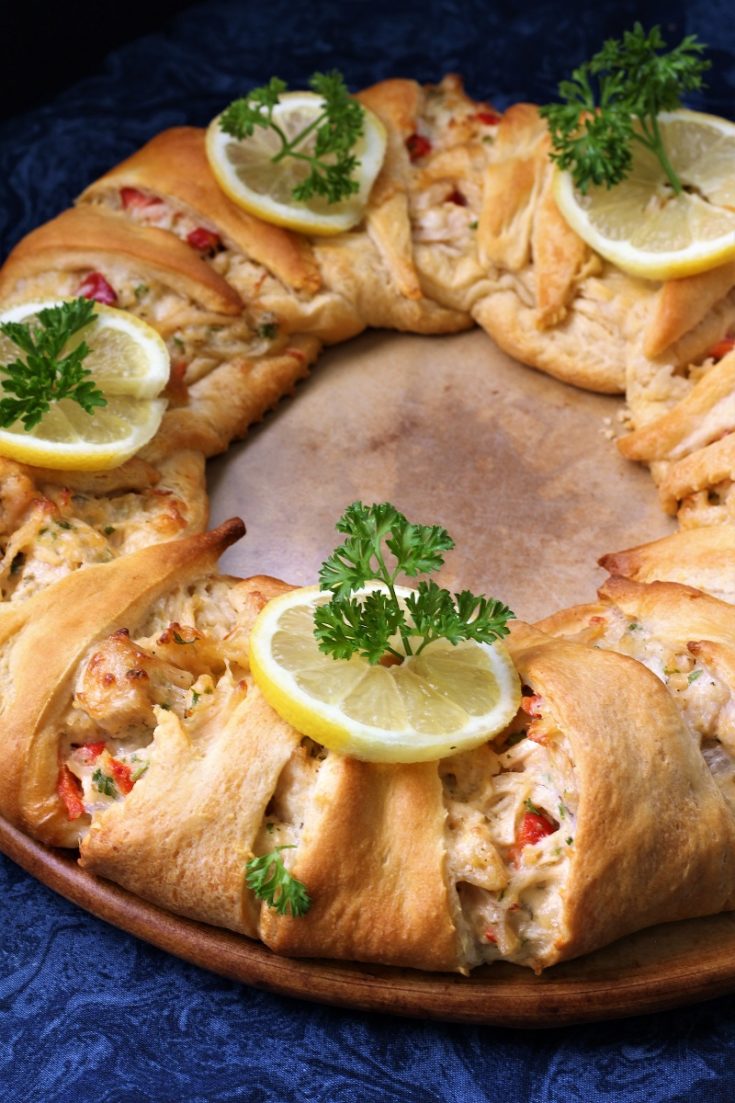 Lemon Herb Chicken Ring is a great go to when you need a dinner idea quickly. The lemon and Italian flavors blend together so well.

Prep Time 15 minutes

Cook Time 25 minutes

Total Time 40 minutes
Ingredients
2 cups shredded, cooked chicken (or canned)
1/2 cup diced red bell pepper
2 teaspoons lemon zest
3 Tablespoons chopped fresh parsley, divided
1 large garlic clove, minced
1 cup shredded mozzarella cheese
1/2 cup mayonnaise
1 teaspoon Italian seasoning
1/2 cup grated parmesan cheese, divided
2 (8 ounce) packages refrigerated crescent rolls
Instructions
Preheat the oven to 375 degrees.
In a large bowl add the 2 c. chicken, 1/2 c. diced bell pepper, 2 t. lemon zest,and 2 Tablespoons of the chopped parsley.
Then add the minced garlic, 1 c. mozzarella cheese, 1/2 c. mayonnaise, 1 t. Italian seasoning, and 1/4 cup or the grated parmesan cheese.
Mix it well.
I like to place a bowl that is about 5-7' wide in the center of either a baking sheet or a pizza stone.
Separate the crescent dough into triangles.
Arrange the triangles with the widest part toward the bowl, making a circle, and you will need to overlap the triangles, about half way for each one.
Spoon the chicken mixture evenly on top of the wide part of the triangles, I like to use a large cookie scoop.
Bring the point of the triangles up over the filling and pinch the narrow part and the wide part together.
It will not completely cover the filling.
Sprinkle the remaining 1/4 c. parmesan cheese over the ring.
Bake for 22-26 minutes depending on your oven, the crescents will be golden brown; make sure the center is not doughy.
Garnish with lemons, and remaining parsley.
Slice into pieces and enjoy.
Nutrition Information
Yield
8
Serving Size
1

Amount Per Serving

Calories 243 Total Fat 19g Saturated Fat 5g Trans Fat 0g Unsaturated Fat 13g Cholesterol 52mg Sodium 313mg Carbohydrates 4g Fiber 0g Sugar 1g Protein 13g

This data was provided and calculated by Nutritionix