Kale salad is a perfect side for your main dish. It is loaded with foods that are good for you! The olive oil is a fat that is good for you and the lemon juice gives it the perfect amount of tart.
I know that we have been on this healthy kick lately. My husband is doing much better that I am. He has gotten rid of 10 pounds and I have gotten rid of 2. Ha ha. My goal by the end of the week is to have gotten rid of 5. That is really stretching it for me.
I seem to have to eat during the day when he is going about five hours between meals. Oh well, baby steps that is how you do it. And I was very happy with this kale salad because we usually do not eat dressing on our salads, but this was very good.
I am not sure how my sons feel about this, but one of them is house sitting this week and if he doesn't care for what we are eating here, he just goes back to the house that he is house sitting at and eats there. My other son looks at us like am I suppose to look at this stuff or eat it.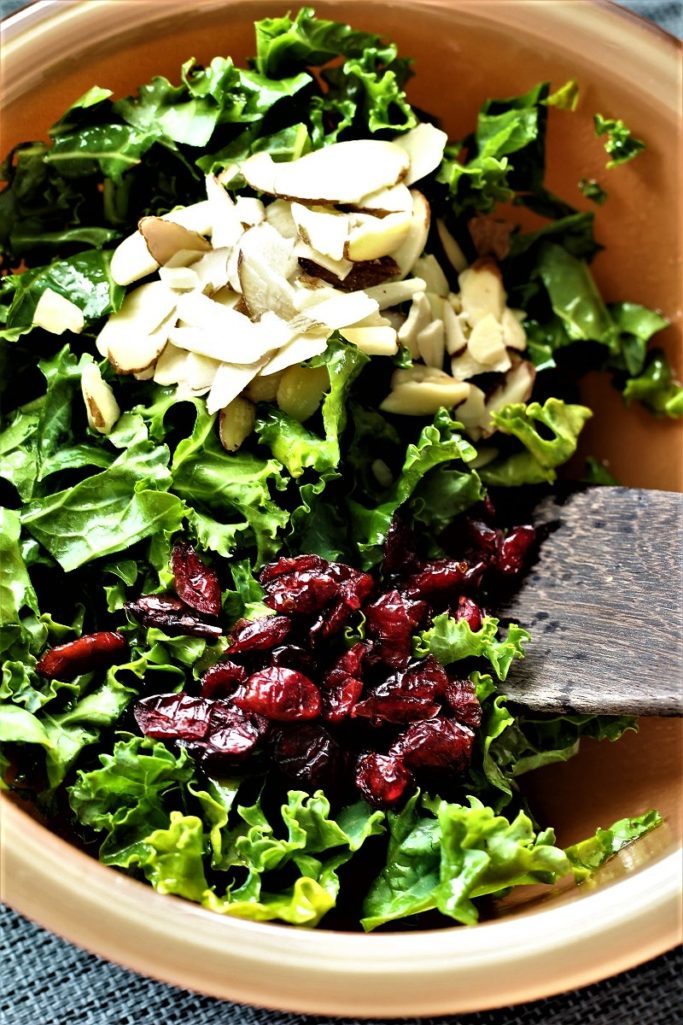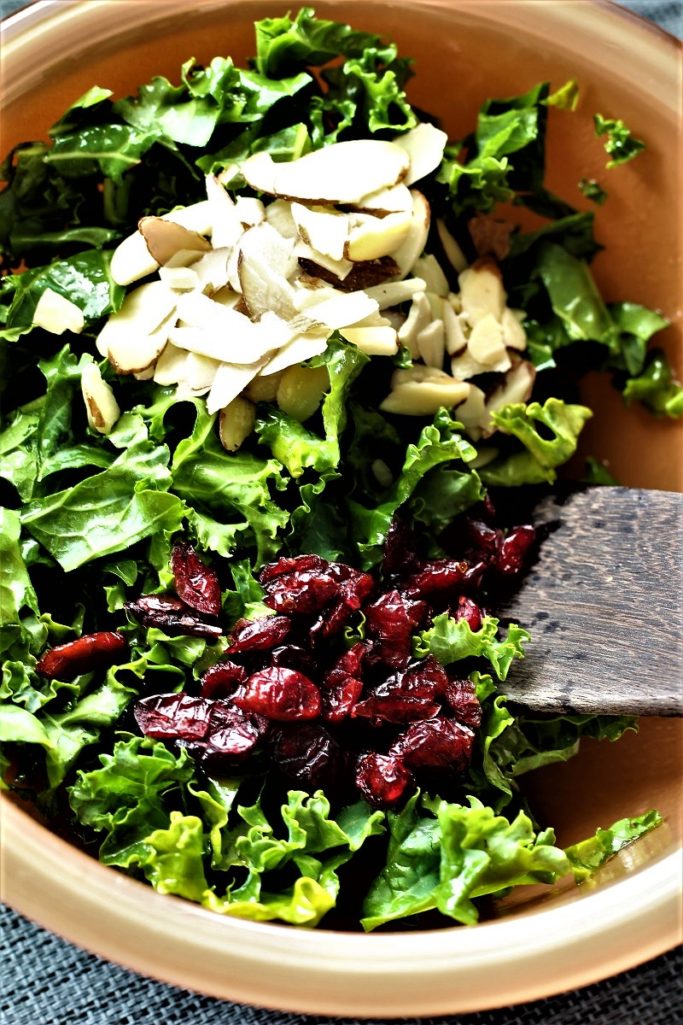 Someone offered us some brownies yesterday and I told them no thank you, we are on a six week healthy challenge and they asked what it was like. My son said "oh stuff like kale". It really is good and I hope that you will try it.
I could have eaten the whole bowl by myself and not even felt bad about it. You could add whatever berries you want, but I had the blackberries and I thought that it made it look very nice and even more appetizing than it already did.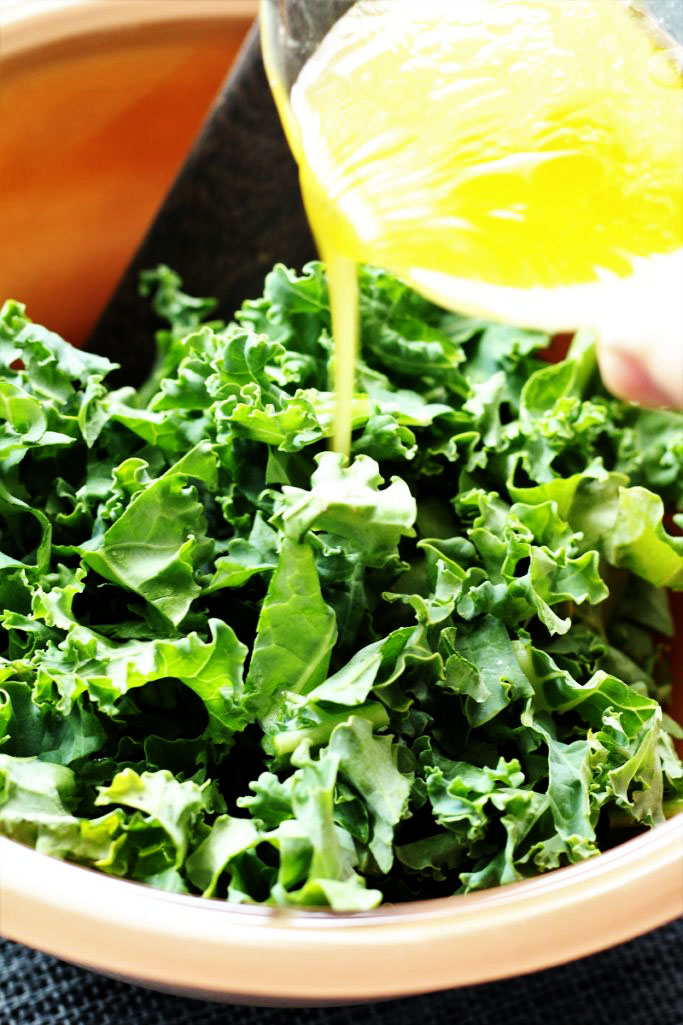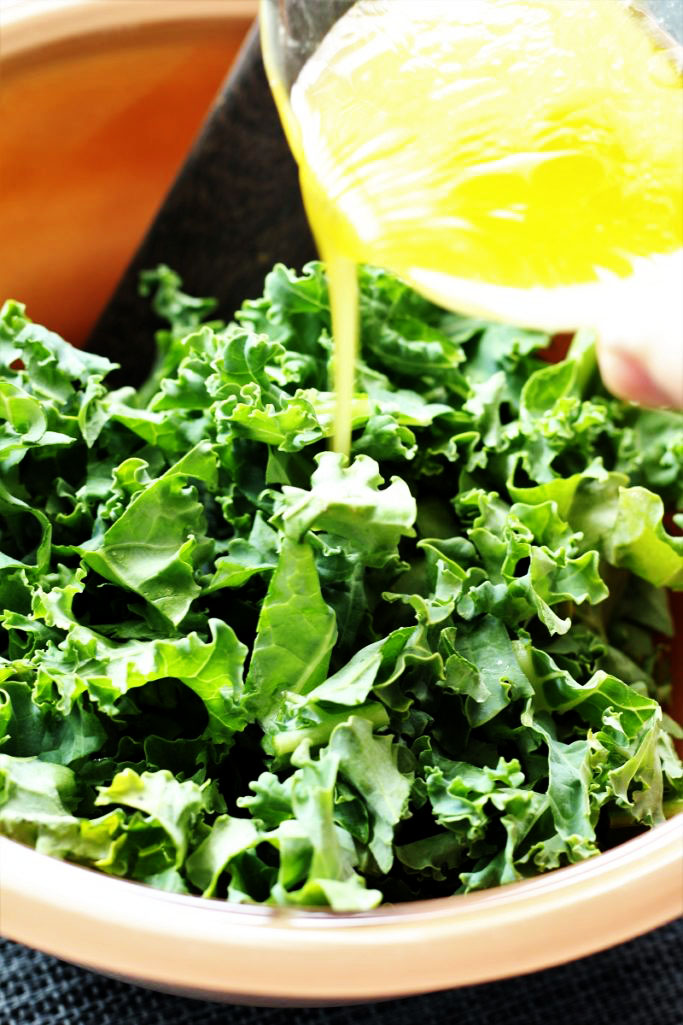 Also on this kale salad, you could use whatever kind of nut that you wanted. There are walnuts, pecans, peanuts, sunflower seeds, or even pine nuts. Now that is a lot of different options.
I think that we just need to start experimenting with different kinds of greens and nuts and we will discover things that really taste good and things that our bodies really want. I also made a gluten free corn bread. It was very good in flavor, but the texture was a little dry.
However, my son said it wasn't too bad with maple syrup on it. I say good for him, he is a pretty good sport to put up with my experimenting. 😉 I hope you enjoy trying this kale salad.
Yield: 4 people
Kale Salad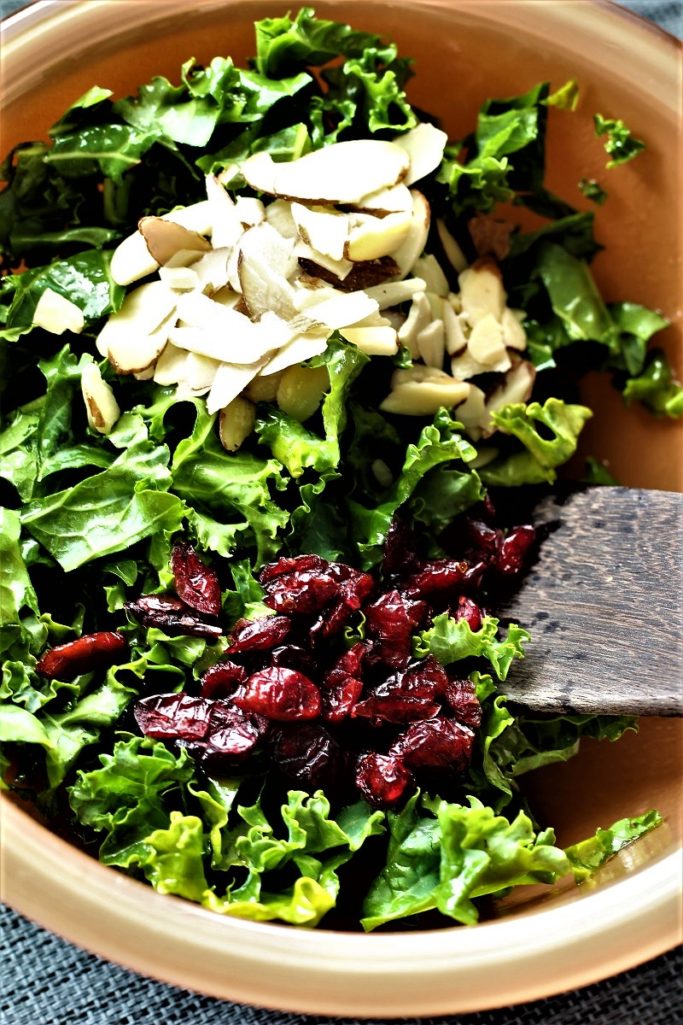 Prep Time 10 minutes

Total Time 10 minutes
Ingredients
2 cups raw kale
3 tablespoons extra virgin olive oil
2 tablespoons lemon juice
1/4 teaspoon salt
1/8 teaspoon pepper
1/3 cup slivered almonds
1/4 cup dried, low sugar cranberries
Garnish with blackberries
Instructions
In a medium bowl, add the kale cut into smaller pieces.
In a separate bowl add the oil, lemon juice, salt and pepper.
Add to the kale and mix until all the kale is covered.
Top the salad off with almonds and cranberries.
You can also add blackberries if you want, for garnishing.
Nutrition Information
Yield
4
Serving Size
1
Amount Per Serving Calories 203Total Fat 14gSaturated Fat 2gTrans Fat 0gUnsaturated Fat 12gCholesterol 0mgSodium 138mgCarbohydrates 19gFiber 2gSugar 14gProtein 2g

This data was provided and calculated by Nutritionix