Gooey cinnamon biscuits are a fun biscuit to have around Easter time. You start out with a biscuit and a large marshmallow and then you end up with a empty biscuit and some yummy goodness coming out of the middle. I have seen these biscuits used as an analogy to the empty tomb.
I got this recipe out of my mom's family cook book. But really the first time that we had these was when my daughter introduced them to us one night when we were outside roasting hot dogs. So if you are very patient you can also cook the gooey cinnamon biscuits over a camp fire.
They are very tasty and it is always a big surprise when you go to eat your biscuit and it is empty. They are fun to eat with ham and potatoes; add a vegetable and you have a wonderful Easter dinner. Oh ya and don't forget my very favorite cup cake of all time, the Kneaders copy cat Easter cupcakes.
They are my favorite because the flavor is so amazing and they are so soft and fluffy. Be careful if you do make them, they are just a little addicting. And who doesn't love Cadbury eggs on top. They make these cupcakes the best ever.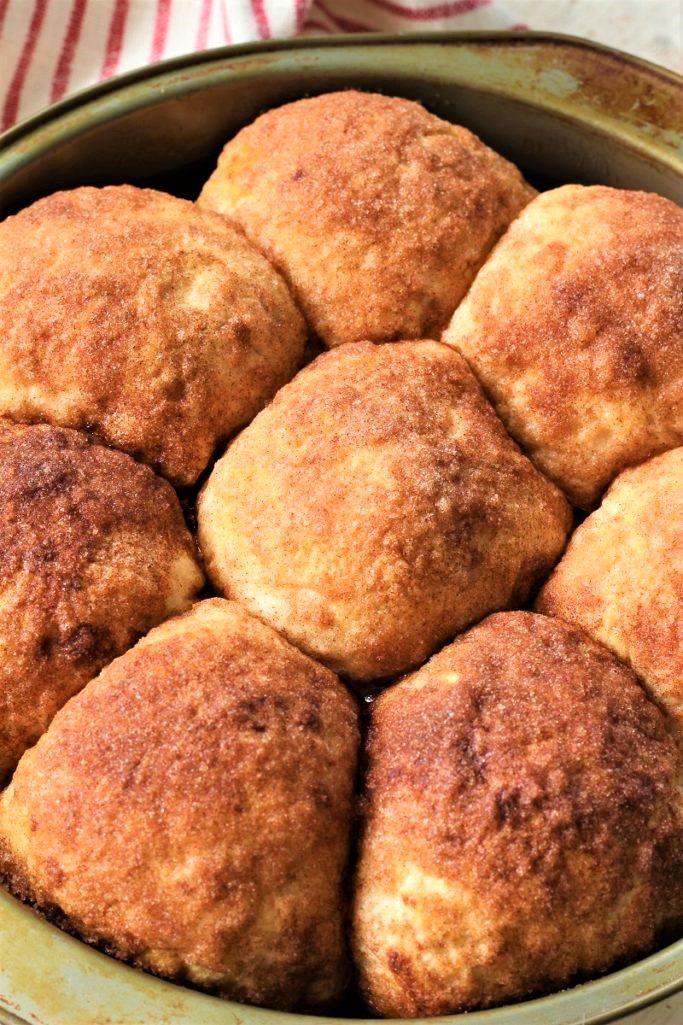 What Ingredients Do I Need For Gooey Cinnamon Biscuits?
Here's a list of ingredients you'll need to make these Biscuits (scroll down for the full recipe):
Pillsbury biscuits
Butter
Marshmallows
Sugar
Cinnamon
How Do I Make Gooey Cinnamon Biscuits?
Here's the simple steps you'll follow to make these Biscuits (scroll down for the full recipe):
Start out with roll dough. I usually use crescent rolls, as that really makes these quick and easy.
Press each individual dough portion flat.
Roll your marshmallow in butter and then in the cinnamon sugar.
Place the marshmallow in the middle of the dough and pull the dough up around the marshmallow and seal it.
Roll it in more butter and cinnamon sugar, then place it in a greased baking dish or muffin tin.
Bake at 375 for 15-18 minutes, or per biscuit package instructions.
Explaining Gooey Cinnamon Biscuits (For Non Christians):
These rolls are often used as an analogy to explain the empty tomb and the Resurrection of Christ.
But if you do not have Christian beliefs, these biscuits are still so fun.
You can call them Gooey Cinnamon Biscuits.
And when you open them, you can ask, "Where did the Marshmallow Go"?
The marshmallow melts and turns into a sweet glaze, and since the marshmallow was rolled in butter and cinnamon and sugar, it leaves a bit of a caramel sauce inside of the roll.
It is not a sauce that comes oozing out when you open it, but just enough that you can taste it.
It is fun to see how the marshmallow disappears in the baking process.
Explaining the analogy of Empty Tomb Rolls or Resurrection Rolls (For Christians):
These empty tomb rolls (or resurrection rolls) are perfect when made along with the story of Christ's body being placed in the tomb and then resurrected.
The marshmallow represents Christ's body being wrapped in the white clothing.
Butter represents the oils they anointed him with.
The cinnamon sugar represents the spices and herbs placed on his body.
He is then placed in the tomb (the marshmallow in the roll).
And finally resurrected on the third day (opening the roll).
When you open the rolls, you will see that the marshmallows have melted down into a caramel like sauce that is barely visible. You can now share the analogy by talking about the resurrection and how Christ's body wasn't in the tomb when they opened it. But that just like how the marshmallows have left a sweetness behind, death is sweet because all of us can live again because Christ came to Earth, Died, and was Risen.
When you tell the story, make sure that you get to the part where he is not found in the tomb and open up your rolls at the same time. You will find that kids and adults love this analogy!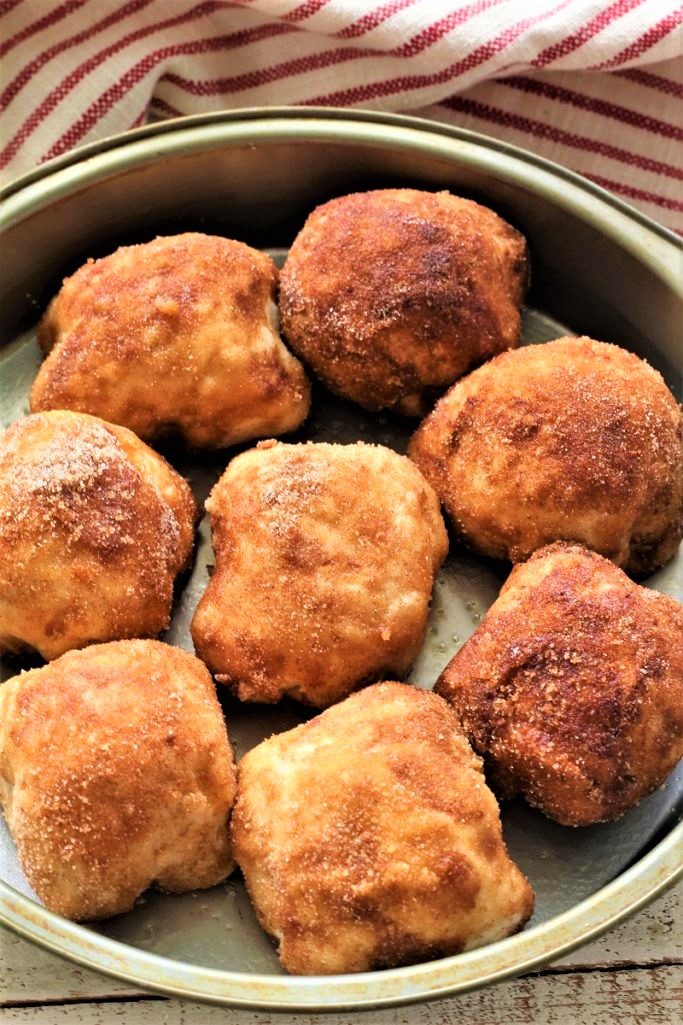 Easter Traditions and Gooey Cinnamon Biscuits:
What are some of the fun Easter traditions that you enjoy? I remember as a kid that we would boil eggs and then the next morning we would all take turns hiding them. We would leave them out for hours, and then most of the time we would even eat them.
I am surprised that we are alive to tell about it. I know that it is not a good idea to eat eggs after they have been out of the fridge for awhile. Every year we would also get a little candy and our Easter baskets, were recycled whip topping containers, but that is part of what helps me remember our traditions and provides precious memories.
We did not have extra money growing up on the farm, and so we made due with what we had. We loved Easter and we loved hiding the eggs for each other. My favorite year was the one that we could not find one of the eggs.
Is it Safe to Hide Hard Boiled Eggs?
Hard-boiled eggs generally remain safe to eat at room temperature for about two hours.
About a week later, my mom found it. Yep, it had rolled way under the couch. The way we found it was by smell. I also remember sometimes we would have a few eggs that had been in the fridge for too long.
We would take the eggs and see who could throw their egg the farthest. I am pretty sure since I had 3 older brothers, that I never won that contest. We never had plastic eggs either; they didn't seem to be the thing back then.
Above is a picture of the biscuits with the marshmallow inside. The seam of the biscuit is on the bottom. After they break, they rise a little and come together. They look like a cute flower in the round pan. Something this simple can become a tradition and something that your children will remember.
So, I hope that you get a chance to make gooey cinnamon biscuits and to be honest with you, they would be really good for Easter breakfast too. They are very simple to make and you can double them if you need a few more.
I hope that you are getting ready for Easter and that you remember that it was Easter that made everything possible. I love Easter and I love teaching with things that are symbolic so that way you can have memories and kids can remember things better, not only kids, grandma's too.
Tips and Tricks For Gooey Cinnamon Biscuits:
I like to pinch the biscuit together at the bottom before putting it into the butter and cinnamon and sugar.
For fun, try replacing the marshmallow with a peep, you might have to cut it down a little to make it fit inside the biscuit.
I baked my biscuits in a 9″ round pan.
I think that gooey cinnamon biscuits taste the best while they are still warm.
And if you Want a Recipe for Some Fabulous Easter Fudge, follow this link to my good friend, Rachel's, Blog; My Kitchen Cents:
Easy 4-Ingredient Easter Fudge
More Delicious Bread Recipes:
Red Lobster Knock-Off Cheese Biscuits
Yield: 8
Gooey Cinnamon Biscuits
Gooey cinnamon biscuits are a fun treat. They start with a marshmallow in them and when you cook them it disappears.
Ingredients
1 package (16.3 ounces) Pillsbury biscuits 8 count
1/4 cup melted butter
8 large marshmallows
1/3 cup sugar
1 Tablespoon cinnamon
Instructions
Preheat the oven to 375 degrees.
In a microwave safe bowl, melt the butter.
Open the biscuits, separate them and flatten them.
In a separate bowl, mix the cinnamon and sugar.
Take out 8 marshmallows.
Take a marshmallow and dip it into the butter, and then the cinnamon and sugar.
Place the marshmallow in the center of the biscuit, bring the sides of the biscuit up around the marshmallow so that you cover the marshmallow.
Then take the biscuit and dip it into the butter and then into the cinnamon and sugar again.
Place the biscuit into a greased 8" or 9" pan.
Repeat until all of the biscuits are used up.
Place them equal distance apart.
Bake for 15-18 minutes or according to package directions.
Nutrition Information
Yield
8
Serving Size
1
Amount Per Serving
Calories

135
Total Fat

7g
Saturated Fat

4g
Trans Fat

0g
Unsaturated Fat

3g
Cholesterol

15mg
Sodium

95mg
Carbohydrates

18g
Fiber

1g
Sugar

13g
Protein

1g
This data was provided and calculated by Nutritionix