Green beans and zucchini with bacon are the peak of a delicious summer evening. You can use canned or frozen beans, but when summer is here, the fresh snapped beans are out of this world.
I also love a lot of butter, and so if you do not, cut the butter in half and only use 1/8 cup instead of 1/4 cup. I like my bacon nice and crispy, but you may like it a little less done. That works too. In other words, feel free to tweak this recipe to your liking.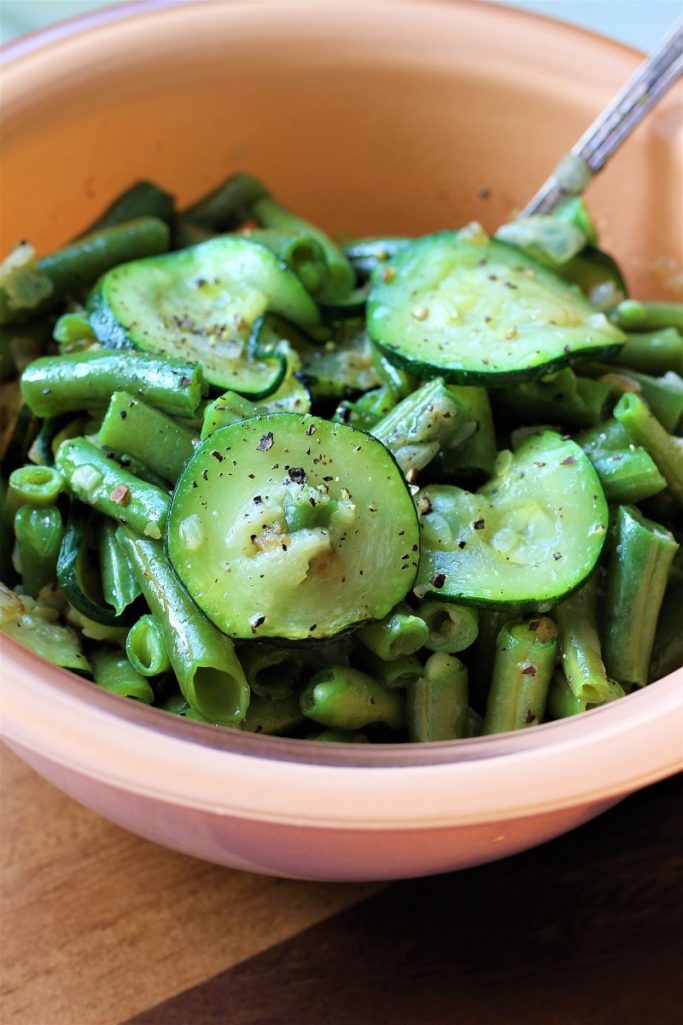 Can I Use Less Zucchini in Green Beans and Zucchini with Bacon?
Sure. Instead of using 2 cups of beans and 2 cups of zucchini you can always use 2 cups beans and 1 cup of zucchini.
It is that time of year when zucchini is ready and oh so plentiful. I really love my zucchini plants that are loaded with zucchinis. I have come across such a variety of zucchini recipes that it is hard to believe that we are eating the same plant.
Here are some Links to more Zucchini Recipes you may enjoy:
Zucchini Chocolate Chip Cookies
Zucchini Carrot Oatmeal Muffins
Easy Zucchini and Yellow Squash Casserole
Yield: 6 people
Green Beans and Zucchini with Bacon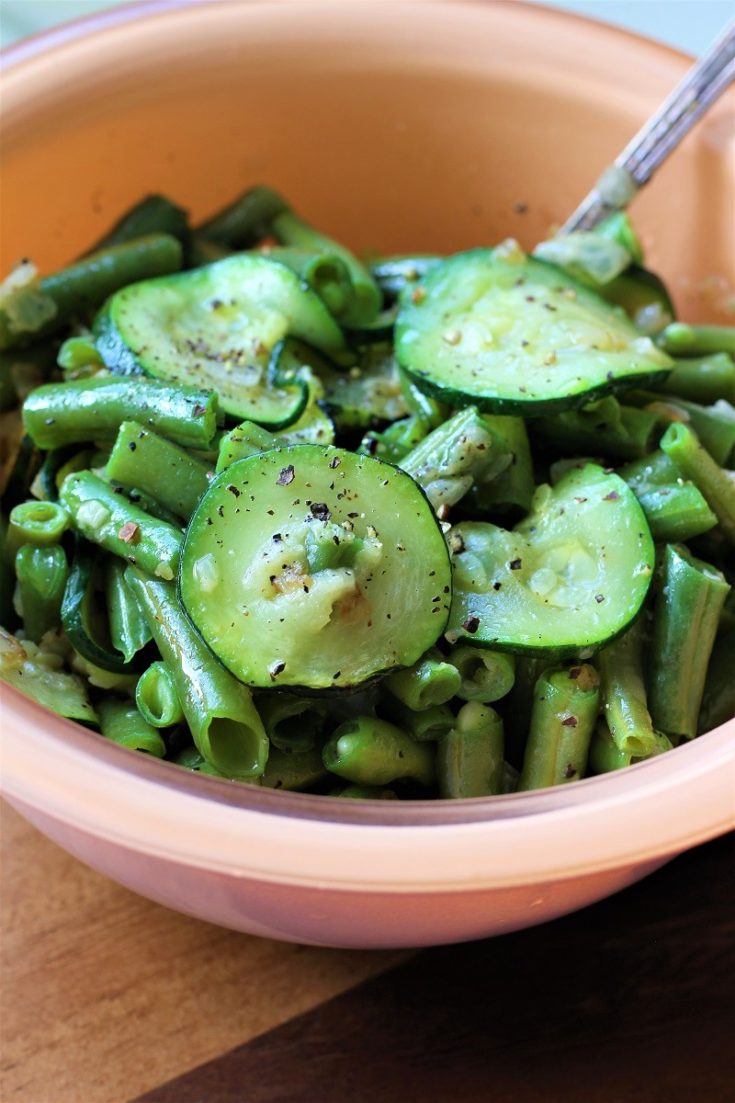 Prep Time 20 minutes

Cook Time 10 minutes

Total Time 30 minutes
Ingredients
1 (8 ounce) package green beans or 2 cups fresh
1/4 cup butter
2 medium zucchinis, sliced in 1/4" slices
4 slices of bacon, cooked and crumbled
1/4 cup or 1 small onion, minced
1/2 teaspoon salt
1/8 teaspoon pepper
Instructions
Cook the beans and drain the juice.
Fry the bacon until it is nice and crispy, drain and place on a paper towel.
When the bacon is cool, crumble it or cut it into very small pieces.
Cook the onion in the butter.
Add the zucchini, salt and pepper; cook, stirring frequently, until it is nice and tender.
Combine the beans, bacon and onions.
Heat together for about 1 minute.
Serve as a side dish with meats or salads.
Nutrition Information
Yield
6
Serving Size
1
Amount Per Serving Calories 134Total Fat 11gSaturated Fat 6gTrans Fat 0gUnsaturated Fat 4gCholesterol 28mgSodium 369mgCarbohydrates 6gFiber 2gSugar 3gProtein 4g

This data was provided and calculated by Nutritionix