French silk pie is to die for! This pie is so much better than the pies that you get at the store. You are going to love it!! It is a little work, but worth ever calorie.
The creamy chocolate is mmm, so good, rich and silky, in the decadent chocolate crust, and topped with smooth whipped cream. You will only need one piece, but you might have to share the pie fast so that you aren't temped to have another piece. I'm pretty sure that finding someone to share this french silk pie with you is not going to be a problem!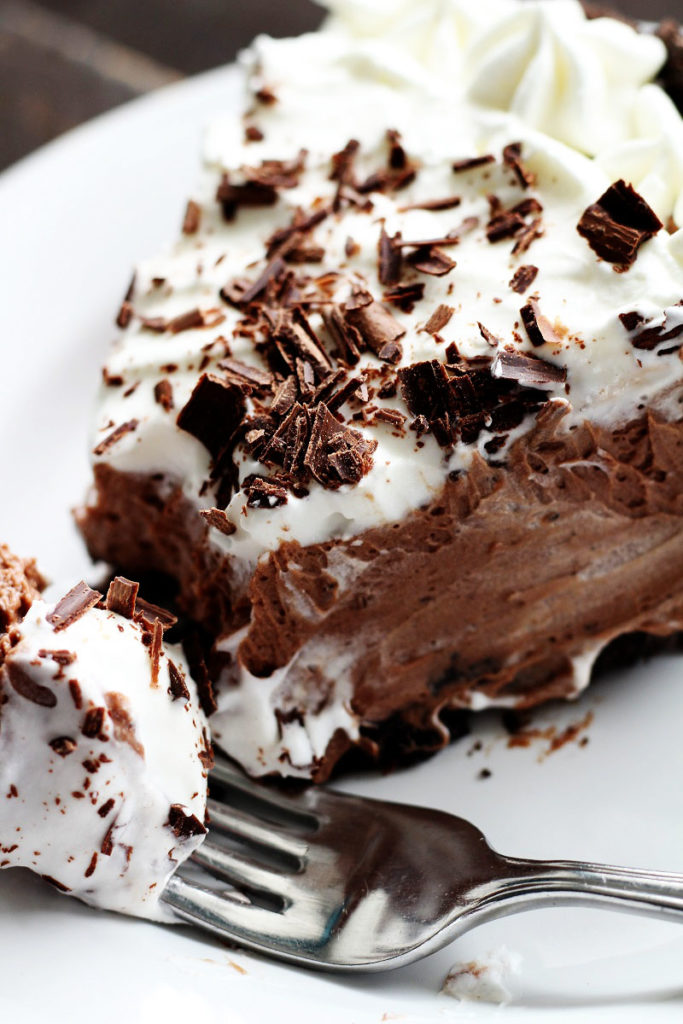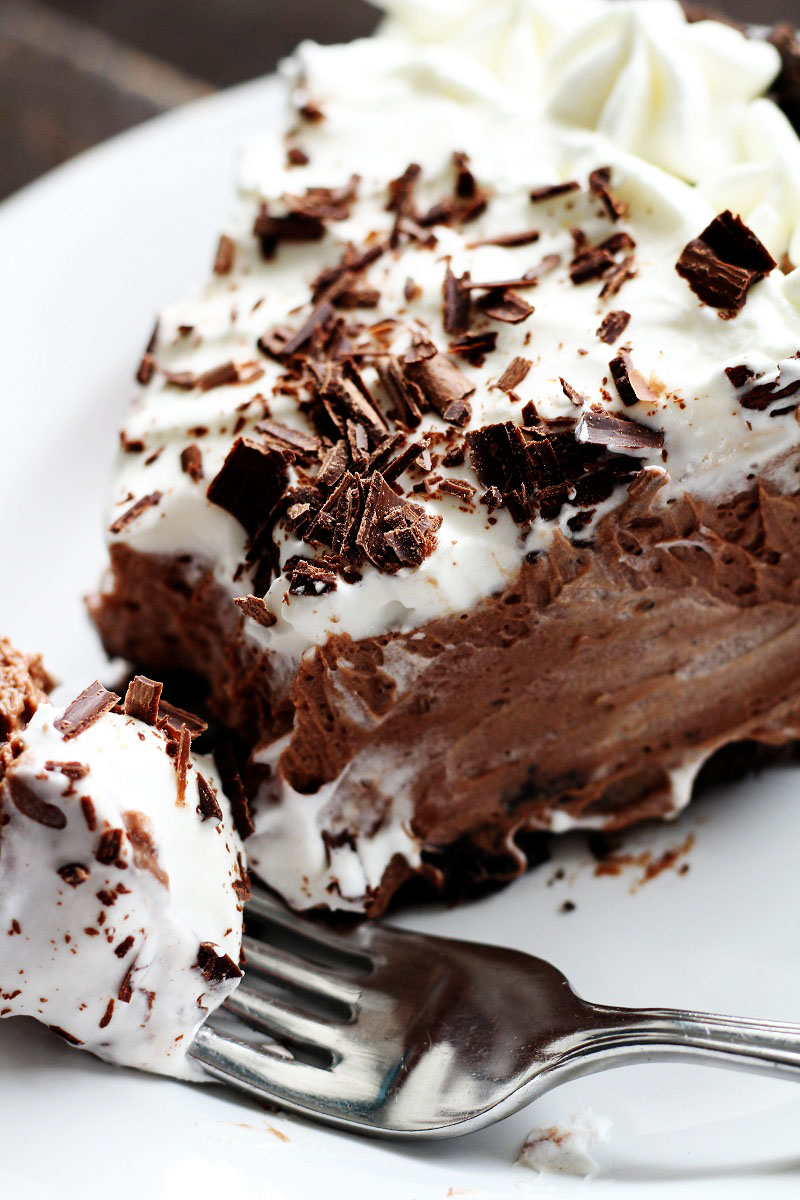 This is one of our favorite pies around the holidays! It does take a little bit of time to make, but it is well worth the wait. It is so creamy and smooth, sometimes I have a hard time just eating one piece. Then there is the question, do I eat a whole piece or a half of piece and then another slice of something else?
I can just taste all of the great flavors that come together during Thanksgiving. And there is nothing better than when people are enjoying great company and a great slice of french silk pie! I asked my grandson what was his favorite pie, and of course, he is like his grandpa, and they even look alike and he told me "Apple Pie" what, I remembered that last year, he was not at my house for Thanksgiving.
So, I am going to be surprised this year if he doesn't just try a big slice of grandma's french silk pie, and if he doesn't that is okay, because that means more for me! Also, I am going to make an apple pie and a pumpkin pie. That is my goal this year.
I have always bought my pies except the french silk pie and that is because crust is just not my thing. They always seem to shrink and they just don't look right, so that is why I love the french silk pie, the crust is made out of crumbs.
Yes, that is right they are already crumbled. So, it is great to make a mess and put it in a pie plate and that is okay. It doesn't have to be all perfect and beautiful. Also the cookie taste is perfect with the rich creamy inside of the french silk pie.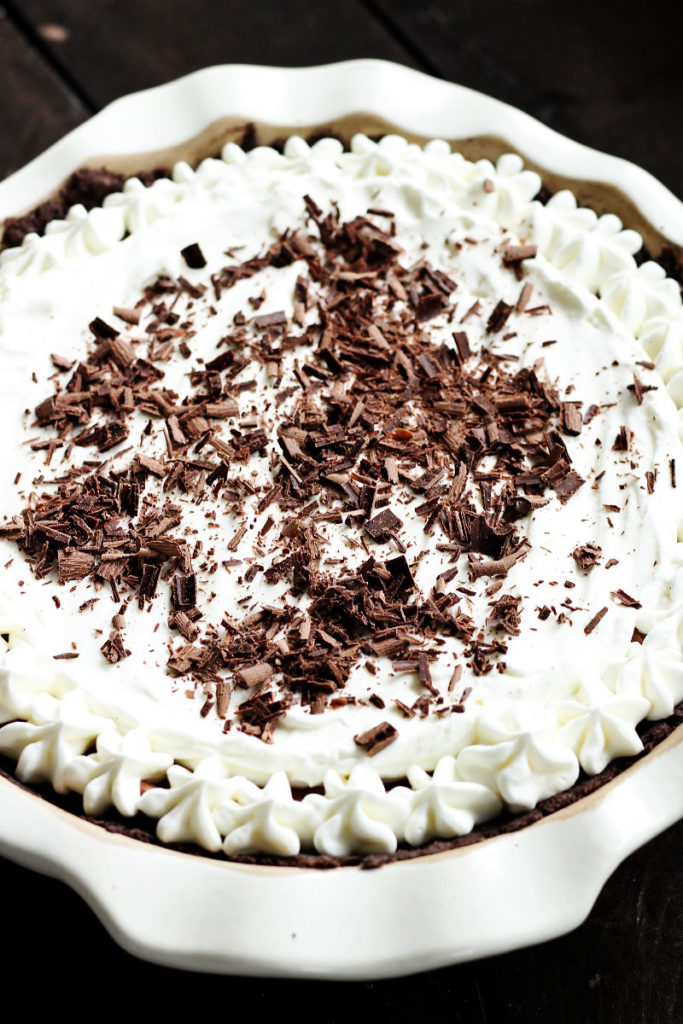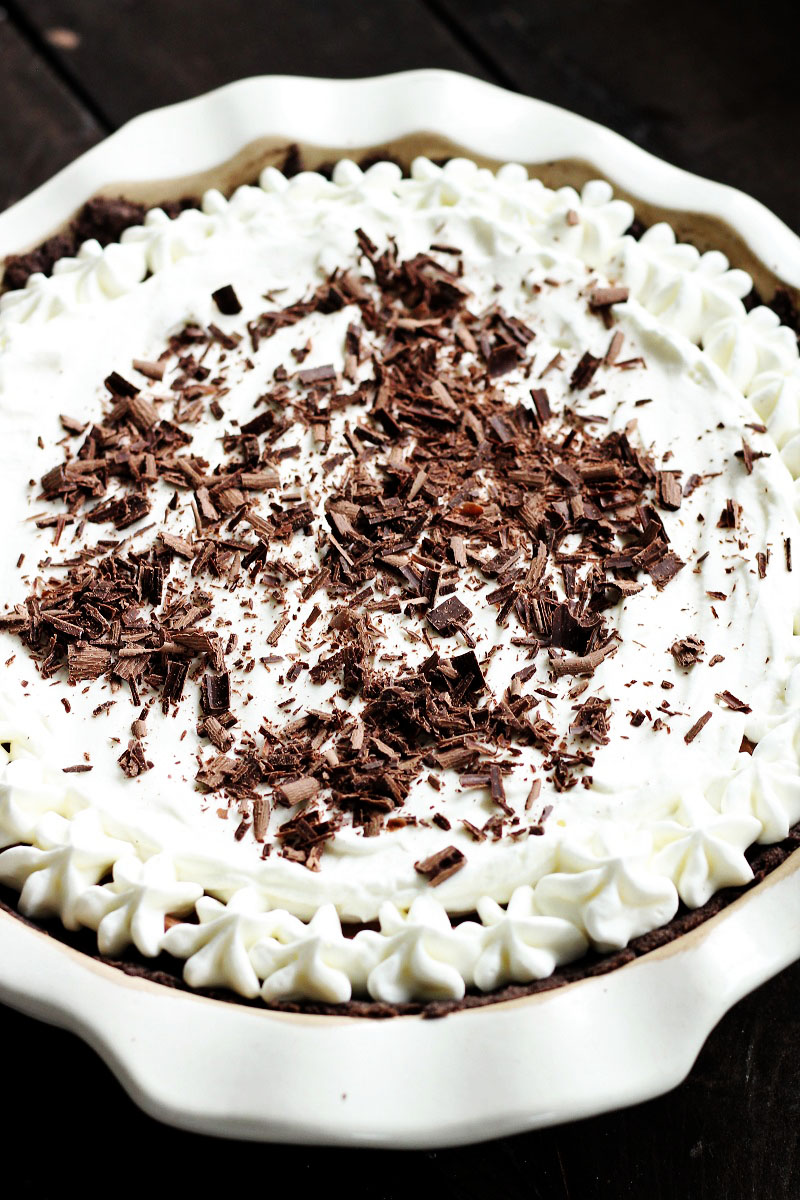 I am going to have to find out what the most popular pie is? There are so many choices. Cherry, razzleberry, chocolate, apple, pumpkin, coconut, and banana. My mom use to make mince meat, and I never did understand why someone would like that pie. I'm not going to lie, I have never made one and I never will.
I think to myself, mince meat, or french silk pie, hands down there will never be a question. I hope that you enjoy this pie as much as our family does. It is a must and I think I will save an extra slice for the person who helps with the dishes. Well, that is usually my son-in-law and he likes pumpkin and so I guess I will be eating it! 😉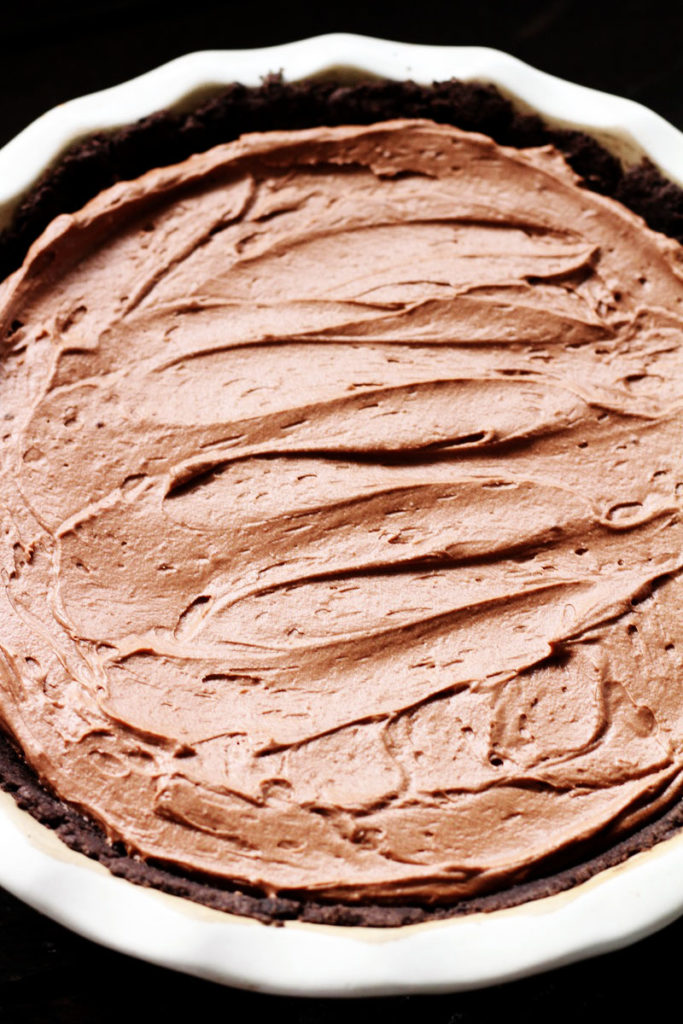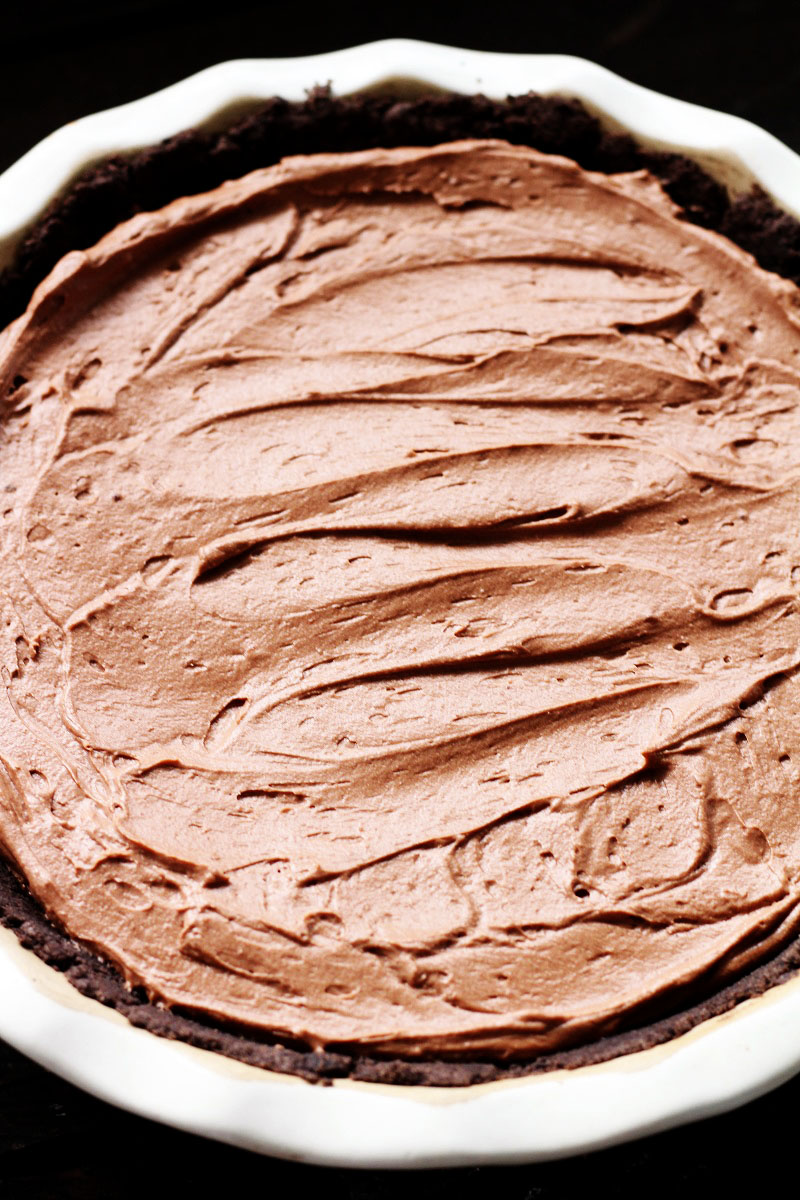 I was just looking at some fun things to do for Thanksgiving, like you put some feathers in some Kleenex boxes and strap them to 2 – 3 people, they have to shake all the feathers out of the box and the first one that gets their feathers out, wins the game.
I thought that this would be a fun game, and one that even the little ones can participate in. I am always looking for ways to connect our family, other than Black Friday shopping on Thursday. I want everyone to appreciate the time that we all get to spend together.
Now that some of my children have moved out, it has made me realize that there are only so many hours in a day, week, and year that you can spend with loved ones. I guess if they all want to go shopping, I could go too. I would be the one that stands in line and waits for them to shop.
I will not be the one fighting over anything. That is just not my thing. I think, that I would rather go without. I know when I use to work at a department store, people were not very nice, and then there was the line that was 1/4 of a mile long. I stood in that line one time, and that is 45 minutes of my life, that I will never get back. Ha ha.
I must say that I was happy that there was a cute little boy in front of me. He was about 2 years old and very entertaining. He kept telling his mom, I go home, and you know what, he is pretty smart for a 2 year old, because that is exactly what I was thinking!
So this year, I hope that you get to stay home on Thanksgiving day and enjoy a nice slice of french silk pie. You will be glad that you did and if you have any 2 year old, know that they also want to stay home and have a nice slice of french silk pie. Happy Thanksgiving!
Tips and tricks:
1- I put this in the directions, but sometimes depending on your double boiler it may take up to 20 – 25 minutes to thicken the pie. Just be patient. I think that mine usually takes a good 10 – 15 minutes. This is and old recipe, and so I don't know if the double boilers were different or what.
2- You can garnish the pie with mini chocolate chips.
3- You can also make the pie crust a few days in advance.
4- The pie will store in the refrigerator for 3 – 4 days. And you could make the crust, 2 or 3 days early, cover with plastic wrap and store in the refrigerator until ready to us


Yield: 8 people
French Silk Pie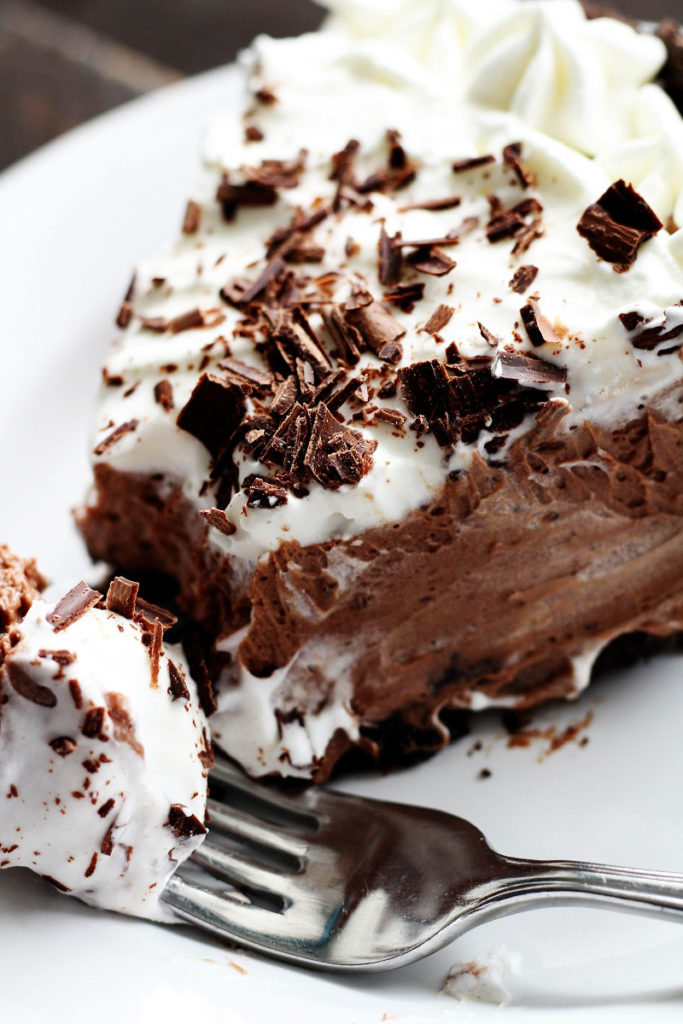 Prep Time 1 hour

Cook Time 10 minutes

Total Time 1 hour 10 minutes
Ingredients
3 eggs
1 Tablespoon water
2/3 cup sugar
4 ounces bittersweet chocolate, melted
1/2 cup butter, at room temperature
1 cup whipping cream
3 Tablespoons powdered sugar
1/2 teaspoon vanilla
1 (9") chocolate pie crust
Garnish:
1 cup whipping cream (whipped with 3 Tablespoons powdered sugar and 1/2 teaspoon vanilla added)
chocolate slivers
Instructions
Place the eggs, sugar, and 1 Tablespoon of water in the top of a double broiler.
Mix for 3 - 5 minutes until the eggs are a light yellow in color.
Place the top broiler pan over the bottom broiler pan that has water in it.
Cook for 6 - 8 minutes or until the mixture is nice and thick, stirring the whole time.
This may take longer depending on your stove. (Some people have been 20-25 minutes, but it is worth the wait, so be patient)!
Remove from the heat and add the chocolate.
Set top broiler pan back into the bottom broiler pan and cook for 2 more minutes stirring constantly.
Cool in the refrigerator until it is completely cooled.
Then add butter and beat until nice and smooth.
Whip the 1 cup of cream, when stiff peeks form, add the 3 tablespoons of powdered sugar and vanilla.
Add to the chocolate mixture.
Stir it all together and place into the pie crust.
Garnish
Whip the other cup of cream and add powdered sugar and vanilla. (or you could make all the cream at the same time and save half for garnishing).
Using a potato peeler shave slivers off of a chocolate bar for the garnish.