Easy Mexican Enchilada Casserole is a great dinner for those busy nights! Now that school has started back up and summer is coming to a close, here is a wonderful and easy recipe that you can have on the table in less than 1 hour.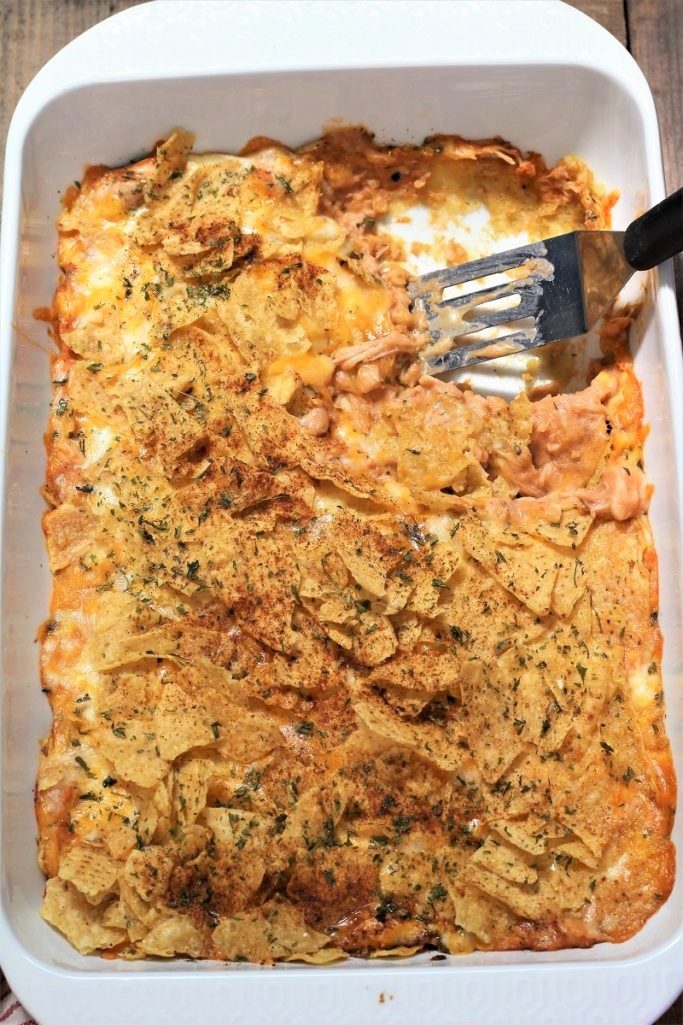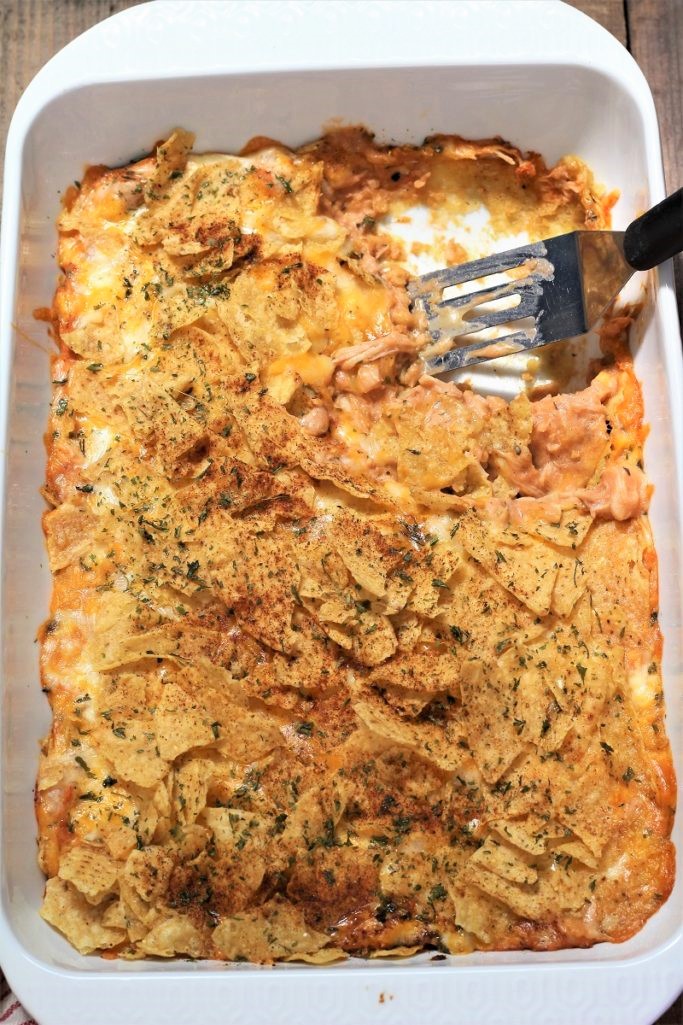 You will need about 20 ounces of canned chicken, and some enchilada sauce. I didn't have the enchilada sauce today and so I used some El Pato, Jalapeno Salsa, which is basically the same thing to me.
Then add the undiluted soup, onions, and garlic salt and then spread this mixture on top of your corn chips. Add some cheese, then put the rest of your chips on top of the cheese. Pour the bouillon mixture on top.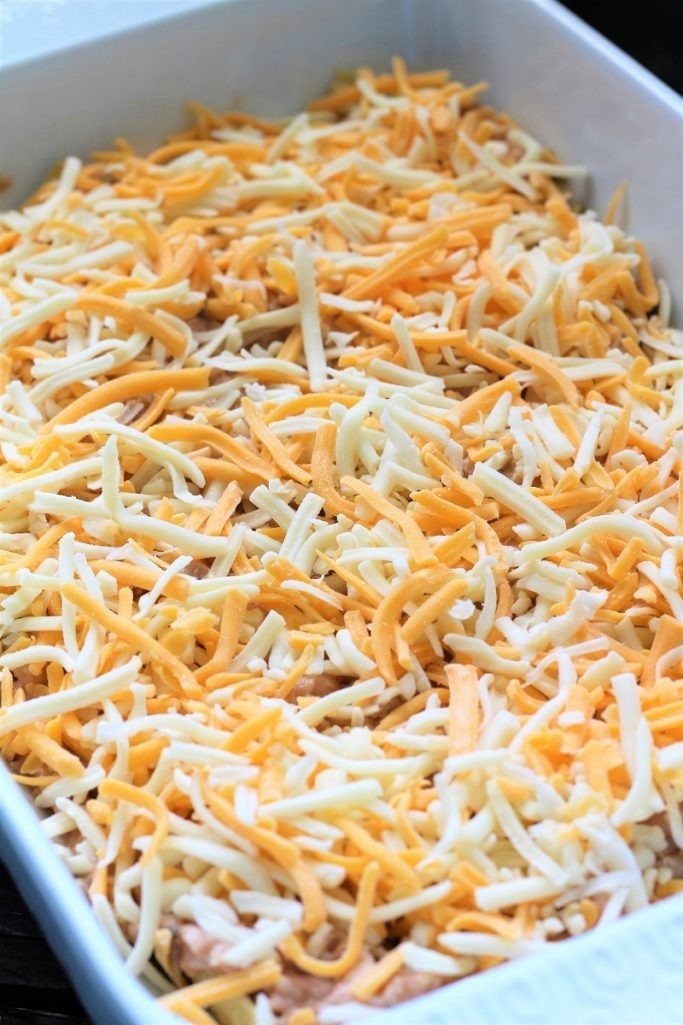 Place it in the oven at 350 degrees and let it cook for 30 minutes!
Remove it from the oven and enjoy this quick, easy and delicious meal. I love it more than regular chicken enchiladas because I am not a big fan of tortilla shells!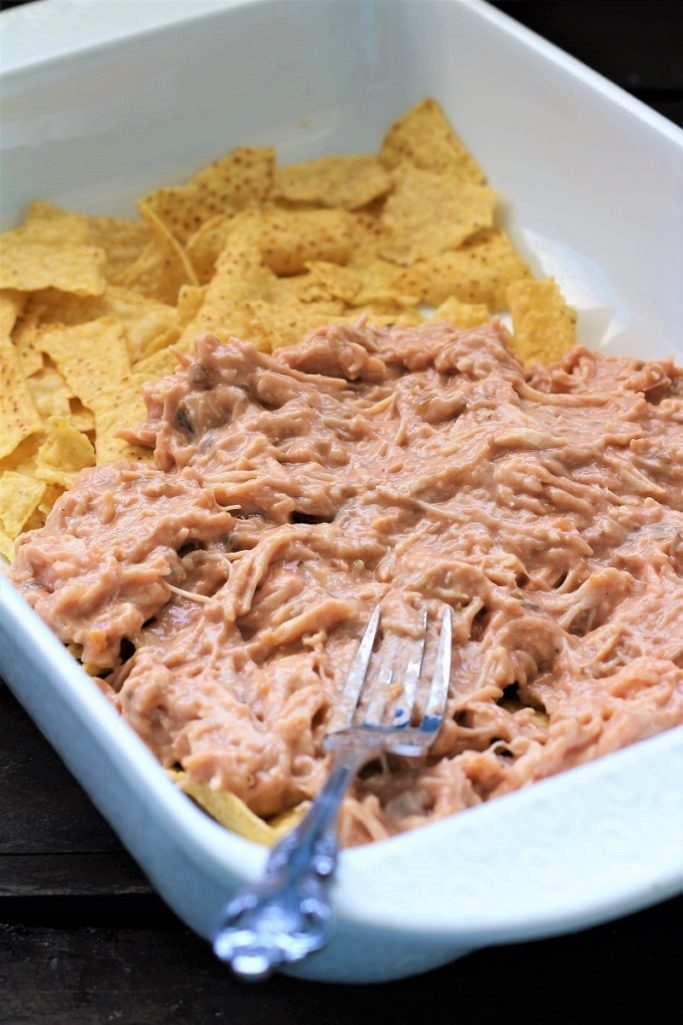 Tips and Tricks for Easy Mexican Enchilada Casserole:
Use 1 cup of chicken bouillon, or make your own by adding 2 chicken bouillon cubes to 1 cup water.
Use salsa or enchilada sauce
Assemble ahead of time and refrigerate until you are ready to bake – just make sure to wait until right before you bake the casserole to add the bouillon to the top.
Yield: 8 people
Easy Mexican Enchilada Casserole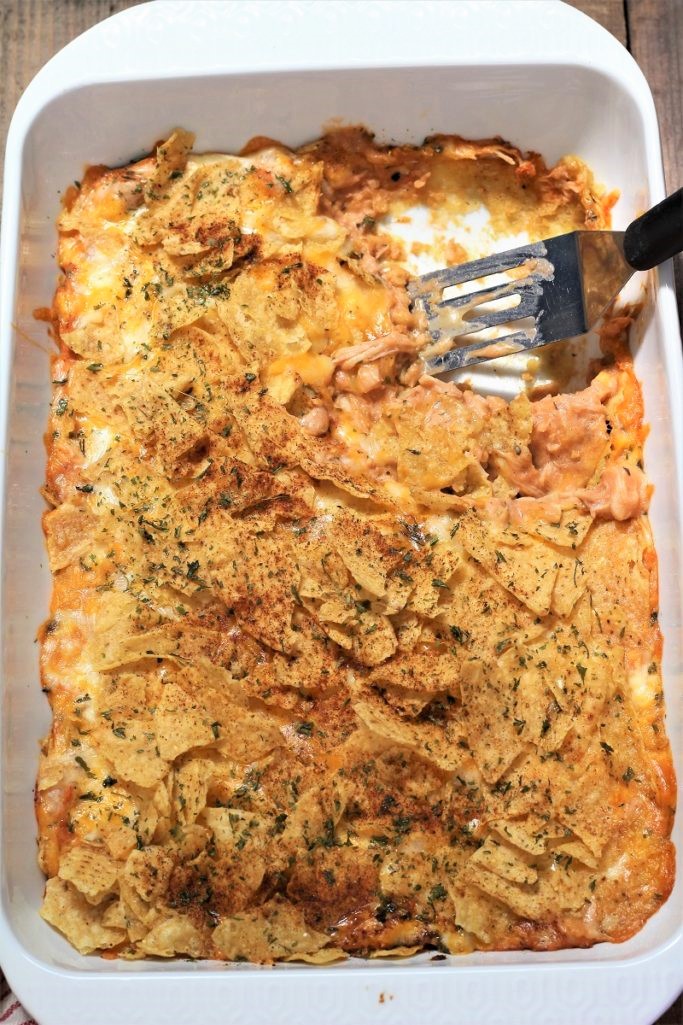 Prep Time 10 minutes

Cook Time 30 minutes

Total Time 40 minutes
Ingredients
4 (5 ounce) cans boned chicken (or close to 20 oz)
1 (7 3/4 ounce) can El Pato Jalapeno Salsa or 1 (10 ounce) can enchilada sauce
1 can cream of mushroom soup, undiluted
2 Tablespoons minced onion
1/2 teaspoon garlic salt
1 (10.5 ounce) bag corn chips
1 1/2 cups shredded sharp cheddar cheese
2 chicken bouillon cubes
1 cup boiling water
Optional:
Parsley flakes
Paprika
Sour cream
Instructions
In a large mixing bowl, combine 20 ounces of chicken, can of enchilada sauce, can of mushroom soup, 2 Tablespoons onion, and 1/2 teaspoon garlic salt.
Line a greased 9" X 13" baking dish with about 2/3 of the bag of corn chips. I break mine just a little bit.
Pour chicken mixture over chips.
Sprinkle with 1 1/2 cups shredded cheese and cover with the remaining chips.
In a small saucepan, combine bouillon cubes and boiling water; stir until dissolved, then pour over mixture in the baking dish.
Sprinkle with parsley flakes and paprika, if desired..
**Bake in a preheated oven at 350 degrees for 30 minutes.
Let each person garnish their serving with Sour Cream, as desired.
** This casserole can be assembled a day ahead and refrigerated before baking. (Wait to pour the chicken broth over casserole until just before it goes into the oven to bake).
Nutrition Information
Yield
8
Serving Size
1

Amount Per Serving

Calories 259 Total Fat 19g Saturated Fat 9g Trans Fat 1g Unsaturated Fat 8g Cholesterol 53mg Sodium 881mg Carbohydrates 7g Net Carbohydrates 0g Fiber 1g Sugar 1g Sugar Alcohols 0g Protein 14g

This data was provided and calculated by Nutritionix



Other Mexican Dishes that you may want to try: