Easy corn chowder is a wonderful soup. I love that you can put it together in less that 30 minutes. And since we have snow in the mountains and the weather has turned cold, easy corn chowder is a welcome sight at our house.
The bacon really adds to the easy corn chowder. And I know that there are a few of my family members who LOVE bacon. So if you are looking for a last minute idea for dinner, look no further. Four simple ingredients all come together to make one amazing soup.
Well, it is that time of year again, when we get around 100, 50 pound bags of potatoes. Since I have so many potatoes around here, I feel like it is time to use some of them up. Now I don't use all of them myself, we get a shipment from Idaho, and then we sell them to our friends and neighbors.
We use to sell them when the kids were young as a fundraiser for scout camps. Every year my husband asks me if we should get potatoes and every year I tell him no. Then someone will come up to him and say when you get your order of potatoes this year, be sure and add me to the list!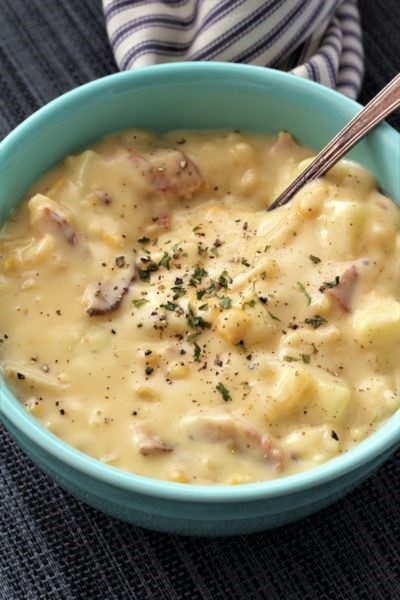 What Ingredients Do I Need For Easy Corn Chowder?
Bear Creek Potato Soup Mix
Bacon
Canned Corn
Potatoes
How Do I Make Easy Corn Chowder?
In a large pot, place the water, soup mix, bacon, and corn.

Cook for 10 minutes.

Add the potatoes and simmer for another 5 minutes or until all the potatoes are warm
Then he feels all obligated and here we are trying to get the potatoes out of the garage so that we can park in there again. That's okay, it is always good to be neighborly. I can truly say that I haven't lifted any bags this year because of my back.
However, my husband looks like I did 4 weeks ago; I don't think it is because we are getting older or any thing like that? All I know is that I told my husband with this cold spell that I was moving to Arizona and he told me that he would come and visit me!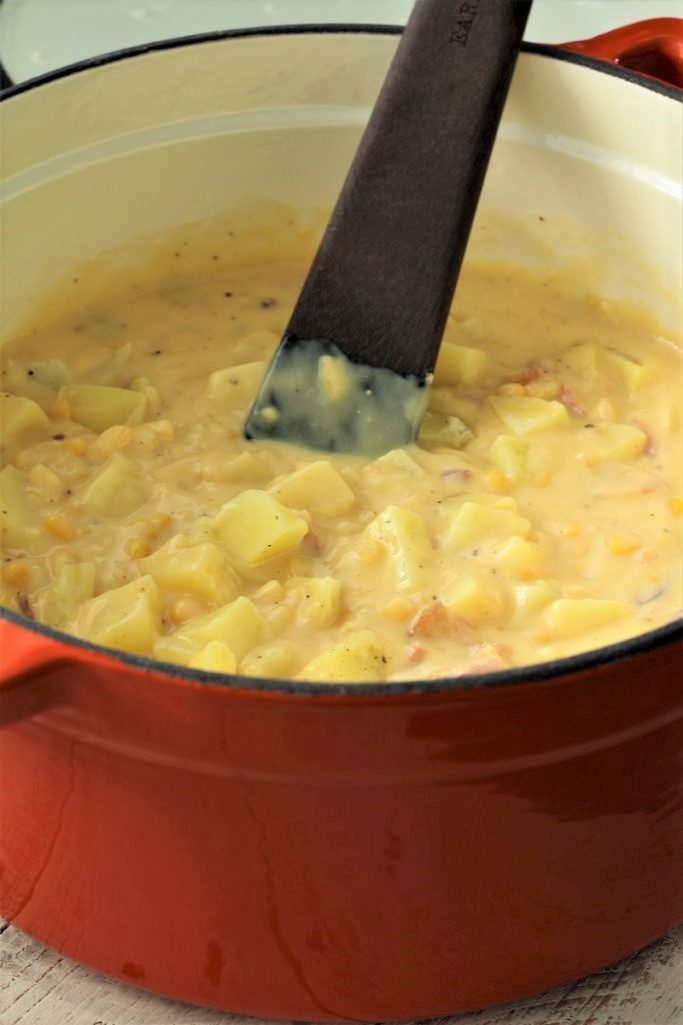 How rude! I guess it is a little hot down there in the summer, but I am not looking forward to shoveling snow this winter. I do love the snow on Christmas Eve, and that will be here before we know it .
Do any of you have any great ideas for Christmas this year? Now that my kids are older, I was trying to think of something fun to do other than gifts? My oldest son told me let's go to Mexico, but I was thinking of something just a LOT cheaper?
One year we stayed at a resort with all the kids and it was a wonderful vacation. It was when we had one grandchild and no in-laws at the time. We truly had a wonderful time and it was an all inclusive. It was cheaper than taking our family to Disneyland.
Tips and Tricks For Easy Corn Chowder:
I like to put my bacon on a cookie sheet or baking pan and place it in the oven for 30 minutes on 350 degrees, or as long as you like to make it as crunchy as you like.
You can use whatever kind of potatoes that you like, but I like to use Yukon gold, as they stay a little firmer when cooked.
If you like your soup a little thinner, you can add the juice from the corn a little at a time to make it the consistency that you like.
Serve with our Fluffy Cornbread.
The son that suggested Mexico, is not big on swimming and so I was surprised, but they had a lot of fun activities to do other than swim. They had all kinds of fun activities. And a family show every night. I loved that they based it around families.
If you ask me what I loved most about it, I would say just being with family. And maybe even not having to cook. Ha ha. Don't get me wrong, sometimes it is just nice not to have to think of what you are going to have for breakfast, lunch and dinner.
You just go look and pick whatever you want. So, I must say that I would love to go again, and my grandson that is now 9 years old has always wanted to go back. The problem is, how do you take just one grandchild when you are soon going to have six grandchildren?
Sounds like the kids better start saving their pennies, and I will too. I think that easy corn chowder is so good that they could have it on their buffet. Please let me know what you think of it?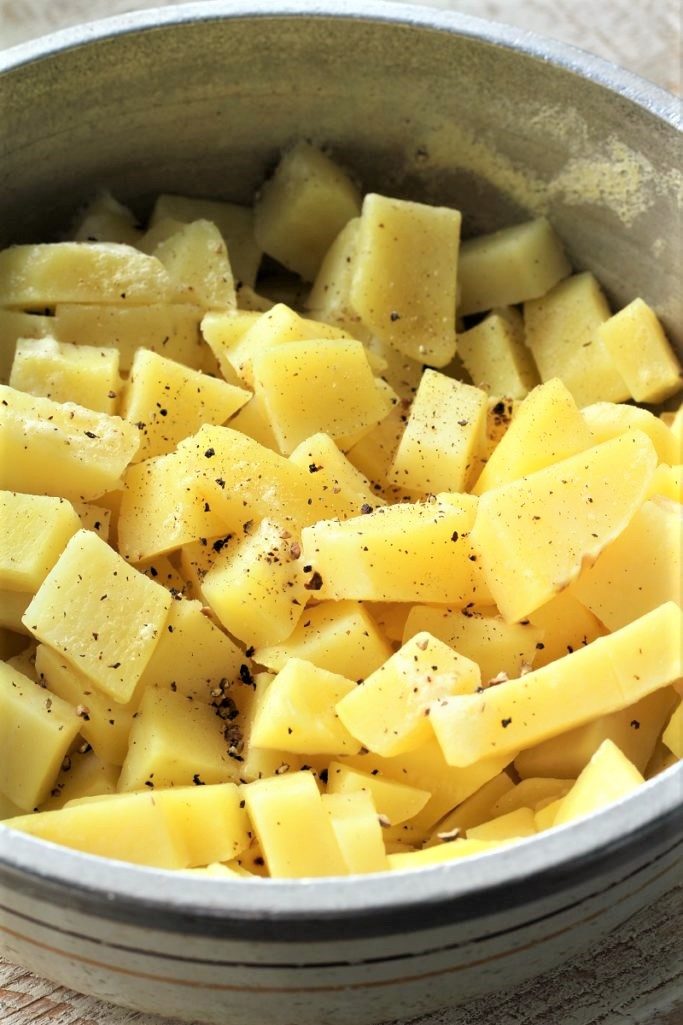 More Tasty Soups For You:
Olive Garden Copycat Zuppa Toscana Soup
Yield: 8 people
Easy Corn Chowder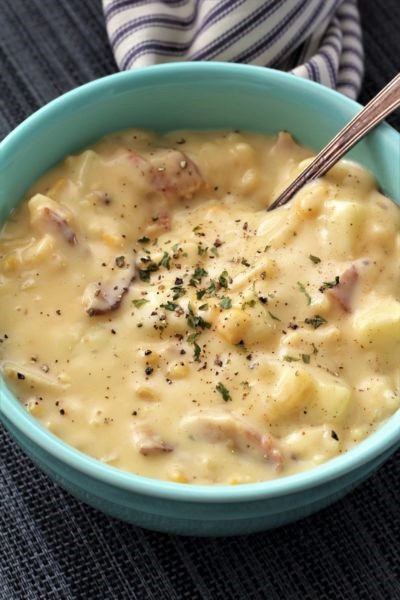 Easy corn chowder with just four simple ingredients. Potato soup mix, bacon, corn and potatoes. Mighty tasty and so easy to put together.

Prep Time 20 minutes

Cook Time 15 minutes

Total Time 35 minutes
Ingredients
1 Package Bear Creek Potato Soup Mix (12.1 ounce)
8 cups of water
1 pound of bacon, cooked and cubed
1 can (15.25 ounce) corn, drained
2-3 cups of potatoes, cubed and cooked until they are tender when poked with a fork
Instructions
In a large pot, place the water, soup mix, bacon, and corn.
Cook for 10 minutes.
Add the potatoes and simmer for another 5 minutes or until all the potatoes are warm
Nutrition Information
Yield
8
Serving Size
1
Amount Per Serving Calories 467Total Fat 24gSaturated Fat 9gTrans Fat 0gUnsaturated Fat 14gCholesterol 69mgSodium 1110mgCarbohydrates 35gFiber 3gSugar 2gProtein 27g