Olive garden copycat zuppa toscana soup is better than eating at olive garden. It has the amazing flavor of Italian sausage mixed with potatoes, (if you want a firmer potato, use gold or red) and then add some kale. This soup just comes together so nicely. If you like a little heat you can add red pepper flakes, or leave them out!
I did drain my sausage just a bit, you know that we don't want our cholesterol to get too high. Sometimes I think that worrying about our health, makes it worse than it was in the first place!  My philosophy is pray on your food, try to be moderate, and enjoy. Sometimes that works, but sometimes not so much; that is why this winter I put on a few extra pounds.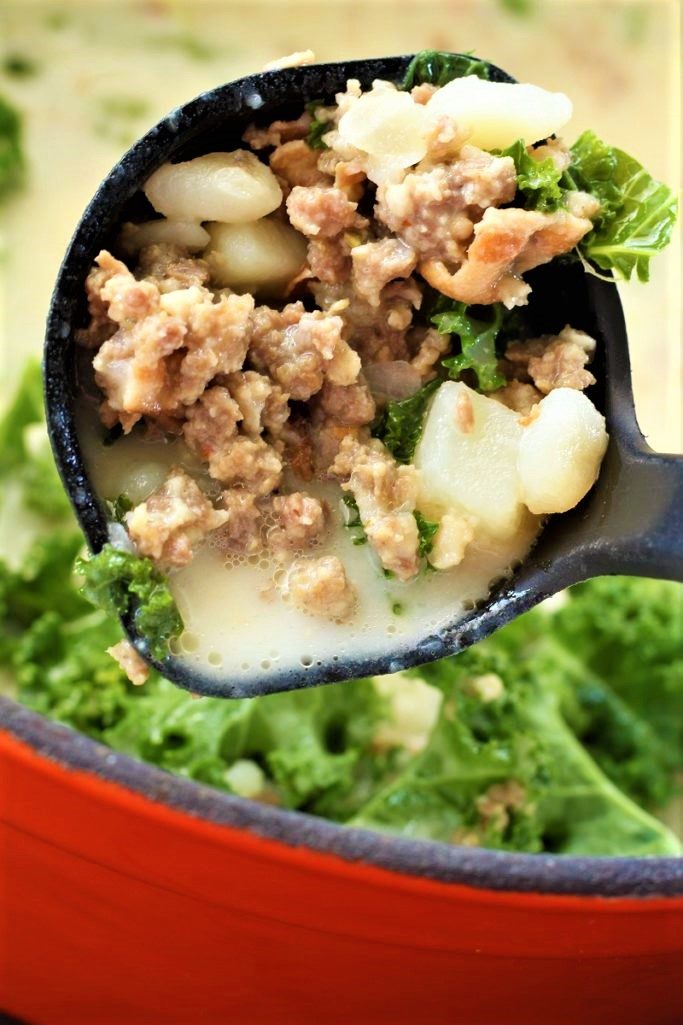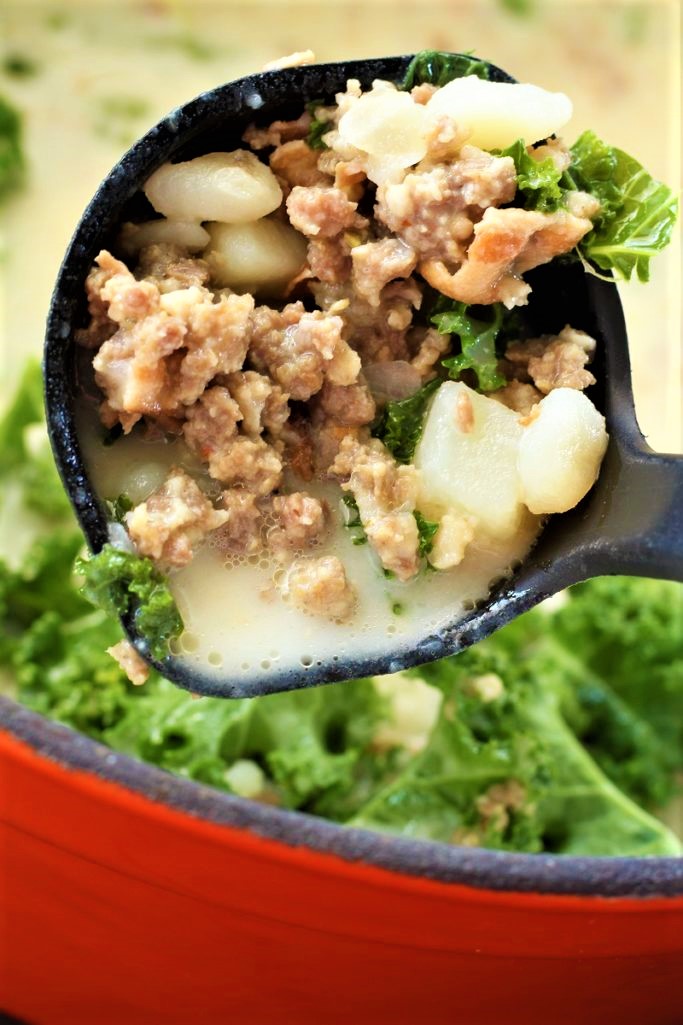 I did think that Spring was here and guess what? Yep, it snowed today. It wasn't too bad, we didn't have to get out the shovel. But I decided that it was a great day for some soup and so this Olive Garden Copycat Zuppa Toscana Soup is what we came up with. It turned out so good.
I did add extra liquid because I like my soup a little soupier and I did get a few not so happy looks. My boys think that soup needs to be like stew or forget it. Sometimes, it is just nice to have a slice of bread and you can dip the bread into the soup!! Yes, I made it just how I wanted today and not how anyone else wanted it. What a selfish mom, right? If I made everything that some of my kids wanted I would weigh 500 pounds.
So, it is my goal to start making things on the lighter side and have a nice dessert 2 times a month. We will see how that goes? I just can't help myself, I just love to bake. But with Spring coming, it is a reminder that Summer is just around the corner and it is time to get rid of a few extra pounds.
I remember when one of my aunts turned 50 and my grandpa told her that she was getting the middle age spread. I was so happy that I was never going to get that. Now that I am older than 50, it is just like your eyesight; one day your eyes see close and the next day they don't. One day you don't have the middle age spread and the next day you do! Rude!!! It is a great reminder that I would do well to eat a little healthier. And I hope that you enjoy your Olive Garden Copycat Zuppa Toscana soup.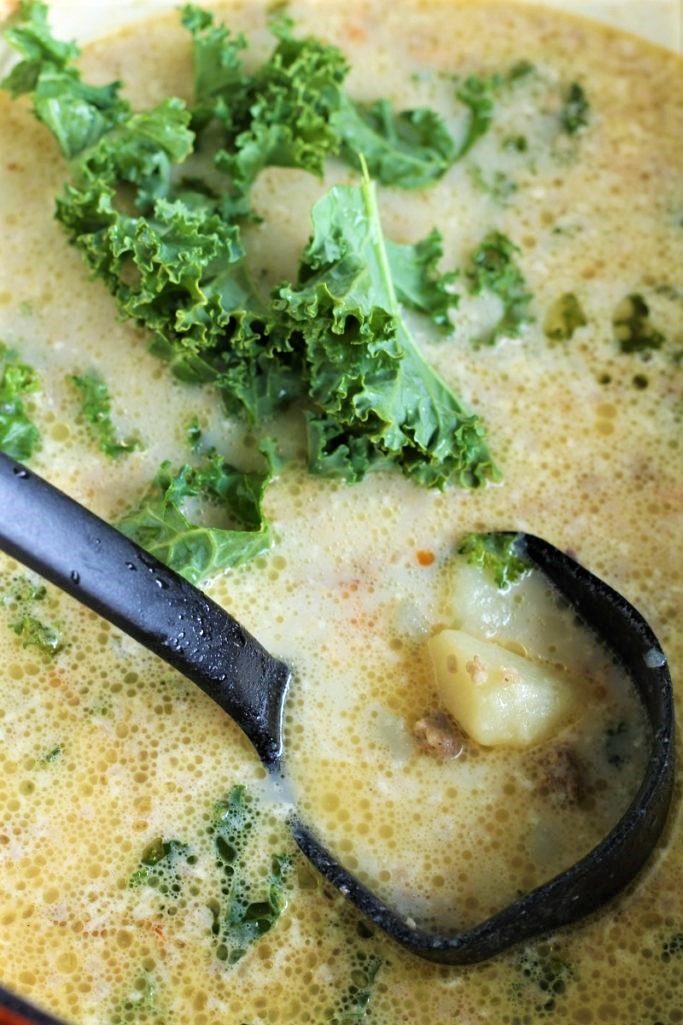 Tips and tricks:
1- You may use any sausage that you enjoy. I like things a little on the mild side when it comes to sausage, however my family likes it a little spicier so I try and go right in the middle.
2- If you do not have an onion, use 2 Tablespoons of minced/flaked onions.
3- Next time for a little added color, I am going to use a couple of Tablespoons sun dried tomatoes or some grated carrots!


Yield: 8 people
Olive Garden Copycat Zuppa Toscana Soup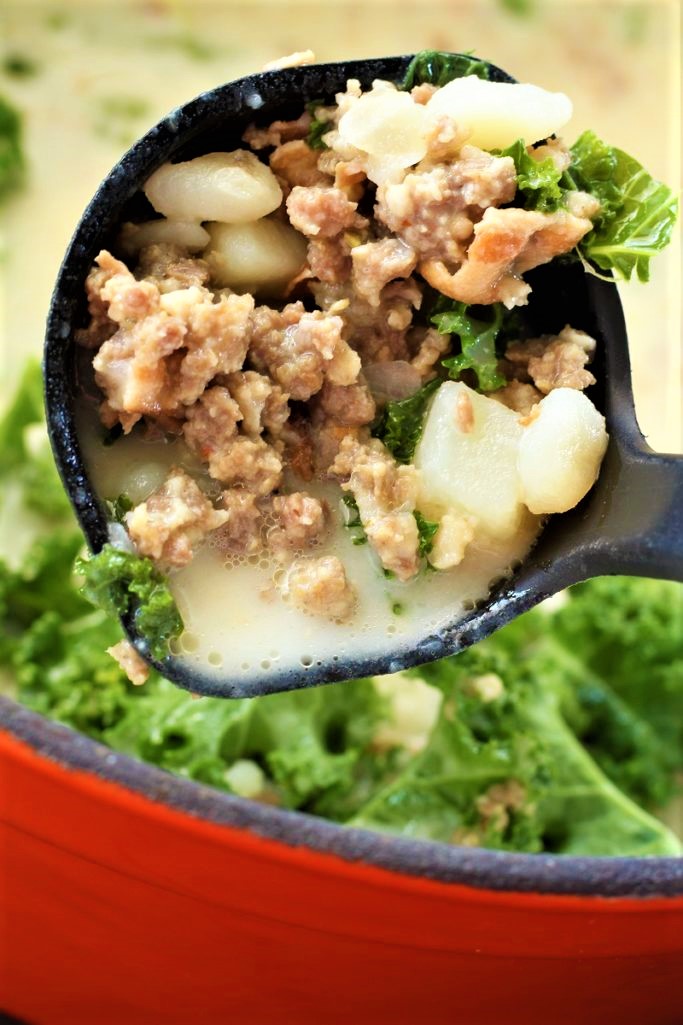 Prep Time 15 minutes

Cook Time 35 minutes

Total Time 50 minutes
Ingredients
1 pound mild Italian sausage
1/2 onion, chopped
2 cloves garlic, minced
3 medium potatoes, peeled and cubed
1/4 teaspoon black pepper
6 cups chicken broth
1/8 cup water
2 Tablespoons flour
4 - 6 slices of bacon, cooked and broke into pieces
2 1/2 cups kale
1 cup cream
Instructions
In a heavy kettle, brown the sausage.
Remove some of the excess fat.
Add the onion and garlic, and cook until the onion is translucent.
Add the potatoes, broth and pepper. Stir occasionally.
When the potatoes are cooked, add the flour to 1/8 cup water and stir it together. Add to the soup mixture. Cook on low for 10 minutes.
Turn to simmer and add the bacon and kale.
Add the cream and stir until mixed.
Can add a few red pepper flakes if you like.