Easy chicken pasta primavera is a quick and easy dinner idea. It is pretty simple, so you just might want to get your younger kids involved in making this dinner. It is always good practice for kids to cook so that when they get out on their own, they will be able to cook for themselves.
This is a great dinner for a busy mom, or even a college student. In order to make it into a complete meal, just add a slice of fruit. You could even add some fluffy cornbread. This cornbread is one of my favorite go to recipes.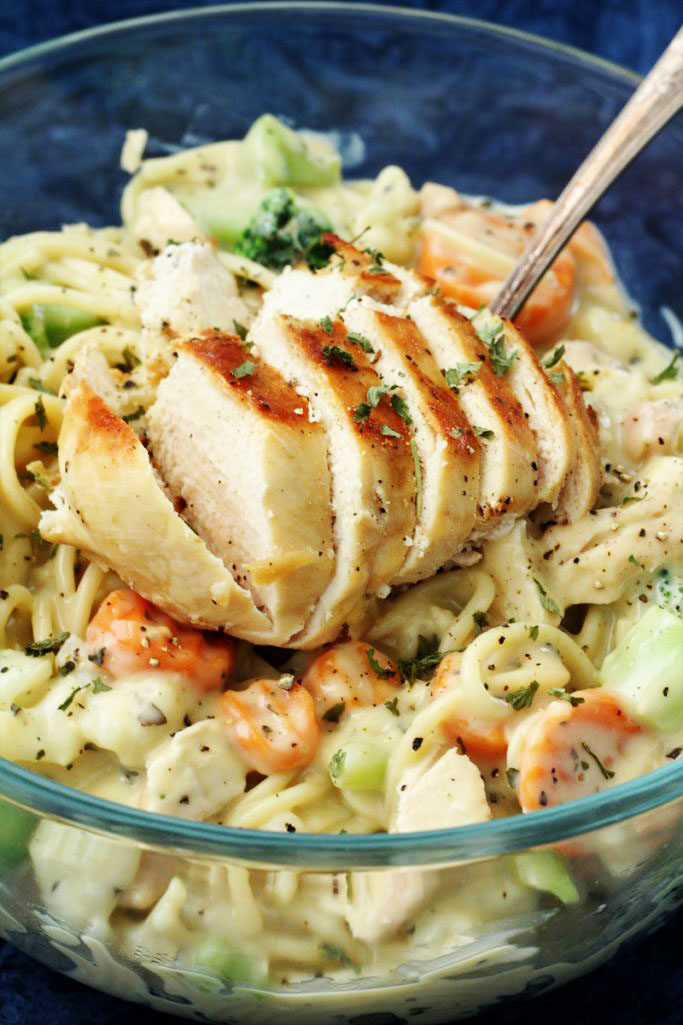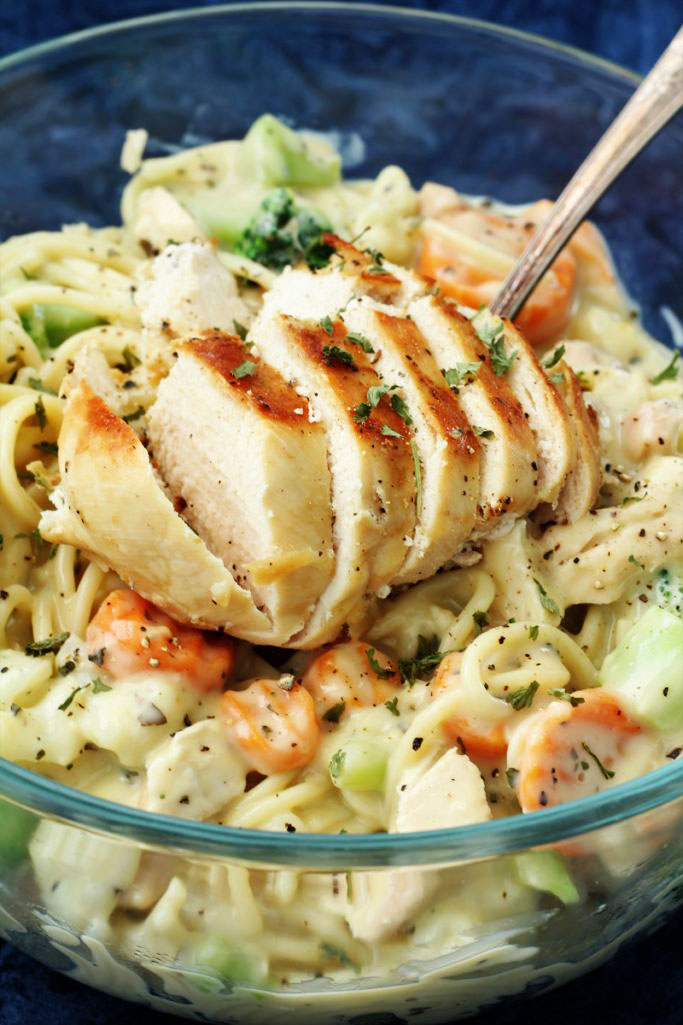 Fall is in the air and all the college students have gone back to school, and I know that this is a stressful time for them. I hope easy chicken pasta primavera will help make their lives just a little bit easier.
I remember when I lived with my sister while she was getting her accounting degree. Then, I lived with my husband while he was getting his accounting degree. I think the hardest part of all of it, was not talking while they were trying to study.
Another crazy day was when we had our second child; my husband told me,"have this baby any day but Friday morning". He had a real winner of a professor that would not let him take the test any other time. He said that the only way to get out of the test was to die!
So at 2 AM Friday morning, I started having contractions, and I told myself that it was okay and that we would just wait. That lasted until 4 AM and then I told my husband that he had to get up and take me to the hospital. So he did and the baby was born around 9:45 AM. Yes, you guess it, he missed the test. But he did graduate, so that is good. Now that baby has graduated himself. I am not sure where that time went?
You can have easy chicken pasta primavera on the table in about 30 minutes and so I hope that you give it a try. Thank you for stopping by and I hope our blog is making your day a little brighter and your meals, a little easier.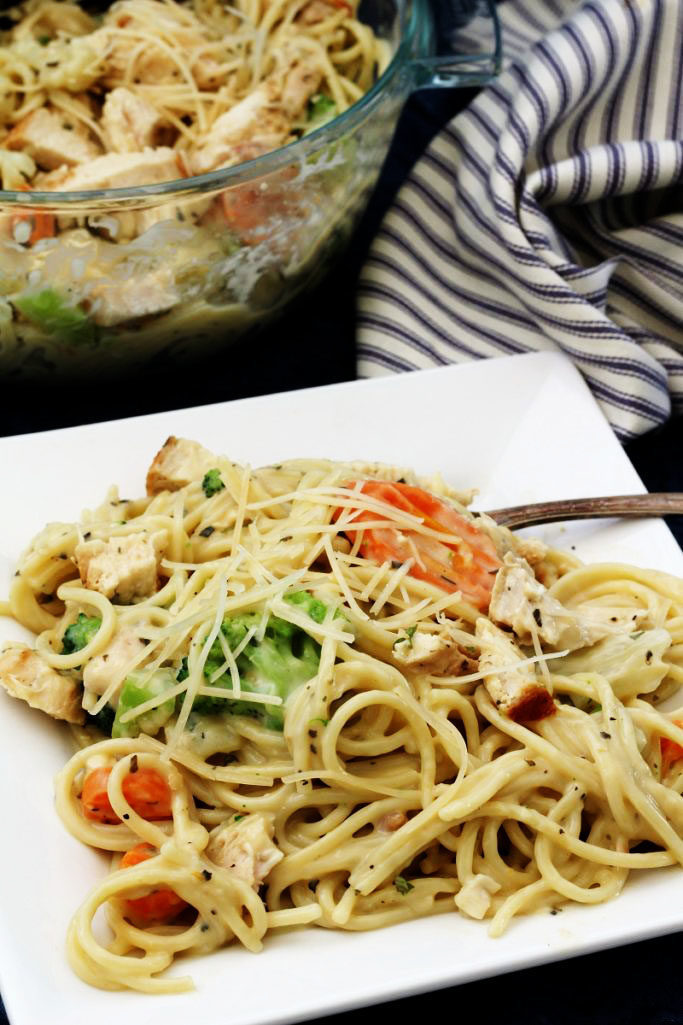 Tips and tricks:
1- If your vegetables are frozen, put them in the microwave for 2 minutes.
2- You could also put your vegetables in some hot water to help them thaw faster.
3- Start by cooking the chicken first.
4- Cook the noodles in a different pot at the same time that you are cooking the chicken.
5- If you do not care for some of the vegetables in the mixture, use whatever vegetables that you like.
6- Always try and make your food look nice even if you are eating by yourself. (It just tastes better)!


Yield: 6 people
Easy Chicken Pasta Primavera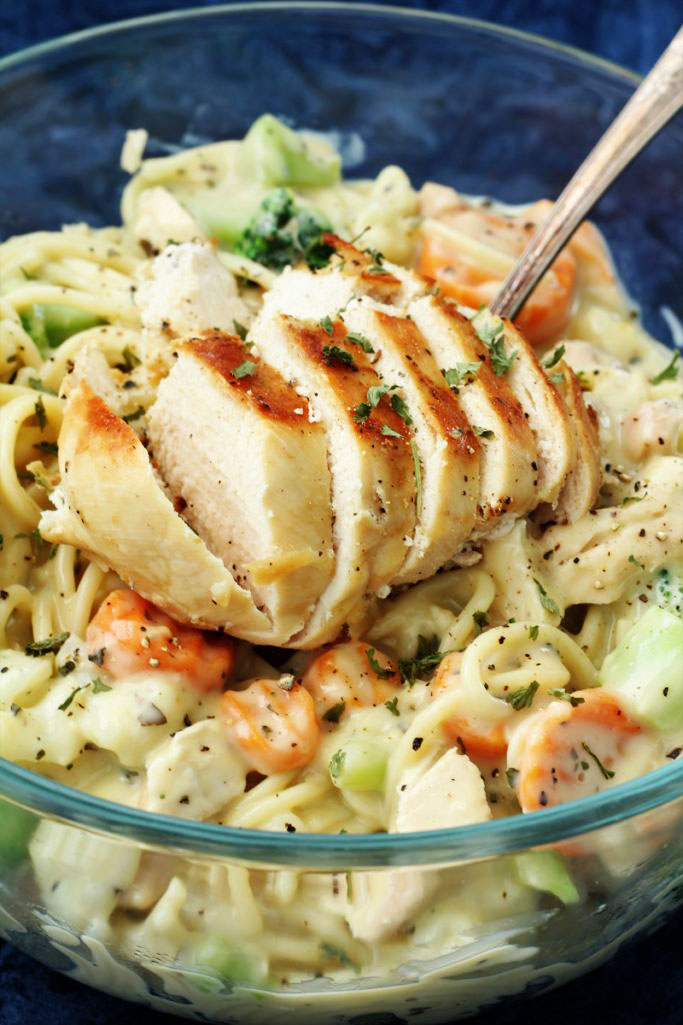 Prep Time 30 minutes

Cook Time 20 minutes

Total Time 50 minutes
Ingredients
1 (6 ounce) package spaghetti, cooked
4 cups cubed chicken, cooked
1 (10 3/4 ounce) can cream of chicken soup, undiluted
1 cup water or chicken broth
1 Tablespoon lemon juice
1 1/2 teaspoons dried basil
3/4 teaspoon garlic powder
1/4 teaspoon salt
1/4 teaspoon pepper
1 (16 ounce) package frozen California-blend vegetables, thawed
3 Tablespoons Parmesan cheese
Instructions
Cook spaghetti according to package directions.
In a medium frying pan, place 2 Tbsp olive oil, then add 3 chicken breasts and cook until done.
In the mean time, add the soup, water, lemon juice, basil, garlic powder, salt and pepper together in a medium sauce pan.
Stir in the vegetables and bring the mixture to a boil.
Reduce the heat; cover the pan with a lid and let simmer for 3 - 5 minutes or until the vegetables are nice and tender.
Add the cooked, cubed chicken; and allow the mixture to be heated through.
Drain the spaghetti; and add to the mixture.
Toss to coat the noodles.
Top with parmesan cheese.