Chunky salsa is loaded with vegetables such as tomatoes, black beans, corn, onions, and green peppers. You've just got to try this! My sister-in-law gave my husband this recipe and he loved it. So he jotted it down on a piece of paper.
When I went to make it, the instructions were just the ingredients. I tried it with the bean juice in this particular batch, and I decided that I would drain the beans and corn and just let the juice be from the tomatoes. I have also used tomatoes that I have canned and that is what I prefer.
It is great that it makes a lot and so you can take it to any kind of gathering and it will be a hit. Since I got this recipe from my sister-in-law and she loves spicy, and I am kind of wimpy when it comes to much spiciness, it is great that the spiciness can be changed by adding Tabasco or leaving it out. You can add as much Tabasco as you like or don't like.
You also might want to add more tomatoes if you like. There is really not a set way to make this salsa; this recipe is a base that you can change any way you want. So I must tell you that for some reason, I keep grabbing kidney beans along with a can of black beans. That is why you may see a kidney bean, I dumped a few in, before I even realized that I had opened the wrong can. No big deal. The cans look just alike.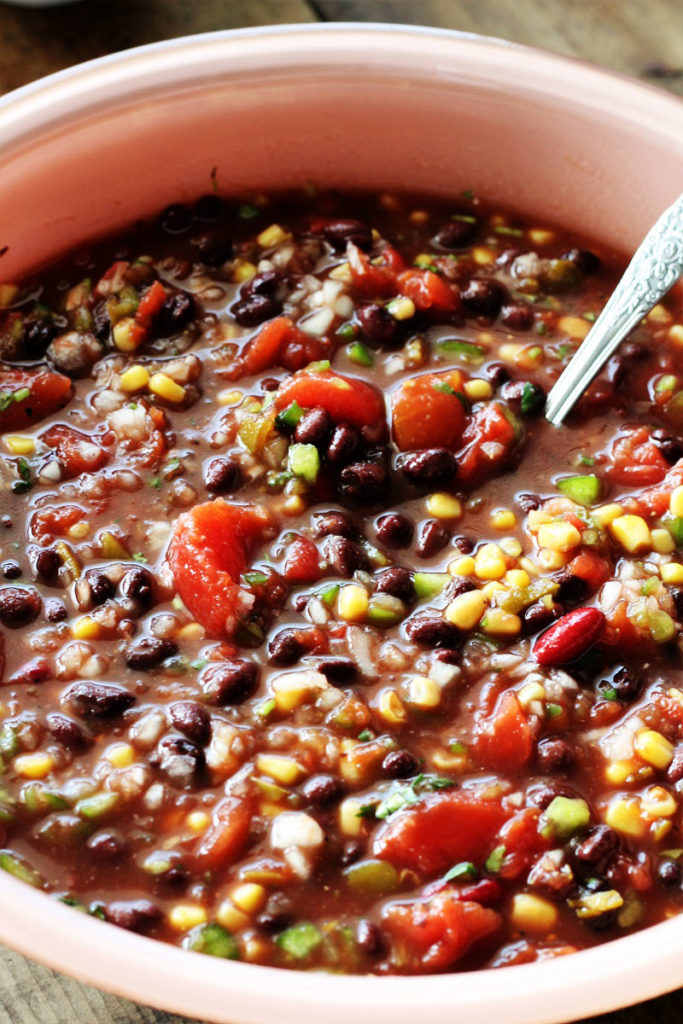 What Ingredients Do I Need For Chunky Salsa?
Here's a list of ingredients you'll need to make this Salsa (scroll down for the full recipe):
Stewed tomatoes
Black beans
Corn
Garlic pepper
Onion
Pepper
Cilantro
Salsa
Tabasco, if you like it spicier
How Do I Make Chunky Salsa?
In a large bowl, combine tomatoes, black beans, corn, garlic pepper, chopped onion, chopped pepper, chopped cilantro, salsa and Tabasco.
Let cool in the refrigerator for 1/2 hour before serving, so it can season.
My husband had a co-worker that asked for this recipe and so I gave it to her. I had not yet made it this year and how quickly we forget. I made it up today and as I did so, I told myself that the instructions that I gave to her were not very good. Boy did I feel bad.
You and I both know that you can give people the same recipe and the same ingredients and they all turn out different. I forgot to tell her that we add home canned salsa. Part of the reason that all recipes turn out different is because sometimes you forget to mention a few things that you do different than the recipe.
So I thought that I would go ahead and post this and give a few more instructions. (That is one of the best things about having this blog – my recipes are getting written down, and if anybody has a question they can ask it and I can explain it better).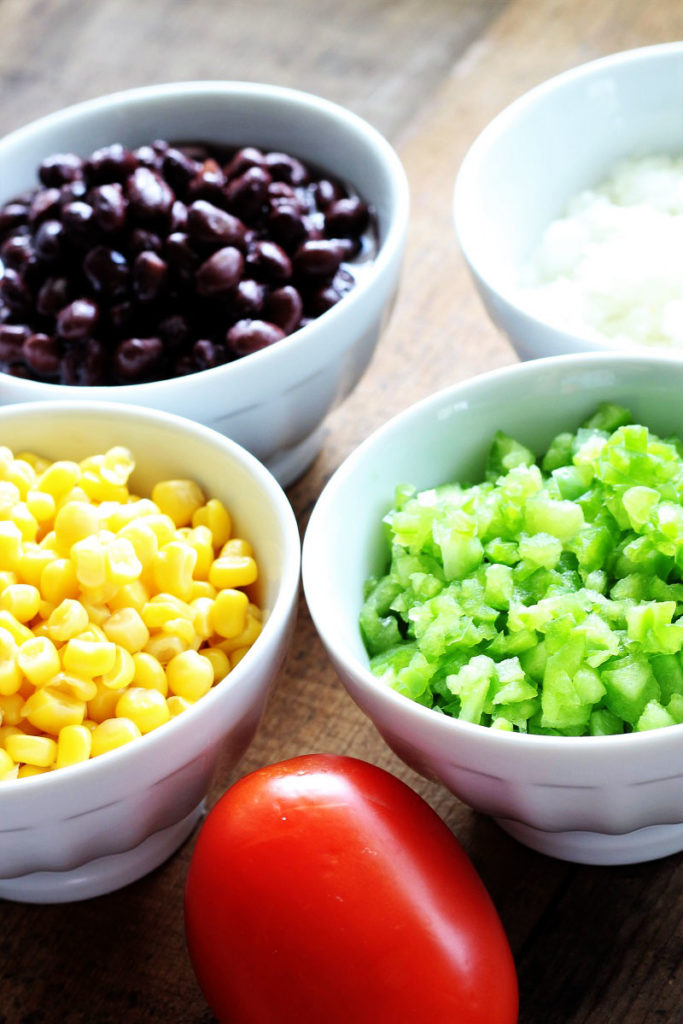 Which Beans are the Healthiest to Eat?
Chickpeas. Also known as garbanzo beans.
Kidney Beans.
Black Beans.
Soybeans.
Pinto Beans.
Navy Beans.
And you know what? You could use any of these beans in this dip and it would taste great.
But since the recipe calls for black beans, let's research black beans a little further.
Are Black Beans Good or Bad Carbs?
Black beans are high in carbohydrates, but this is balanced with the fiber content.

A 1/2 cup serving has 20 grams of carbohydrate and 8 grams of fiber, with 12 grams of net carbs.

Black beans are high in protein.

Black beans are an excellent source of fiber (both soluble and insoluble).

Black beans do not contain sugar.
This recipe is great because you open a lot of cans and put it all together and it makes a lot. Chunky Salsa is perfect for get togethers; or you can always just half the recipe if you are just making it for yourself.
My favorite to eat with chunky salsa, is lime chips, however I love lime chips with anything and everything. I was just thinking that you could also add an avocado or two.
Perfect for summer! What are some of your favorite summer recipes that are quick and easy? This recipe reminds me of a saying I heard the other day, "be the best you, you can be, everyone else is already taken". I hope that you really enjoy the salsa.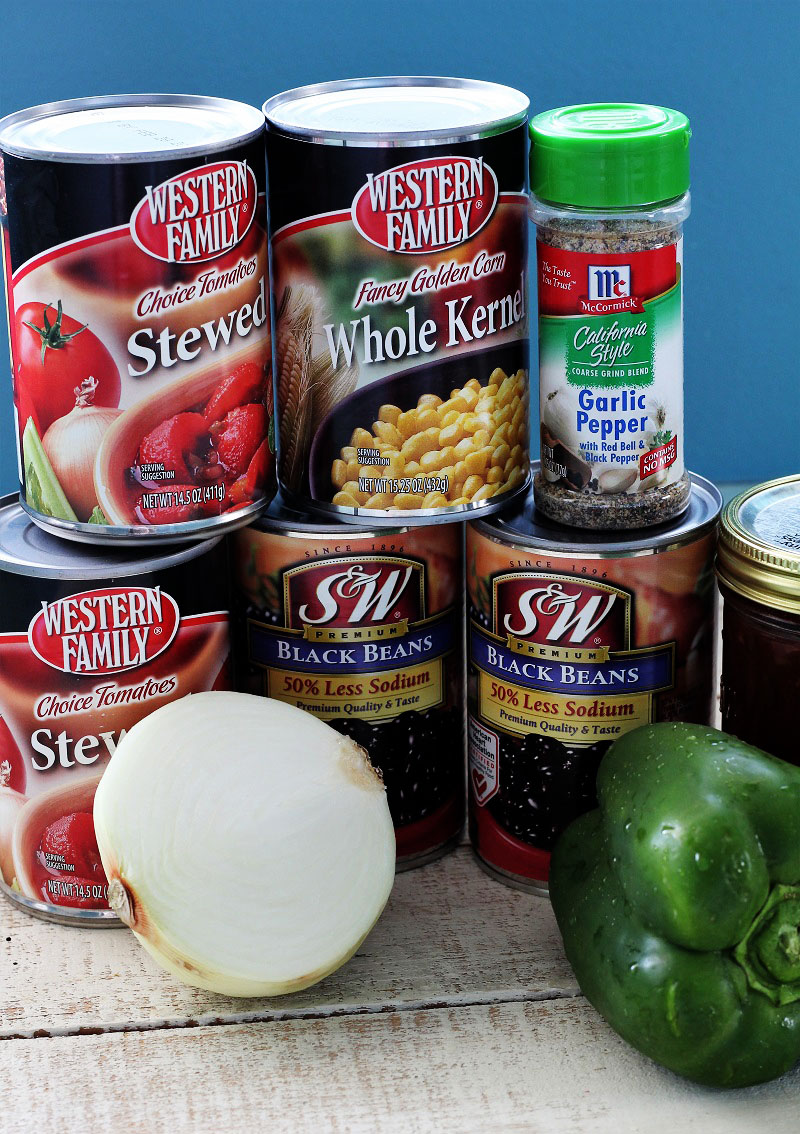 Tips and Tricks For Chunky Salsa:
You may not think that this salsa looks very good, but I promise that you will love it. It uses a lot of cans, so it comes together very quickly.
You can eat this salsa on chips and/or crackers.
If you think that your salsa is too runny, just dump off some of the juice.
More Appetizing Dip Recipes For You:
Yield: 20 people
Chunky Salsa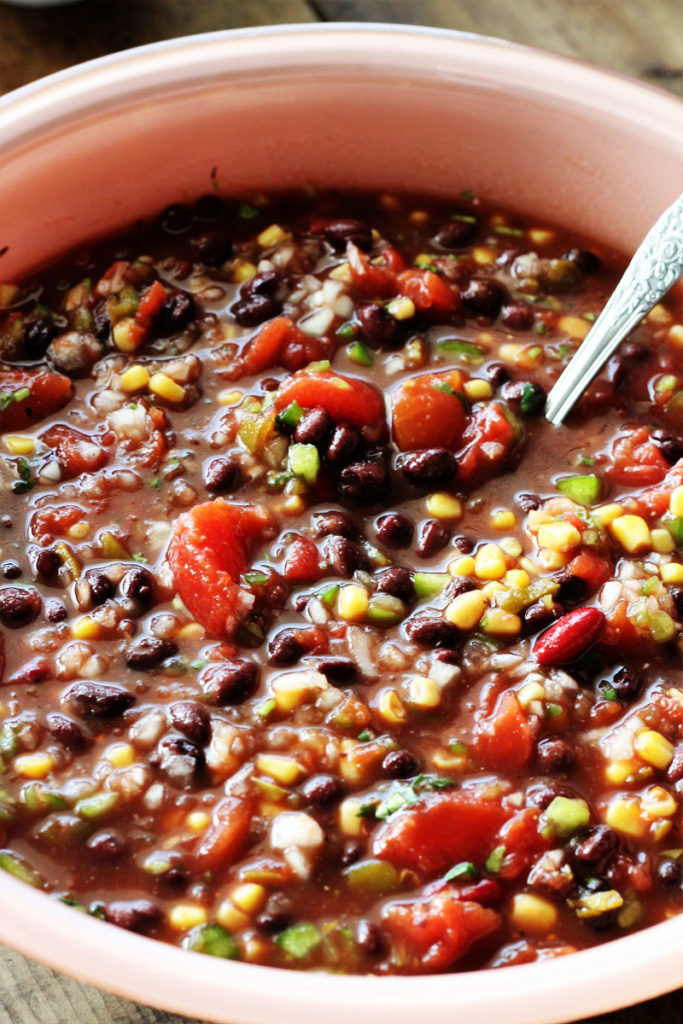 Chunky salsa is so nice and chunky, loaded with vegetables; black beans, corn and stewed tomatoes, green pepper, onion and cilantro.
Ingredients
2 (14.5 oz.) cans stewed tomatoes (not drained) chopped smaller if you prefer
2 (15 oz.) cans black beans (drained)
1 (15.25 oz.) can corn or 1 cup frozen corn (thawed)
1 tsp garlic pepper (you can find it in the store by the other spices)
1/2 large onion, chopped
1 green pepper, chopped
4 Tbsp Cilantro, chopped
2 cups of your favorite salsa, (I use some that I have home canned)
a few drops of Tabasco if you like it spicier
Instructions
In a large bowl, combine tomatoes, black beans, corn, garlic pepper, chopped onion, chopped pepper, chopped cilantro, salsa and Tabasco.
Let cool in the refrigerator for a 1/2 hour before serving, so it can season.
Nutrition Information
Yield
20
Serving Size
2
Amount Per Serving
Calories

35
Total Fat

0g
Saturated Fat

0g
Trans Fat

0g
Unsaturated Fat

0g
Cholesterol

0mg
Sodium

192mg
Carbohydrates

8g
Fiber

2g
Sugar

2g
Protein

2g
This data was provided and calculated by Nutritionix