Broccoli Salad.  Yesterday, I was driving with my adorable granddaughter.  I asked her if she liked the pink trees?  (They are beautiful this time of year).  She told me "yes grandma, pink is my favorite color".  Then I asked her if she liked the trees that look like popcorn.  She said "not popcorn grandma"; and I said okay and kept driving.
Pretty soon I heard her say as we here driving by more beautiful white trees "popcorn, popcorn, popcorn, popcorn, broccoli." Right in the middle was a green tree.  I laughed; oh how these little ones make our days.  I also saw that some of the trees were full of blossoms and just beautiful.
Then there were other trees that didn't have as many blossoms and these trees were not as beautiful.  Those trees were the ones that were crowded by other trees.  I thought to myself, these trees are just like people; if you are always telling your kids or others how to do things and don't give them a chance to do things on their own and make their own mistakes, how are they ever going to stand out and blossom?  I was glad to learn this lesson.  I guess I will stop nagging my teenager so much.
Also don't forget to enjoy the beautiful spring colors, as they go so fast.  And don't forget to enjoy people as they grow so fast and change too.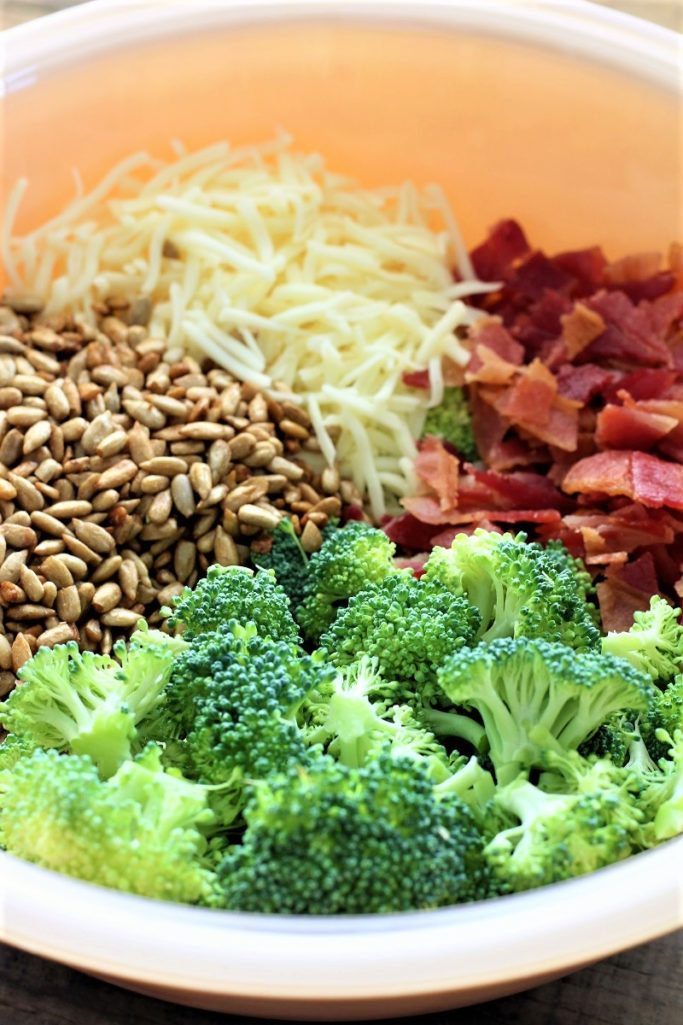 My daughter asked me what kind of salad to make for our get together and I told her a green salad would be great! Then she called and told me that there was a recall on Romaine lettuce.
So I thought for a minute and then I said "what about broccoli salad"? Everyone loves it and it is still a great way to get your vegetables and an added bonus of broccoli!
I am so thankful for the people who grow and sell broccoli. I remember the very first time that I grew it and served it to my kids, they asked what the worm looking things were on their plates? Holy cow, I had no idea that when you grow broccoli, you need to soak it in salt water to get all those critters out before you cook it. The poor kids were almost traumatized. I must say that I am glad that they all still eat broccoli!
Tips and tricks:
I- I use regular sun flower seeds, but if you wanted an added twist, use honey roasted!
2- I like to cook my bacon in the oven on a cook sheet for 30 minutes on 350 degrees, or until it is done to my likeness.
3- If you cut the stems up fine, you can use them along with the broccoli florets!


Yield: 8 people
Broccoli Salad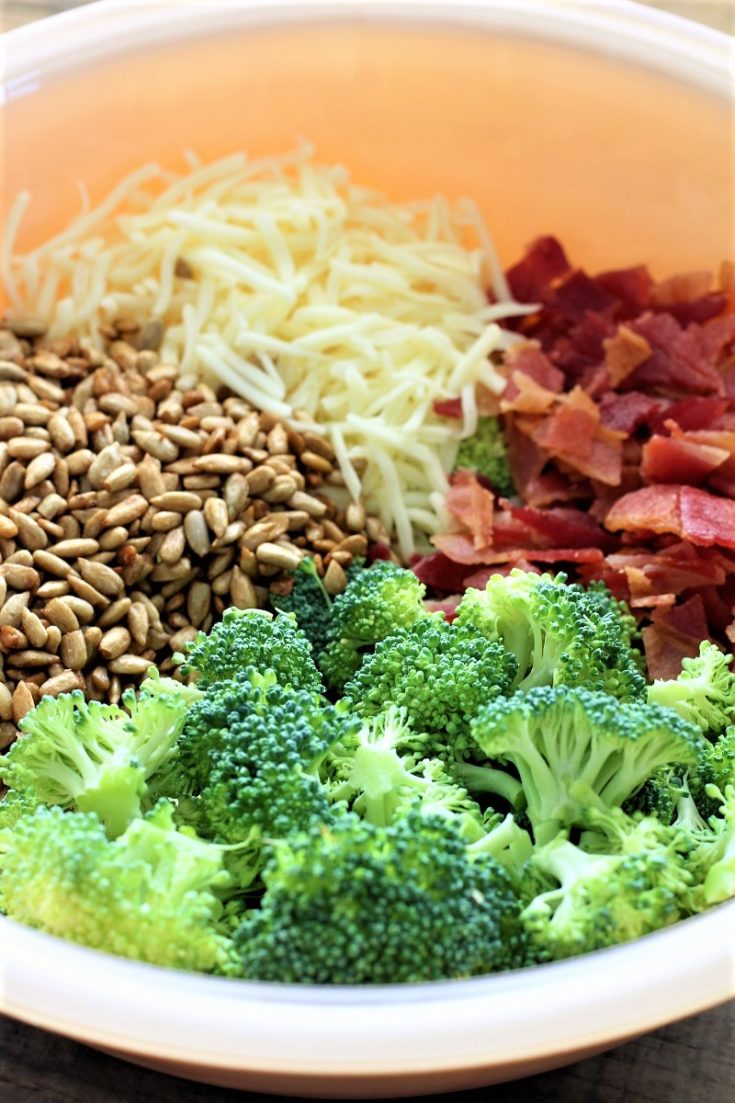 Prep Time 15 minutes

Total Time 15 minutes
Ingredients
2 large bunches of broccoli (about 1 pound) cut into small florets
1 pound of bacon, cooked until crisp and then crumbled
1 1/2 cups sunflower seeds (I like honey roasted)
1 cup grated mozzarella cheese
1 small purple onion, sliced (optional)
Dressing
1 cup mayonnaise
2 Tablespoons apple cider vinegar
1/2 cup sugar
1 1/2 Tablespoons dried onion
Instructions
In a medium size bowl, place broccoli that is chopped into small pieces.
Add bacon that you have cooked and crumbled, (if in a hurry use bacon bits).
Put sunflower seeds, cheese and onion in next.
Keep this refrigerated.
Dressing
Combine mayonnaise, vinegar, sugar, and onions together. Mix well!
About 45 minutes to 1 hour ahead of time pour dressing onto the broccoli mixture.
Stir gently and place back into the refrigerator until ready to serve.