Amazing S'more Brownies are simply out of this world. With summer coming, I must say that it is S'more season! After my son had one of these Brownies, he came to me and said "mom, I have found my new favorite dessert"!! These amazing S'more brownies have an amazing flavor.
If I were you, I would make some for my next outing. Your friends and family are going to love you!!! I must warn you that these amazing S'more brownies are addicting. You and your family will not have to light up the camp fire to have an amazing taste of S'mores.
Simply put them together with a graham cracker crust on bottom, boxed brownies that come together so easily in the middle, and topped off with creamy, soft, marshmallow frosting. The taste is perfect! I am not big on marshmallows, but this frosting is superb!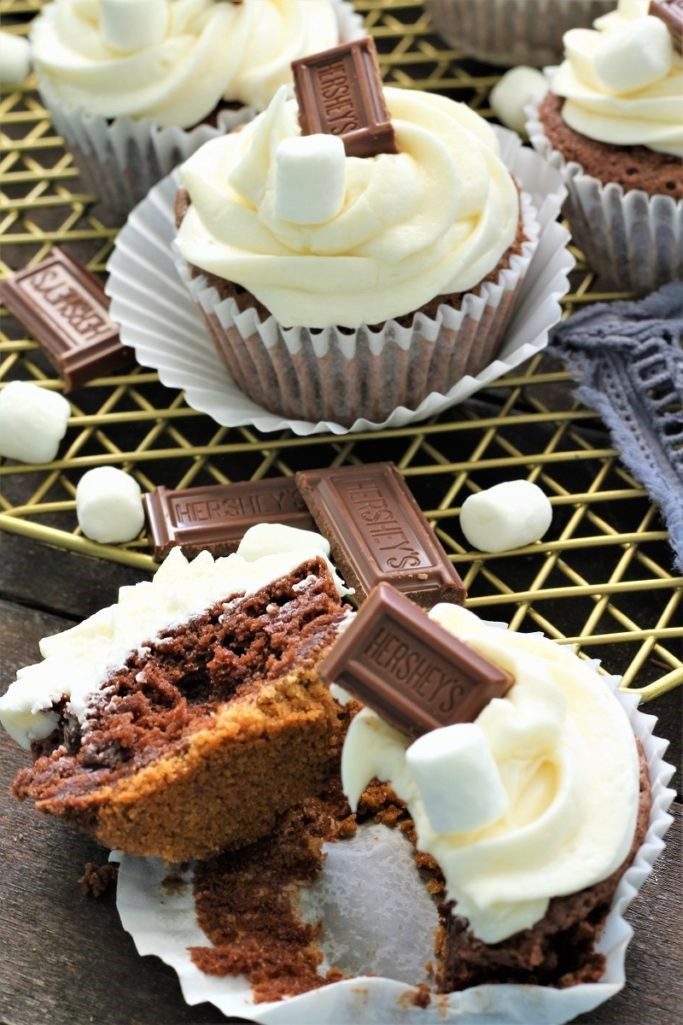 What could I use instead of Marshmallow Creme Frosting on Amazing S'more Brownies?
You could spread Marshmallow Creme on top of the Brownies.
You could remove the brownies from the oven when there are 3 minutes left to cook and put a marshmallow or marshmallows on top, then return to the oven for the 3 minutes, allowing the marshmallows to melt.
*Note: We are Frosting folks here and the Marshmallow Creme Frosting is our recommendation!
What are some good garnishments for these Brownies?
Pieces of Hershey's bar
Miniature marshmallows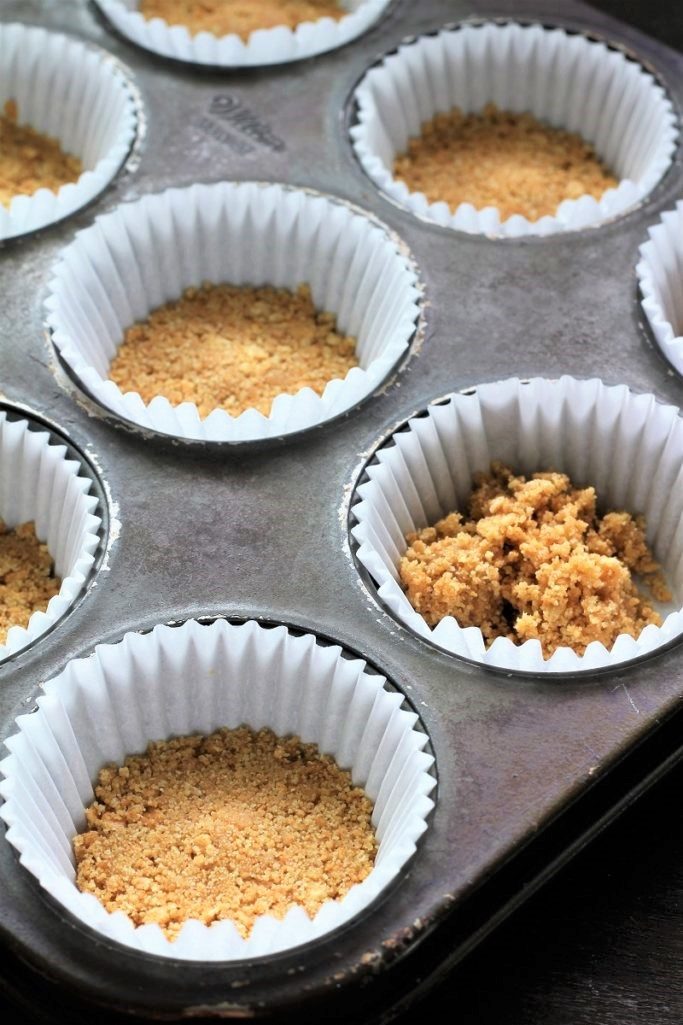 What if I don't need this many Amazing S'more Brownies?
We used 2 boxes of Brownie Mix. If you don't want this many Brownies, just use one box of Brownie Mix and half all of the other ingredients.
Yield: 30
Amazing Smore Brownies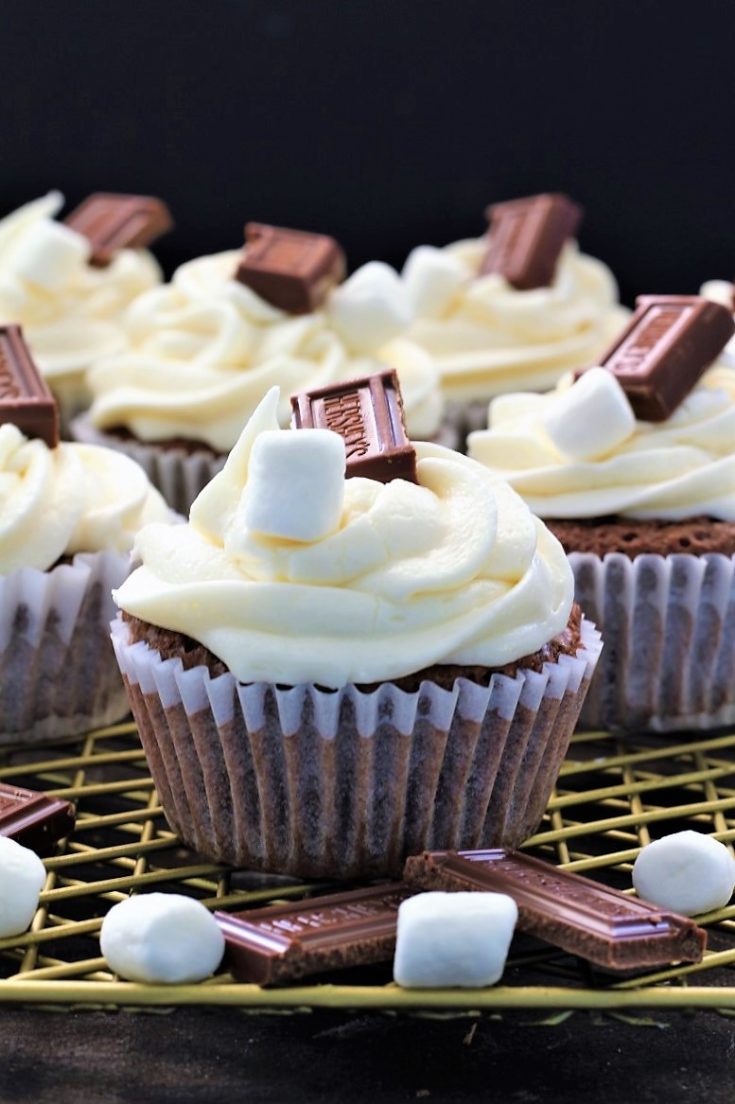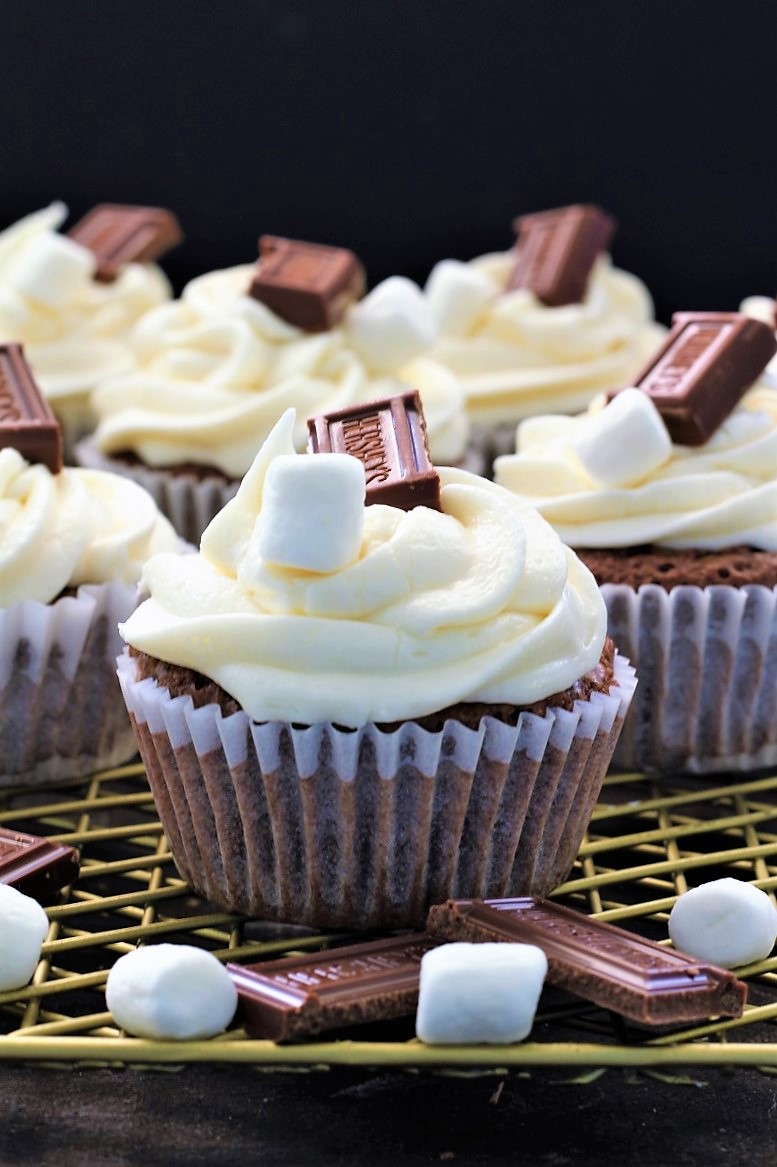 Ingredients
1/2 cup butter, melted
1 1/2 cups crushed graham crackers
2 Tablespoons of granulated sugar (optional)
2 (18.3 ounce) boxes of brownies
Frosting:
1 cup Butter (We use Salted Sweet Cream Butter)
1 Container of Marshmallow Creme (7 oz. size)
2 teaspoons of Vanilla
4 cups of Powdered Sugar
4-6 Tablespoons Cream depending on the desired consistency of your Frosting
Instructions
1. In a medium size microwave safe bowl, place the 1/2 c. butter and melt on a lower power (3-4) for about 1 minute. If it isn't quite melted, repeat.
2. Then add the 1 1/2 c. graham crackers and the 2 T. sugar.
3. Mix to combine.
4. Put about 1 1/2 Tablespoons of the graham crackers in the bottom of a cup cake pan, lined with cup cake papers.
5. Then mix the brownies according to package directions.
6. Place some of the brownie mix in the muffin pan over the graham cracker crust, fill it a little more than 3/4 full. Place in a preheated oven at 375 degrees for 20-25 minutes or until the center comes out clean.
Frosting:
1. While the brownies are cooking, place the 1 c. butter, container of marshmallow creme and 2 t. vanilla in a mixing bowl.
2. Mix very well, then slowly add the 4 c. powdered sugar and the 4-6 T. cream; you might need to add a little more cream to suit your desired consistency of the frosting.
3. Whip until very smooth and creamy.
4. After the brownies have completely cooled, frost them with the frosting mixture.
5. You may want to garnish with chocolate pieces and/or mini marshmallows.
Nutrition Information
Yield
30
Serving Size
1
Amount Per Serving
Calories

302
Total Fat

19g
Saturated Fat

9g
Trans Fat

1g
Unsaturated Fat

9g
Cholesterol

48mg
Sodium

197mg
Carbohydrates

32g
Fiber

0g
Sugar

19g
Protein

2g
This data was provided and calculated by Nutritionix
What other Brownie Recipes do you recommend?
Caramel German Chocolate Brownies