Amazing crock pot roast with potatoes and carrots is such a delicious and moist dinner. If you are going to work, or just have a busy day, place the roast, potatoes and the carrots in the crock pot and by dinner time you will be happy that you made this.
I am not a big meat eater when it comes to roast and steak, but I am pretty sure that I could have eaten this whole roast by myself! It was so moist and I couldn't even cut it. The roast just fell apart. Then we put some butter, and a little more salt and pepper on the potatoes and carrot and wow!! It was a fabulous dinner. Loaded with so much flavor.
Cooking the amazing crock pot roast with potatoes and carrots for a longer amount of time on a lower heat, made it so flavorful.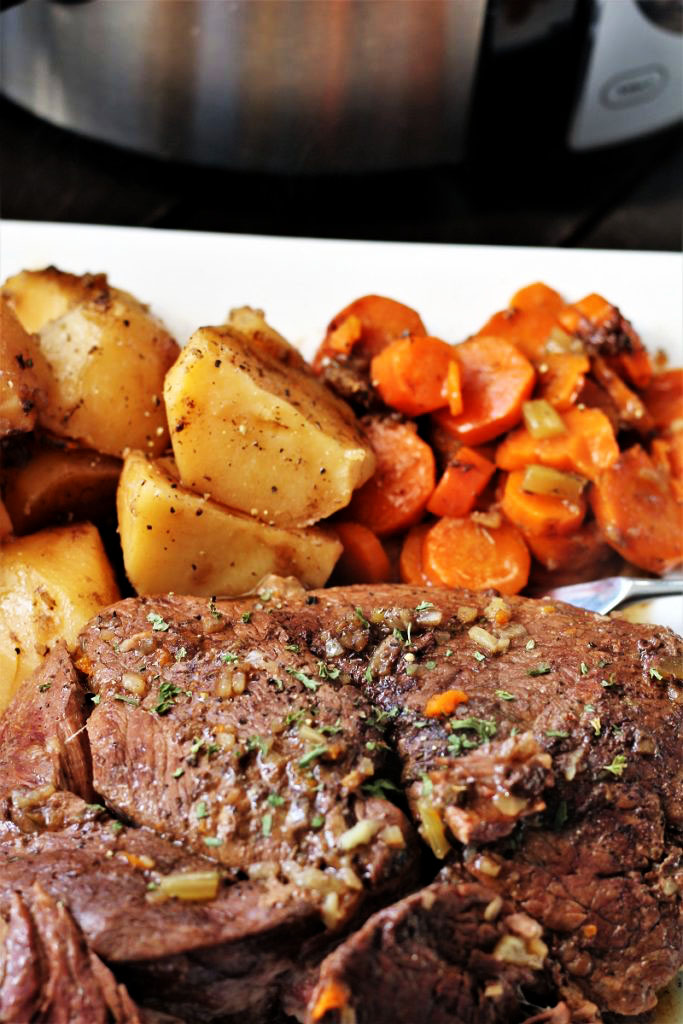 How ever, I cooked mine all night and when my son came up for breakfast, he said "I prefer the smell of bacon for breakfast"! Ha ha. That night he like the smell of the roast, and he liked eating it even better.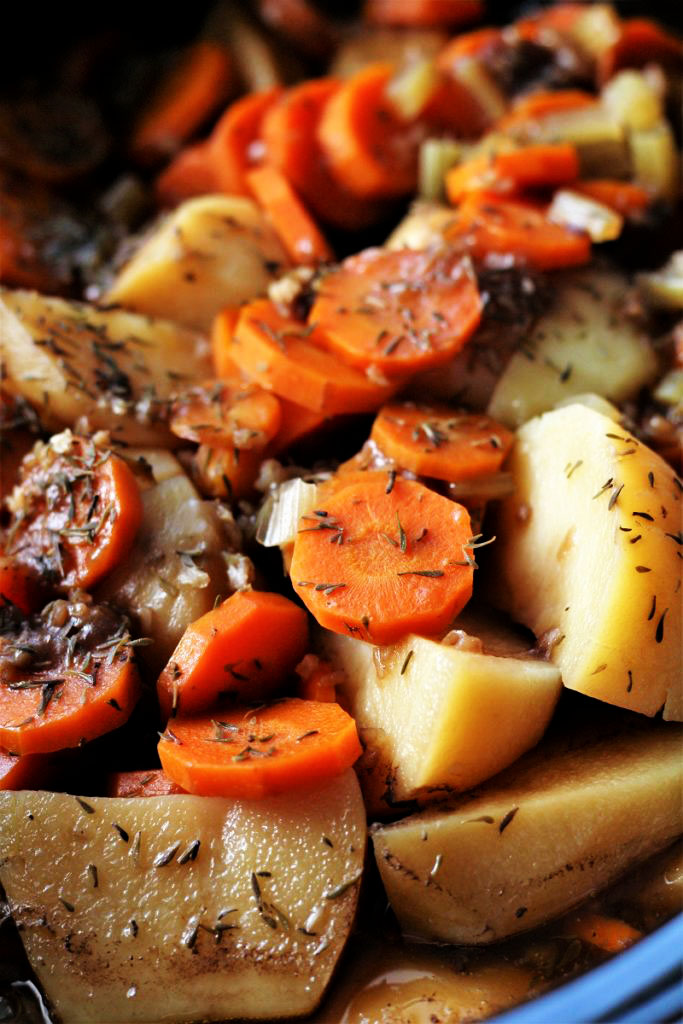 So let me ask you how are your new years goals coming along? It seems like the time goes so fast that there hasn't even been time to think of goals.
So this is the week. I need to at least start on some new goals. Get back to exercising and eating just a little bit healthier. I will just watch out for extra sweets like I ate too many of during the holidays. I couldn't let all that yummy stuff the neighbors gave me go to waste!!!
But now it is time to get back into shape and enjoy some good healthy foods. I do need to make some pan sugar cookies though. One of my friends that is 82 years old told me that she loved making sugar cookies, but that they were too much work. So I suggested that she make a pan of them and that they taste just as good, and that they were just a lot less work. I might just have to show her my favorite recipe. And you could decorate them how ever you want!
Anyway, let me know what your new goals are and lets get supporting one another. Exercise 5 days a week for 30 minutes. There; you have mine! Good Luck, and we can do this!

Amazing Crock Pot Roast with Potatoes and Carrots
Prep time:
Cook time:
Total time:
Ingredients
1 - 4 pound roast
1 - 2 teaspoons olive oil
1 teaspoon salt
½ teaspoon pepper
1 - 2 garlic cloves, pressed
4 - 5 medium Yukon gold potatoes, peeled and cut into chunks
3 - 4 large carrots, (scrubbed well or peeled) cut into slices.
1 cup water or beef broth
1 package dried onion soup
1 teaspoon thyme
1 teaspoon dried parsley (for garnishing after cooking)
Instructions
In a large skillet, place the olive oil.
Put the roast in the pan and then sprinkle with the salt and pepper.
Sear the roast on all sides. (This helps lock in flavor)
Then in the crock pot, add the roast, sprinkle the package of onion soup and the thyme on top of the roast,.
Add the garlic, then add the potatoes and the carrots.
Add the broth or water and place the lid on.
Cook for 8 - 10 hours on low. (Can cook for 4 - 6 hours on high). We just like low because the roast falls apart and is so tender.
Garnish with dried parsley and serve. We put butter on our potatoes and carrots.