Crock pot roast carrots and potatoes are one of those amazing meals that you can put in the crock pot, and in a few hours your dinner is ready to go! You will love making this amazing roast. The roast is so moist and delicious, the Au Jus cooks it and so it just falls apart. You can use any roast that you like. Crock pot roast carrots and potatoes is a family favorite around our house.  We also do not add gravy, we just put a little butter on the carrots and potatoes. They are very good cooked in the Au Jus. I invite you to try making this crock pot roast carrots and potatoes tonight or you can make it anytime that you are in a hurry and just need to put something in the crock pot.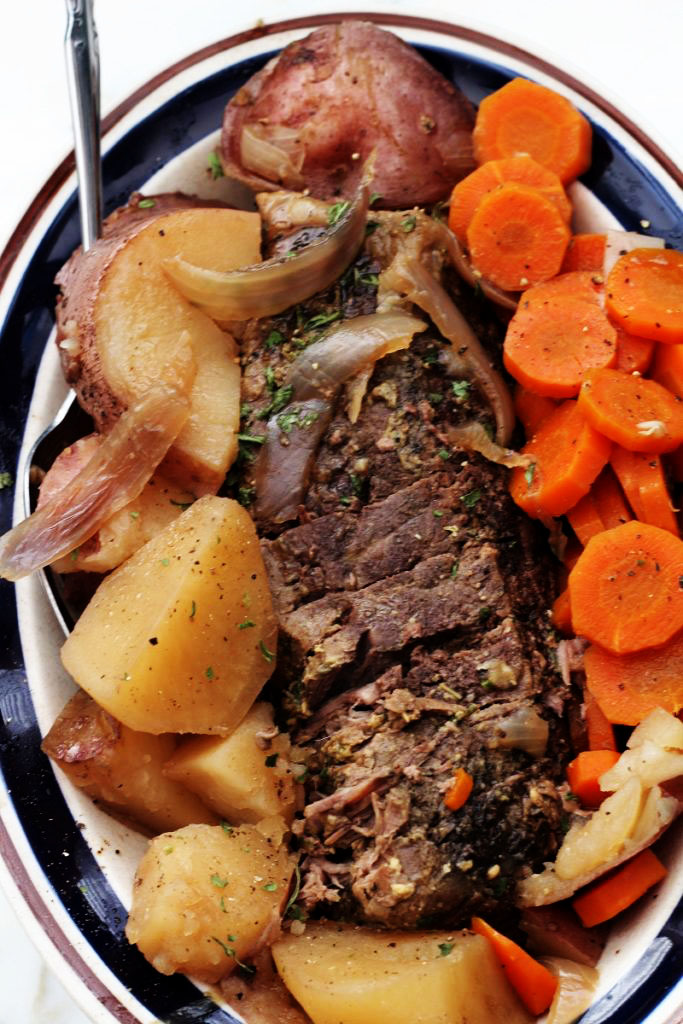 I was tending my grand kids the other day and so I knew that I wouldn't have a lot of time. I put this in the crock pot on low and in 5 hours it was done. It is always a great day when you get to 4 o'clock and your dinner is ready to go. Those are the best days ever. And my grand kids were so good too! They played well together, and my cute little granddaughter that is 3 even picked up the toys that she played with. She loves to play with puzzles and her favorite show is Daniel Tiger. Her little sister is almost 7 months and she would not take a bottle for anything so I fed her formula with a spoon. Now that was a little bit tricky. I was happy that she decided to eat some vegetables. They are easier to feed with a spoon than formula! Oh, those grand kids are very sweet. My grandson went to school. One day he came home and I was so proud of him, he said that the teacher told the class that out of 400 points, a few people got 180 points, some 200 points, some 300 points, and 1 person 400 points. He said, "I said to myself, and that was me" and sure enough it was! Isn't that exciting!!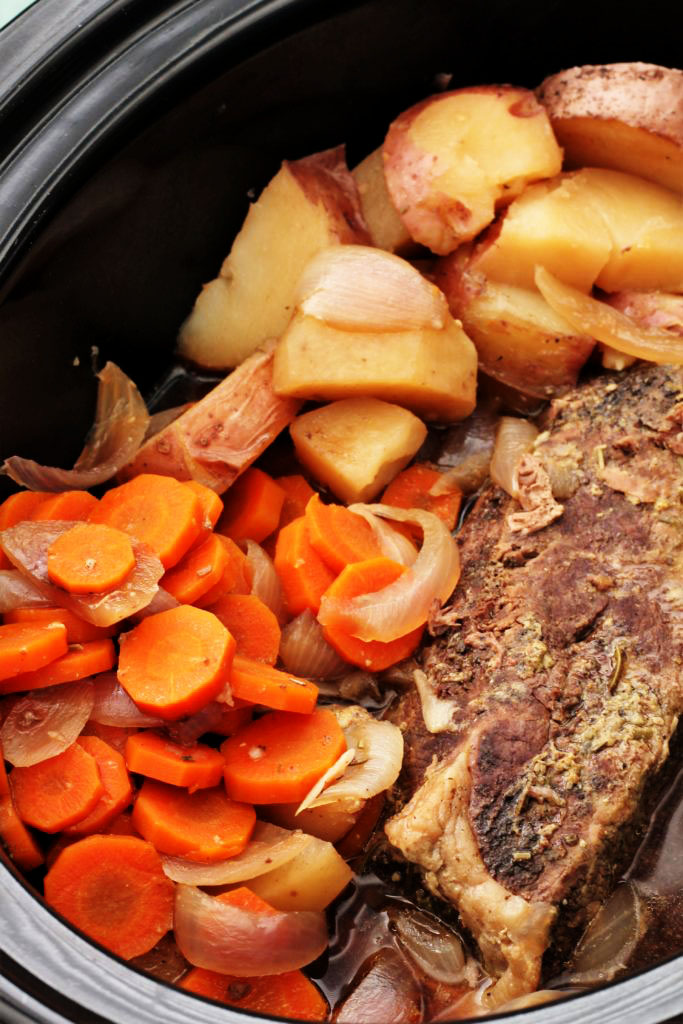 Well, I hope that you get a chance to try this roast. You can use any kind of roast, and you can use whatever kind of potatoes you want also. I just like the red. Any kind is good. Also the juice is good for dipping your meat if you would like. It is moist, and the juice makes it even moister. We added a green salad and some corn bread and that was a very nice meal. You could add more garlic if you wanted; I like a little garlic, but if you are big on garlic, add one or two more. Also you could use baby carrots, I just like big ones for this recipe.

Crock Pot Roast Carrots and Potatoes
Prep time:
Cook time:
Total time:
Ingredients
1 tablespoon olive oil
4 pounds roast
½ onion, sliced
1 clove garlic, minced
1 pound red potatoes, cut each potato into 6 - 8 pieces
4 - 6 large carrots, sliced
1 (1 ounce) packet Au Jus gravy mix
2 cups water
2 tablespoons Dijon mustard
1 tablespoon brown sugar
1 tsp dried thyme
½ tsp salt
½ tsp freshly ground black pepper
1 - 2 tsps dried parsley (optional) garnishing
Instructions
In a large skillet, add the oil.
Salt and pepper the roast on all sides.
Brown or sear just slightly on all sides.
Peel and slice the carrots.
Scrub the potatoes very well. I leave the skins on.
Place the carrots and the potatoes in the crock pot.
Then add the roast on the top of the vegetables.
Make the Au Jus with the 2 cups of water, add the mustard, brown sugar,and thyme to the mixture. Add this to the crock pot.
Place the onion pieces and garlic on the top. Sprinkle salt and pepper on top.
Cook on high setting for 3 - 4 hours, or low for 5 - 6 hours, or until meat is tender and the vegetables are soft when poked with a fork.
Garnish with parsley to serve! ENJOY!