As we are fast approaching the end of the school year and summer is just around the corner, I thought I would post this amazing pasta salad. Most people love the flavor of mozzarella and pepperoni minis mixed with pasta and fresh vegetables.
Pasta salad is a perfect side dish with a good hamburger off the BBQ grill. Or it is perfect for those times when you can get together with loved ones. How about some burgers and a game of croquet? I am not very good at that game, but it is still a lot of fun. Someone has to lose, right!?!
It is always so much fun to get outside and enjoy the family. I must say that it is rather weird to have them leave the house. In fact some days it seems a little boring around here and I wish that I could go back to when my kids were young.
Some other fun things that we can do as a family are inside games, like have them write something about themselves that others might not know, like what their favorite restaurant is or their favorite ice cream.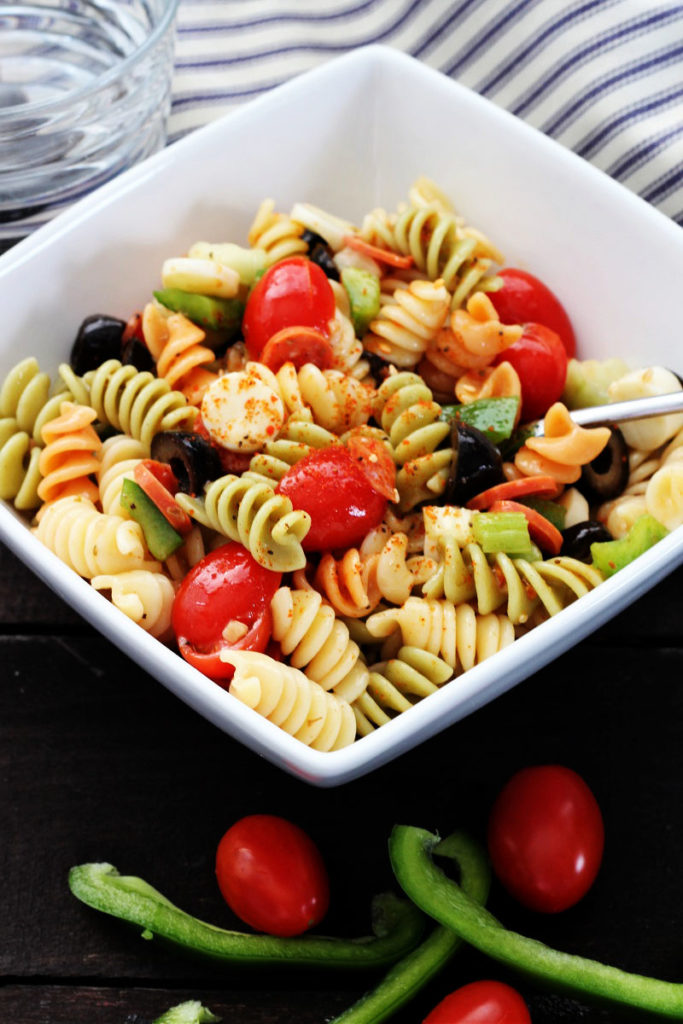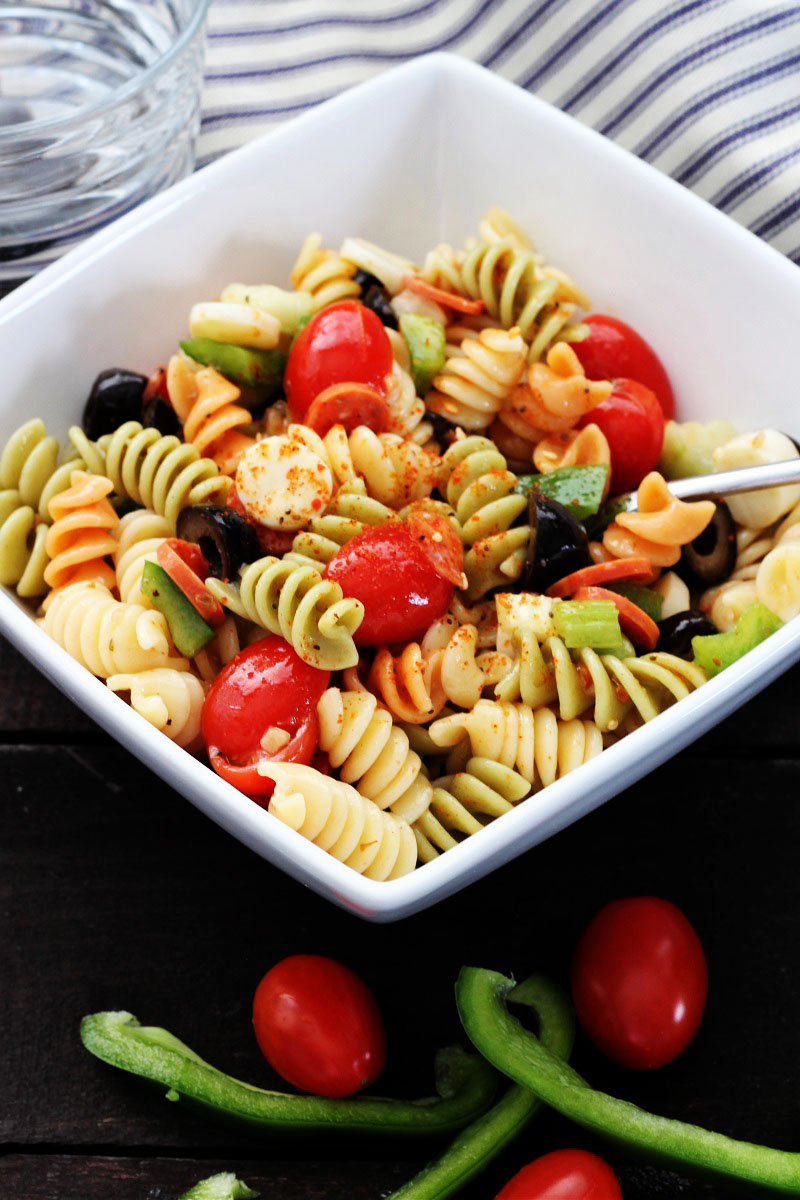 What Ingredients Do I Need For Pasta Salad?
Here's a list of ingredients you'll need to make this salad (scroll down for the full recipe):
Tri Color Rotini pasta
Pepperoni minis
Mozzarella string cheese
Cucumber
Celery
Cherry tomatoes
Olives
Green pepper
Zesty Italian dressing
Salad Supreme spice
How Do I Make Pasta Salad?
Here's the simple steps you'll follow to make this salad (scroll down for the full recipe):
Cook pasta according to package directions!
Rinse with cold water, making sure it is properly drained.
Place in a large bowl.
Add cucumber, celery, olives, pepper, pepperoni, and cheese that is sliced into small pieces.
Mix in the dressing and the Salad Supreme spice.
Stir gently.
Just before serving, add the tomatoes.
Keep refrigerated.
Also isn't it time to put together a conversation jar? How much do your kids know about you? What was your phone like growing up? A little different from the ones we have now. Our phone was one of those that you put your finger in and rotate the round ring on the front. There were no push buttons.
We were lucky, we had a long cord on our phone, so we could take the phone around the corner and go into the closet to have just a little privacy. Well let me tell you that that would only last until the neighbors needed the phone.
Yes, we had a party line and we had to share the phone with 2 or 3 other neighbors. It was the worst when they would leave their phone off the hook and we needed to use the phone. They didn't even know that their phone was off the hook sometimes.
It is kind of funny now, but my mother would turn up the radio as loud as she could and would hope that the neighbor would hear music coming from their phone and then they would hang it up. Sometimes however, they wouldn't hear us and we would have to get in the car and go to their home which was 1 or 2 miles away; not across the street. But you know, it is fun to look back and remember the good old days.
What is the Secret to Great Pasta Salad?
Overcook the pasta – yep that is what I said.
I know it sounds somewhat crazy because who likes overcooked pasta?
But in pasta salad if you cook the pasta just past al dente, it will absorb more of the flavor.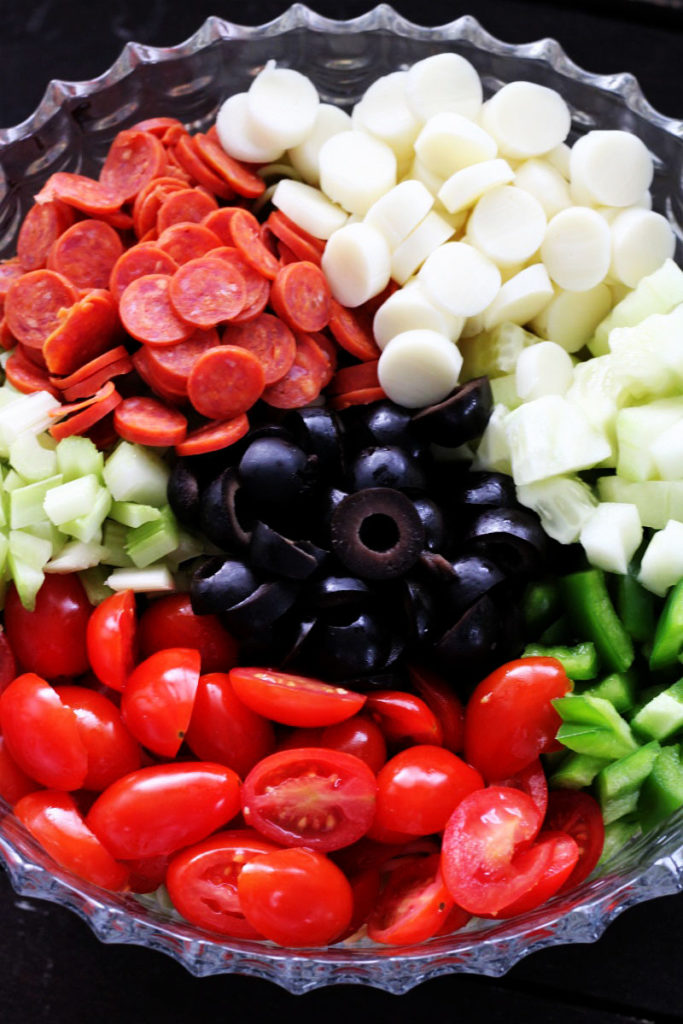 What kind of questions can you come up with? I would love to hear your questions. Please share some in the comments below and lets get out there and make a difference in our families and in the world.
It is time to live to the fullest and to get to know our families. Put down your phones, you know those ones that you don't have to put back on the wall and let's communicate with each other!! I know that I wrote this a while back, but it seems that my kids are really not enjoying being off of their phones.
What will it be like in ten year when my grand kids are a little older? I sure hope that we can have a conversation with them, and that they will know who their grandparents are. I know that my daughter has a little girl who is almost 2 years old and she thinks that she needs to have her mom's phone all the time.
What is the Best Pasta to Use For Pasta Salad?
You can use whatever pasta you want in this Pasta Salad.
I prefer the Tri Color Rotini pasta because it makes the salad more colorful and appealing.
Also the kids love it. I'm not sure about what makes colorful food more fun to eat, but it seems that it is, especially for kids.
I have also noticed that the dressing makes it's way into the spirals and infuses the pasta with flavor.
Since all the other ingredients are bite-sized in this pasta salad, I definitely suggest going with a pasta that is bite-sized (as opposed to spaghetti noodles).
There are times when I think that if I have to look at my phone one more time today, I am going to lose my marbles. I am not one to be on my phone all day. I grew up on a farm, and I know that my parents embedded in my head to get things done.
And I still have that work ethic in me today. Get things done. I think my husband thinks that I am a busy body. He told me once, " if there isn't anything to do, you create something to do, can't you just sit and do nothing"?
I tried that once and it wasn't very exciting. I am getting a little older and finding myself rather enjoying doing nothing. In fact sometimes I have to give myself a pep talk to get out of bed and get things done.
Can Pasta Salad be Made Ahead of Time?
Although it will stay good for a couple days, it is best to prepare pasta salad as close to when it is being served as possible.
The longer it sits the more it absorbs the dressing and turn bland in flavor.
The noodles become overly soft and swollen.
What To Do If You Do Make Pasta Salad Ahead of Time:
If you do prepare your Pasta Salad ahead of time, make sure to store your cooked noodles separately in a ziploc bag.
Store the other ingredients in a separate container.
Put the dressing in a jar.
Mix all of the ingredients together right before serving.
How Long Can Pasta Salad be Stored?
In my opinion, pasta salad is only really good the day it is made, good the next day and not very good by the third day.
That said, it should not make you sick; it just doesn't taste as good.
Pasta Salad should be stored in an airtight container in the fridge.
Properly stored, pasta salad will last for 3 to 5 days in the refrigerator.
Can Pasta Salad be Frozen?
No, do not freeze Pasta Salad.
It does not hold up well in the freezer, as it absorbs the dressing and becomes a soggy mess.
I must say that I am very blessed, and it is a good thing to be able to get things done. I just wish that I had the perfect list and that I could get all the right things done at the right time. In fact, I, like most of you, wish that I could have two of me and then I am pretty sure that I could get everything done that I need to do.
Or, I might just have double the problems.:) I hope that you enjoy this Pasta Salad as much as my family does. And if there is something in the pasta salad that you do not care for, then just go ahead and leave it out.
Tips and Tricks For Pasta Salad:
This salad lasts for 2 – 3 days in the refrigerator.
You may want to use grated cheese in place of the string cheese.
If you like, you can add sunflower seeds.
More Salads Made With Pasta For You:
Yield: 12 people
Pasta Salad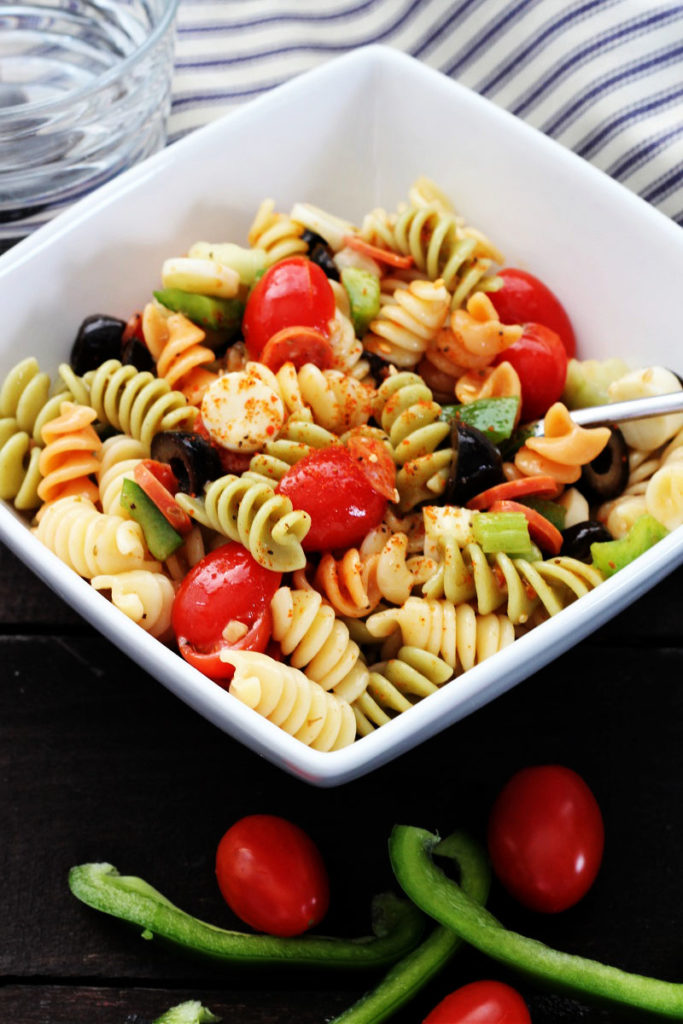 This pasta salad will be a hit at any potluck. The mozzarella cheese and the pepperonis mixed with fresh vegetables and pasta are always a big hit.
Ingredients
1 (1 pound) box of Tri Color Rotini, pasta
1/2 cup pepperoni minis
3 sticks mozzarella string cheese, sliced
3/4 cup chopped cucumber
3/4 cup celery
1 cup cherry tomatoes sliced
1/2 cup olives chopped or sliced
3/4 cup green pepper, chopped
1 1/2 cups Zesty Italian dressing
1 1/4 tsp Salad Supreme spice
Instructions
Cook pasta according to package directions!
Rinse with cold water, making sure it is properly drained.
Place in a large bowl.
Add cucumber, celery, olives, pepper, pepperoni, and cheese that is sliced into small pieces.
Mix in the dressing and the Salad Supreme spice.
Stir gently.
Just before serving, add the tomatoes.
Keep refrigerated.
Nutrition Information
Yield
12
Serving Size
1
Amount Per Serving
Calories

149
Total Fat

11g
Saturated Fat

3g
Trans Fat

0g
Unsaturated Fat

7g
Cholesterol

11mg
Sodium

478mg
Carbohydrates

9g
Fiber

1g
Sugar

4g
Protein

4g
This data was provided and calculated by Nutritionix