Garlic baked potato wedges are a healthier way to eat potatoes. They are baked in the oven. I love cooking these garlic baked potato wedges, no more heating up the oil and giving the house that strong oil smell. Potato wedges are a perfect side for burgers or sandwiches.
Also you could make some for that special game day. What is your favorite team? We like fry sauce with our garlic baked potato wedges. We make fry sauce by mixing equal parts mayonnaise and ketchup, but you can dip yours in ketchup, or even some people like to dip them in Ranch dressing.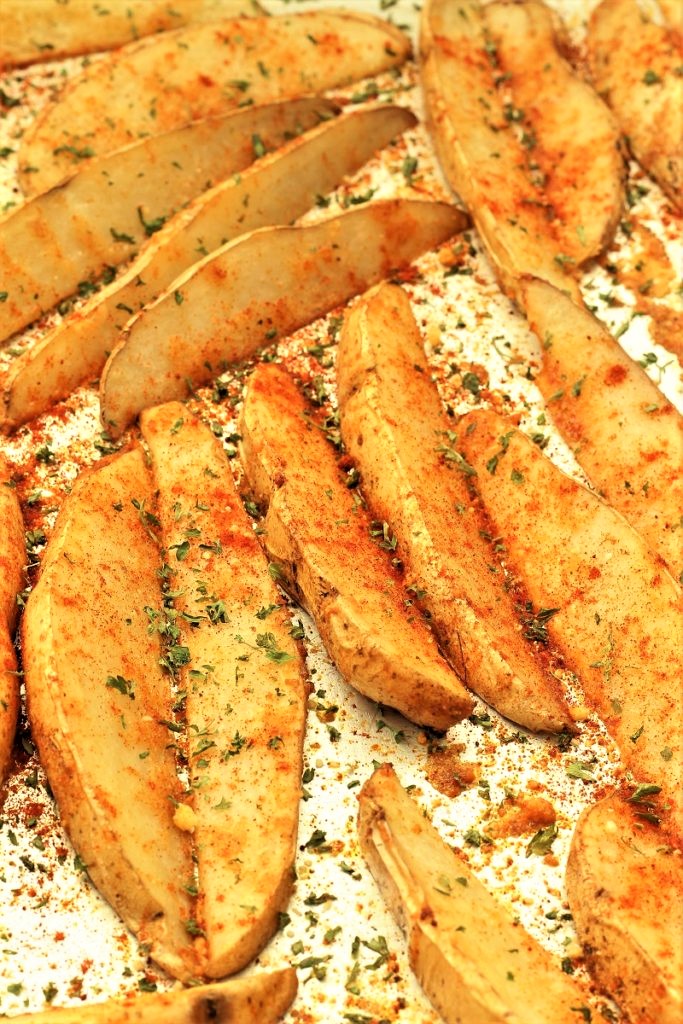 And so I told you that we have so many potatoes, those big yummy ones straight from Idaho. They even still have the dirt on them. My husband was an Idaho potato farmer. So when September comes around, we are always so excited to get our potatoes from Idaho.
I'm excited that I don't have to work in the potatoes in order to get these potatoes. When I was in high school, school would close down for a couple of weeks in the fall, for "Potato Vacation". (We had to make up the days by having no Spring break and a shorter Christmas break).
I don't remember this, but my older siblings even had to go to school on some Saturdays to make up the days that they were out for "Potato Vacation"). Well, it was a vacation from school, but not to go on a vacation by any means.
Most of the kids got jobs and worked those 2 weeks in the potatoes. We worked long hours in a dusty potato field or potato cellar. We would stand there and as the potatoes went by on a conveyor belt, we picked out the dirt clods and the damaged potatoes.
Some of the kids drove trucks that the potato were loaded into, to transport the potatoes from the potato fields to the potato cellars. Still others drove the tractors that pulled the potato harvesters or scraped the piles of dirt clods back to the fields.
Even though it was hard work and dirty, we all appreciated the opportunity to work in the potatoes because we could make a good amount of money in a couple of weeks. We didn't actually make that much money per hour, but we worked so many hours that we ended up with a good stack of change by the end of the 2 weeks. We did make minimum wage, but we did not get paid overtime.
Anyway, it was a good way to save up for a car or something else that we really wanted. There were not that many stores around where I grew up, so there were not many paying jobs for teenagers except working for the farmers. And usually, like on our farm, we were needed at home to work on our own farms.
So a short job like this was great. It was also fun that we did get to work with some of our friends. There were several different potato farmers, so you applied to work where you wanted, hoping to get on with that particular farmer. It seemed like once you had worked for one farmer, you almost always went back and worked for that same farmer.
I remember that one year that a girl moved into to our school district shortly before school started, and when she heard about "Potato Vacation", she said that we were crazy to go work such long hours out in the dusty fields. But she did end up working in the potatoes, and at the end of the potato harvest when she got paid, she couldn't believe that she had made that much money in such a short time.
Another thing that is important to note here, is that I do still like potatoes! Actually it was kind of exciting to be part of the process of getting the potatoes from the ground to the dinner table. I must admit that I like getting them from the storage room to the dinner table, better, however.  But I still have a great appreciation for the farmers who produce the food that we eat!
These garlic baked potato wedges would be a fun snack for after school and they really work up pretty fast. Your kids will thank you, and if your house is like my house, so will their friends!
How are you all doing this fall? I have been so blessed! For the longest time, I have been pretty healthy! However yesterday when I went to bed and I couldn't get warm, I knew that something was up. Sure enough, I have a slight fever, and the chills!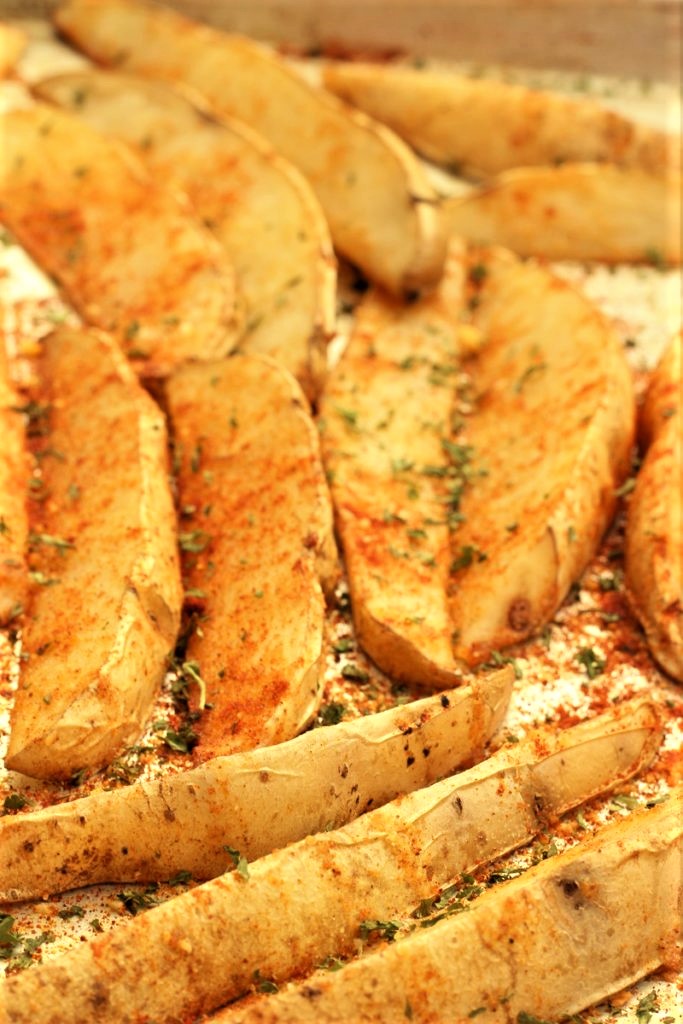 Garlic Baked Potato Wedges
Prep time:
Cook time:
Total time:
Ingredients
6 large russet potatoes, washed (skins on)
¼ cup olive oil
2 teaspoons garlic powder
¾ teaspoon paprika
½ cup Parmesan cheese
2½ Tablespoons parsley
Instructions
Spray two baking sheets with olive oil.
Preheat oven to 400 degrees.
Cut each potato in half and then half again until you have 8 - 10 pieces depending on the size of the potato. Cut potatoes all the same size if possible. Place the potato wedges onto the baking sheet.
In a bowl, mix the oil, garlic powder, and paprika together. Stir and sprinkle the oil and spices equally over the potato wedges.
Then sprinkle the Parmesan cheese over the potato wedges.
Bake for 15 minutes and then take the potato wedges out and turn them over.
Place back into the oven for 20 more minutes.
Enjoy!