So this is how the conversation went after I made this wonderful fresh peach pie. My daughter said to my son " how is it, is it worth the calories"?
His response, "so totally worth the calories, yum"!
The peach season is quickly coming to an end, and so before I canned all of the peaches that I had, I decided to make this yummy peach pie! We all decided that it was worth the calories and that peaches are one fruit that my little bit picky eater son, will eat in a pie.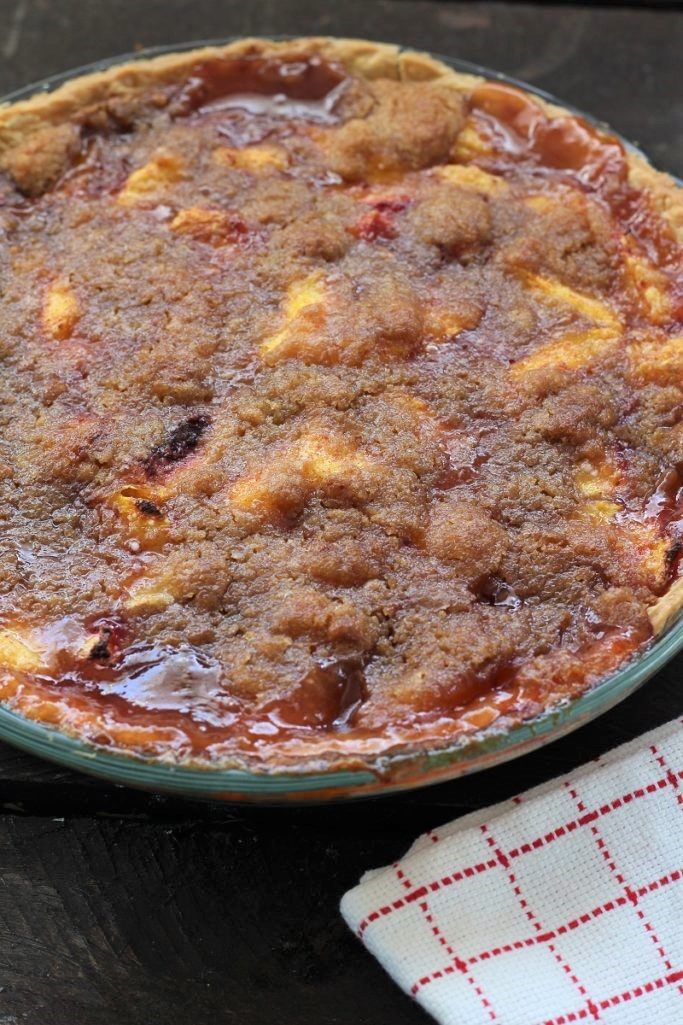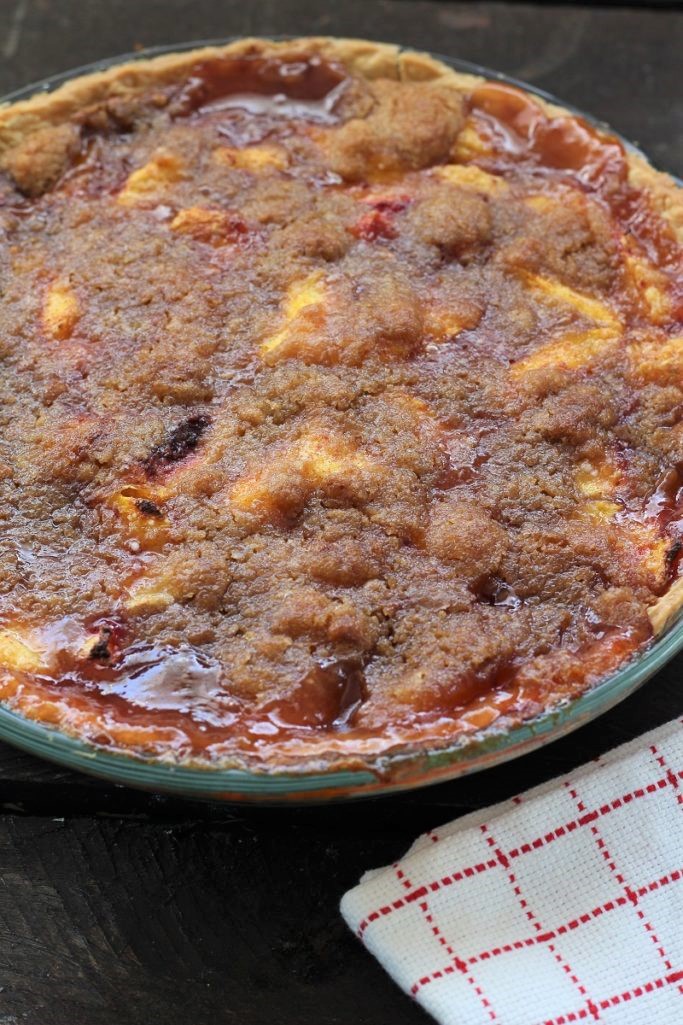 Is Minute Tapioca the Same as Instant Tapioca?
Minute Tapioca is the brand name for instant tapioca owned by Kraft, so yes it is the same.
Can I Substitute Cornstarch for Instant Tapioca?
Equal amounts of instant tapioca and cornstarch can be substituted for each other.
Crumble Topping or Pie Crust Top on Fresh Peach Pie?
I find that when using the crumble topping instead of the pie crust top, the pie bakes up and cools with a slightly thicker filling (probably thanks to the flour in the crumble topping).
Is Fresh Peach Pie Best Served Warm or at Room Temperature?
If you allow the baked pie to cool to room temperature the filling will set-up enough to hold in place.
Warm pie is amazing, so if you can't wait for the pie to cool and the filling spreads a little, I'm sure that your pie eaters won't mind, especially if there is a scoop of ice cream on top!
What is the Best Way to Store Fresh Peach Pie?
You can cover and leave the pie at room temperature for a day or two.
Or refrigerate leftovers and keep it for up to 4 or 5 days.
I cannot tell a lie, I used a crust that I purchased at the store. I have not quite got the art of making pie crust down yet. I can make it, but I have a hard time making them all nice and round.
What can I say, cookies are my thing.;)
You can use a ready made crust or make one yourself, but you do put the peach filling in before it is baked.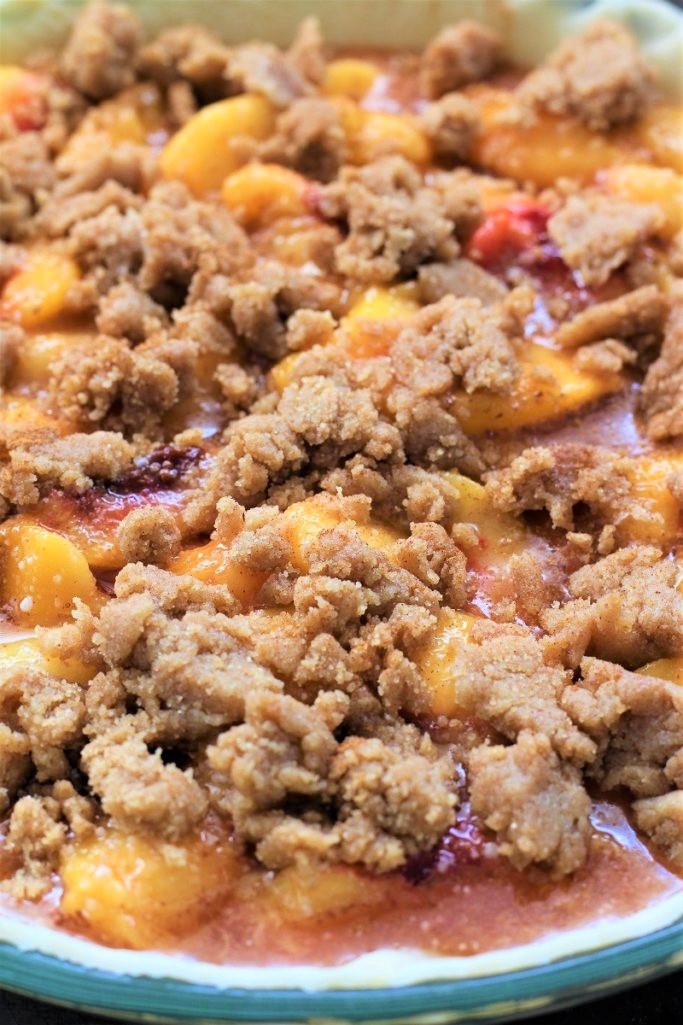 Tips For Picking the Best Peaches:
Select peaches that are firm with no shriveled skin
The peaches should be very fragrant
The fruit should be slightly soft when gently squeezed
Check for bruises and avoid damaged fruit
Color is a good indicator of great fruit, pick those with deep, rich hues
Large peaches have the most sugar, select medium to large peaches
Buy local if you can. Local peaches have spent less time traveling and more time on the tree ripening
More Pies For You to Enjoy:
Or If You Want a Pumpkin Pie, my blogging friend, Alyssa, at The Recipe Critic, has a good one Here:
Yield: 8 people
Fresh Peach Pie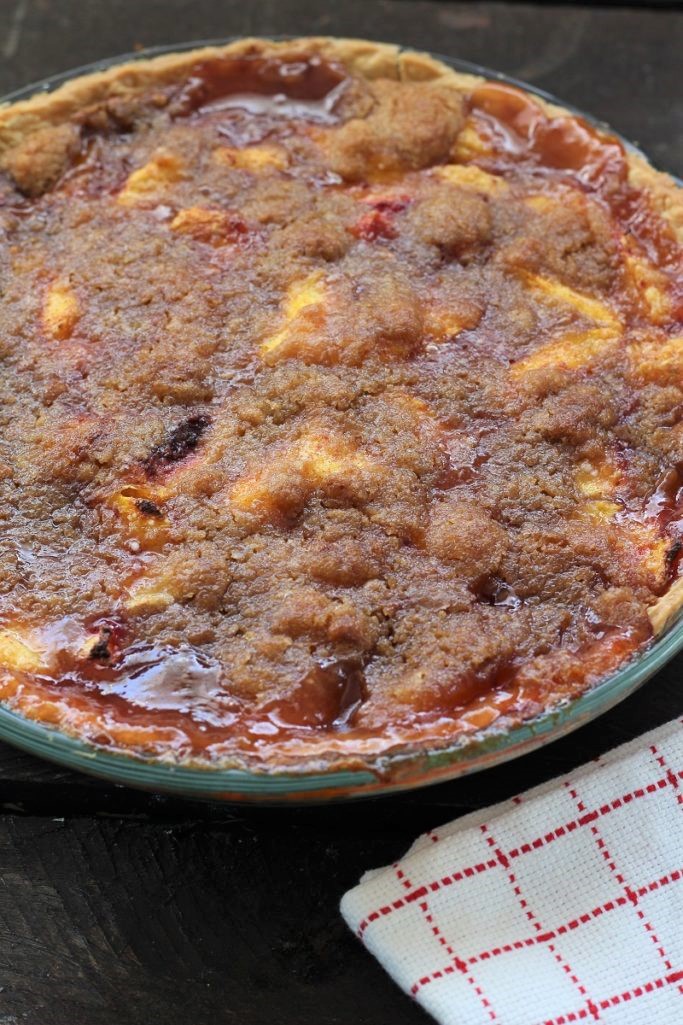 This amazing fresh peach pie is very simple to make if you use a ready made crust. And the topping is wonderful.

Prep Time 20 minutes

Cook Time 50 minutes

Total Time 1 hour 10 minutes
Ingredients
2 1/2 Tablespoons Instant tapioca
3/4 cup sugar
1/4 teaspoon salt
4 cups (peeled & sliced) fresh peaches
1 Tablespoon lemon juice
Crumb Topping:
1/3 cups packed brown sugar
1/4 cup all-purpose flour
1/2 teaspoon cinnamon
2 1/2 Tablespoons soft butter
Instructions
In a medium size bowl, mix 2 1/2 T tapioca, 3/4 c sugar, 1/4 t salt, 4 c sliced peaches and 1 T lemon juice.
Stir to combine.
Let sit for 5 minutes.
Spoon into an unbaked 9" pie shell.
Then top it off with another pie shell, or crumb topping (directions below).
If using another pie shell, make sure to seal the sides and place slits in the top so that the pie can bake and have ventilation.
Or you can top the pie with the crumb topping.
Crumb Topping:
Mix 1/3 c brown sugar, 1/4 c flour, 1/2 t cinnamon, and 2 1/2 T butter together until they are combined.
With your fingers or a fork, place little pea size balls of the topping on top of the pie.
Bake for 45-55 minutes, or until the pie is golden brown.
Remove the pie from the oven and allow it to set for about 15-20 minutes before serving.
You may want to top it off with a scoop of whipped cream or ice cream!
Nutrition Information
Yield
8
Serving Size
1
Amount Per Serving Calories 189Total Fat 4gSaturated Fat 2gTrans Fat 0gUnsaturated Fat 1gCholesterol 10mgSodium 97mgCarbohydrates 39gFiber 1gSugar 33gProtein 1g

This data was provided and calculated by Nutritionix