Fall garden pumpkin cake is a moist pumpkin cake that will be the center of attention. When the summer days start to disappear and the nights come too soon, sometimes you just need a pick me up. This is the cake that you are looking for to give you that pick me up!
When my daughter made her daughter a cute unicorn cake for her birthday, I thought that I just might want to make a fall garden pumpkin cake. And if I do say so myself, I think that it turned out pretty cute. It was worth the time that it took to make.
I did bake the cakes the day before and then I frosted them the next day. After the cakes had cooled, I placed them in plastic wrap and put them in the freezer. Then the next day, I took them out and frosted them.
The only time I had any trouble was when my hand made the frosting in the bag warn and it wouldn't stick to the cake. Then I put it in the freezer for a few minutes and forgot to get it out, so then I had to let it warm up for a few more minutes, but I eventually got it done.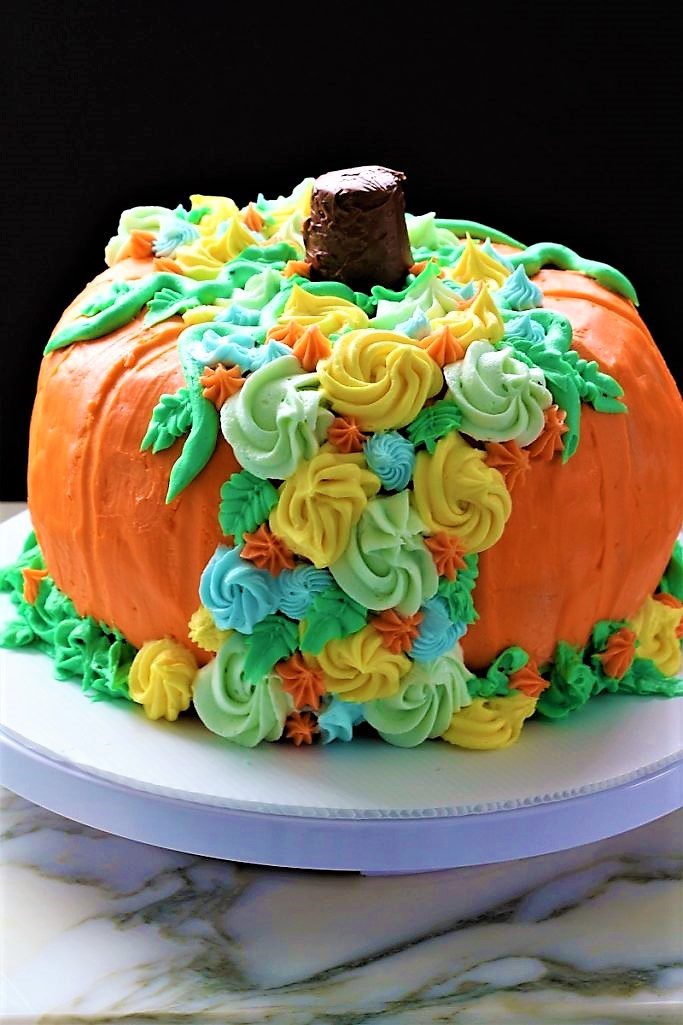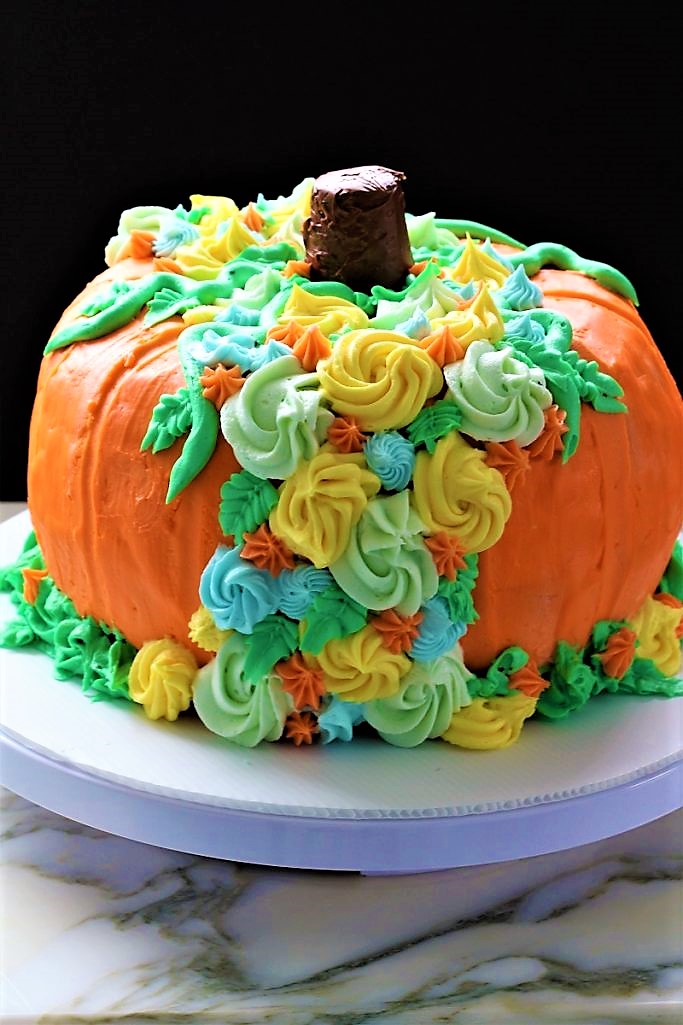 I do like frosting, but I think that this fall garden pumpkin cake might be just a little too much frosting for even me! I think that I am going to have to have a party and serve cake, or I might just have to take some to the neighbors. And if they like frosting then they will really love me!
You will want to freeze your cakes because it makes them easier to frost. There are a few crumbs, but when you freeze the cake, it makes a lot less crumbs. It makes it easier to frost the whole cake, as the frosting sets up because the cake is cold.
Don't you just love this time of year when all the cute little kids dress up? My little granddaughters were dressed up today. Their mom had them looking so cute. One of them was Minnie Mouse and the other was Merida from the movie "Brave". It fit her well because they are both spunky little red heads.
One of the local business' was having a trunk or treat and so the kids dressed up and went. They looked so adorable. My grandson isn't big on dressing up and so his idea of dressing up is putting on a football jersey.
He did say to me, grandma can I have some cake, and I told him that I needed to take pictures first. He assured me that it would be all gone and he wouldn't get any and I told him that I was pretty sure that I would not be eating it by myself. There will be a piece of fall garden pumpkin cake when he comes next time.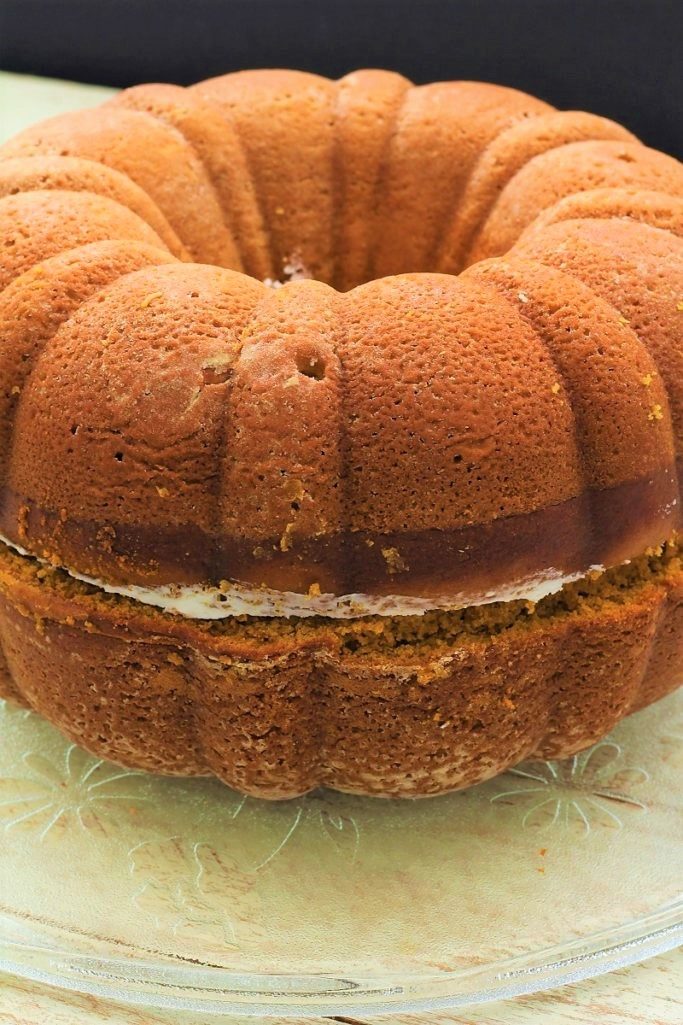 Tips and Tricks:
1- Make sure your ingredients are fresh like your baking soda, baking powder, or even Bisquick. I used an older box of Bisquick for my first cake and a new box for my second cake and the second cake was fluffier and a little bit bigger.
2- I used a butter cream frosting for decorating, but you could use a cream cheese frosting if you do not want to decorate your cake.
3- Trim your cake before you frost it, otherwise when it is frozen, it is hard to trim it up to make it nice and flat.
4- I put my cake in the fridge after putting each color of frosting on the cake so that it had time to set up. Example after doing the yellow flowers, put it in the fridge for about 4 minutes.
5- You could also use a green ice cream cone for the stem.
Happy Fall!!


Yield: 20 people
Fall Garden Pumpkin Cake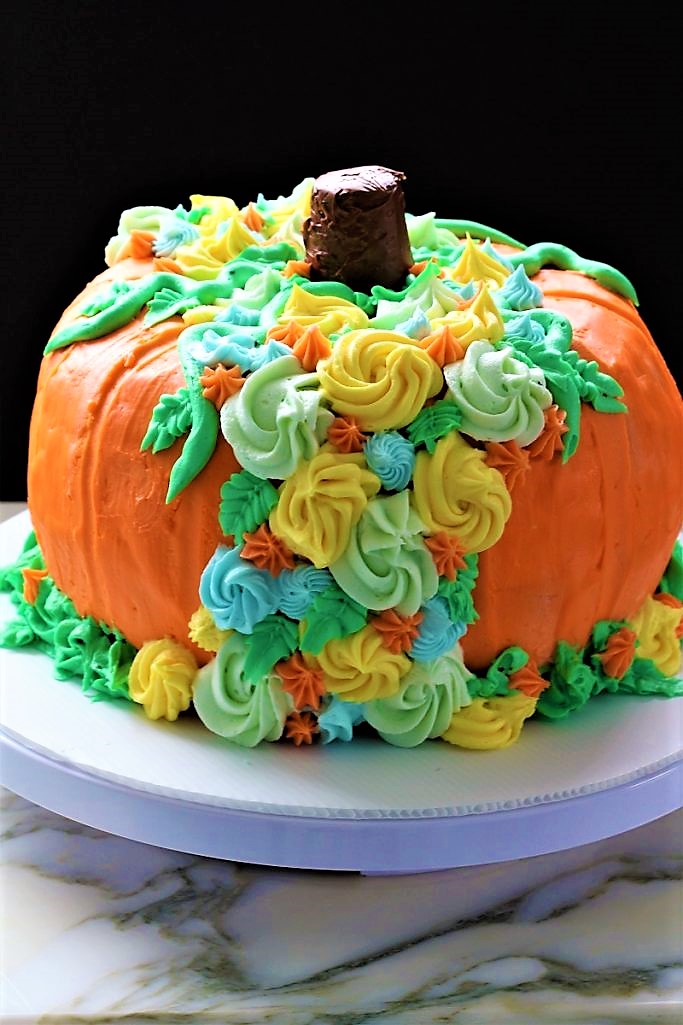 Prep Time 3 hours

Cook Time 50 minutes

Total Time 3 hours 50 minutes
Ingredients
3 cups Original Bisquick mix
1 cup granulated sugar
1 cup packed brown sugar
1/4 cup butter, softened
2 teaspoons pumpkin pie spice
1/4 cup milk
4 eggs
1 (16 ounce) can pumpkin (not pumpkin pie mix)
Instructions
Heat the oven to 350 degrees.
Grease and flour a 12" fluted cake pan.
In a large mixing bowl, beat the Bisquick, sugars, butter, pumpkin pie spice, milk, eggs, and pumpkin, on low speed for 30 seconds.
Then beat on medium speed for 3 minutes.
Spread evenly in the pan.
Bake for 50 minutes or until a cake tester or wooden pick comes out clean.
Cool in the pan for 10 minutes, then turn out onto a cooling rack.
Cool cake completely.
Instructions for decorating:
Make two cakes, and trim the flat part of the cake so that when placing the two cakes together, they sit nice and flat.
Place into the freezer and freeze for a couple of hours.
Take the cakes out and frost one of the cakes on the part that you cut , then place the other cake flat sides together. It should look like a pumpkin.
Frost the entire cake with orange frosting. I also put a piece of cardboard or a plastic lid in the top where there is a hole. Frost this as well.
I placed the frosted cake in the fridge, and when I took it out I smoothed it by wetting my hands.
Then I put a second coat of orange frosting on the cake, then I took the corner of a flat scraper and made lines in the cake. Then I returned it to the fridge for 15 minutes, took it out and smoothed it again.
I used the bottom of an ice cream cone for the stem and I covered it with Nutella.
Then I put two eyes on the cake.
Then take and make flowers and leaves with frosting of your choice.
I did, light green, dark green, yellow, light blue, and some orange flowers.
The leaves are all green, and I also made some squiggly vines.