Sometimes, just out of the blue, my son will ask for Easy Frito Casserole.  Since it is one of the easiest dishes to make so I usually agree to make it.
I should probably teach him how to make it, so he will be prepared with knowing how to make a quick and easy meal someday when I am not available to make it for him. Actually I'm pretty sure that he could make it himself, but why would you want to do that when you can get someone else to make it for you!?!
I  must admit that I am kind of a softie when it comes to cooking or baking for others; it is one of the ways that I show love for those around me. Are you that way? I do know some other people that show love through their cooking. I guess that it is kind of like that saying "the way to a man's heart is through his stomach".
If you are having a party it is fun to get everyone their own bag of Fritos and let them put the casserole in the bag.  Just slice a small cut in the top of the bag and that way you don't even need to dirty any dishes!  Isn't that a great idea?  What are some of your family's favorite meals that they ask for?
Food is such an important part of our lives. It is a great way to get family back together when older children leave home.  I have found that if you feed them, they are usually willing to make an effort to come home.
I feel that it is important to keep those family ties in tact by getting together once in awhile. Otherwise, we get too busy in life and miss out on the most important things. So set a goal today to have either an old friend over for lunch or dinner, or some of your family. This Easy Frito Casserole is a fast and easy dish to get dinner on the table, and that way you will have time for fun and games.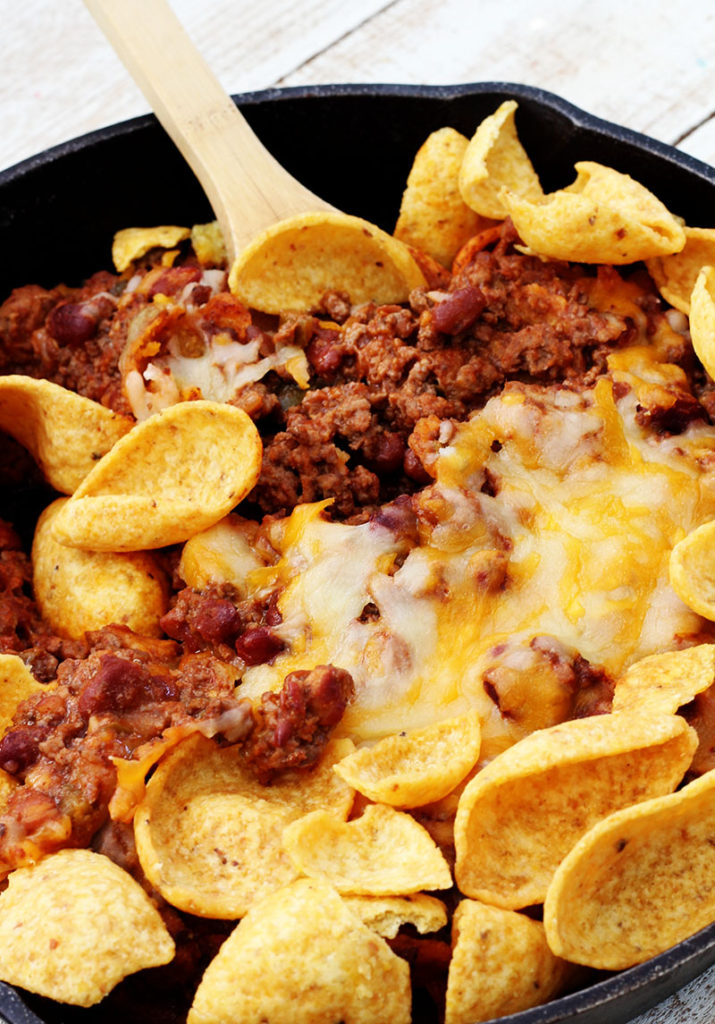 Can I just tell you that I blew it! The other day I made this again, and my son (that doesn't cook) said "hey mom, I was going to make easy Frito casserole, because I have been craving it". He said that just as he walked in from taking his dog for a walk, or I would have had him help me make it.
It is funny how you can be thinking of someone and then they call you or you can be hungry for something and then it appears. I use to make this on those busy days when I needed a last minute idea. It comes together so quickly and the kids love it. I do too; it is a dish that you never get tired of .
Tips and tricks:
1- When I buy my hamburger in bulk, I like to salt and pepper it and I usually add a few dried onions as well. I put it on a cookie sheet and then I put it in the oven for 30 – 45 minutes, or until it is cooked through. Then I put it into baggies so that I have about a pound in each baggie. This makes it very easy so that you just need to warm it up. Add the rest of the ingredients and you have dinner.
2- I like to add the Frito's just a little at a time, that way they do not go soggy if you have any leftovers.
3- You can use whatever kind of cheese that you like.
4- My son asked me when I changed the recipe, because it was so spicy, but I told him that I use mild jalapenos! So feel free to use jalapenos or not, depending on your preference.

Easy Frito Casserole
Prep time:
Cook time:
Total time:
Ingredients
1 pound ground beef, cooked and drained
1 (8 ounce) can tomato sauce
1 (6 ounce) can chili con carne
1 (4 ounce) can jalapeno peppers, chopped
½ - 1 cup grated cheddar, or medium cheese
3 cups Frito's corn chips
Instructions
In a medium skillet, brown and drain the ground beef over medium heat.
Add tomato sauce and chili con carne.
Add chopped jalapeno peppers, 1 cup corn chips and the cheese.
Heat until warm.
Add additional corn chips for garnishing and to your liking: we add about 2 more cups.