Crock pot creamy tortellini soup is a must for your recipe box. I know that it is hot outside; my son reminded me. Ha ha. However when you are not in the mood to heat up the house, you get out the crock pot. Yep, that is just what I did.
This is the son that doesn't like soup either, however he doesn't mind soup when there is more to it than broth. And that is exactly what this soup is. It is loaded with sausage, and then add some carrots and celery, with a few onions.
Also, for some reason, if I add cream to my soups, the men at my house are more willing to eat the soups than if I make a soup with clear broth or a tomato base.
Then don'f forget to add the three cheese tortellini. Yes, you will not get too many complaints about this soup. Another thing. They even like the spinach in it.
If you like, you can add salt and pepper; I added just a little bit of salt because the sausage is a little spicy. (OR picy) That is what my cute 2 year old grandson calls it.) 😉 Fall is just around the corner and so try some crock pot creamy tortellini soup today.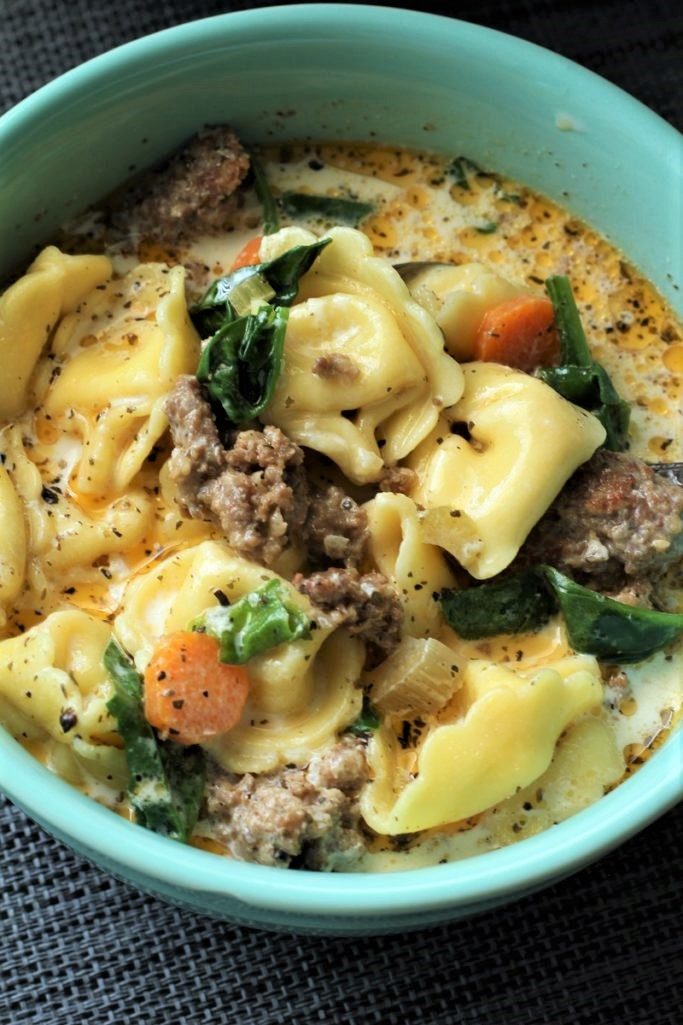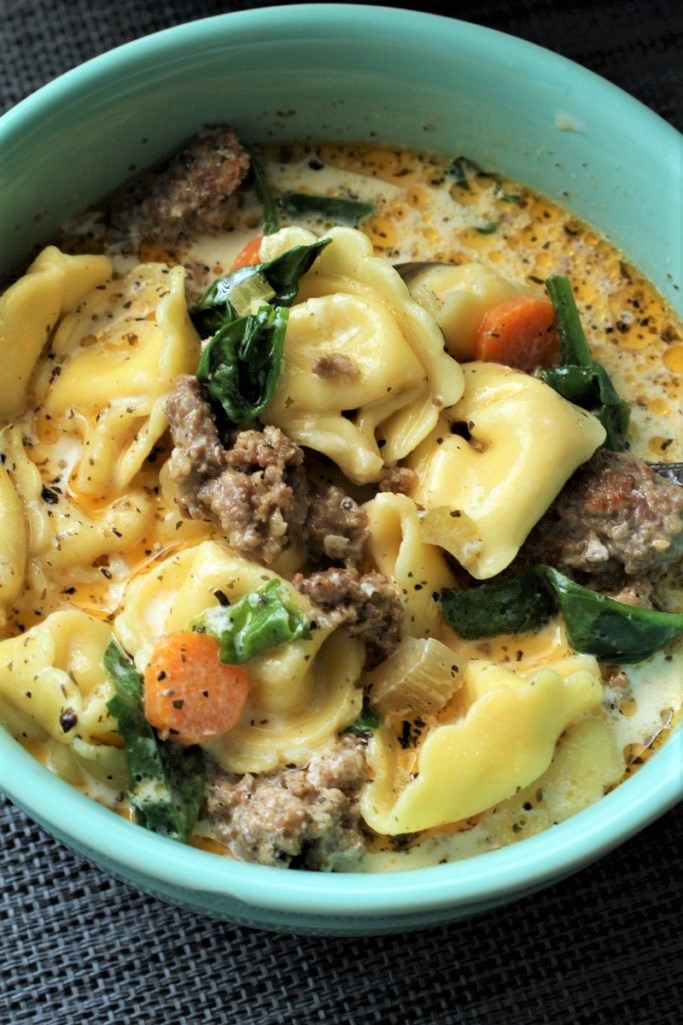 Does anyone need a grand puppy? His dad just started a new job and guess who that leaves home to puppy sit. If I could take some of this dogs blood, then maybe I would have enough energy to keep up with him!
He finds sticks that I never even knew we had in the yard. He eats the green apples that fall from the tree. (I sure am glad that I don't have to do the scooping, if you know what I mean);
Then the other day, I needed some dirt for my cub scout group. When I went back outside, he also decided to copy me and he dug in the dirt! There was dirt everywhere.
Then he took our older dog's bed and chewed it to pieces. I think that he needs more walks.He is part German Shepard and part Dutch Shepard. He has the biggest ears that you have ever seen on a puppy. Yep, you judge the size of this kind of dog by his ears. I think that he is going to be big. AHHHHH!!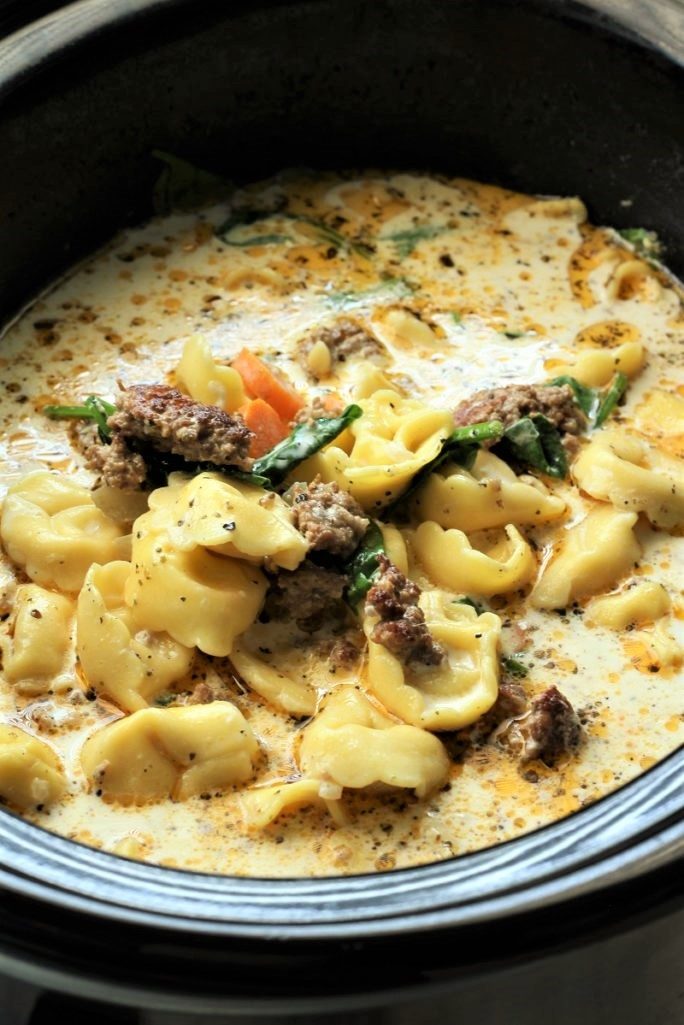 I think that I better have another bowl of crock pot creamy tortellini soup. Maybe that way, I will be able to have more energy.
One thing that I love about this soup is that it has a few vegetables in it so that you know that it is going to be healthier. Grab a loaf of your favorite bread, and your meal is complete.
Even though it is hot outside, this soup is great because you are not heating up the house. Try it out today and let us know how you and your family like it! Also, if you do not have the sausage, you can add any ground meat that you prefer. (Turkey, ground beef, or other sausage). Our favorite is the Italian sausage because it has a little kick to it. I cannot say enough good about crock pot creamy tortellini soup. So grab your crock pot and start cooking.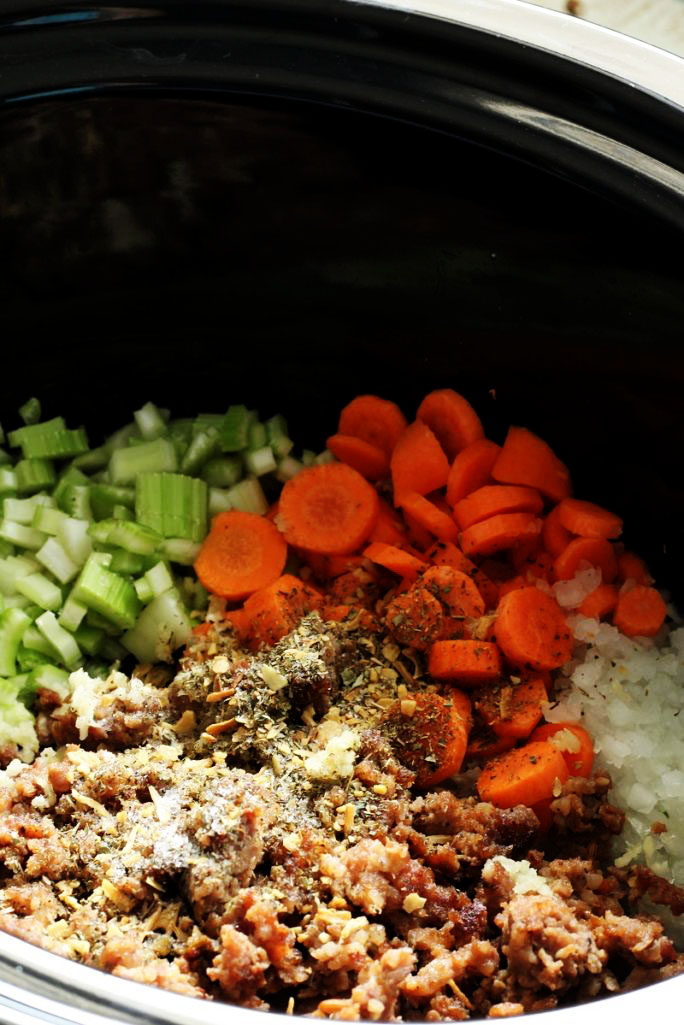 Tips and tricks:
You could use any sausage that you like but the soup just won't be as spicy.
Add any vegetable that such as green beans, zucchinis or small chunks of potatoes.
If you do not have 1/2 and 1/2 I use cream and then 1/2 milk.
Yield: 8 people
Crock Pot Creamy Tortellini Soup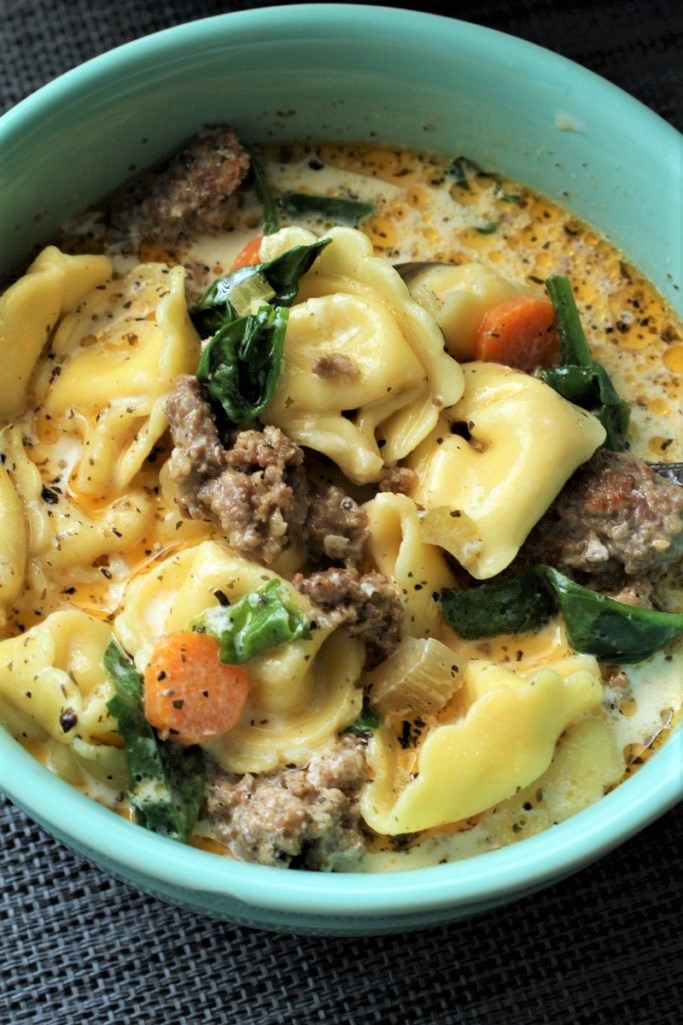 Prep Time 10 minutes

Cook Time 4 hours

Total Time 4 hours 10 minutes
Ingredients
1 pound ground Italian sausage (or ground chicken, turkey or beef)
1/2 onion, chopped
2 - 3 large carrots, chopped
2 stalks celery, chopped
1 - 2 cloves garlic, minced
1 Tablespoon Italian seasoning
1/8 teaspoon dried basil
1 1/2 - 2 teaspoon beef bouillon powder (or Better than Bouillon )
4 cups beef broth
1/2 teaspoon salt
1/4 cup cornstarch mixed and dissolved in 1/4 cup water
4 cups half and half
12 ounce packet three cheese tortellini, (I used frozen)
3 - 5 cups fresh baby spinach
salt and pepper to taste
Instructions
In a skillet brown the sausage, (or whatever ground meat you use).
When the sausage is cooked, add it to the bottom of a 4 or 6 quart crock pot.
Then add the onion, carrots, celery, garlic, Italian seasoning, basil, bouillon, broth and salt.
Place the lid on and cook on low for 6 - 8 hours or on high for 3 - 4 hours.
Then remove any extra grease that has floated to the top.
Add the cornstarch to the half and half.
Then add that mixture to the crock pot, and add the tortellini.
Cook for another 45 minutes.
Add the spinach about 5 minutes before serving.
Add salt and pepper if you desire