Chicken salad croissant sandwiches is one of the most delicious recipes ever. Place the chicken salad between the croissant and you have the most amazing sandwich ever.
I love this salad because you can either use it for a fancy get together like a baby shower or you can even use it for dinner. It is a recipe that you do not have to turn the oven on, and it is a little cooler for those nice summer nights that are HOT!
And again, if you are like one of my children you can just add the grapes and almonds to half of the mixture and for those who are a little fussy, you can serve the one without any grapes and almonds. Those people do not know what they are missing out on! I love it with almonds and I love it with cashews. You can do whatever works for your family and friends. Another thing, is that you could use red grapes if you want it to be a little more colorful.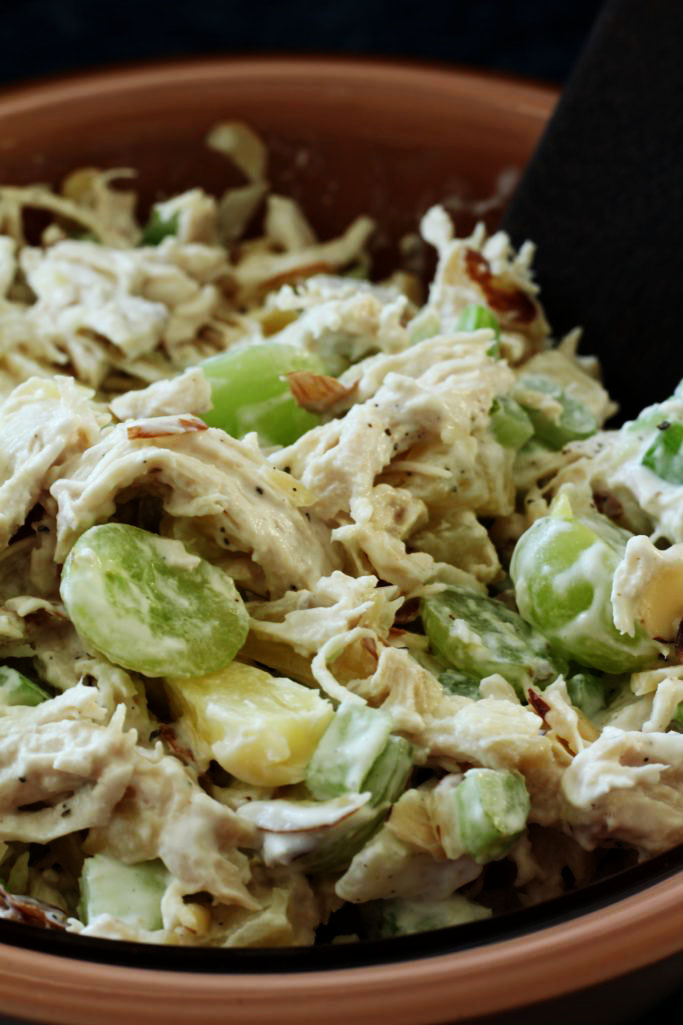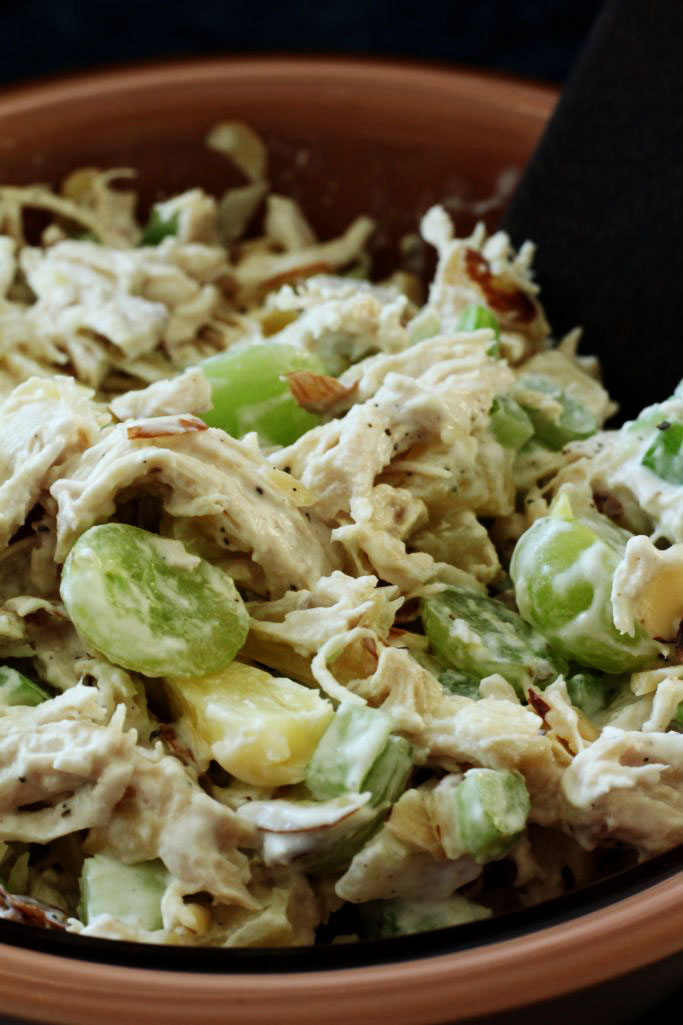 Could I Leave the Whipped Cream Out in these Chicken Salad Croissant Sandwiches?
I wouldn't suggest that you leave it out. The cream in this chicken salad croissant sandwiches makes a big difference. I love how creamy it makes the salad and the cream really enhances the flavor.
Do I have to Use Large Croissants for these Sandwiches?
If you are going to make these for a party, you could use small croissants.
I used big ones because I like people to get full. We do not want anyone complaining about being hungry around here; however, I know that it happens because I hear about it every day. I think that my youngest son has a hole in his leg. My grandma use to ask us if we had a hole in our leg, and now I know exactly what she was talking about.
I have never used fresh pineapple before, but I bet the flavor would be amazing. The next time I make this wonderful dish, I am going to try and use fresh pineapple. If you beat me to it, let me know what you think.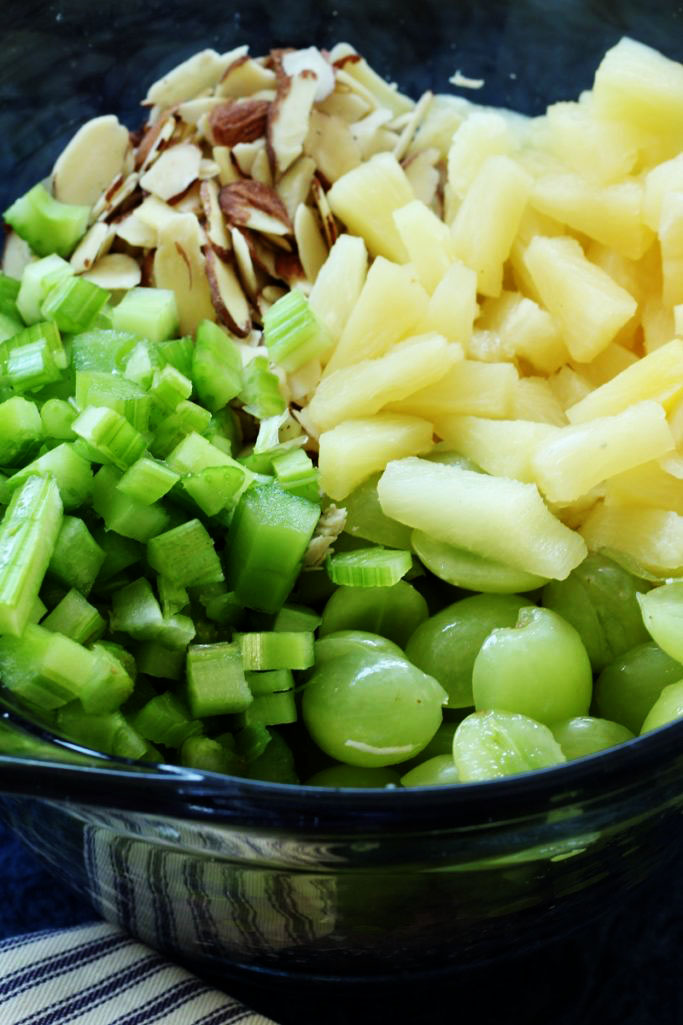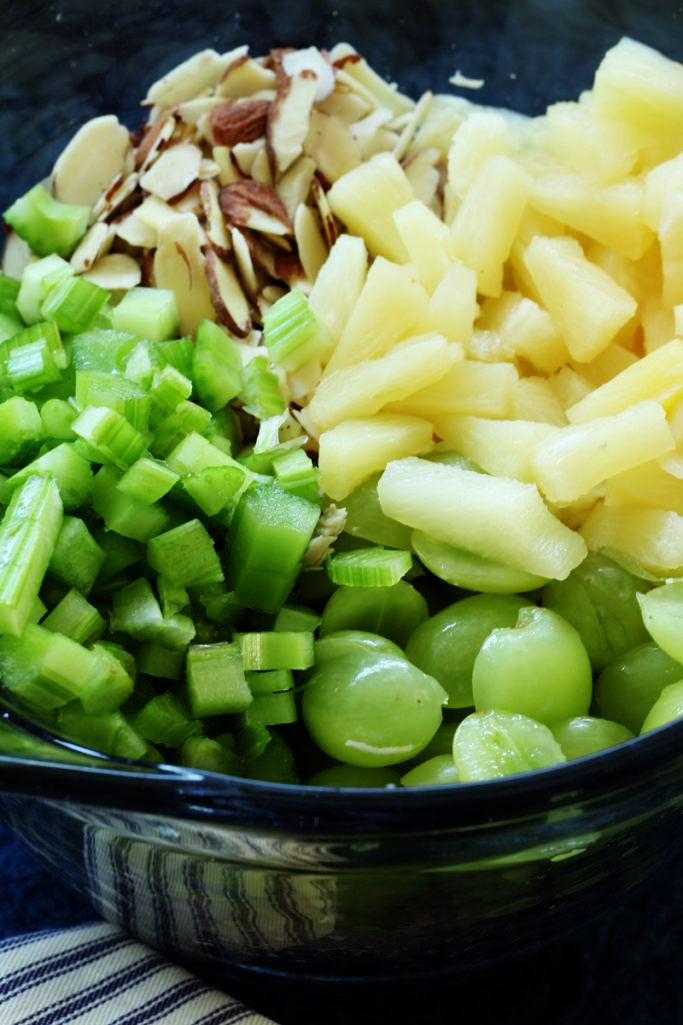 Back to the Farm for My Family Reunion:
How was your weekend? I had a great time at my family reunion. I took my granddaughter for a ride on our Razor up in a hay field and let me tell you, I was a little freaked out. There were grasshoppers everywhere! They were jumping in the Razor with us and I was screaming and driving like a mad woman!
I just do not like those things on my head or legs or anywhere on me. My brother was telling me that one day he had one hit him in the head and almost knock him out. 🙂 I thought that he was kidding, but now I know that he wasn't. We need to get us some seagulls to come and eat them.
I miss the farm, but I do not miss all those bugs. I also miss the mountains and the quiet stillness that they manifest. I like my neighbors, but I love the space that comes from being on a farm where the closest neighbor is a mile down the road. I guess that I just need a winter home and a summer home. Now that would be the best of both worlds. Summer is going by fast, my friends; enjoy every day.
Does this salad not look like a little heaven on earth? I hope that you get a chance to try it and that if you are having a fun get together that you will serve this wonderful chicken salad croissant sandwich I promise you will get compliments!
Tips and tricks for Chicken Salad Croissant Sandwiches:
1- I like to cook my chicken the day before, that way the salad comes together so much quicker.
2- If you have a hard time with celery, make sure that you cut it very small.
3- In a hurry; buy your croissants at Costco or Sam's Club.
4- I use Best Foods Mayonnaise because that is the one that I prefer.
5- You may want to use purple grapes instead of the green, and that is fine too.
Other Sandwiches for you to try:
Easy French Dip Submarine Sandwiches
Egg Salad Sandwich with Avocado
Yield: 8 people
Chicken Salad Croissant Sandwiches
Prep Time 15 minutes

Cook Time 20 minutes

Total Time 35 minutes
Ingredients
3 cups cooked, shredded chicken
1 cup green grapes, (cut in half)
1 cup Pineapple tidbits, drained
1 cup slivered almonds, or cashews
1 Tablespoons Lemon Juice
3 stalks celery, chopped into small cubes
1/3 cup Whipping cream (whipped until thickened)
1/2 cup mayonnaise or plain yogurt
1/2 teaspoon salt
1/4 teaspoon pepper
Instructions
Boil or cook chicken in the instant pot until the middle reaches 160 degrees.
Allow the chicken to cool.
Shred the chicken.
In a bowl combine chicken, grapes, pineapple, almonds, lemon juice, celery, salt, and pepper.
In a separate bowl, whip the cream and then gently stir in the mayo.
Pour the whipped cream mixture into the bowl with the chicken mixture and mix gently.
Chill the chicken salad until ready to serve.
Place on croissants. Amazing!