Chicken Caesar wraps are a great lunch or dinner. And they are so easy to put together. They also make a wonderful lunch for a spouse or a child. I love making them because they come together so quickly and you have your proteins and some greens together.
ARE CHICKEN CAESAR WRAPS HEALTHY?
Compared to Wendy's, Subway, or any fast food places that serve Chicken Caesar Wraps, making your own meals for lunch or dinner is usually better for you. Chicken Caesar Wraps can be healthy or unhealthy — it all depends on how you make them and what ingredients you add. You can control the ingredients and the portion size when making your own.
Cooking a couple extra chicken breasts to eat during the week saves money, is healthy and saves time. This sandwich assembles so quickly, and makes a pretty tasty and healthy lunch. And you don't have to stand in line to wait for it during your lunch hour.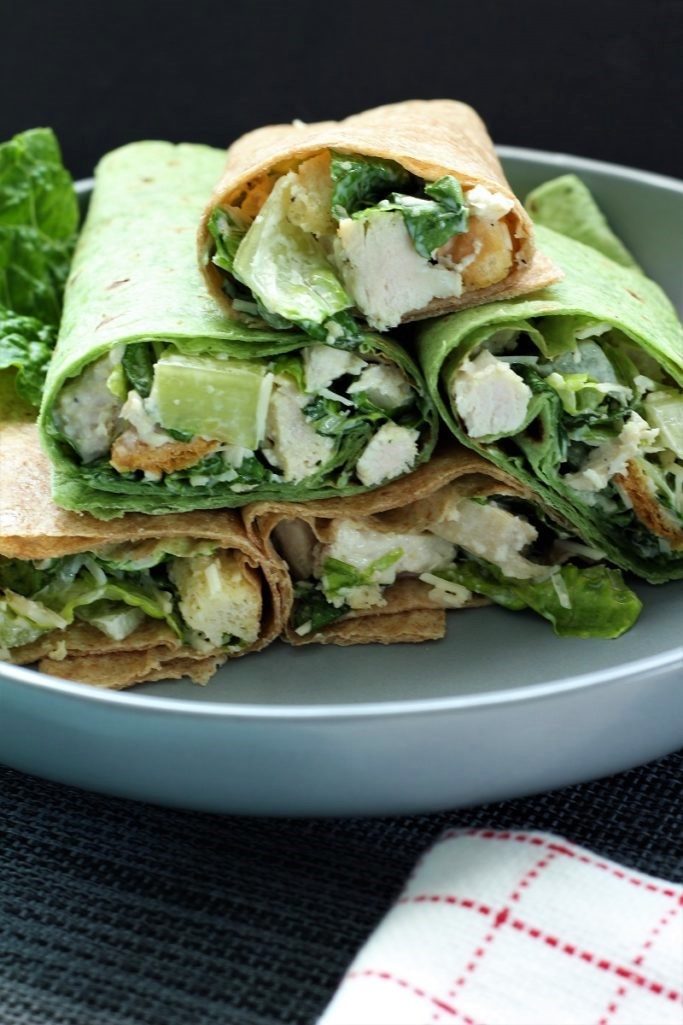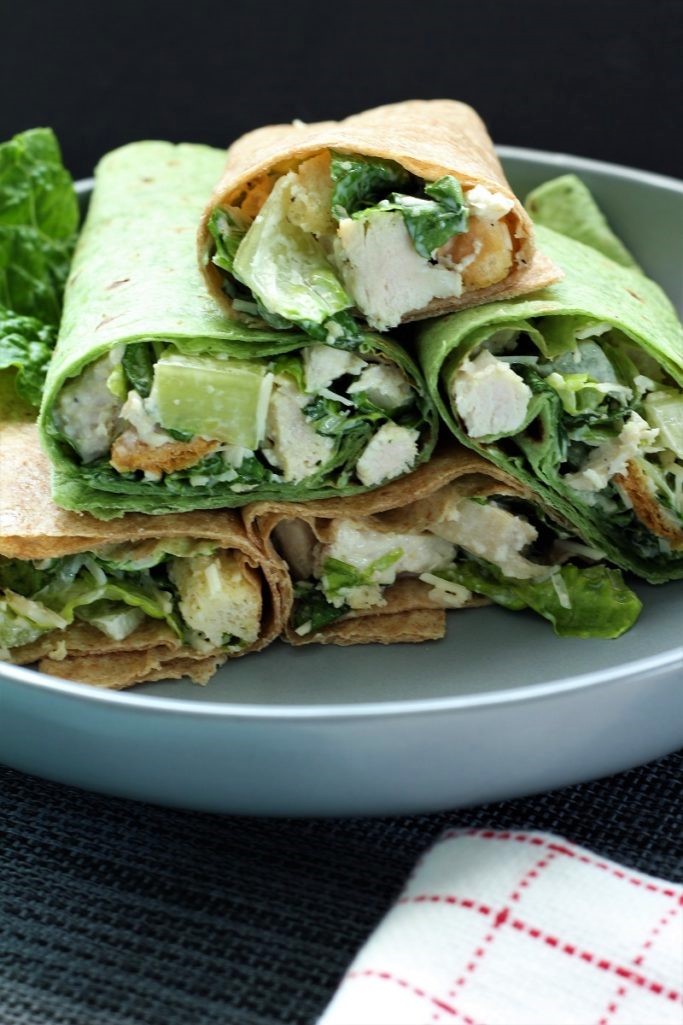 WHAT IF I DON'T CARE FOR ROMAINE LETTUCE?
In place of romaine lettuce, you could use green leaf lettuce, iceberg lettuce, or Butterhead lettuces like Bibb or Boston. Or you could even use chopped kale.
WHAT IS THE BEST WAY TO COOK MY CHICKEN?
This is such a quick and easy meal. If you had a rotisserie chicken, you could put it together in about 10 minutes. The thing that takes the most time is cooking the chicken. You may want to fry your chicken or boil it. It depends on how much time you have and your personal preference.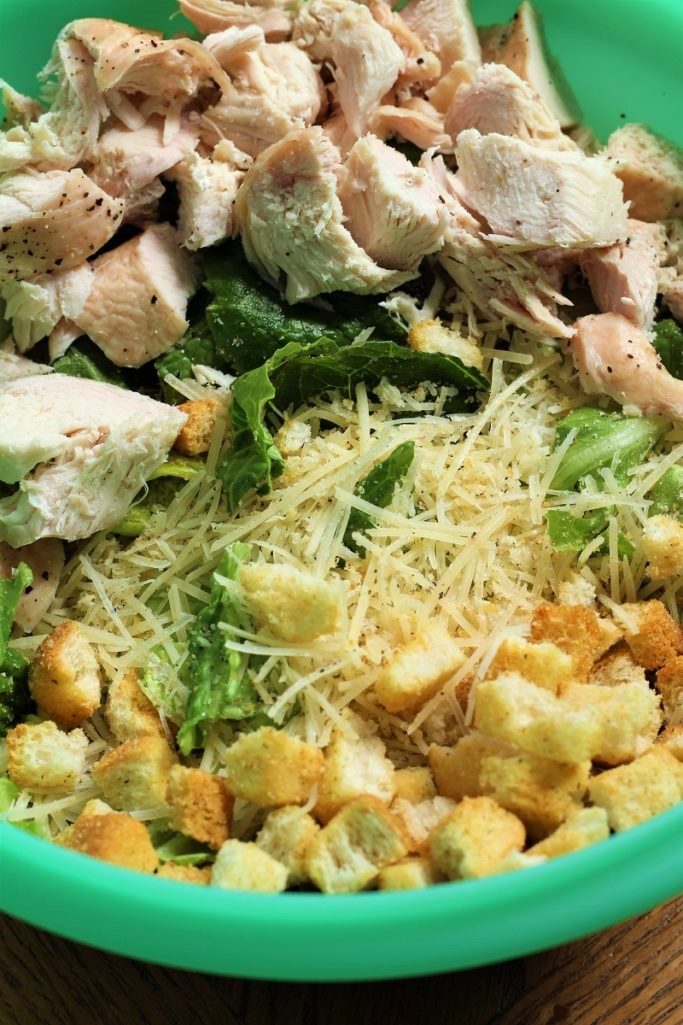 I hope that this recipe will make your life easier and that you will enjoy eating Chicken Caesar Wraps as much as you enjoy making them. After a busy day at work, you may not have a clue what you are eating for dinner. Try making these today.
HOW LONG DOES A CHICKEN CAESAR WRAP KEEP?
Stored properly in the refrigerator or a cooler with ice, the wrap is best eaten within a day. However, this all depends on the flatbread and how well the lettuce holds up. A Chicken Caesar Wrap is best eaten the day it is made!
Yield: 6 people
Chicken Caesar Wraps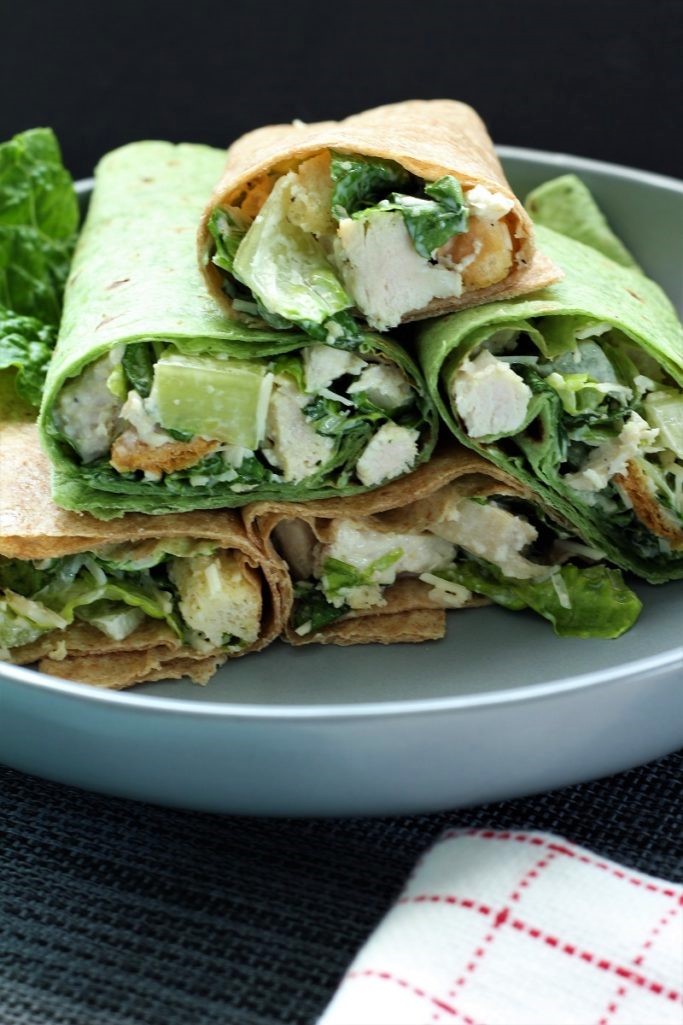 Prep Time 15 minutes

Cook Time 10 minutes

Total Time 25 minutes
Ingredients
1/2 cup Caesar salad dressing
1/4 cup grated Parmesan cheese
1/3 teaspoon garlic powder
1/4 teaspoon black pepper
3 cups cooked, cubed, chicken breast
2 cups chopped or torn romaine lettuce
1/2 cup Caesar salad croutons, slightly chopped
6 tortillas shells of your choice, regular or wheat
Instructions
In a large bowl, add the 3 c. chicken, 2 c. lettuce, 1/2 c. Caesar dressing, 1/4 c. Parmesan cheese, 1/3 t. garlic powder, and 1/4 t. black pepper.
Then add the 1/2 c. croutons, and stir gently.
Place 1/2 - 2/3 cup of the mixture in the center of the tortilla.
Roll starting at one end.
We like to cut them in 1/2.
Serve immediately.
Can store left overs up to 1 day.
Nutrition Information
Yield
6
Serving Size
1

Amount Per Serving

Calories 559 Total Fat 21g Saturated Fat 4g Trans Fat 0g Unsaturated Fat 15g Cholesterol 72mg Sodium 658mg Carbohydrates 58g Fiber 7g Sugar 1g Protein 34g

This data was provided and calculated by Nutritionix



HERE IS A LINK TO ANOTHER RECIPE THAT YOU MAY ENJOY: