Best blueberry peach cobbler is wonderful. You will enjoy serving this best blueberry peach cobbler to friends and family. Plus, don't forget the ice cream! I love when it comes out of the oven and your ice cream melts just a bit.
The flavors come together and it makes the cobbler the best texture. The best blueberry peach cobbler is so fun to make. You start with a package of blueberry muffin mix. Drain the blueberries and I also like to add fresh blueberries if I have them. If you don't have any, it is fine not to add any.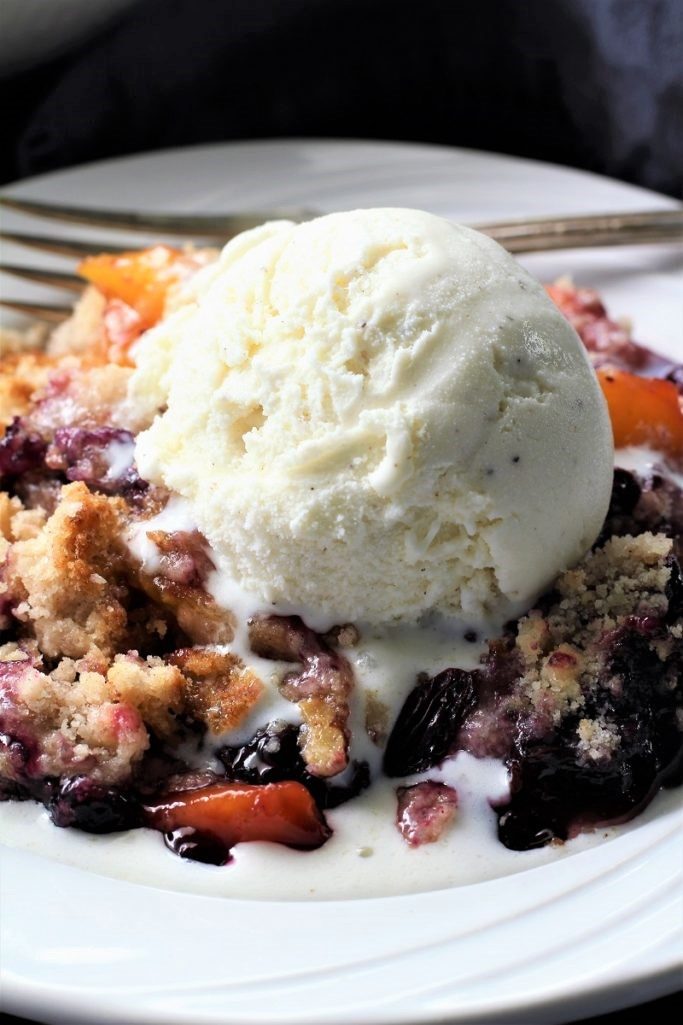 Then you will make the topping. Put the muffin mix in a bowl, and then add the sugar and cinnamon. Then you cut in the butter with a pastry blender. After the butter has been cut in, add pecans or walnuts, if desired.
How do I cut in butter in this Best Blueberry Peach Cobbler?
When a recipe calls for you to "cut in" butter, it means that your pastry needs to be flaky. "Cutting in" means combining the butter into the flour in such a way that little lumps of the raw butter remain whole within the flour mixture. When the dough is baked, these little lumps create separation in the structure of the finished product, which is what gives it that flaky consistency.
Some recipes will specify how big the lumps of butter should be. One might call for "pea-sized" lumps while another may call for the lumps of butter in the flour mixture to resemble crumbs. No matter what, just remember, the flakier you want your pastry, the bigger the lumps of butter need to be. In this recipe for Best Blueberry Peach Cobbler, you aren't going to want your pastry to be as flaky as you would for a pie crust, so you are going to want your lumps of butter to be smaller like crumbs.
What if I don't have a pastry blender and I am in the middle of making my Best Blueberry Peach Cobbler?
Here are some alternatives that you can use if you don't have a pastry blender:
Using two knives, criss-crossed, slowly cut the butter up with the flour mixture in a scissors-like motion

Pressing the butter in with the back of a fork

(The two previous methods require butter cool enough to not blend into the flour, but warm enough to cut easily)

Cutting in butter can also be done very easily in a food processor with the knife blade; in this case, you want cold butter. It usually does not take very many pulses, so monitor the texture after each pulse or two, once you have done four or five pulses

If you have a large holed grater, you can even grate frozen butter, and then simply toss it with the flour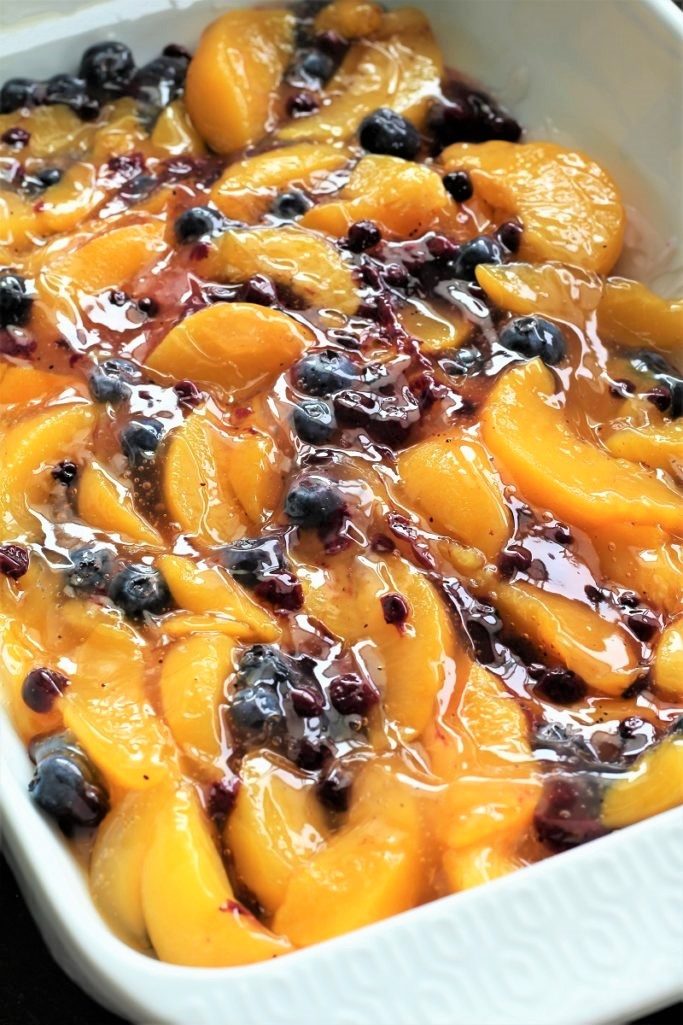 Put your pie filling in a 9″ x 13″ baking pan. Then add the cinnamon, sugar and blueberries into the baking pan and mix well.
Sprinkle the topping mixture over the top of the pie filling mixture and bake for 35-40 minutes, or until the top turns golden brown.
*Spoiler alert, I like my cobbler to be even more brown, so I place the cobbler under the broiler on low for 2 minutes! Watch it so that it doesn't burn.
Then don't forget the cream or the ice cream or whatever it is that you will want to garnish your Best Blueberry Peach Cobber with. I hope you love it!!
Yield: 10 people
Best Blueberry Peach Cobbler
Prep Time 10 minutes

Cook Time 35 minutes

Total Time 45 minutes
Ingredients
Crumb Topping:
1 package Blueberry Muffin Mix (drain blueberries and set aside to use later)
1/4 cup sugar
1/2 teaspoon cinnamon
6 Tablespoons Butter
1/2 cup chopped Pecans or Walnuts
Filling:
2 cans Peach Pie Filling
1/2 teaspoon cinnamon
1/4 cup sugar (I like to use brown)
drained blueberries from Blueberry Muffin Mix
*1/2 cup fresh blueberries if you want extra blueberries
Instructions
Open the can of blueberries, rinse, drain and set aside to use later. (I also add 1/2 cup fresh blueberries, if I have them).
Crumb Topping:
In a medium size bowl, combine the dry muffin mix, 1/4 cup sugar and 1/2 tsp cinnamon.
Cut the butter into the mixture with a pastry blender, then add the nuts if desired.
Filling:
In a 9"x13" pan, combine the pie filling, 1/2 tsp cinnamon, 1/4 cup sugar (I like to use brown), and the blueberries.
Spoon the crumb topping over the peaches.
Bake in a preheated oven at 350 degrees, for 35 minutes, or until the topping turns a nice golden brown.
You can top it off with ice cream, Reddi Whip, whipping cream or whip topping.
Nutrition Information
Yield
10
Serving Size
1

Amount Per Serving

Calories 253 Total Fat 15g Saturated Fat 5g Trans Fat 0g Unsaturated Fat 9g Cholesterol 25mg Sodium 131mg Carbohydrates 30g Fiber 1g Sugar 24g Protein 2g

This data was provided and calculated by Nutritionix