Amazing gluten free brownies are the perfect snack when you just need a little something. Moist and delicious chocolate brownies without the guilt. I like to use Truvia or even Swerve and that way these delicious brownies will not spike your sugar.
I love when I am able to make a gluten free treat that tastes amazing, and this is one of those. Amazing gluten free brownies are so delicious, your guests just might not know that they are gluten free. Then we use coconut oil and almond flour.
The first time I tried these amazing gluten free brownies, I said "yes'. These brownies are a keeper. They work up pretty fast and I love the chocolate brownie and the chocolate chips! I use Ghirardelli 60 percent Caco chocolate chips.
However, you are welcome to use whatever kind of chocolate chips that you want. Also if you do not have Caco powder, you are welcome to use regular cocoa. I have just been trying to eat a little healthier.
So the other day when I came home after being gone for one hour, my cute little granddaughter who is almost 2 years old, decided to color with a pencil on the wall. Hmmm, I tell you what, I had already taken some lemon oil and washed her up that morning.
She had decided to take a pen and color her arms, and her legs and feet! Good grief who does that? I guess a two year old. Ha ha. Yep or maybe it is a third child syndrome. My third child did the same thing.
After he had done that about 3 times, I gave him a rag and told him here you go, it is your turn to clean the walls. Then I put all of the markers that were not washable in the trash, and hid the crayons.
I think that I would love to go back to that house and look around. It is crazy to think that that was over 20 years ago. Another thing that I must remind you of is that you never want to wish bad things on your children, for example, I hope your kid does the same thing?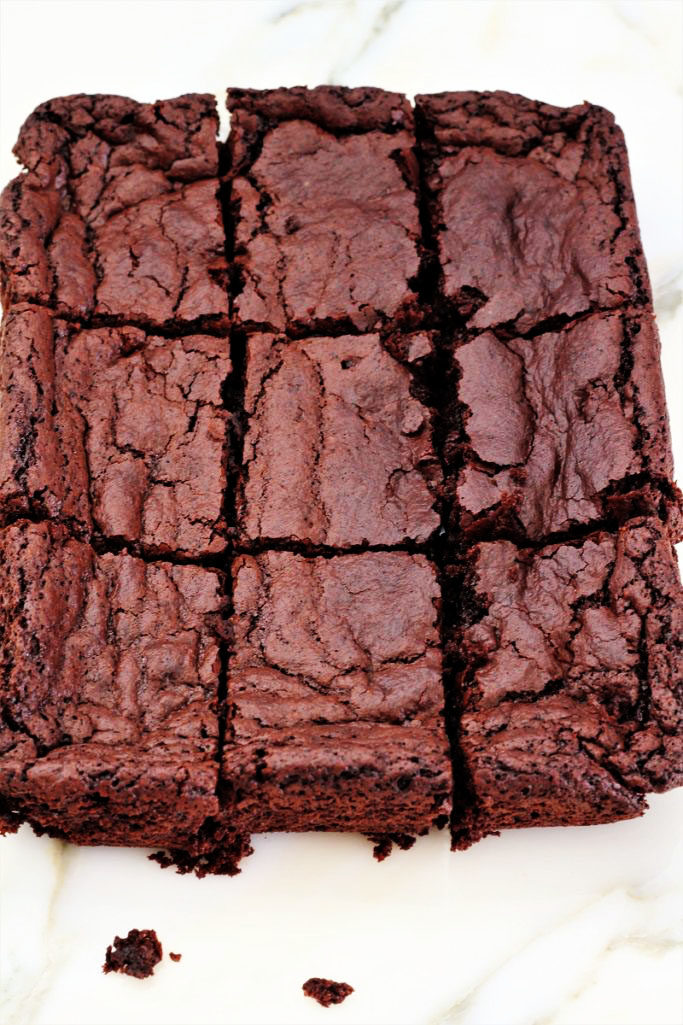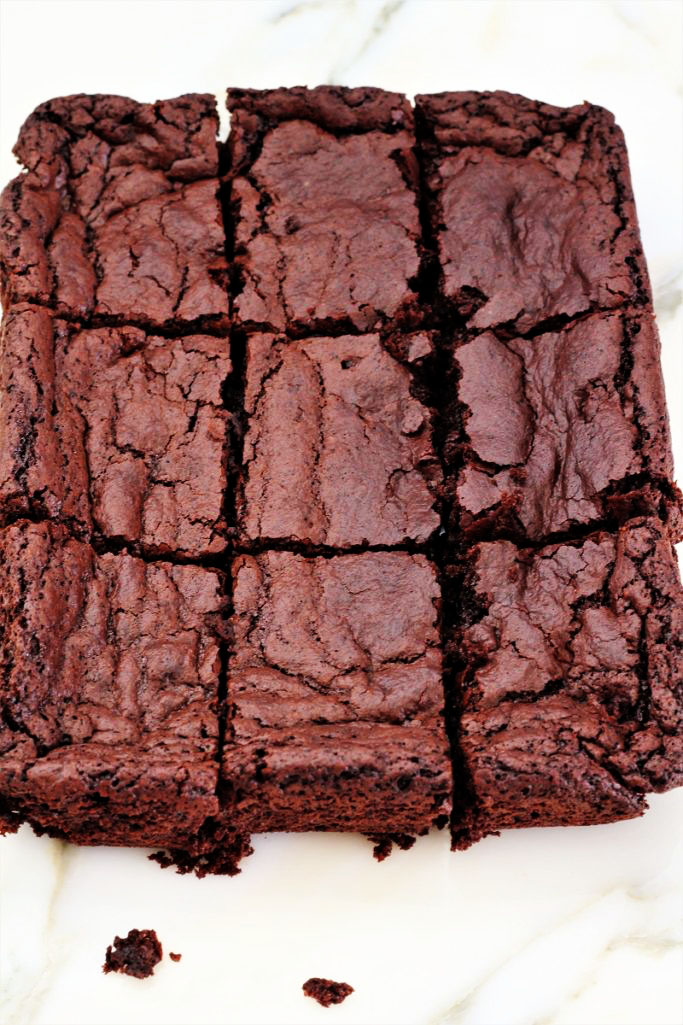 And the reason of that is because, those cute little grand kids come to grandma and grandpa's and then they color on your walls!! I have decided that there is never going to be a time when all the walls in my house are freshly painted and that there are no dings in the walls.
I think the only time I had that was when we moved into our new house 23 years ago. That is okay, I am raising kids and enjoying grand kids not houses. And I know that there are some people out there and their houses seem to be more important than their families.
Let me just tell you, I guess one has to live in their house and it cannot be perfect all of the time. I know that we are suppose to ask when cleaning our homes "does this bring me joy"? I told my husband, sometimes my children drive me crazy and they do not bring me joy in those moments.
However, I do not give my children away. Then I realize that sometimes I am sure that they feel the same way about their mom! Ha ha. I know that kids are suppose to bring you joy, and I know what that means now.
It means that sometimes they have children and those grandchildren do bring you so much joy, even if they color on your walls. It is fun to spoil them a bit and then send them home. They are cute little stinkers and so much easier to enjoy when you do not see them 24/7.
So this same cute little granddaughter went downstairs at her house today and got into her dad's mud that he is working on the walls with. Sometimes kids think that they are as big as mom and dad and that they can do a great job too.
Hmm, well it does wonders for styling cream for ones hair and makes a nice mess where mom just cleaned the floor. They are so cute, how do you get upset with them when they really think that they are helping out. And there you have it.
Here is a picture of the brownie batter for the amazing gluten free brownies. It is rich, creamy and pretty thick.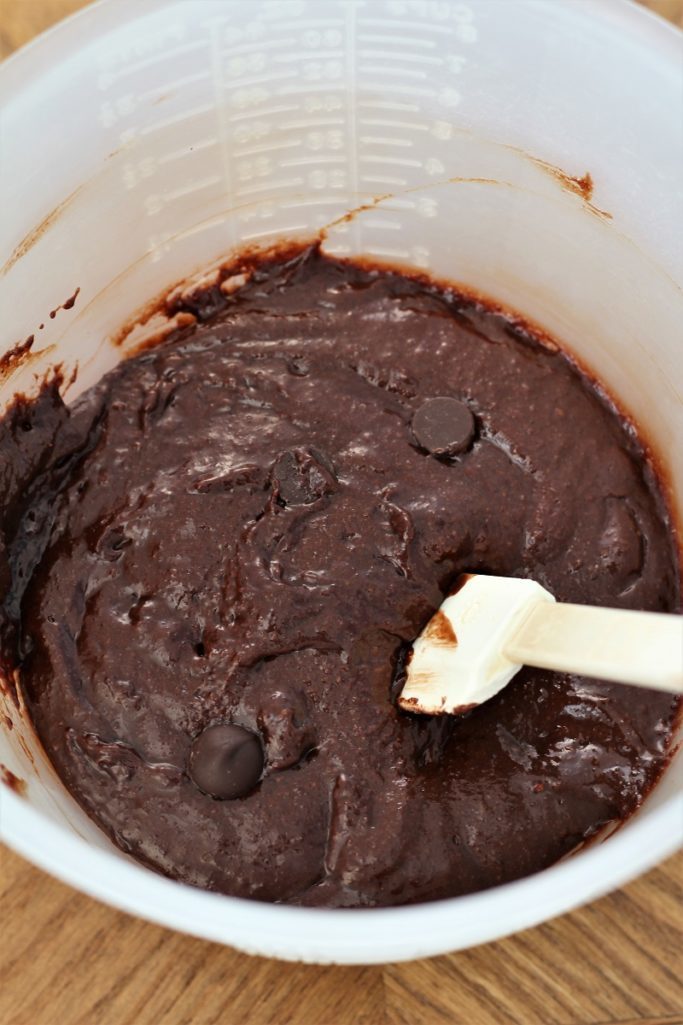 Tips and tricks:
1 – Do not over bake these amazing gluten free brownies, or they will be crunchy and dry.
2 – As with all brownies, make sure that you mix them just until combined, so that they turn out nice and chewy.


Yield: 9 people
Amazing Gluten Free Brownies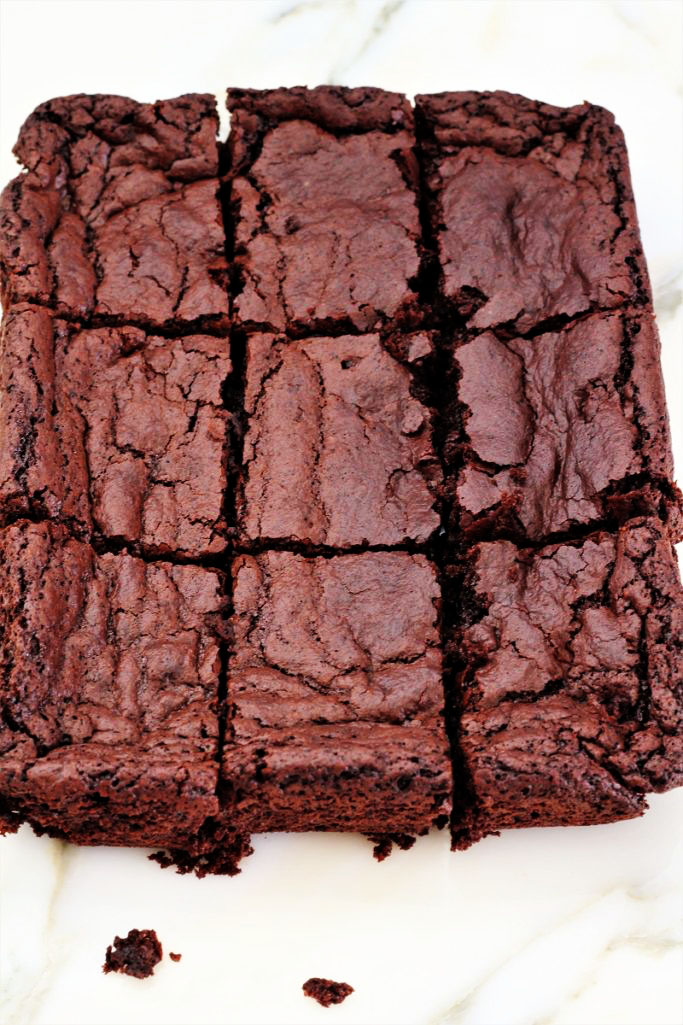 Prep Time 10 minutes

Cook Time 25 minutes

Total Time 35 minutes
Ingredients
3/4 cup semi-sweet chocolate chips
5 Tablespoons coconut oil
2/3 cup Truvia or coconut sugar
2 eggs
1 teaspoon vanilla
2/3 cup blanched almond flour
2 Tablespoons Caco powder (can use cocoa)
1/2 teaspoon baking soda
1/4 teaspoon salt
additional chocolate chips 1/2 - 3/4 cup (according to your taste)
Instructions
Preheat the oven to 350 degrees.
Grease a 9" x 9" baking pan, or line with wax or parchment paper.
In a microwave safe bowl, combine the chocolate chips and the coconut oil, heat them in the microwave for 2 minutes on power level 5.
Remove from the microwave, and stir.
Return to the microwave and repeat for 2 more minutes at power level 5.
Remove and stir again, repeat until the chocolate is melted.
Place the almond flour, Caco powder, soda and the salt in a medium sized bowl.
Add the sugar, eggs and vanilla.
Mix in the melted chocolate and stir just to combine.
Fold in the remaining chocolate chips.
Place in the prepared pan and bake for 25 - 30 minutes or until the center of the brownies come out clean when tested.
Remove from the oven, let cool and cut with a plastic knife.
*Adapted from: the one lovely life