Turkey Tetrazzini is the perfect recipe for left over turkey. You will really wow your family and friends with Turkey Tetrazzini, and it comes together in about 20 minutes. It is creamy and loaded with flavor. Topped off with cheddar and parmesan cheese.
I hope that you all really enjoyed your holidays. It seems like it took about three days to prepare the food, one hour to eat and one hour to do the dishes, and then it was over. It seems like time is going so fast, I can't seem to keep up with all of the excitement going on.
We did put a nice puzzle together after dinner and we played some games with the grand kids. That was a lot of fun. Then there was the shopping. A couple of my kids went because they needed to get things for their kids, but most of us stayed home.
This year we decided to cook our turkey (spatchcock style). My one son told us that in 19 years of eating turkey, this was the best that he had ever eaten. It truly was nice and moist, and the white meat was as moist as the dark.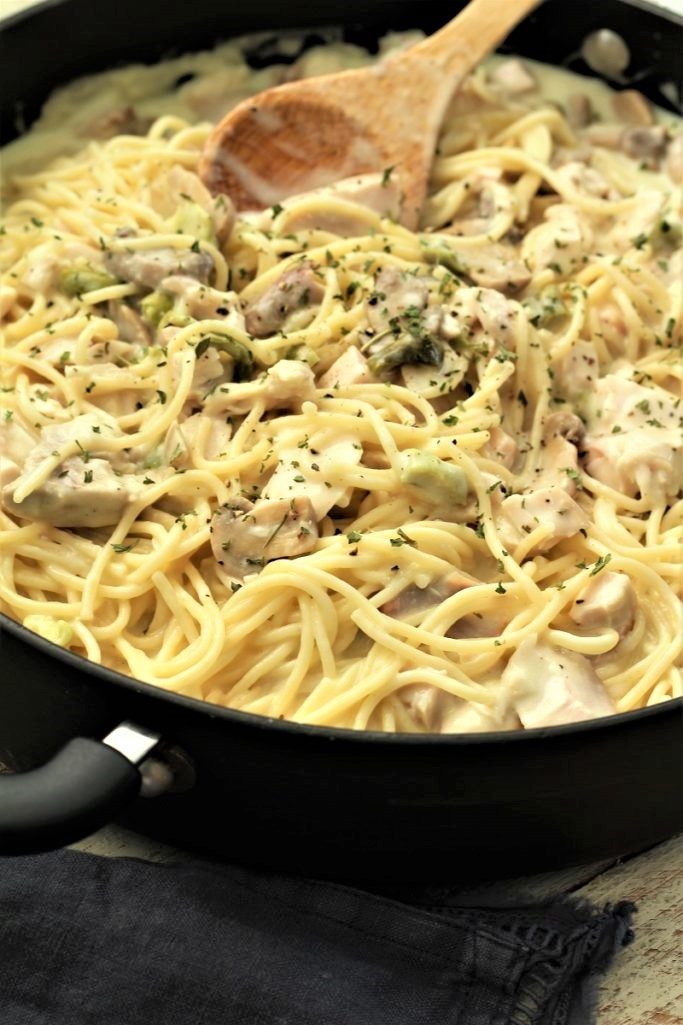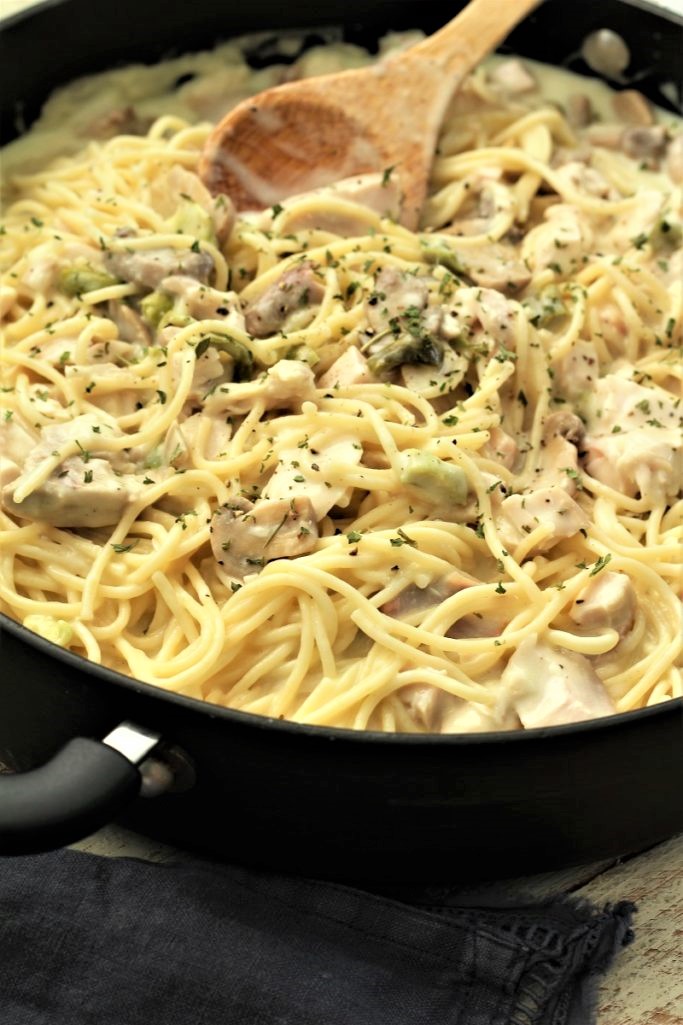 What Ingredients Do I Need For Turkey Tetrazzini?
Here's a list of ingredients you'll need to make this Tetrazzini (scroll down for the full recipe):
Spaghetti
Butter
Flour
Chicken or turkey broth
Light cream
Salt
Pepper
Canned mushrooms
Green peppers
Turkey
Parmesan cheese
Cheddar cheese
How Do I Make Turkey Tetrazzini?
Here's the simple steps you'll follow to make this Tetrazzini (scroll down for the full recipe):
Turkey Tetrazzini is perfect because it comes together so quickly.
Cook your noodles.
Make your sauce
And then put everything in the same pan except the cheese.
Place the cheese on top.
Place it in the oven, and you are good to go.
We did luck out and we had extra turkey and so I decided to put it in this Turkey Tetrazzini. The outcome was a 10+! It is delicious. Wouldn't you agree that sometimes leftovers are the best? I am always happy because it is one less thing that I have to do.
However I do have a couple of children that do not like to eat leftovers, or one will eat one thing that is left over and the other will not. Hmm, I think that they should have grown up the youngest of 9 and if you wanted food, you better sit down, get some on your plate and enjoy, and if there were leftovers, it was a miracle. Ha ha.
Okay, so I have to tell you this funny story about my sister. I was working and she was getting some leftovers. There was a bowl in the fridge that had some left over waffle batter in it. She put her potatoes and corn on her plate.
Then she got out the gravy – or not; actually it was waffle batter, she warmed it all up and then she started to eat it when my husband comes out and he says, "you know that is not gravy right"? And my sister was thinking to herself man, this is really good potatoes and gravy. Ha ha.
Then she stopped and thought about it and then she realized that it really was waffle batter. Then I do not think that it tasted as good.
What is Turkey Tetrazzini?
Tetrazzini is an American dish made with diced poultry (usually turkey or chicken) and mushroom in a butter/cream and parmesan sauce.
It is served hot over linguine, spaghetti, or another thin pasta.
That is almost as good as the year I put paprika on the potatoes to make them look all beautiful. Weren't we all surprised when we found out that it really was cayenne pepper!
I had grabbed the wrong jar and boy were those some hot potatoes. Reminds me of the game, hot potatoes. Ya, well, I tried to scoop most of the top off so that everyone else didn't have to suffer.
Another thing that we tried to do was to tell some of the things that we are grateful for and we made it through 3 people before something crazy happened and then that was the end of that. I hope that we can be a little more organized for the Christmas party!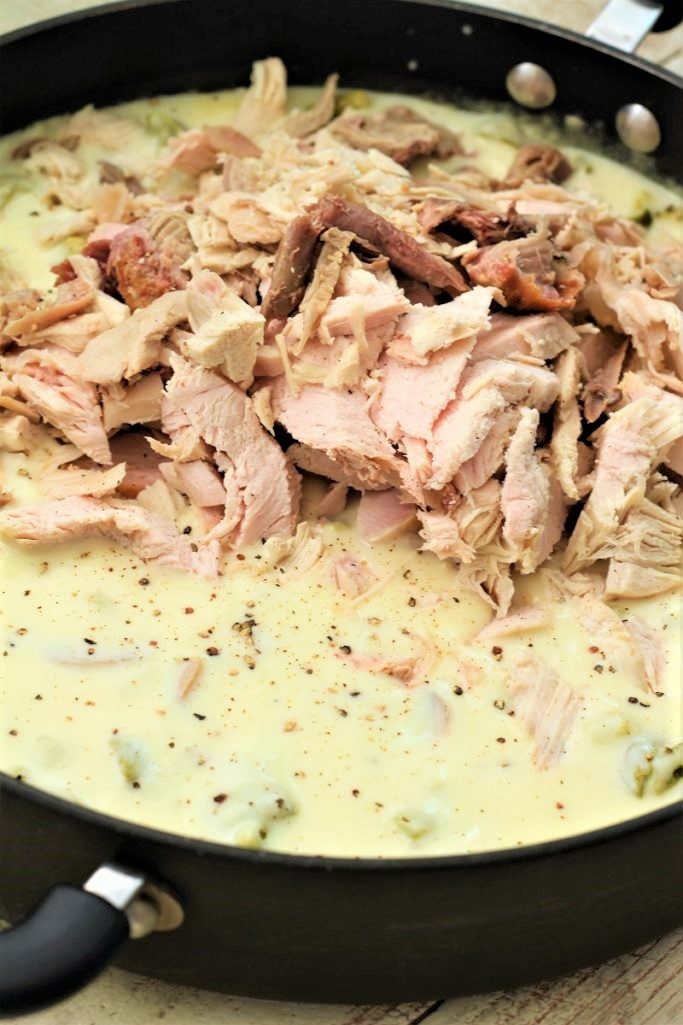 Speaking of Christmas parties, my friend has a Christmas party every year. They have this lizard that is a fertility lizard. If you get the lizard, it is a guarantee that you will be coming to the party. They do a white elephant exchange, and one person has to bring the lizard.
Can Turkey Tetrazzini Be Frozen?
Since we are talking about leftovers here, I wanted to let you know that because turkey tetrazzini is a cream-based sauce and full of pasta, it is best to never freeze it.
The sauce will separate and the pasta will continue to expand and take on the liquid.
This makes for a mushy pasta dish with separated sauce, and that is something that no one wants.
I couldn't remember if I had the lizard or not. My friend texted me and said, do you have the lizard? I told her no and went about my day. And then, I just couldn't get it out of my mind and so I called my oldest daughter and asked her if she thought I had it, because she was living with me last year at the time.
She told me "yes, I think you have it and I think that you put it away, in with your Christmas stuff". So I started looking and my husband thought I was crazy. He said, "I think that you just want me to get the Christmas decor down". And you know that is a pretty good idea since Christmas is less that a month away.
Anyway, the second box that he looked in, there was the lizard. So I texted her back and told her that I had forgotten that I had the lizard and she could go on with the planning of the party. Let me tell you, it is not really very fun to get older and forget things. And my husband is the same way.
So here we are, making Turkey Tetrazzini and I am so grateful for the blog, because that way, I can remember my recipes and my kids and grand kids can too.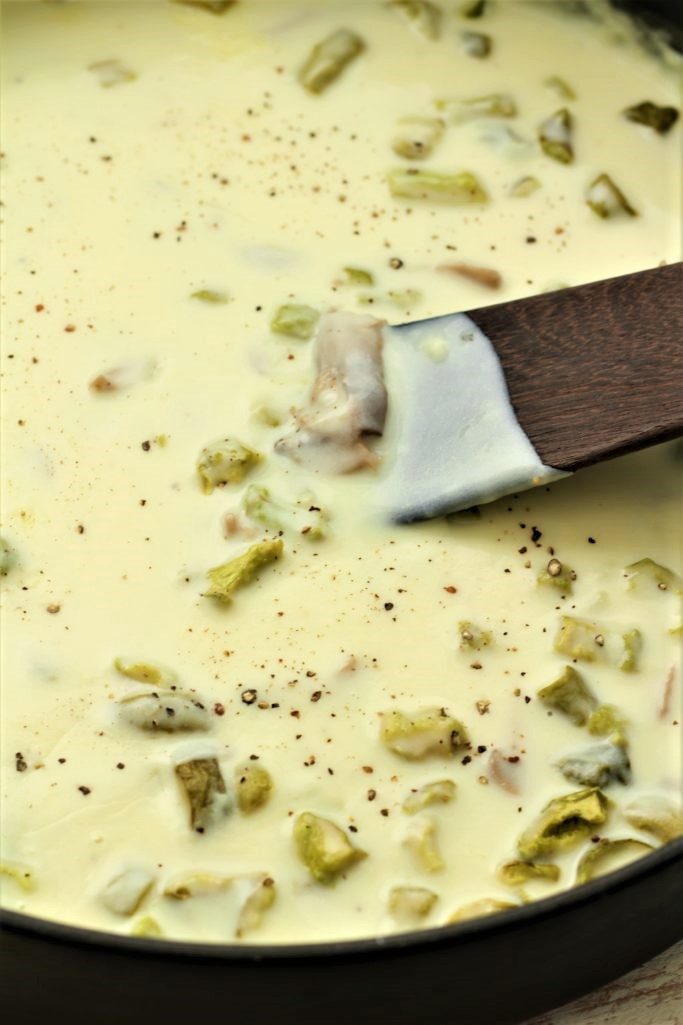 Tips and Tricks For Turkey Tetrazzini:
If you do not have a large skillet that you can place in the oven, just use a 9″ x 13″ baking dish and cover it with foil after you put all the ingredients together but the cheese.
I used 1/2 grated parmesan and 1/2 shredded, but you can use whatever you like.
I only had heavy cream and so I used 1/2 cream and 1/2 milk.
I also garnished the Turkey Tetrazzini with dried parsley.
Another Delicious Recipe to Use up Some of That Leftover Turkey:
Yield: 8 people
Turkey Tetrazzini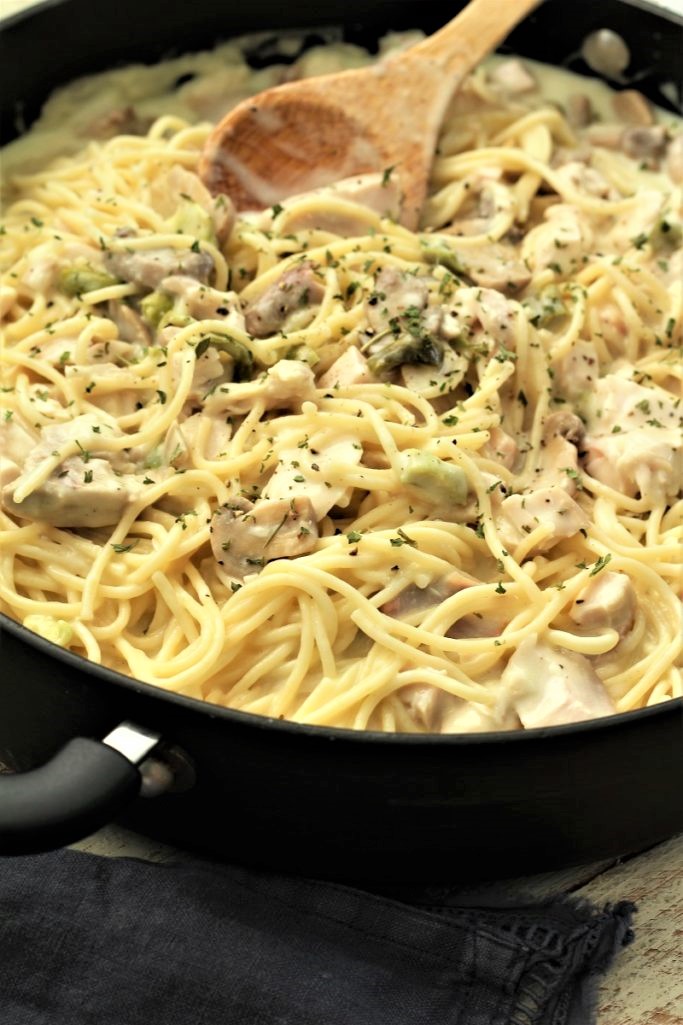 Turkey Tetrazzini comes together so quickly. It is creamy and loaded with flavor. Topped off with cheddar and parmesan cheese.
Ingredients
8 ounces packaged spaghetti, broken in halves and cooked
5 Tablespoons butter
6 Tablespoons flour
3 cups chicken or turkey broth
1 cup light cream
1 teaspoon salt
1/2 teaspoon pepper, or more to your taste
1 cup fresh or canned mushrooms, including juice (I only use 1/2 the juice)
5 Tablespoons minced green peppers
3 cups cooked turkey, cubed
1/2 cup grated parmesan cheese
1/2 cup shredded cheddar cheese
Instructions
In a large pan cook the spaghetti noodles according to package directions.
In a large skillet, melt the butter and add the flour, stir until it starts to thicken.
Then add the broth, cream, salt, pepper, mushrooms, minced peppers, cooked spaghetti noodles, and cooked turkey, or chicken.
I leave mine in the skillet and add the cheeses, or you can put it in a 2-3 quart casserole dish.
Whichever one you use, place the lid on and put it in a preheated oven @ 350 degrees, for 30 minutes.
Nutrition Information
Yield
8
Serving Size
1
Amount Per Serving
Calories

474
Total Fat

28g
Saturated Fat

13g
Trans Fat

1g
Unsaturated Fat

12g
Cholesterol

153mg
Sodium

813mg
Carbohydrates

21g
Fiber

1g
Sugar

5g
Protein

34g
This data was provided and calculated by Nutritionix