Chicken pot pie soup is the perfect soup for this week. We just got the biggest snow storm of the season and the cold is on its way! So you just might want to make up a batch of this delicious soup. Chicken pot pie soup is very good to the taste, as well as very good for the soul. It taste so good with the crumbled pie crust pieces on the top. You can use a rotisserie chicken or I had some left over from last night's dinner. I also had some sweet potatoes that were left over and so I decided to use them as well. It turned out amazing and I think that I will use sweet potatoes from now on. Then I went to the freezer and grabbed a bag of frozen vegetables and it made the soup work up so fast. But if you want you can add fresh carrots, just add them when you add the potatoes.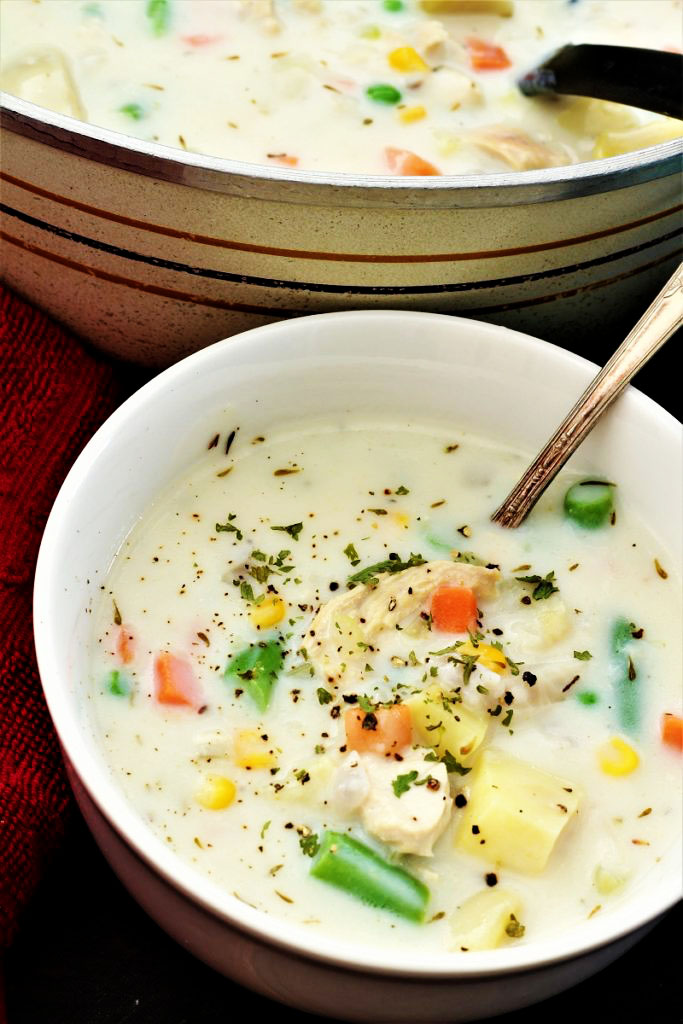 Since my potatoes were already cooked, I put them in the same time that I put the chicken in. It will be interesting to see what my son that doesn't care for soup says. He tells me that soup just doesn't fill you up. However, I think that this soup is nice and hearty. It is loaded with chicken, and vegetables. If you don't want to add sweet potatoes, you can use red or Yukon Gold, as they are a firmer potato and do not go as soft.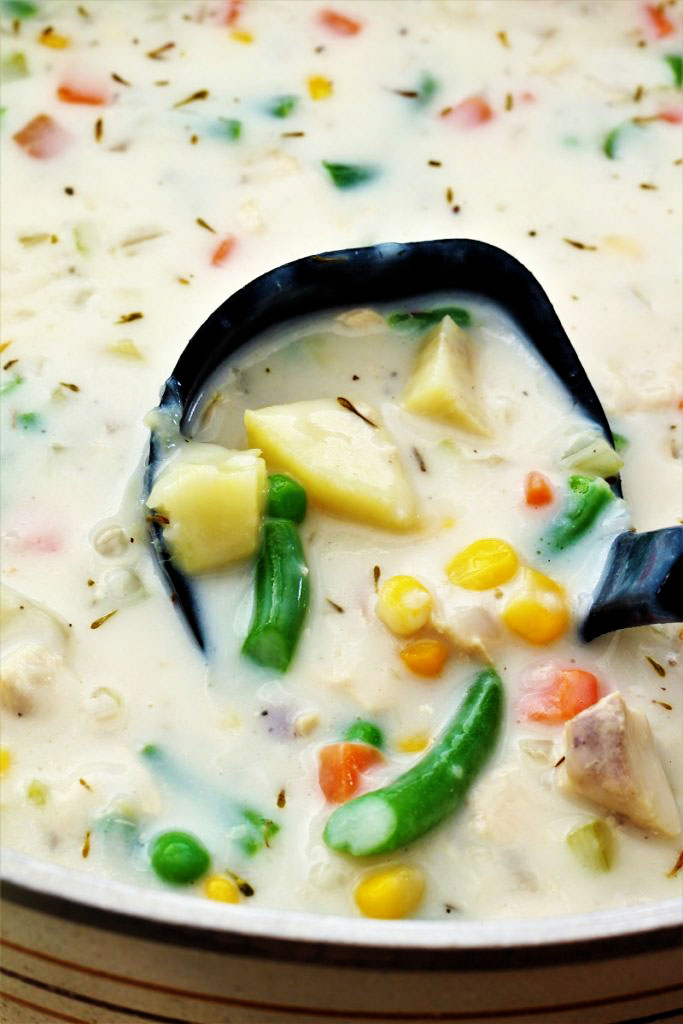 Did you all have a wonderful Presidents Day? I am grateful for these holidays and the older I get, the more meaning they have to them. We have had some amazing Presidents throughout history. We are so blessed to live in this free country that they helped become free. I am most grateful for their many sacrifices. And another thing; remember that Washington had wooden teeth. How in the world do you keep those in your mouth? It also seems like you just might get a sliver in your gums!!! We have so many things to be grateful for today. So take a minute and remember those who went before us, and let's be grateful.

Chicken Pot Pie Soup
Prep time:
Cook time:
Total time:
Ingredients
4 Tablespoons butter
½ onion, chopped
3 celery stalks, diced
4 cups chicken broth
2 cloves garlic, minced
3 bay leaves
1½ - 2 cups sweet potatoes
3 cups milk
½ cup flour
3 cups cooked chicken, (can use rotisserie)
1 teaspoon thyme
2 - 3 cups birds eye frozen vegetables
½ - ¾ teaspoon salt
¼ teaspoon pepper
1 cooked pie crust for topping
dried parsley, if desired
Instructions
In a large pot, place the butter, onions, and celery. Cook on medium for about 5 minutes.
Add the broth.
Add the garlic, bay leaves, and the sweet potatoes.
Add 2 cups of the milk.
Add the flour to the remaining cup of milk.
Pour the mixture of the milk and flour into the soup and cook until it thickens.
Add the chicken, and the vegetables, thyme, salt and pepper. Add more to your taste if desired.
Add baked pie crust pieces to the top!
Add dried parsley, if desired.