One pot creamy chicken mushroom Florentine is ready in 1 hour. Looking for something fast and yummy; look no further. Some days are just so busy, when you get to the end of the day you say "what am I going to fix for dinner"? Here it is.
I am always glad to make a recipe that you can cook in one pan in under 1 hour. This makes a nice change from the regular spaghetti.
My family absolutely loved it and even my son that will not eat tomatoes told me how delicious it is! It is so good with the spinach in it, and your family will be amazed at how little you even taste the spinach.
I always love a recipe that helps us get more of our vegetables into our meals, and that tastes great at the same time. Then when it comes to noodles with white sauce on them, that is another one of my weaknesses.
What Ingredients Do I Need For One Pot Creamy Chicken Mushroom Florentine?
Here's a list of ingredients you'll need to make this Main Dish (scroll down for the full recipe):
Butter
Chicken breasts
Olive oil
Garlic cloves
Sun dried tomatoes
Mushrooms
Flour
Chicken broth
Half and half
Salt
Pepper
Garlic powder
Linguine
Parmesan cheese
Fresh baby spinach
How Do I Make One Pot Creamy Chicken Mushroom Florentine?
Here's the simple steps you'll follow to make this Main Dish (scroll down for the full recipe):
In a large skillet, put butter, add chicken and cook on medium until chicken is cooked through.
Leaving the chicken in the pan, move it to the sides making some space in the center.
Put the olive oil in the empty space and cook the garlic, sun dried tomatoes and mushrooms until they are tender.
Stir in 1 flour and cook for another minute.
Slowly put the chicken broth, half and half, salt, pepper, and garlic powder in. Stir until well blended.
Add the linguine and bring to a simmer. Cover and cook on medium for about 10-15 minutes or until the pasta is done.
Remove from the heat and add the Parmesan cheese and spinach and stir until the spinach starts to wilt.
I know that spring is on the way and I am so looking forward to seeing all of the beautiful new flowers and the trees in blossom. It is also a wonderful thing to hear the birds singing. I wonder if we got up every morning and started singing if we would feel better.
Birds are a great reminder of how we need to enjoy every day. I know that there are a lot of things to be grateful for, and one pot creamy chicken Florentine is not exception. If there is a person in your family that has issues with a few of the vegetables, maybe you could add a little more cheese to appease them.
Benefits of Fresh Spinach:
Raw Spinach is rich in many essential nutrients, including:
Vitamin C
Niacin
Folate
Riboflavin
Potassium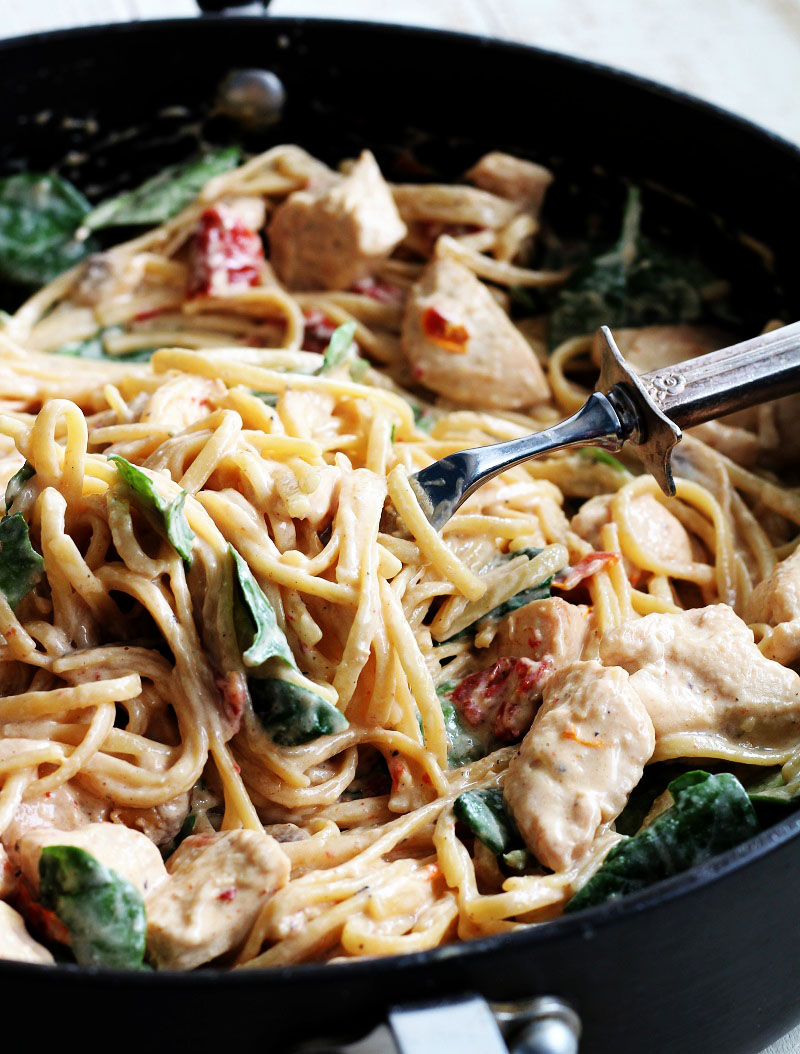 I used bacon in this Florentine, but prosciutto is often used in Florentine. I wasn't looking for a fancy dish to impress anybody. My goal was just to have a delicious dish to impress everyone, and it worked. But you could definitely use prosciutto instead of the bacon.
Should I use Bacon or Prosciutto in my One Pot Creamy Chicken Mushroom Florentine?
Bacon:
Bacon comes from the belly of the pig.
Bacon is cured, but not salt-cured.
It must be cooked before being eaten.
Prosciutto:
Prosciutto comes from the hind leg of the pig.
Prosciutto is salt-cured and air-dried for months.
It is safe to eat without cooking.
My son was not too excited about the sun dried tomatoes in this one pot creamy chicken mushroom Florentine, but I saw him go back for seconds! Really, you can't even taste them. They are really just a nice touch of flavor.
Then the spinach was the reason for the next evil eye I got, but again it just adds some nice flavor and if you put some extra cheese on top, they don't seem to mind. The rest of my family didn't seem to mind, and just think— there are three vegetables in this dish.
I hope that you enjoy it and that you spend the extra time you saved making dinner tonight, on yourself with a good movie or book! Better yet, how about write a thank you to someone or give and old friend that you haven't seen or talked to in awhile, a call.
Tips and Tricks For One Pot Creamy Chicken Mushroom Florentine:
Chop the sun dried tomatoes in smaller pieces so that they are not as noticeable.
You may want to use whole milk in place of half and half.
If you enjoy black or green olives, you may want to add a 1/2 cup.
More Delicious Pasta Recipes For You:
Yield: 6 people
One Pot Creamy Chicken Mushroom Florentine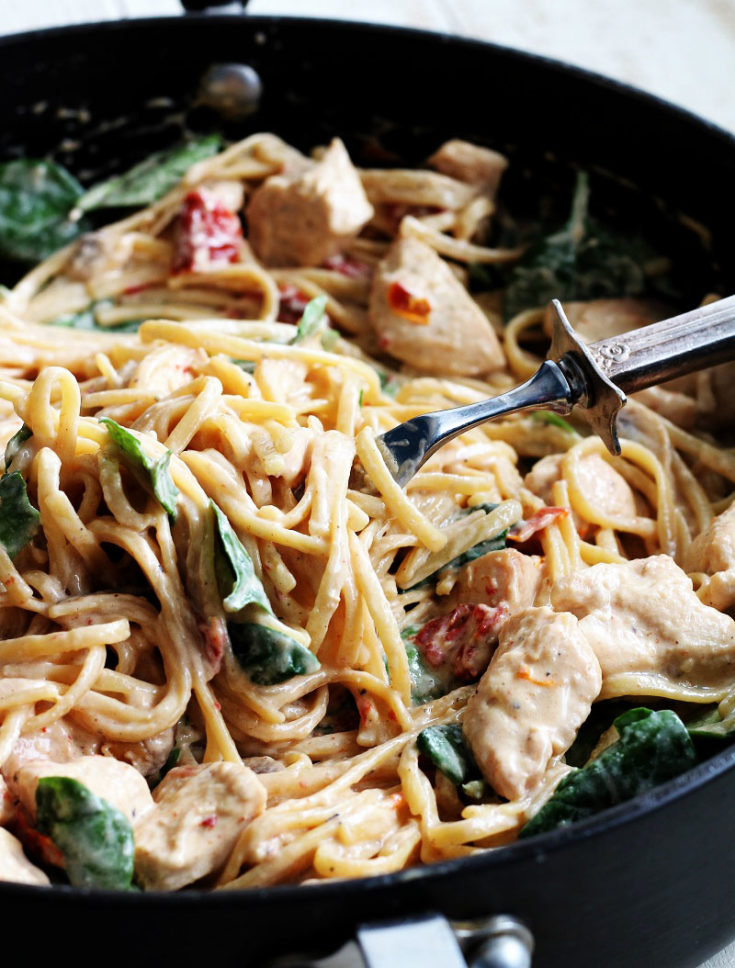 A delicious Italian one pot meal with chicken, linguine, fresh spinach, sun dried tomatoes, and mushrooms mixed in a wonderful sauce. Parmesan cheese is an added bonus to a delightful meal.
Ingredients
1 Tbsp butter
1 pound boneless skinless chicken breast, cut into small pieces
1 tsp olive oil
2 garlic cloves, minced
1/4 cup sun dried tomatoes
1 cup small mushrooms, sliced
1 Tbsp flour
2 cups chicken broth
1 1/2 cups half and half
1 tsp salt
1/4 tsp pepper
1/2 tsp garlic powder
1 (8 oz pkg) linguine, broken in half
1/4 cup grated Parmesan cheese
2 cups fresh baby spinach
Instructions
In a large skillet, put 1 tablespoon butter, add chicken and cook on
medium until chicken is cooked through.
Leaving the chicken in the pan, move it to the sides making some space in the center.
Put the olive oil in the empty space and cook the garlic, sun dried
tomatoes (I chopped mine smaller) and mushrooms until they are tender. (about 5 minutes)
Stir in 1 Tbsp flour and cook for another minute.
Slowly put the chicken broth, half and half, salt, pepper, and garlic
powder in. Stir until well blended.
Add the linguine and bring to a simmer. Cover and cook on medium for about 10-15 minutes or until the pasta is done.
Remove from the heat and add the Parmesan cheese and spinach and stir until the spinach starts to wilt. Serve immediately. (If you end up not serving it immediately, thin it down with a little milk and reheat it.)
Nutrition Information
Yield
6
Serving Size
1
Amount Per Serving
Calories

268
Total Fat

13g
Saturated Fat

7g
Trans Fat

0g
Unsaturated Fat

6g
Cholesterol

96mg
Sodium

890mg
Carbohydrates

8g
Fiber

1g
Sugar

4g
Protein

28g
This data was provided and calculated by Nutritionix