Mandarin Orange Cake is a wonderful Summer cake, but also great any time of year. It is so light and refreshing and served chilled. It is a wonderful treat if you are having a block party or BBQ. It stores well and is perfect for making ahead of time.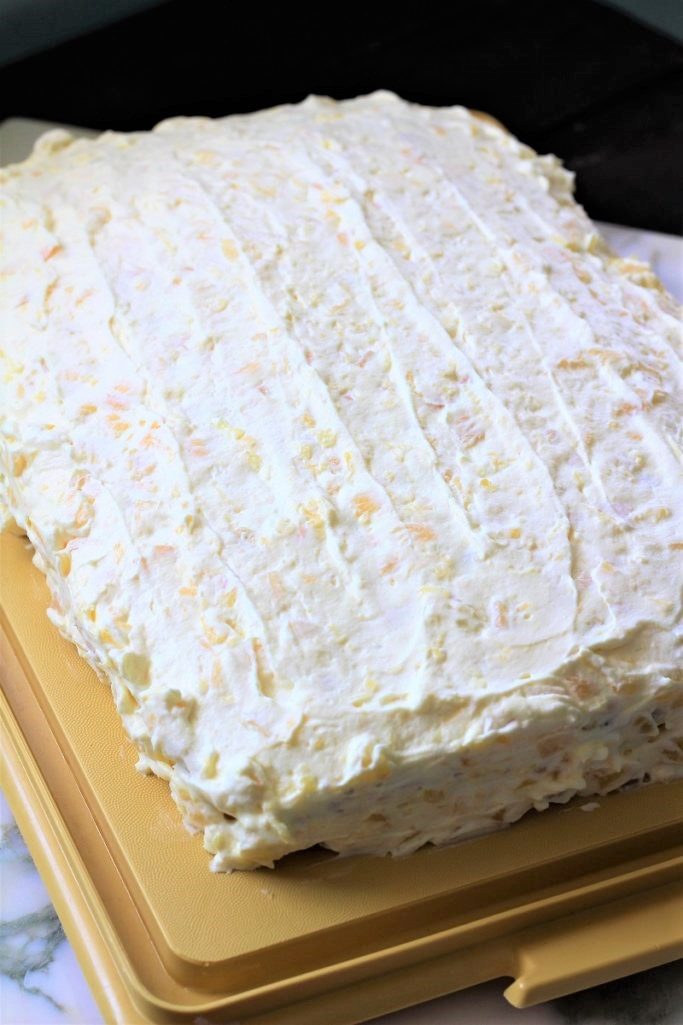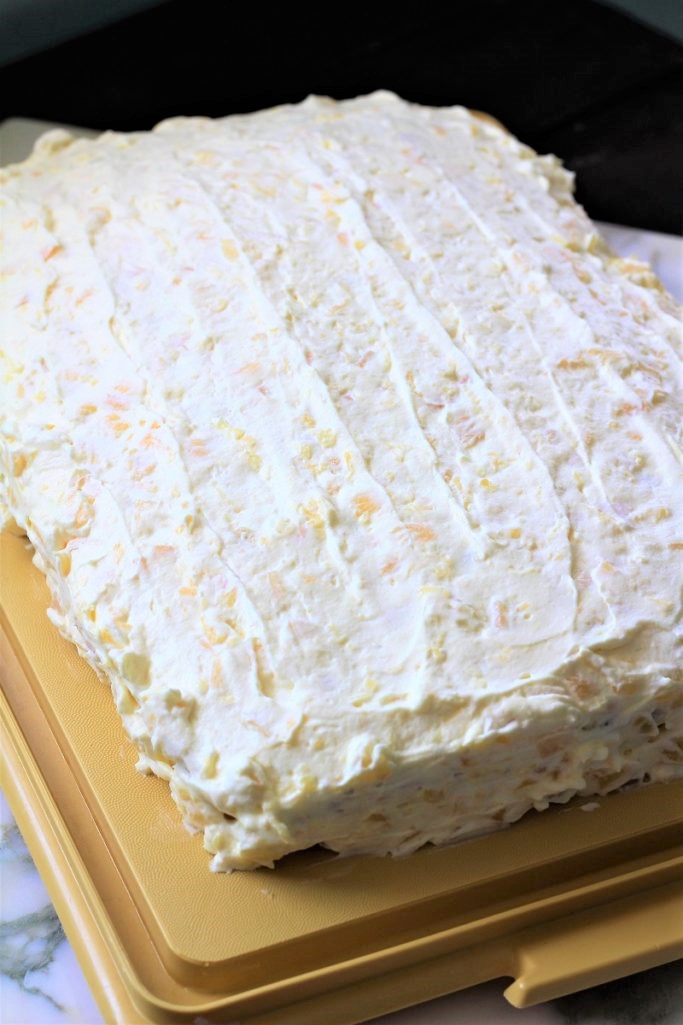 If you are a coconut fan, you might just want to garnish your cake with some grated coconut. But if you are not a coconut fan, no worries, because it still tastes amazing without the coconut.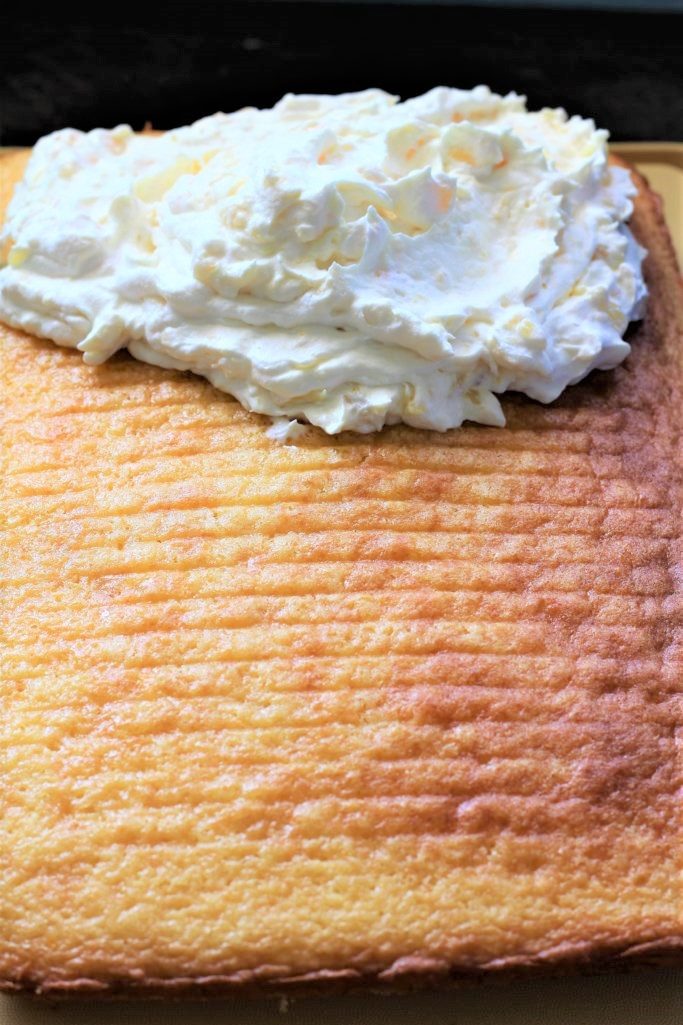 Can I Use Pineapple Chunks in the Frosting?
Crushed pineapple is best because you do not want to have too big of chunks. The crushed pineapple helps the whipped frosting go on the cake a little smoother, as well.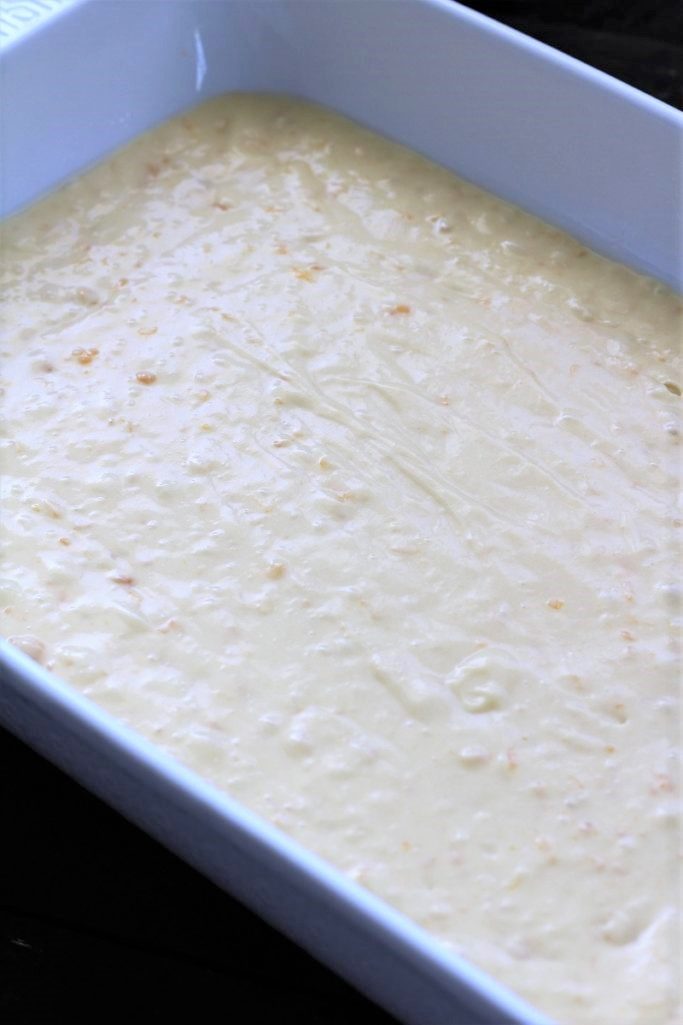 Tips and Tricks for Mandarin Orange Cake:
I like to use Coconut Oil for the oil, but you can use any cooking oil that you prefer.
Make sure to refrigerate the cake – it needs to be served chilled.
Garnish with Coconut, Mandarin Oranges, or both.
Here are some links to some other Cakes that you may enjoy:
Surprise Strawberry Yogurt Cake
Yield: 16 people
Mandarin Orange Cake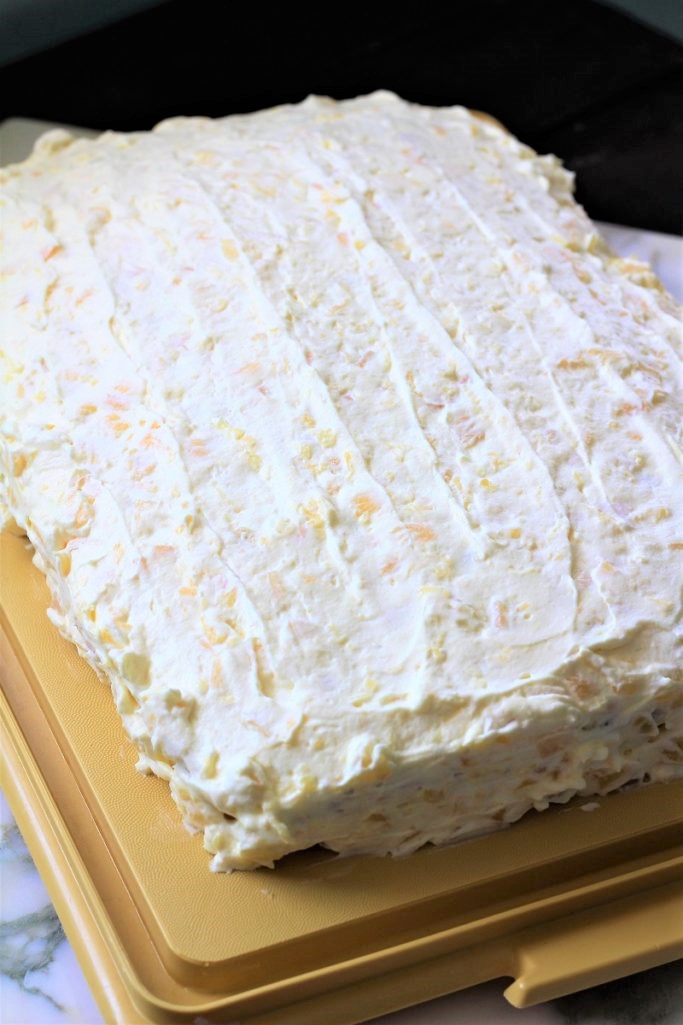 Prep Time 20 minutes

Cook Time 35 minutes

Total Time 55 minutes
Ingredients
1 box yellow cake mix
1 cup water/mandarin orange juice
1 (11 ounce) can Mandarin oranges (with the liquid) I use the liquid to make up the 1 cup water
4 eggs
1/2 cup oil
Frosting:
1 (20 ounce) can crushed pineapple (with the liquid)
1 (3.4 ounce) box Instant Vanilla pudding
1 (8 ounce) carton of whipped topping
Optional: sprinkle with coconut
Instructions
Preheat the oven to 350 degrees.
Mix together cake mix, 4 eggs, and 1/2 cup oil.
Drain the Mandarin orange juice from the Oranges into a container; KEEPING THE JUICE to use in a later step.
Fold the Mandarin oranges into your mixture.
Pour the mandarin orange juice into a cup and then fill the rest of the cup up with water to make 1 cup of liquid.
Fold the liquid into your mixture.
Pour mixture into a greased 9" X 13" cake pan.
Bake for 30 - 35 minutes or until the center of the cake is done. Check with a wooden pick or a cake tester. Or bake according to box package directions.
Remove from oven and cool completely, remove from the pan.
Frosting:
Combine the can of pineapple (do not drain) with the dry pudding mix and fold in the whipped topping.
Frost the cake, garnish if desired, and refrigerate.
This cake will keep well in the refrigerator for several days.
You can also freeze it complete with toppings, and it only takes 30 minutes to thaw before serving.
Nutrition Information
Yield
16
Serving Size
1

Amount Per Serving

Calories 256 Total Fat 11g Saturated Fat 3g Trans Fat 0g Unsaturated Fat 8g Cholesterol 47mg Sodium 282mg Carbohydrates 36g Net Carbohydrates 0g Fiber 1g Sugar 21g Sugar Alcohols 0g Protein 3g

This data was provided and calculated by Nutritionix