Easy homemade cinnamon rolls are soft and fluffy. They are so much better than those you buy at the store. Once you have had these cinnamon rolls and see how easy they are to make, you will never want to go back!
I made these easy homemade cinnamon rolls the other day for my daughter's birthday. However, I was in such a big hurry, I forgot to add the raisins. And since raisins are not really my favorite, my mind didn't even go there.
We are a family that is divided. 🙁 Some of us like raisins, some of us tolerate them, and there are two people that just plain cannot stand them.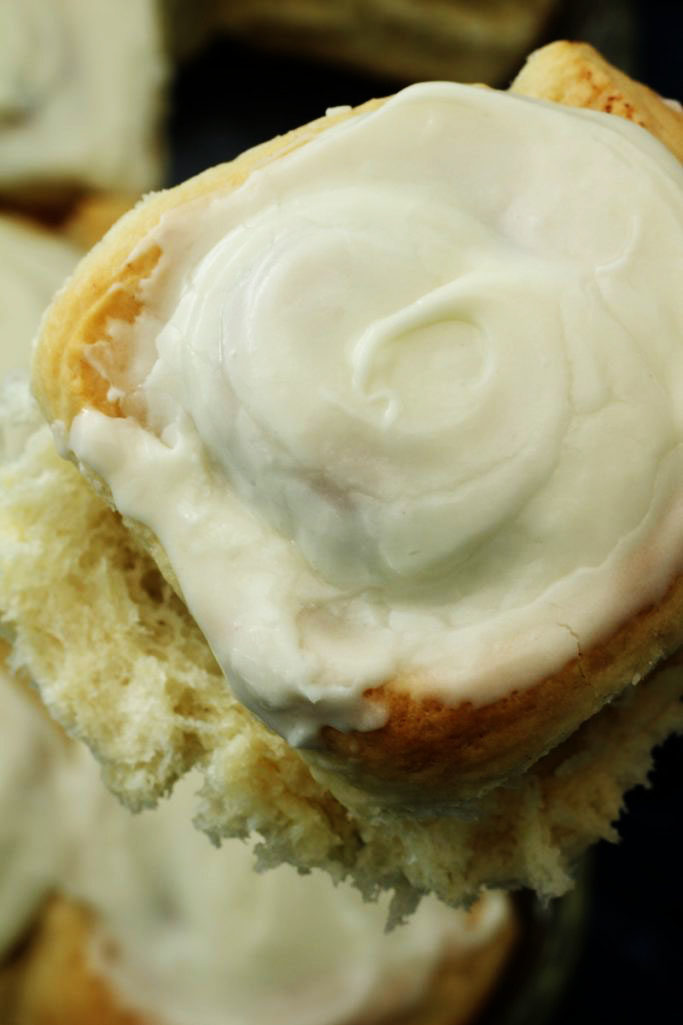 I took these easy homemade cinnamon rolls over to her house for her birthday. I thought about making a cake and then I decided that since she was craving these cinnamon rolls and she is expecting her fourth baby, that they would be as good as cake.
The only problem was that my other daughter told me that she was going to buy her sister a cinnamon roll but decided against it because it didn't have any raisins in it. Oh no!
I told my birthday daughter that she could add her own raisins. And she did! She put them in the bottom, and enjoyed every bite.
So when I make cinnamon rolls, I usually do half with raisins and half without. Me, I can take them or leave them. I don't need the extra calories! Right? Ha, ha!
I brought three cinnamon rolls home, because my husband was sleeping and didn't eat his, however the next morning when he went to eat his easy homemade cinnamon roll, it was no where to be found. The only thing that I can tell you is, IT WASN'T ME!!
So, when you get a chance to make easy homemade cinnamon rolls, let me know how you like them. I think you will be really proud of yourself if you give this recipe a whirl.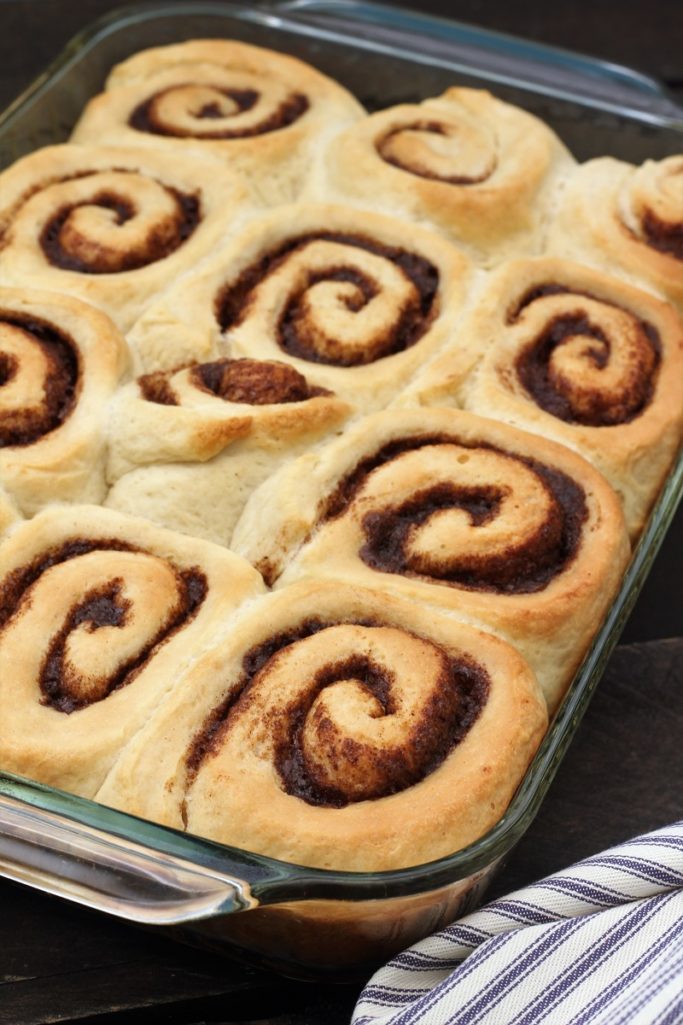 Tips and Tricks:
1 – If I do add the raisins, I usually soak them in a cup of hot water. Place the raisins in some hot water and after about 15 minutes, dump the water off and place the raisins on a paper towel to remove any extra moisture. Then either sprinkle them on one half or all over your dough. Depending on how many raisins you like.
2 – When letting the yeast rise, if you microwave the milk, make sure that your milk reads, 110 – 120 degrees. Stir the milk to make sure that there are no hot spots. I use my meat thermometer to check the milk temperature.
3 – Allow the yeast mixture to set in a warm place, so that the temperature will help it to rise quickly.
4 – When making the frosting, sometimes depending on the weather, I do not have to add milk to make my cream cheese frosting!
5 – If you have more time, you do not have to place the easy homemade cinnamon rolls in the oven to rise; this is just a way to make the cinnamon rolls a little faster.
6 – Hide as many of these rolls as you want to eat yourself!:)


Yield: 12 rolls
Easy Homemade Cinnamon Rolls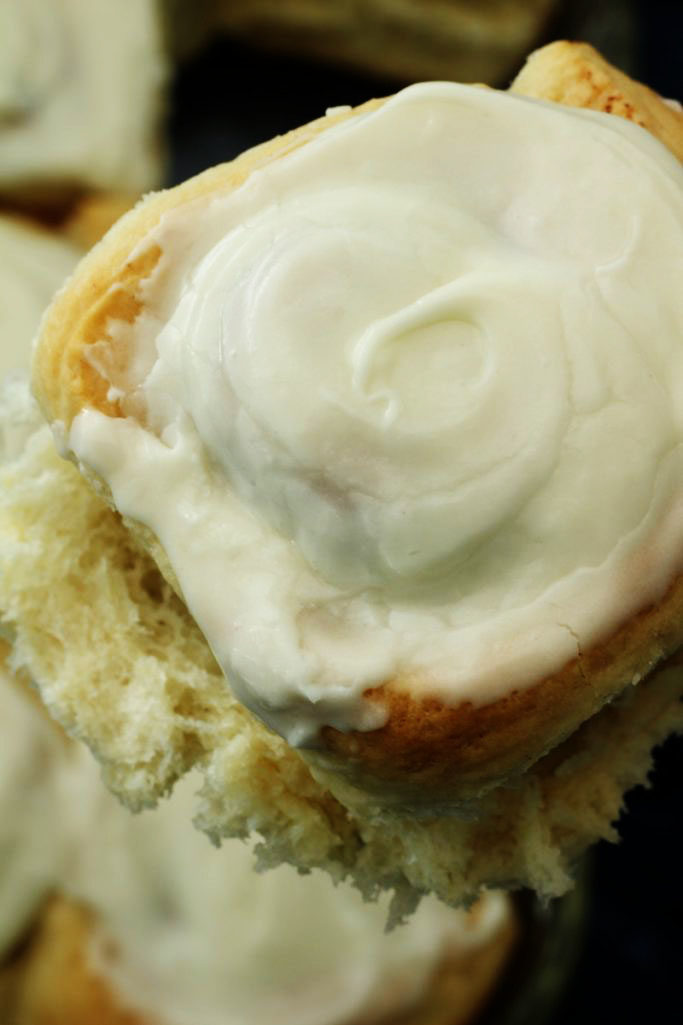 Prep Time 2 hours

Cook Time 25 minutes

Total Time 2 hours 25 minutes
Ingredients
1 cup milk (between 110 and 120 degrees)
1/4 butter, melted (make sure that your butter doesn't raise the temperature of the milk)
4 Tablespoons granulated sugar
2 1/2 Tablespoons (quick-rise, rapid-rise, or instant yeast)
2 small to medium eggs
3 1/2 cups bread flour, or all purpose flour
1/4 teaspoon salt
Filling:
3 Tablespoons butter, melted
2 Tablespoons ground cinnamon
1/2 cup brown sugar
1 cup raisins (optional)
Frosting:
4 ounces cream cheese (regular) room temperature
2 cups powdered sugar
1 teaspoon vanilla
1 Tablespoon butter, softened
1 - 2 Tablespoons milk (if you want the frosting thinner)
Instructions
First combine the milk, butter, sugar and the yeast in at least a 2 cup container.
Allow it to set until it doubles in size, 5 - 10 minutes.
In a mixing bowl, whip the eggs, then add the milk mixture.
Add the flour and salt and mix until nice and smooth. (I mix mine for about 4 minutes in my Bosch, but If you do not have a mixer, you can knead by hand).
Place on a counter that has been lightly floured.
Grease a glass bowl.
Place the dough into the bowl and cover with a dish towel that has been has been wet down and the water rung out.
Heat the oven to 200 degrees and then turn the oven off.
Place your bowl into the oven and let it rise for 30 minutes.
Remove from the oven.
Spray the counter and roll the dough out into a rectangle; about 20" x 12".
Filling:
In a bowl, mix melted butter, cinnamon and the brown sugar.
Spread carefully onto the dough. You do not need to get clear to the edges, as this will help your rolls to stick together better.
(Add the raisins, if desired).
Starting from the long ends roll the dough, pinch together.
With a knife or a piece of dental floss, cut the dough into 12 equal parts.
Place the dough into a 9" X 13" pan.
Make 4 rows with 3 in each row.
Cover them with a damp towel or a piece of plastic wrap that has been sprayed with cooking spray.
Let rise for another 30 - 45 minutes.
Preheat the oven to 375 degrees.
Remove the cover and bake for 25 - 30 minutes.
If you like your frosting thin, frost while warm.
If you like your frosting thick, wait until they are cooled off.
Frosting:
In a mixing bowl, whip the cream cheese and butter.
Add the powdered sugar slowly.
Then add the vanilla.
Mix thoroughly.
Add milk if desired.