Easy Coleslaw just in time for the Fourth of July! Are you ready for a big burger with coleslaw on top!?! My sister has been wanting me to make this forever and so I finally decided that it is definitely burger season and coleslaw on a burger just sounded good.
What is summer time without a few great burgers? And I love that you can either put the coleslaw on your burger or put it off to the side. Either way you are going to love the easy coleslaw and how fast it works up.
You can use either mayonnaise or yogurt. I like the taste of mayonnaise better, but I know that the yogurt is a little healthier. I love that you can also use honey or sugar, whatever it is that you prefer. Another thing that you can do is to add some green onions; this gives it an even sweeter taste.
I chose not to use onions today because I thought that on the burger you can add an onion slice if you wanted to. Another thing that you can do if you want, is to cut up your own cabbage. I just think that it is so fast to grab a bag and make the dressing, and you are set!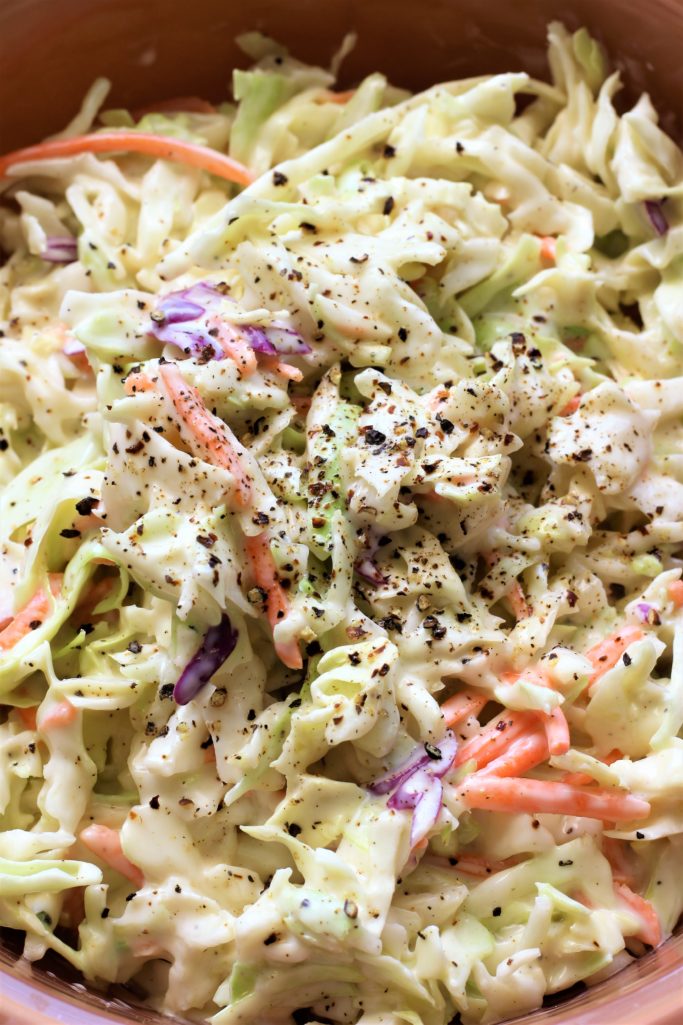 Do you have to use Apple Cider Vinegar in Easy Coleslaw?
You can use any vinegar, but I like to use Apple Cider Vinegar because it is healthier for you. But if you do not have it, use what you have.
And if you are worried about how the honey will make your easy coleslaw taste, you can use sugar. I am always trying to make things just a little bit healthier. However I got some Local Honey and it tasted just like clover. How do I know what clover tastes like? I do not know. Ha ha.
That is just what the honey tasted like to me, so if you are concerned, white sugar works well.
Another thing is that some of the bags of coleslaw that you buy have purple cabbage in them and some do not. I like the ones with purple cabbage and I think it is because I like having a little extra color in my coleslaw.
You can even buy just a bag of regular cabbage shredded without the carrots.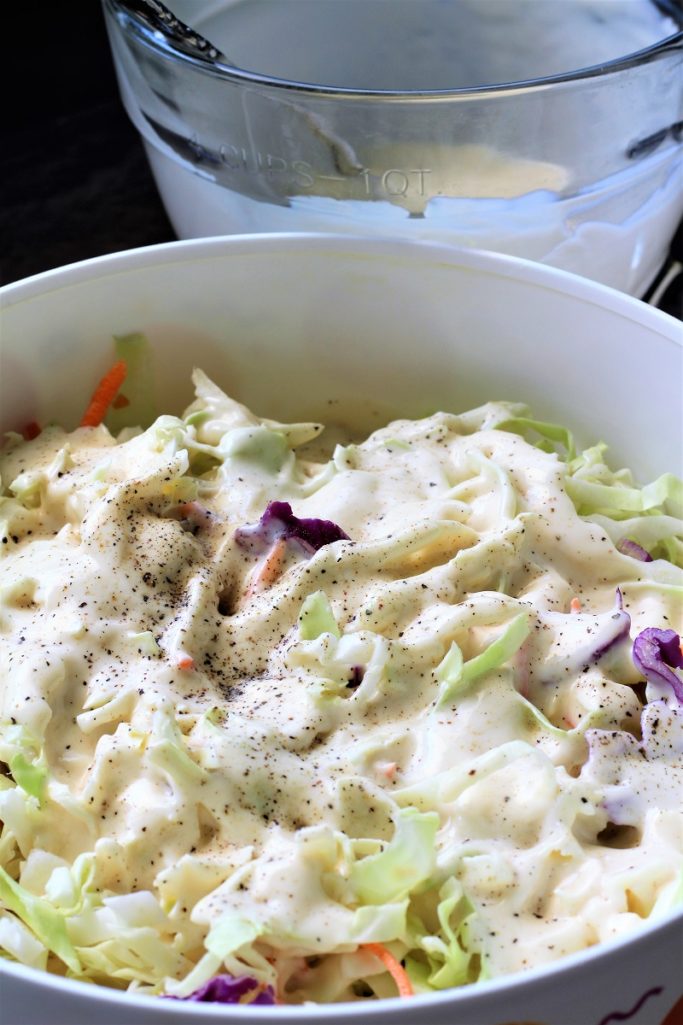 Can I add other ingredients to my Easy Coleslaw?
I know that some people like a little celery seed or dijon mustard in their coleslaw, so if you want to add one or both of those, feel free, but I prefer this coleslaw as is. That is one of the best things about making a recipe, each of us can tweak it how we want.
Here is a list of other mix-ins that you could add to the coleslaw if you want:
apples
sunflower seeds
dried cranberries
sliced almonds
poppyseeds
Here are a few more Summer Side Dish Recipes You Might Like:
Yield: 8 people
Easy Coleslaw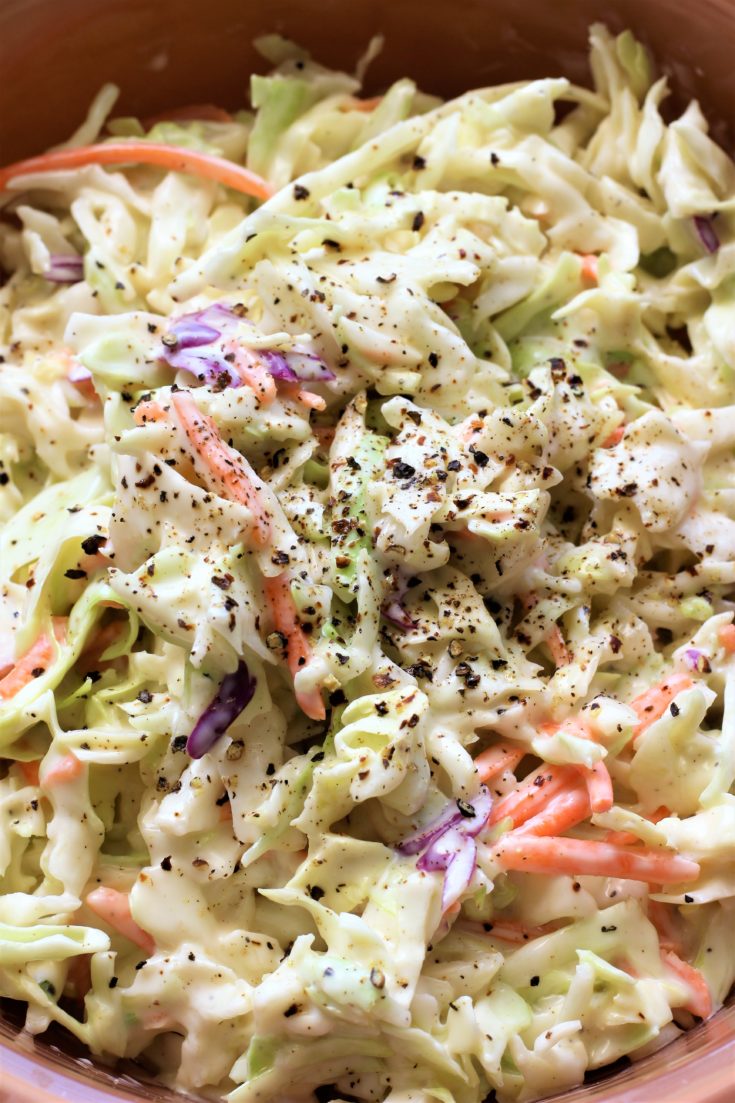 Ingredients
1 (16 ounce) bag of coleslaw mix; shredded cabbage and carrots
1 cup whole fat, plain yogurt or mayonnaise
*1/4 cup of sugar or honey
3 Tablespoons Apple Cider Vinegar
1/4 - 1/2 teaspoon salt
1/4 teaspoon pepper, or more if desired
Instructions
In a large mixing bowl, mix the 1 c. yogurt or mayonnaise.
Then add the 1/4 c.honey or sugar and stir very well.
Then add the 3 T vinegar, salt and pepper.
When the ingredients are well blended, then add your bag of grated cabbage and carrots.
Stir to coat all of the ingredients.
I like to let it sit in the fridge and season for about an hour before serving, but that is not necessary.
Keep refrigerated.
* Different honeys can change up the taste a little bit!
Nutrition Information
Yield
8
Serving Size
1
Amount Per Serving
Calories

89
Total Fat

3g
Saturated Fat

1g
Trans Fat

0g
Unsaturated Fat

3g
Cholesterol

4mg
Sodium

198mg
Carbohydrates

13g
Fiber

1g
Sugar

12g
Protein

2g