Crock pot honey nut granola is a great way to start the day. My kids are always running out the door in the morning when they are headed off to work. So I decided to make them something that they can take with them. I place 1/2 cup of this granola in each baggy and they can grab one, and some yogurt, on their way out the door.
I guess that we need sleep more than we need food? Or maybe we just do not plan enough time for food, and so breakfast gets skipped. It is rather hard to think up a great breakfast when you only have 5 minutes or you are already 10 minutes late.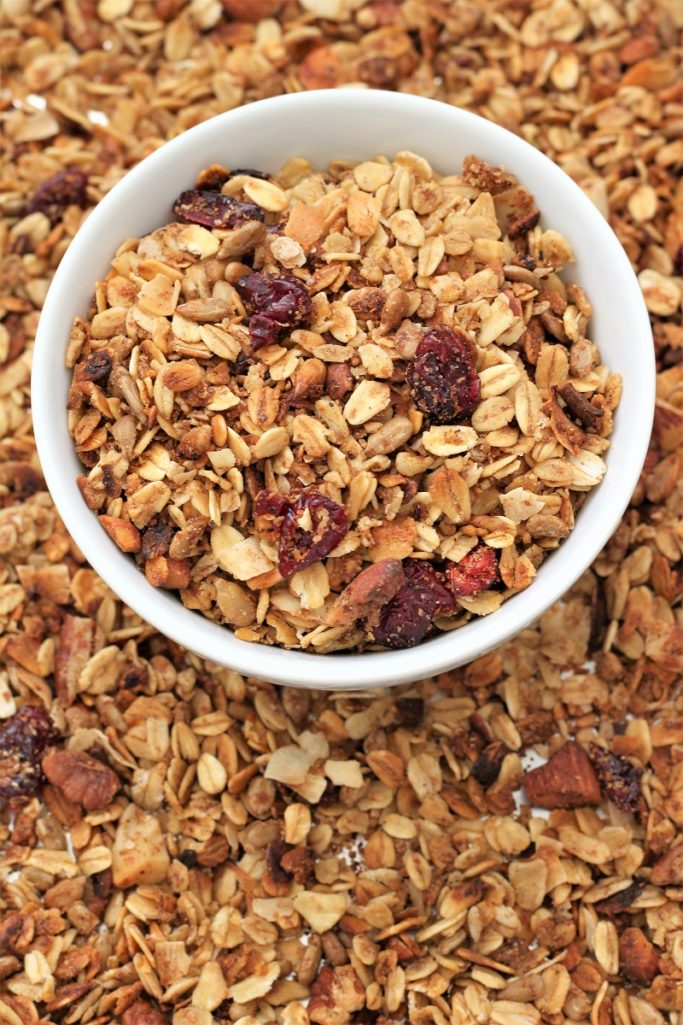 Why would I want to make Granola in a crock pot instead of the oven?
The simple and short answer is: because it is so much easier!!! You don't have to watch it so carefully to keep it from burning and you don't have to turn it on a cookie sheet. I love making Crock Pot Honey Nut Granola, and I'm pretty sure that you will too!
Can I substitute ingredients in this Crock Pot Honey Nut Granola?
You could use chocolate chunks or a variety of dried fruits such as cranberries, raisins, dried pineapple or dried mangos. Nuts, such as almonds, cashews, peanuts and pecans could be substituted in your granola as well. This granola is very versatile and you can use what you like, to make it the way you want it. That is one of the best things about it!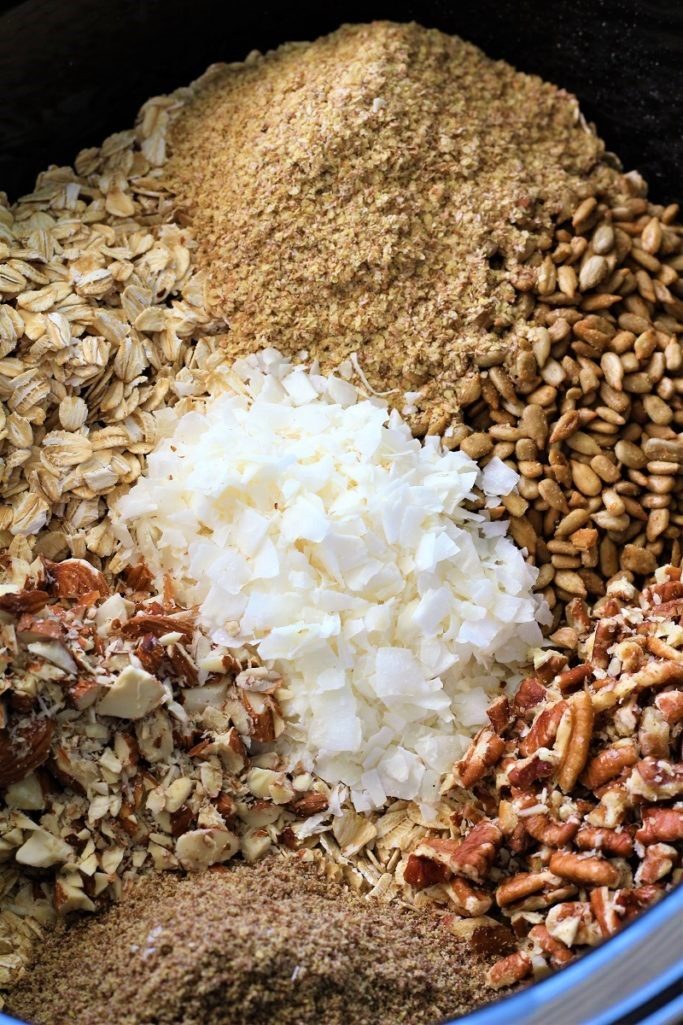 Here is a link for a baked granola recipe, if you prefer that:
Yield: 7 cups
Crock Pot Honey Nut Granola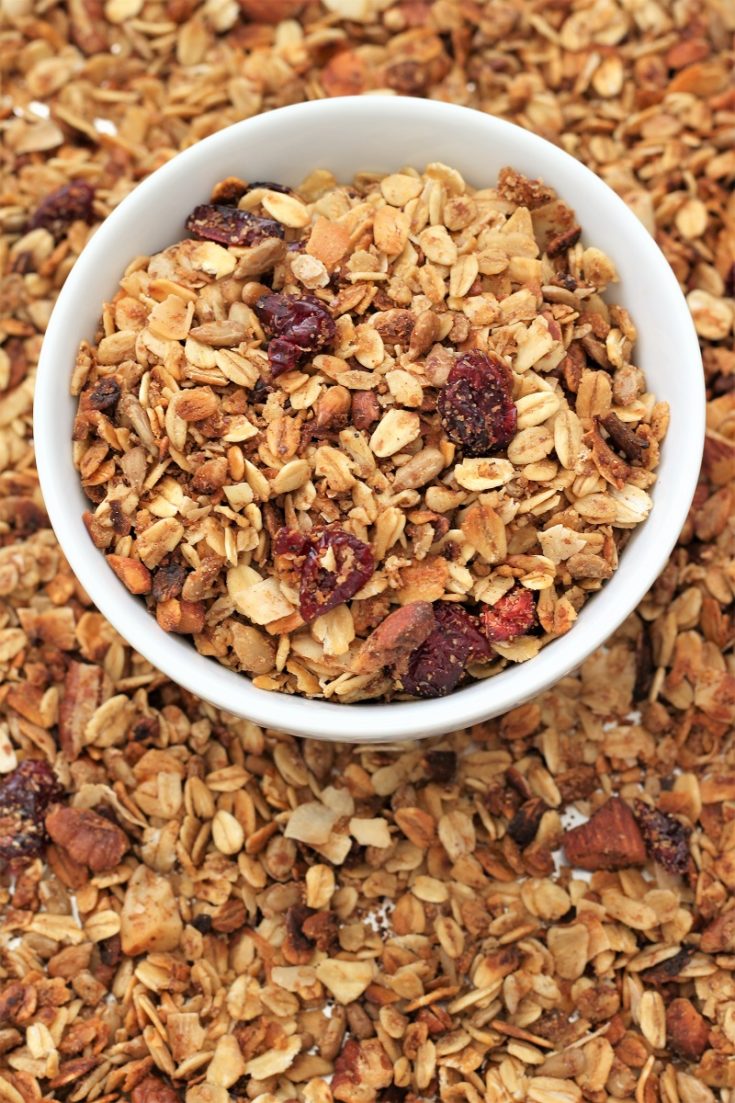 Prep Time 15 minutes

Cook Time 1 hour 30 minutes

Total Time 1 hour 45 minutes
Ingredients
4 1/2 cups regular oats
1/4 cup wheat germ
3 cup unsweetened shredded coconut
1/3 cup almonds, (slivered or sliced)
1/3 cup sunflower seeds
1/3 cup chopped pecans
1/4 cup ground flaxseed
1/2 cup honey
1/3 cup water
3 Tablespoons coconut oil
1 teaspoons cinnamon
1/4 teaspoon nutmeg
1 teaspoon vanilla extract
1/8 teaspoon salt
1/2 cup dried craisins
Instructions
In a 4 quart slow cooker, place the 4 1/2 c. oats, 1/4 c. wheat germ, 3 c. coconut, 1/3 c. almonds, 1/3 c. sunflower seeds, 1/3 c. pecans and 1/4 c. flaxseed.
In a bowl combine the 1/2 c. honey, 1/3 c. water, 3 T. coconut oil , 1 t. cinnamon, 1/4 t. nutmeg, 1 t. vanilla and 1/8 t. salt, mix with a whisk.
Then add it to the oats mixture, mix to coat all of the oat mixture.
Place the crock pot on high, place the lid on and cook for 1 1/2-2 hours or until the it turns nice and crisp, stirring every 15-20 minutes.
Add the 1/2 c. craisins.
Spread evenly onto a cookie sheet lined with waxed paper.
Cool completely.
Store in an airtight container.
You can add yogurt or milk if you like, or eat it by itself as a snack.
Nutrition Information
Yield
14
Serving Size
1
Amount Per Serving Calories 378Total Fat 23gSaturated Fat 14gTrans Fat 0gUnsaturated Fat 8gCholesterol 0mgSodium 226mgCarbohydrates 40gFiber 8gSugar 16gProtein 7g

This data was provided and calculated by Nutritionix