Creamy baked cheesecake is so rich and creamy that it melts in your mouth. This cheesecake is perfect for the Valentine in your life or you can make it for a special birthday! If you want less calories, you can always leave the sour cream off of the top.
You will love the raspberry topping, sweet with a little tart and wow, it is so good. I have made this creamy baked cheesecake a lot and it has turned out perfect every time.  And it is a perfect recipe because it has creamy in it. Yep the last three letters of creamy. That's me!  Lol.
This is one recipe that I have to put a note on, "do not eat".  Won't they be excited tonight when I let them have a big slice! Now that is a wonderful Valentine. True love to anyone who gets a slice. Happy Valentines to all of you out there. Remember all those you love, and make today just a little bit extra special, with your talents of cooking.  Have the best day ever!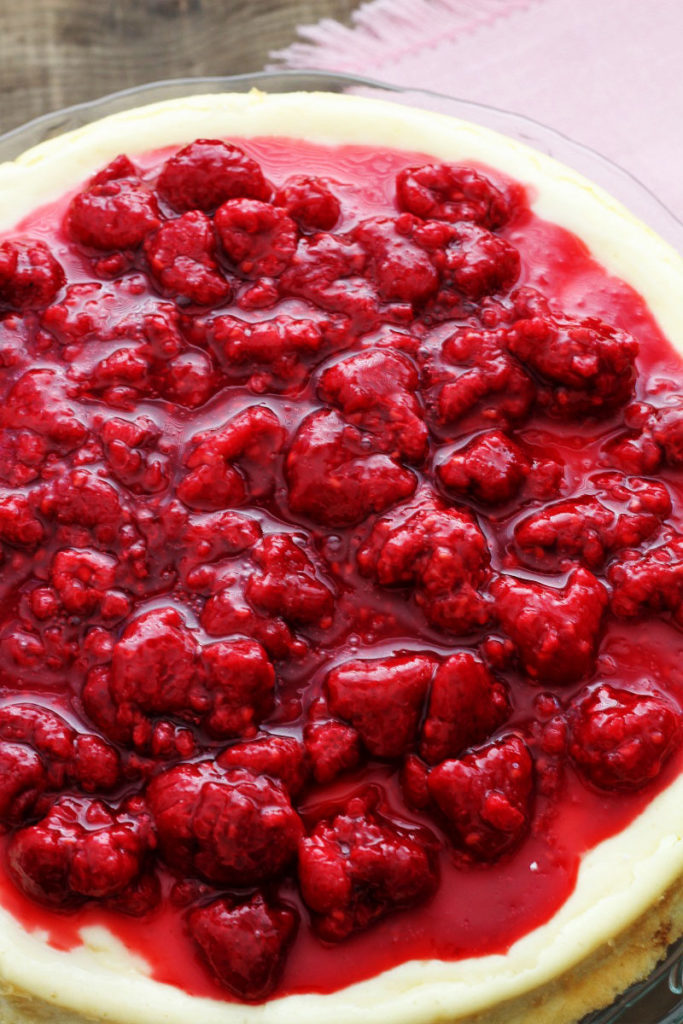 Yield: 6 people
Creamy Baked Cheesecake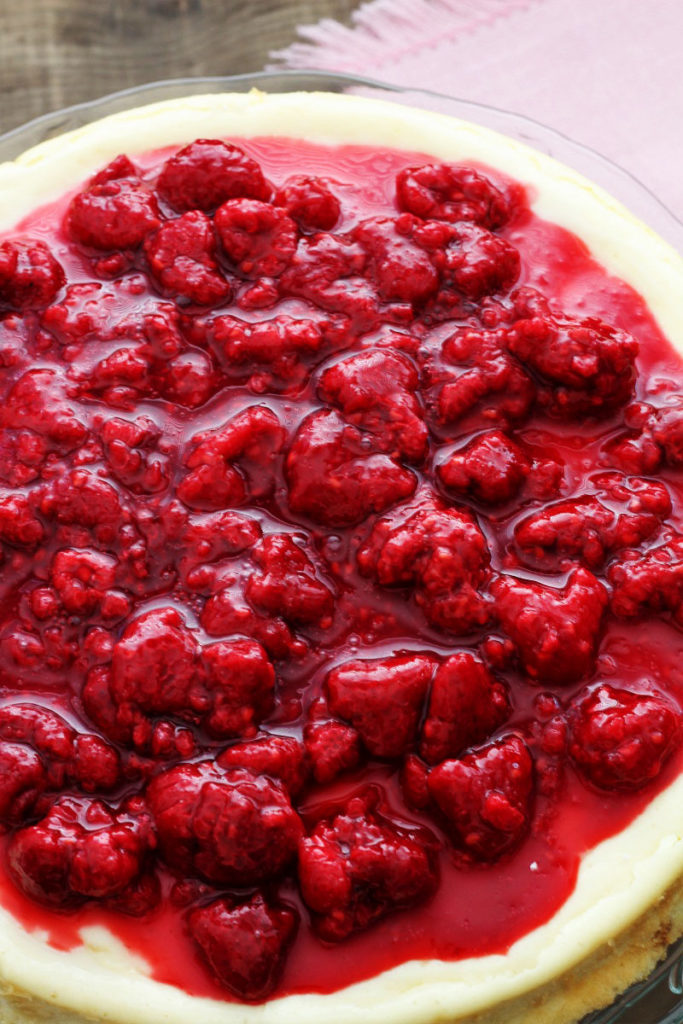 Prep Time 20 minutes

Cook Time 55 minutes

Total Time 1 hour 15 minutes
Ingredients
1 1/4 cups graham cracker crumbs (I use one sleeve or package out of the box)
1/4 cup sugar
1/3 cup margarine or butter (melted)
2 (8 oz) packages cream cheese, (softened)
1 (14 oz) can sweetened condensed milk, (not evaporated)
3 eggs
1/4 cup real lemon juice
1 (8 oz) container sour cream at room temperature
Raspberry Topping: (optional)
2/3 cup syrup (drained from 12 oz package thawed, frozen red raspberries)
1/4 cup red raspberry jam
1 Tbsp cornstarch
1 (12 oz) package frozen raspberries
Instructions
Preheat oven to 300 degrees.
Place graham crackers in a an blender, or place in a bowl and crumble with the bottom of a glass.
Add sugar and butter and and mix well.
Press firmly on the bottom of a 9" spring form pan.
In a large mixer bowl, beat cream cheese until nice and fluffy.
Gradually beat in sweetened condensed milk until smooth.
Add eggs and lemon juice; mix well.
Pour on top of crust.
Bake for 50 to 55 minutes or until center is set; top with sour cream.
Bake 5 minutes longer.
Cool. Chill in refrigerator for at least 1-2 hours. Serve.
Refrigerate any leftovers.
Raspberry Topping:
In a small saucepan, combine 2/3 cup syrup that you drained from the raspberries, 1/4 cup jam and 1 tablespoon cornstarch.
Cook and stir until slightly thickened.
Cool.
When cooled, stir in the raspberries.