Cookie Dough Cake – This is the ultimate choice if you're looking to combine a few of your favorite desserts.  Here we've got the deliciously moist cake combined with the fond love of cookie dough.  Best part is, this cookie dough is safe, no salmonella!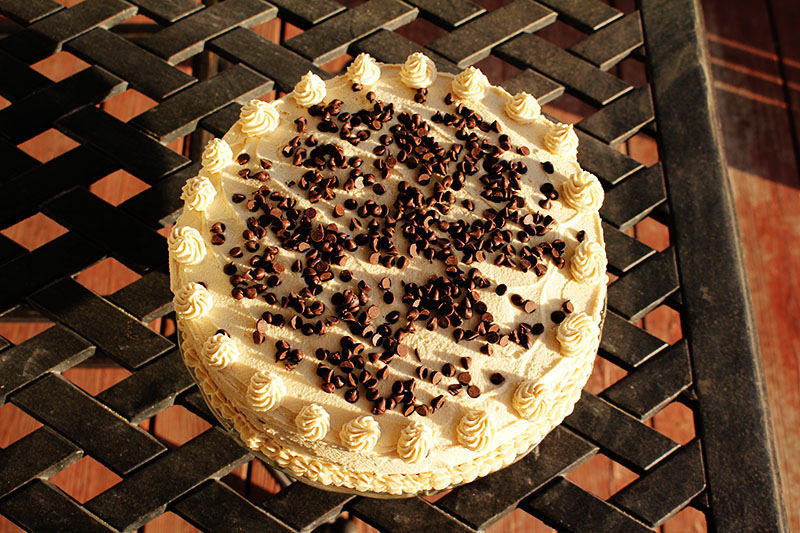 This cookie dough cake was per the request of my 17 year old, for his birthday.  He does love cookie dough and this cake did not disappoint.  It is kind of fun to see what cakes my adult children pick for their birthdays.  I did enjoy making theme cakes for them through the years, but it's still fun to make adult memories!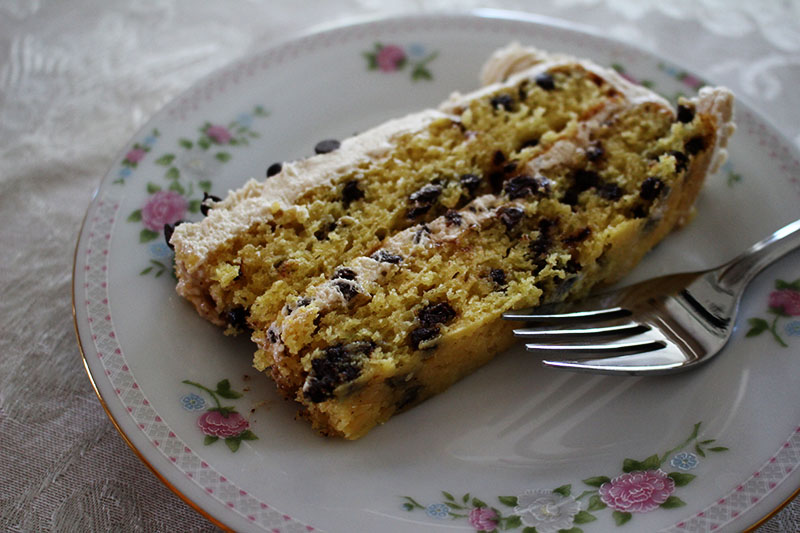 If I'm a novice how can I make my cake beautiful?
Sometimes we get overwhelmed with the though of decorating a beautiful cake. But I want you to know that there are little things that anyone can do and end up with a beautiful cake.
One of the best ways that I have found to keep from getting overwhelmed is to use simple things to decorate. For example the chocolate chips that I used on this cake are so simple that you could even let your children or grandchildren help.
You could even press some chocolate chips randomly into the sides of the cake, or cover the sides completely with chocolate chips.
You could also crumble store bought cookie pieces on top of the cookie dough cake. Or press whole store bought cookies sideways into the top of the cake.These things are so easy, but can make your cake beautiful.
I also like to keep my decorating to a minimum to keep from feeling overwhelmed. Don't get me wrong because sometimes when I am feeling in the mood and have time, I love to decorate to the maximum. You don't have to be a professional cake decorator to make a beautiful cake!
Where can I find other cookie dough related recipes?
If you are like us and love pretty much anything cookie dough, (especially chocolate chip cookie dough), you may want to try the following recipes!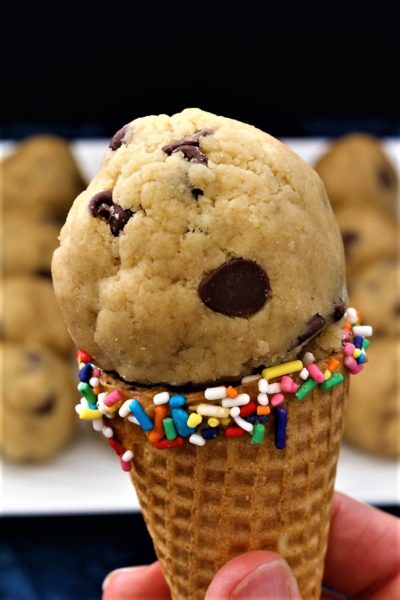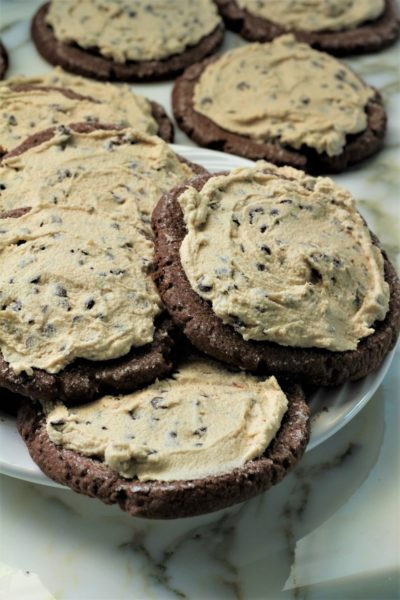 Enjoy your Cookie Dough Cake!


Yield: 16 - 20
Cookie Dough Cake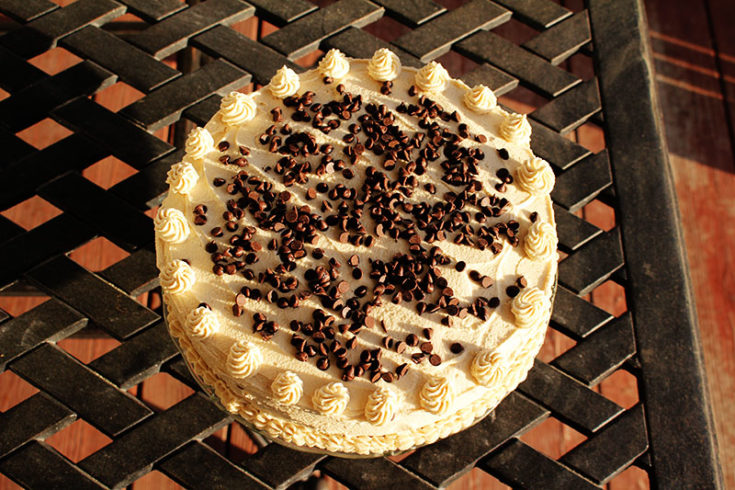 Prep Time 30 minutes

Cook Time 17 minutes

Total Time 47 minutes
Ingredients
CAKE
3 eggs
1/2 cup melted butter
3/4 cup buttermilk (or milk)
3/4 cup sour cream
1/3 cup brown sugar
1 Tbsp vanilla extract
1 box white cake mix (or yellow cake mix)
1 cup mini chocolate chips
FROSTING
1 cup butter
2/3 cup brown sugar
3 tsps. vanilla extract
2/3 cup flour
1 tsp. salt
5 - 6 cups powdered sugar
2/3 cup mini chocolate chips
GARNISHMENT
1 1/2 cups mini chocolate chips
Instructions
CAKE
Combine eggs, melted butter, buttermilk, sour cream, brown sugar, and vanilla extract in a large bowl.
Stir in cake mix and chocolate chips.
Divide evenly between 3 8-inch greased, lightly floured pans, and spread the batter level.
Bake at 350 degrees for 17 - 22 minutes or until it tests done.
FROSTING
Beat butter and brown sugar for 2 minutes.
Add vanilla extract, flour, and salt, and beat again.
Slowly add in powdered sugar until you reach your desired consistency.
Remove approximately 2 cups of frosting (you will use this between your cake layers) and mix with chocolate chips.
To assemble cake, place your bottom layer of cake on your cake stand.
Use half of the frosting mixed with chocolate chips to frost top of your cake.
Then, place your next level of cake on top.
Use the remaining frosting mixed with chocolate chips to frost that layer.
Top with the final layer of cake and cover the cake with the rest of the frosting.
GARNISHMENT
Use mini chocolate chips to cover the top of your cake.