Cherry bread is amazing. You have got to try this recipe. It is that time of the year when the cherries are starting to come on. The real trick is either spraying the cherries or getting to them before the worms or birds do. Yes I was so excited to make this bread. My son had brought some cherries to me and then two days later he told me, "you might not want to eat those cherries because there are worms in the bottom of the bag". Are you kidding me? I just had my heart set on making this amazing bread. So I went to the store and bought some cherries. They were a little pricey, but this bread was so worth it and it doesn't take that many cherries to make; just 2/3 cup. I decided that it would be nice to have a tool to remove the pits. But it really isn't that hard to remove them.
After you cream the butter, oil, eggs, and sugars together, add the milk and cherries! Add the dry ingredients and place the dough into pans that have been greased and floured. You can eat the yummy bread with the glaze or without it. Either way it is really good. It would be a nice bread for a shower or just to enjoy as a yummy snack. I don't think a lot of people make cherry bread so they will think that you are so smart and you will be the hit of the celebration, what ever it is!
Oh, I must tell you that it is time to celebrate!! Our granddaughter is potty trained. She is doing so well, she just gets up and goes to the potty all by herself. Her reward is a Poppie Doll. That's right the one from "Trolls". She also told grandma if I went potty that I too could get a Poppie doll! I think that sounds like a great idea. I think that I need to play a little bit more. I love the energy that the grand kids have. They are so excited about life. And that is just what we as adults need to do; play a little bit more! When is the last time that you bought yourself a new toy? Go get yourself a new toy, and make some yummy cherry bread, that way you can truly have the best of both worlds; time to play, and time for a treat! Enjoy!!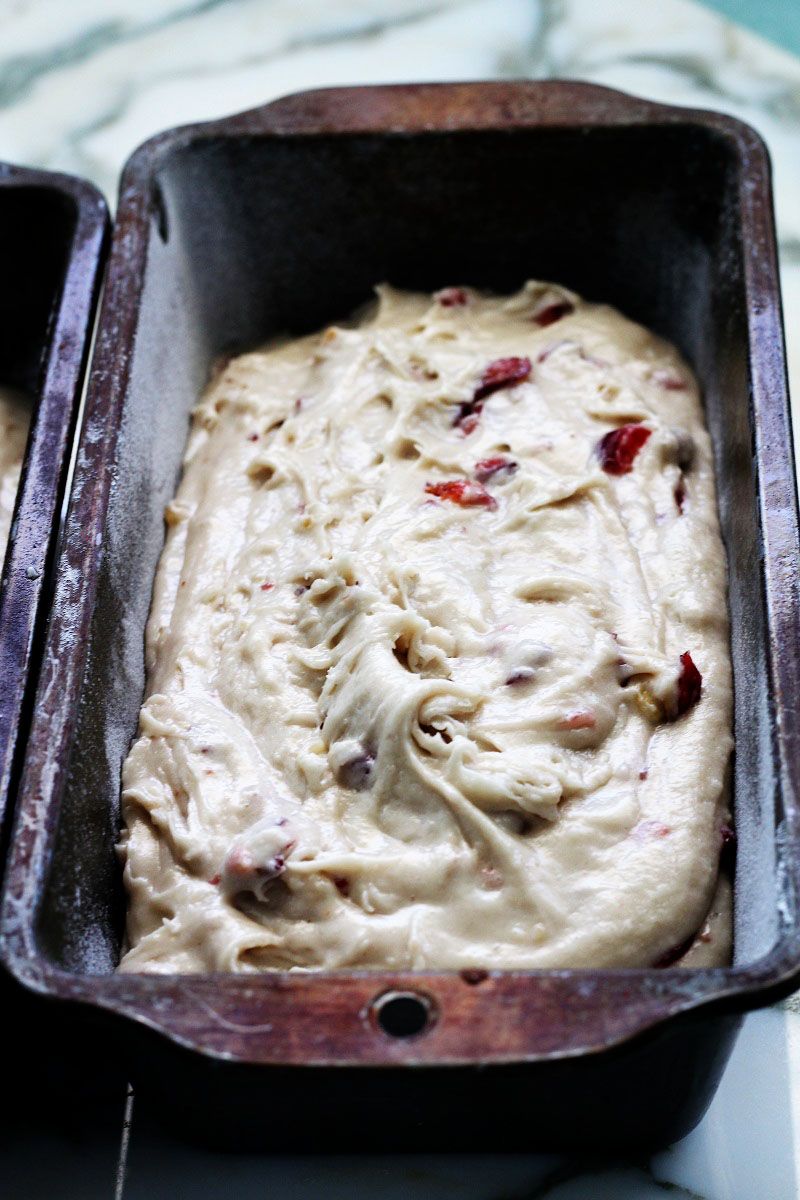 Cherry Bread
Prep time:
Cook time:
Total time:
Ingredients
½ cup coconut oil or Crisco
½ cup butter
4 eggs
1½ cups sugar
1 cup milk
⅔ cup chopped cherries,drained
4 cups flour
3½ tsp baking powder
½ tsp salt
½ cup nuts chopped (optional)
2 drops lemon juice
Glaze:
½ cup sugar
juice of 2 lemons
Instructions
Preheat oven to 375 degrees.
In a medium mixing bowl, cream together coconut oil, butter, eggs and sugar.
Add milk and chopped cherries, and mix.
Then add the flour, baking powder, and salt, and mix until stirred.
Add nuts and lemon juice and mix again.
Bake in greased and floured loaf or bread pans for 50-55 minutes.
Glaze:
In a small to medium sauce pan, place sugar and lemon juice.
Cook on medium heat until the sugar is dissolved.
Let the bread stand for 5 minutes before pouring glaze over the top of the bread.