Canning green beans is such a wonderful way to enjoy this amazing vegetable. Once your family tastes them, they will never let you buy a can of green beans again.
I was feeling a little sorry for myself snapping and canning green beans that my wonderful friend grew, picked and gave to me.
I went to the pharmacy to get a prescription and I said to the sweet lady that was helping me, "don't you think that it is easier to go the store and just buy green beans than canning green beans"? She said, "maybe but my kids won't eat them". She told me that she cans her green beans every year, because that is the only way her family enjoys them. No sympathy from her!
And so I went home and finished canning my green beans and when I looked at them, I was pretty pleased! They turned out fantastic.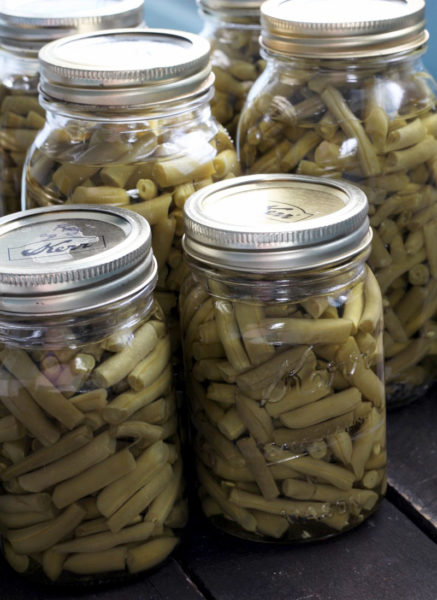 What Ingredients Do I Need For Canning Green Beans?
Here's a list of ingredients you'll need to make these Green Beans (scroll down for the full recipe):
How Do I Can Green Beans?
Here's the simple steps you'll follow to make these Beans (scroll down for the full recipe):
WASH and rinse green beans thoroughly in warm to cool water. Remove the ends and break or cut beans into 1-2-inch pieces.
PACK beans into jars as tight as possible. Add 1 tsp salt to each quart jar, 1/2 tsp to each pint jar, if desired.
POUR boiling water over beans leaving 1 inch headspace. Wipe rim. Center hot lid flat on jar. Apply band and adjust until fit is fingertip tight.
PROCESS filled jars in a pressure cooker at 10 pounds pressure 20 minutes for pints and 25 minutes for quarts, adjusting for altitude. Remove jars and cool. Check lids for seal after 24 hours. Lid should not flex up and down when center is pressed.
I also had another dear friend who one year when we had a lot going on in our lives, canned me some green beans. This really touched my heart! And so I knew that she had a lot going on this year and so I decided that I could reciprocate. So I gave her some of the green beans.
I guess that I kinda have a history with green beans. Maybe I'll even plant and grow some of them for my family next year. I love the feeling of having all my bottles full and on the shelf. They look so pretty on the shelf in my basement and I love to have all kinds of food that I have canned.
How Do You Buy Fresh Green Beans?
Select brightly colored, unblemished green and wax beans with smooth pods that are crisp enough to snap when bent in half.
Slender pods that are not bulging, indicate tenderness.
Refrigerate unwashed beans in a perforated plastic bag for up to 5 days.
Don't get me wrong, there are a few things that are a lot easier to buy at the store, but this way you know what is going in your bottles and you know that the fruits or vegetables that are in them are nice and fresh. So I encourage you to go to the farmers market or maybe you have a good friend that will share their beans. They truly are so good.
Look at these beautiful green beans. I do love to eat them fresh too! Wash them off and snack on them, they are really good. You can also snap a few and cook them on the stove top.
What Do Green Beans Look Like When They are Ready to Pick?
The green beans will grow quickly.

The pod is ready to harvest once it reaches a length of four to seven inches long and the diameter is a little fatter than a pencil.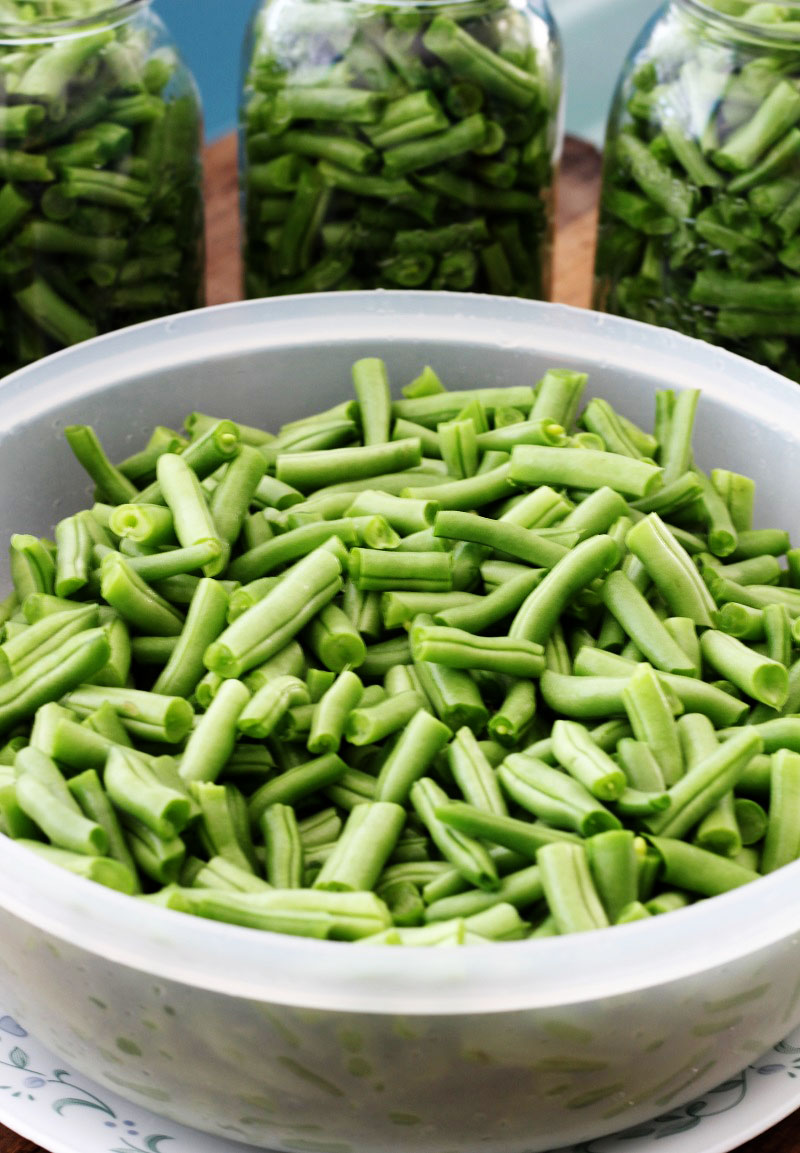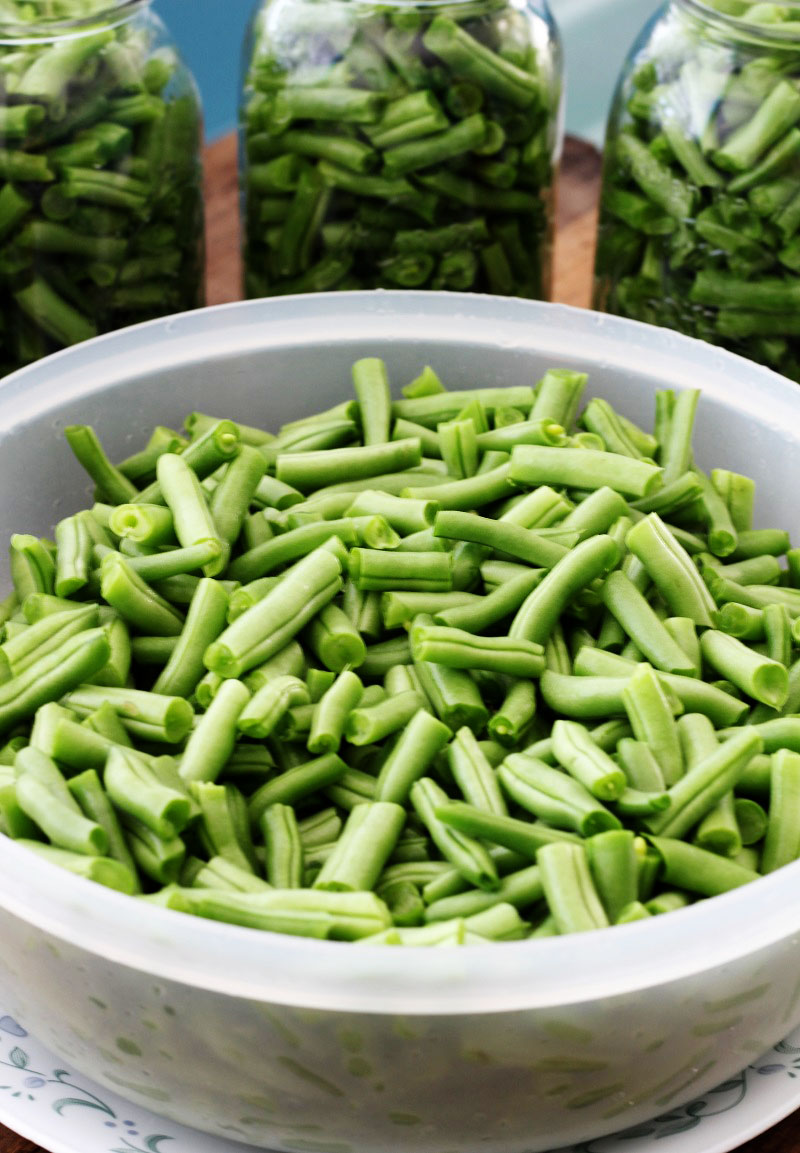 Another thing that you can use green beans for is the famous green bean casserole that every one eats at Thanksgiving time. I will have to get you that recipe in a few weeks, as fall is just around the corner.
How Long do Green Beans Last Once They are Canned?

According to the National Center for Home Food Preservation, canned foods last at least a year, if they're stored under proper conditions (cool and dry).
Kids are going back to school and some are going away to school. I will be posting a few easy recipes for them. Some that they can even place in the crock pot and eat when they get home from classes.
And you busy moms can use a few easy recipes yourselves. What kind of things do you like to can? I really hope that you get a chance to can some green beans because I know that you will love them.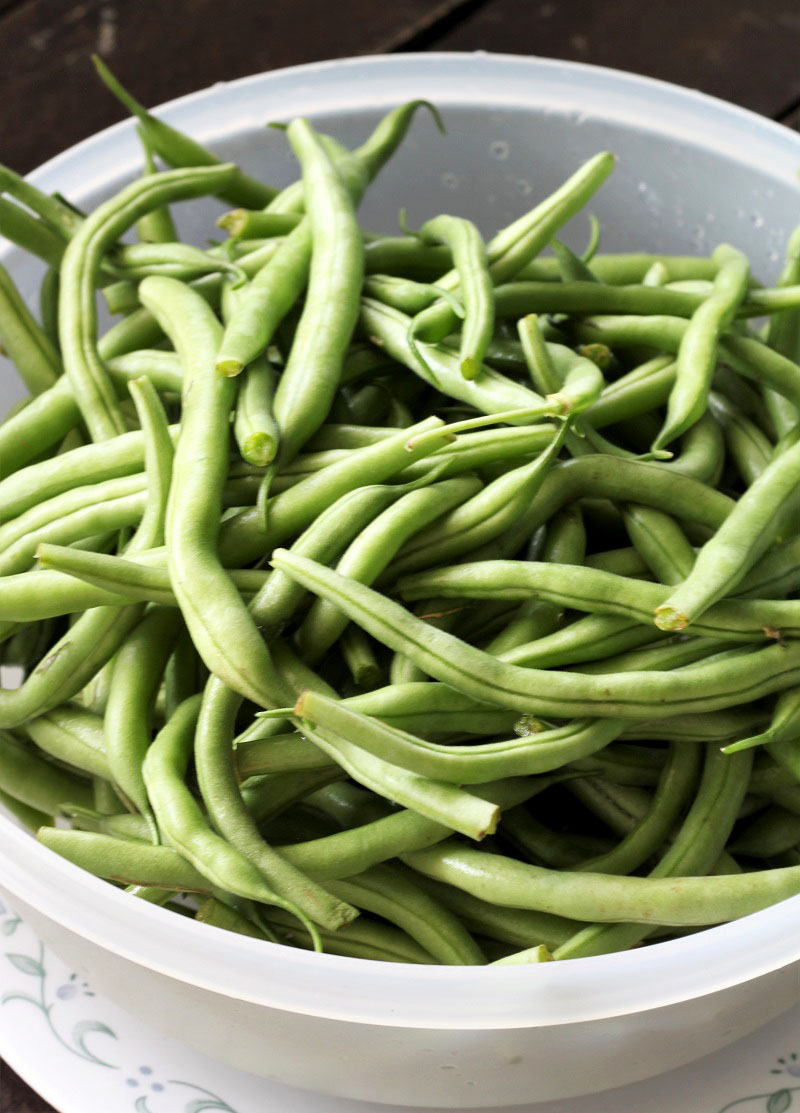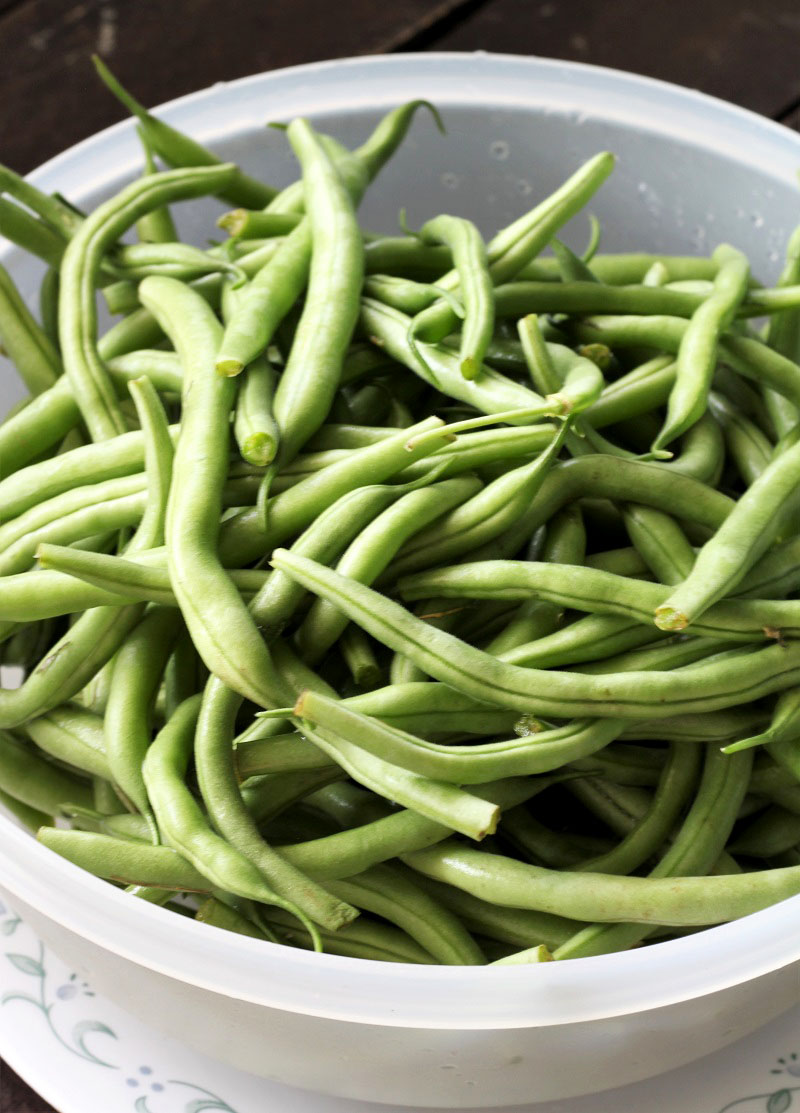 Follow This Link to Find One of Our Favorite Green Bean Recipes:
Green Beans and Zucchini with Bacon
Here is a Link to a Fabulous Green Bean Recipe from my Good Blogger Friend, Susanne, at New South Charm:
Yield: 8 pints
Canning Green Beans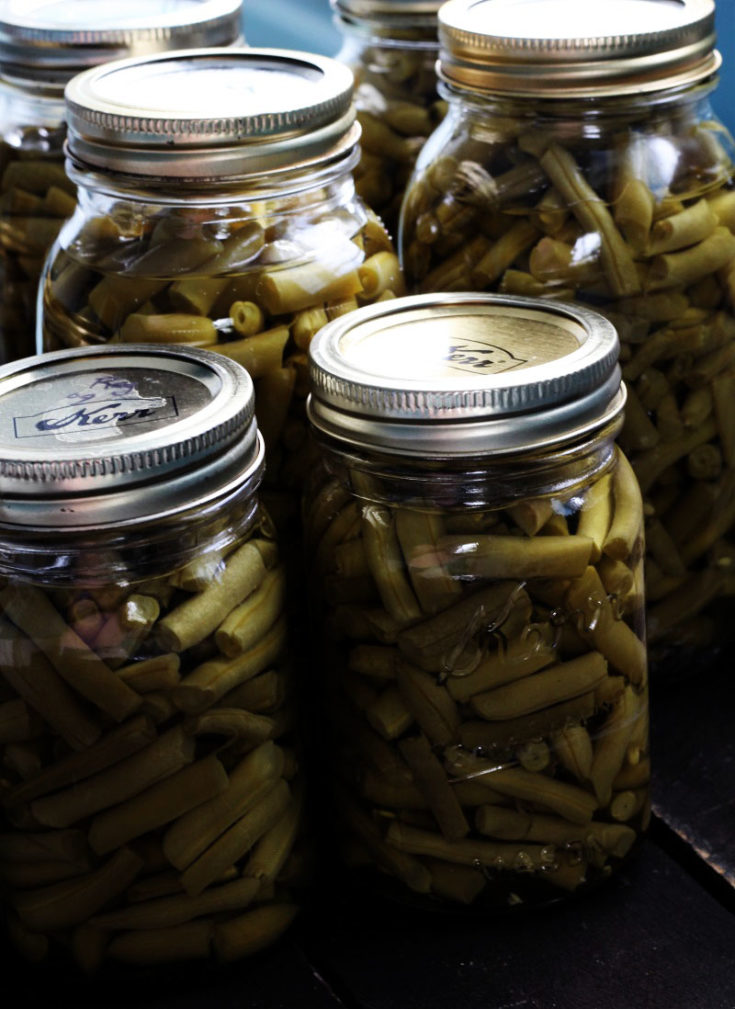 Canning green beans is such a reward. They are so much better than the ones that you buy at the store. Cook up a batch for your family.
Ingredients
1 1/2-2 pounds green beans
1/8-1/4 tsp salt quarts
1/4-1/2 tsp salt for pints
Instructions
Wash green beans in warm to cool water. Remove the ends and snap into 1-2" pieces. Pack your bottles as tight as possible. Tap jar lightly on a towel; this allows them to pack down tighter.
Add salt according to size of jar.
Pour boiling water, leaving a 1" head space.
Use a damp rag and wipe off the rim.
In a small pan, boil flats.
Place the flat on the jar.
Put a ring on, and tighten pretty tight.
Process jars in a pressure cooker.
To process where I live (which is high altitude) I use 10 pounds pressure for 25 minutes for quarts, and 20 minutes for the pints.
When using beans, boil on the stove top for about 10 minutes before you eat them.
Nutrition Information
Yield
32
Serving Size
1
Amount Per Serving
Calories

10
Total Fat

0g
Saturated Fat

0g
Trans Fat

0g
Unsaturated Fat

0g
Cholesterol

0mg
Sodium

82mg
Carbohydrates

2g
Fiber

1g
Sugar

1g
Protein

1g