Baked Lightsaber Churros; what a great treat! How fun are these!?! You know that Disneyland is getting a new area. So we decided to make our own lightsabers, since we love Churros. They are so delicious. Baked to perfection and topped off with butter, cinnamon, and sugar.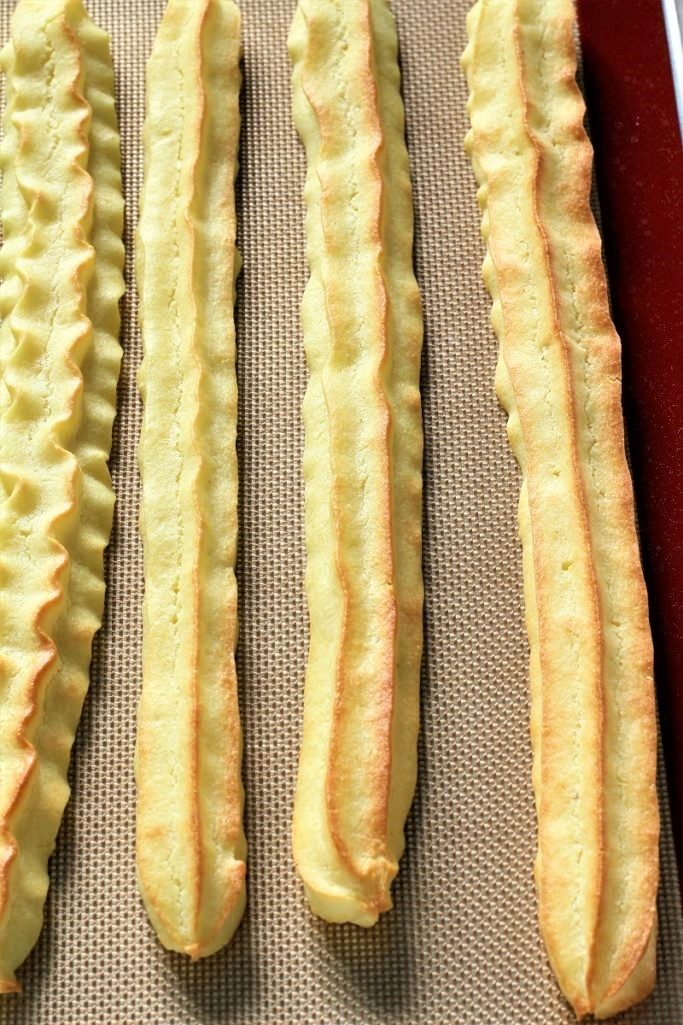 What is the difference between baked and fried Churros?
Baked Churros taste the same but you can eat them with less guilt because they are not fried in oil, making them a little healthier.
Another benefit is that baking them, instead of frying them, is easier, and practically mess free – always a bonus when cooking.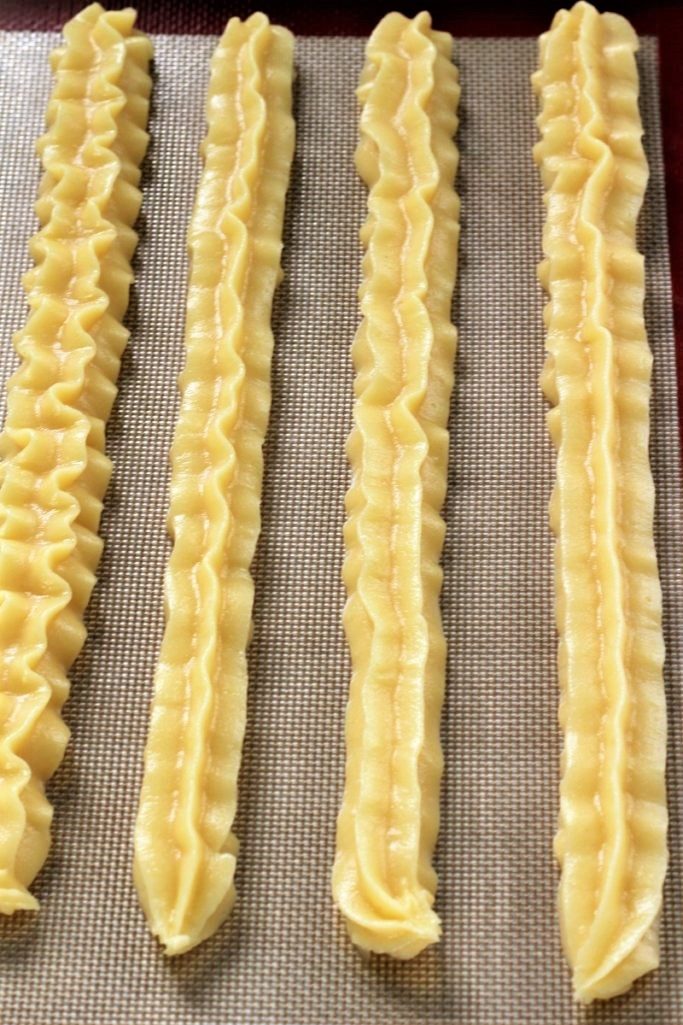 How do I make homemade baked Churros?
Making Homemade Baked Churros is so much easier than you might think. There is no need to heat up a big pan of messy oil, because this churro dough comes together easily in a small sauce pan on the stove and is then baked like a sheet of cookies.
Add in your eggs, and the trick here is to mix in the eggs over low heat with a wooden spoon.
At first, the dough might look as if it has separated, but give it time and the eggs will mix into the dough, leaving you with a thick pipe-able churro batter.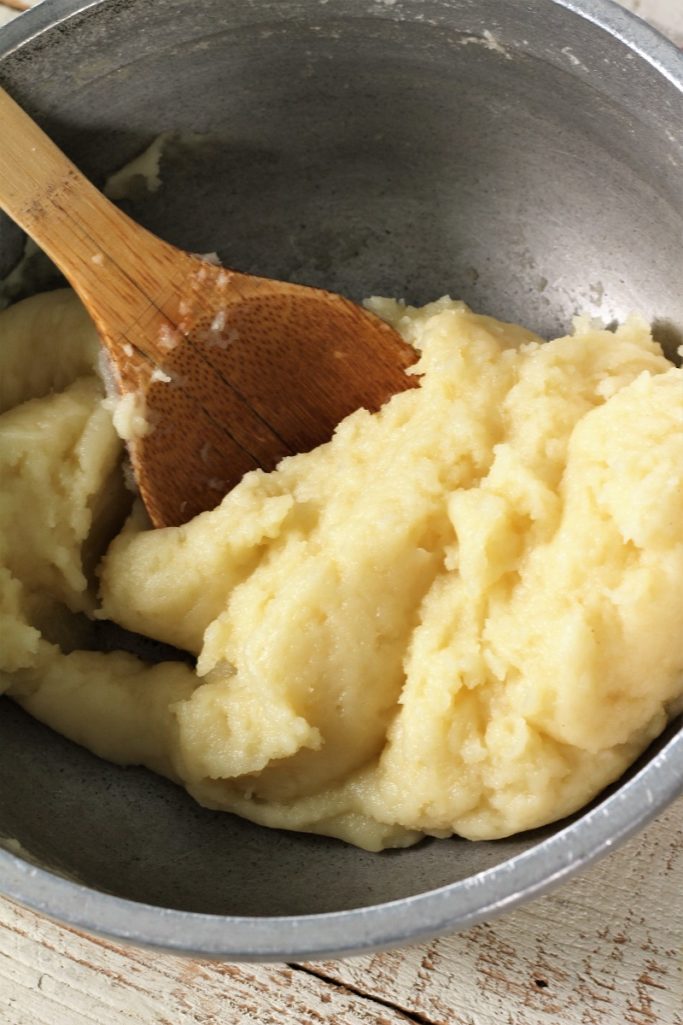 Can I leave out the eggs or substitute something for the eggs?
The churros that you eat from street vendors or at fairs in Mexico, are very simple. The dough is made of only flour, water, a little sugar, salt, and a bit of oil. There is no egg. Adding eggs, gives churros a little texture and makes them richer. That is why eggs cannot be swapped out for anything else in this recipe.
What if I don't have a piping bag?
Piping the Homemade Churros might sound intimidating but it's actually very simple. The dough will be loose enough to scoop into your piping bag which has been fitted with a star tip. By applying just a bit of pressure to the piping bag you can smoothly pipe the churros into strips. They will bake up looking very professional!
If you've never used a piping bag before, this is actually a great place to start, as the dough will do most of the work. If you do not have a piping bag you can always use a large plastic bag with the corner snipped off. This will not create the ridges like the star tip will, but will allow you to pipe nice even strips.
Can I keep Churros overnight before serving them?
Honestly, I wouldn't keep churros overnight before serving them. We thought that maybe baked churros would keep better than fried churros and I think that maybe they did stay a little better. But I would suggest serving them immediately, as they tend to get a little soggy. Churros are one food that I would not keep overnight before serving. With that being said, you could prepare the dough and keep it chilled overnight before baking the churros. If you do chill the dough overnight before baking the churros, make sure that you allow the dough to return to room temperature before baking.
I hope that you get a chance to go visit Disneyland's new area and experience the magic that happens there. But remember that you can bake up some Baked Lightsaber Churros and enjoy them anytime!
Another treat that is served at Disneyland that we enjoy!
For a version of another popular treat that is served at Disneyland follow this link:
Yield: 8 people
Baked Lightsaber Churros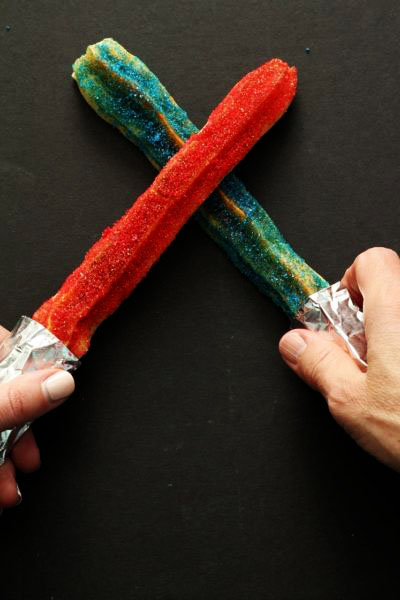 Ingredients
1/2 cup unsalted butter
1/2 teaspoon salt
2 Tablespoons granulated sugar
1/4 teaspoon cinnamon
1 cup warm water
1 cup all purpose flour
3 eggs (large)
1 teaspoon vanilla extract
Outside Coating:
2 Tablespoons melted butter
1/4 cup granulated sugar
3/4 teaspoon cinnamon
Instructions
Preheat the oven to 350 degrees.
Place a piece of wax paper or a baking mat on a cookie sheet.
In a medium sauce pan, place the 1/2 c butter, 1/2 t salt, 2 T sugar, 1/4 t cinnamon and 1 c warm water.
Cook over medium heat until the mixture starts to boil.
Then add 1 c flour and stir until it is completely combined.
Remove from heat and let it sit for about one minute.
Then add 3 eggs, one at a time.
Make sure that each egg is completely blended in before you add the next egg.
Then add 1 t vanilla.
I stir my eggs in by hand, but you can use a hand mixer if you like.
Place the dough mixture into a piping bag with a large star tip.
Pipe the dough onto the cookie sheet, the length that you want; I did mine about 12-14".
Leave about a 1 1/2" gap so that when they rise in the oven, they don't touch.
Bake in a preheated oven for 24 minutes.
Then I broiled them for 1 1/2 minutes, but make sure and watch them so that they do not burn.
Remove from the oven and let cool.
Outside coating:
Melt 2 T of butter and brush on the cooled churro with a pastry brush.
Mix 1/4 c of sugar and 3/4 t cinnamon; sprinkle onto the Churros.
Then remove the excess cinnamon and sugar.
Spray the churro with cooking spray and sprinkle colored sugar over them.
This will make it a fun color to create a lightsaber churro.
Wrap the bottom of the churro with aluminum foil, if desired, to create a handle for the lightsaber.
Nutrition Information
Yield
8
Serving Size
1
Amount Per Serving
Calories

250
Total Fat

16g
Saturated Fat

10g
Trans Fat

0g
Unsaturated Fat

6g
Cholesterol

108mg
Sodium

185mg
Carbohydrates

22g
Fiber

1g
Sugar

10g
Protein

4g