Apple pecan pancakes are a perfect way to start the day. They are a little heavier pancake and so you can feel satisfied for the whole morning.  The combination of apples and pecans together are so good, they are like, salt and pepper, or Burt and Ernie; you get the picture.
Since my husband is in charge of making syrup for his work, I decided to make some extra. I made a new recipe from my cute daughter-in-law, coconut syrup.  Oh wow is it good, and loaded with calories.  But since it is National Pancake Day I decided to go ahead and splurge. I will have to get the recipe to you in a couple of days. Who knew coconut syrup would be so good on apple pecan pancakes. Our other go to syrup is maple. I have raised my kids on maple syrup and now they will not eat store bought syrup. They say that it is to thick and goopy. Yes we make up a few of our own words.
So on this special day, I hope that you will go ahead and splurge for your family with some amazing pecan pancakes. You can use any kind of syrup that you like. Just remember, it is about making memories that counts the most, and the good times together.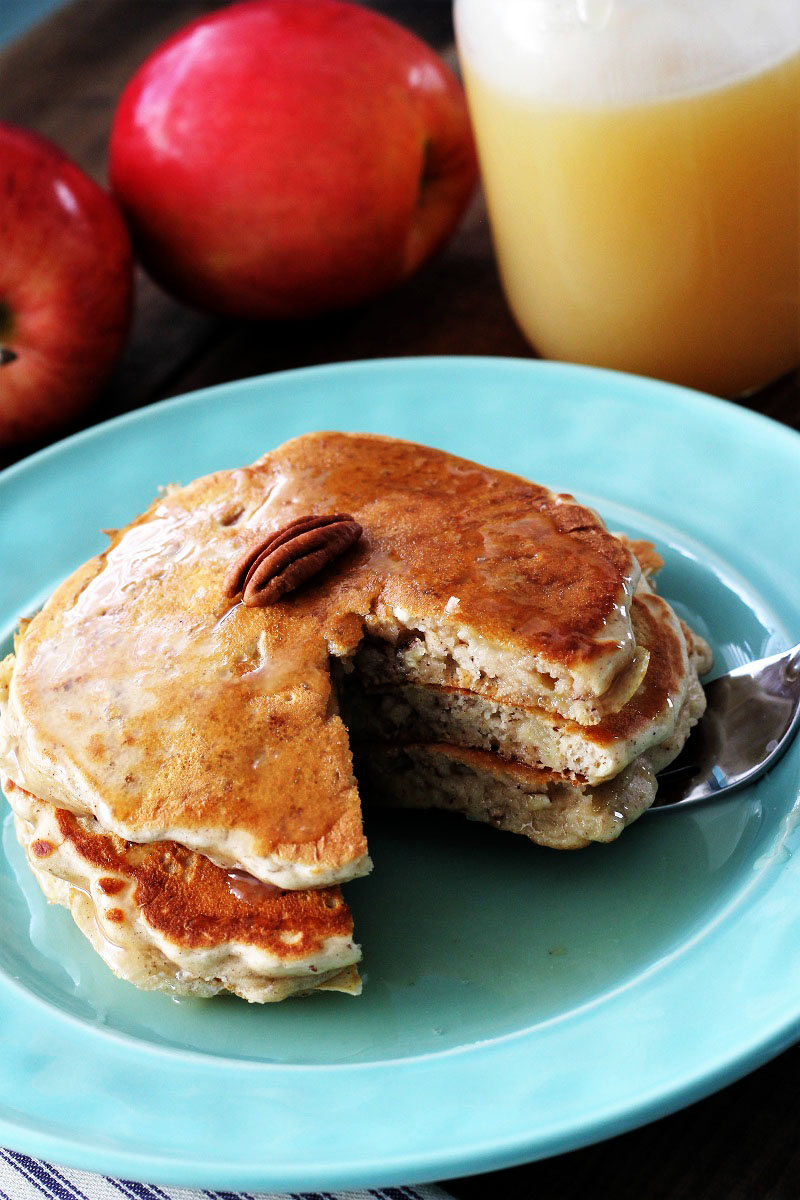 Apple Pecan Pancakes
Prep time:
Cook time:
Total time:
Ingredients
2 cups all purpose flour
2 Tbsp brown sugar
1½ tsp baking powder
½ tsp baking soda
½ tsp salt
½ tsp ground cinnamon
¼ tsp nutmeg
1 cup buttermilk
½ cup almond milk or regular milk
¼ cup coconut oil, melted (or vegetable oil)
2 eggs separated
1 tsp vanilla
1 medium apple, peeled and chopped in small pieces
½ cup finely chopped pecans
Instructions
In a bowl, combine flour, brown sugar, baking powder, baking soda, salt, cinnamon and nutmeg. Make a well in the middle of the dry ingredients, and add buttermilk, milk, oil, egg yolks and vanilla.
Fold in apples, and pecans.
Beat egg whites until stiff peaks form; fold into the batter.
If the batter is too thick, add a little more milk to desired consistency.
Pour batter onto a greased griddle or skillet that is about 375 degrees.
Turn the pancake over when bubbles start to form; about 2 minutes on each side or when both sides are nice and golden brown.