Warm chicken avocado tortilla soup is wonderful on a cold winter day. There is something about warm soup on a cold day that just makes you feel better.
The thing that is so fun about this soup is that you can add avocados, corn tortillas, sour cream and extra lime juice if you like. Big chunks of chicken, black beans, corn, and tomatoes make this a pretty healthy meal. The spices, make this wonderful.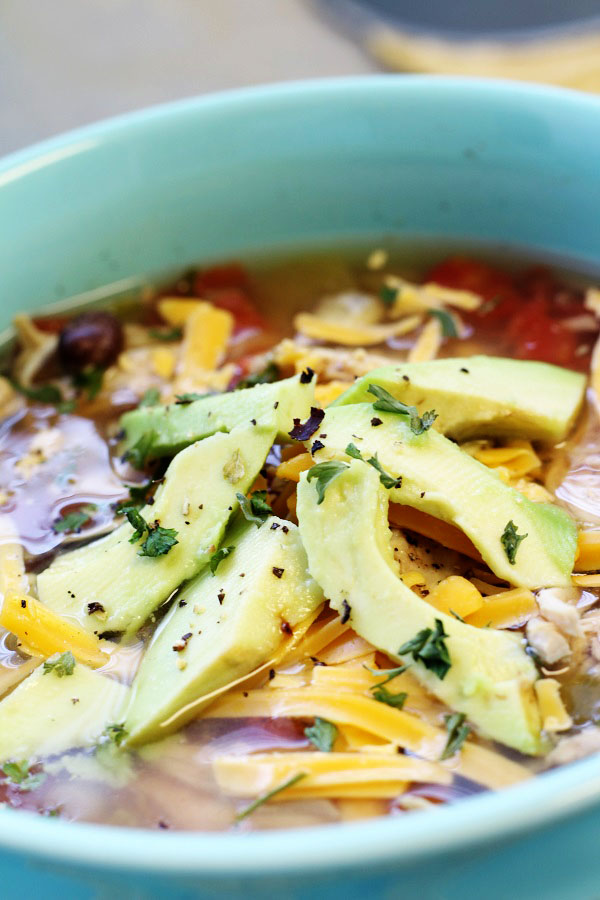 One of the best things about this soup is that you can put it in the crock pot and forget about it while you get some other things done. Now are we great multi-taskers!?!
Try it today and let your creative juices flow; that way you can adapt this recipe to fit your family. Also if you don't care for black beans, put in any kind that you like. Most important, don't forget the toppings!

Chicken Avocado Tortilla Soup
Prep time:
Cook time:
Total time:
Ingredients
1½ pounds boneless, skinless, chicken breasts
6 cups chicken broth, fat removed
1 (14.5 oz.) can diced tomatoes with the juice
½ cup onions, chopped
2 cloves garlic, minced
½ Tbsp chili powder
¾ tsp cumin
¾ tsp oregano
½ tsp paprika
salt and pepper to your taste
1 (4 oz ) can diced green chilies ( I use mild)
1 (14.5 oz ) can black beans, rinsed and drained
2 cups corn, frozen or a can that is drained
⅛ cup cilantro
1 Tbsp fresh lime juice
Toppings:
corn tortillas - cut into strips
shredded cheese - any kind you like
avocados
sour cream, if you like
Instructions
Place whole chicken breasts (you can shred them after they cook), and chicken broth into a large crock pot.
Add tomatoes, onions, garlic, chili powder, cumin, oregano, paprika, and about ½ tsp of salt and ¼ tsp pepper.
Place lid on crock pot and cook on low for 6 hours or high for 3 hours.
Remove the chicken and shred with 2 forks, return to crock pot and add black beans, corn, cilantro, and lime juice.
Stir slowly.
Cook until heated through.
Add more salt and pepper if desired.
Using a pizza cutter and a cutting board, cut corn tortillas into strips, about a ½" wide.
If you want you can add them the same time as the beans and corn, but they do go soft.
Garnish each individual bowl to the liking.